Okay, you're probably thinking "change my life?" What is this girl talking about?
All I have to say is: if the perfect glittery shirt can't change your life then nothing can!
I've put together my 14 favorite Cricut tutorials for beginners, experts, and everyone in between. Each tutorial is super easy, fun, and explains all the tiny details that can really make or break your design. Most are videos but there are a handful of text tutorials sprinkled in.
Some of the projects you'll be making: Disney tee's, DIY stickers, personalized mugs, and 3d pop-up art!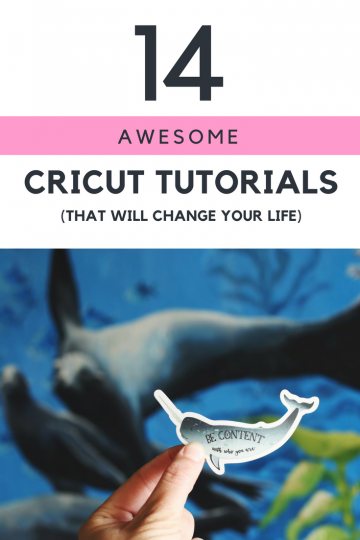 Just updated this list in April (4/22/2018) to make sure all of the tutorials work with the most recent software updates!
Cricut Tutorials for Beginners
Cricut Explore Air Tutorials (for Beginners)
DIY Custom Stickers with the Cricut Explore Air
If you haven't seen this yet you're in for a treat. Auntie Tay goes over how to make personalized stickers. These are awesome for planners, business promos, or maybe you're just like me and never really grew up!
Cricut Explore Air: Create your first project
From Cricut's official YouTube this tutorial will guide you through creating your very first project with the Explore Air:
Cricut 101: How to Cut and Apply Vinyl Decals
I've collected the most common questions and issues and put together this tutorial to explain exactly how to cut vinyl on a Cricut machine. I also discovered a great resource for trying out free samples of vinyl, so make sure to check it out.
Cricut Explore Air 2 Tutorials (for Beginners)
Cricut Explore Air 2: Setup & Projects
Great overview! Covers using an iPad, loading in an illustration pen and making two projects: a foil iron-on + a card.
Cutting Vinyl with the Cricut Explore Air 2
Michelle goes over how to make a personalized mug with the help of a little bit of vinyl.
How To Create a Custom T-Shirt Using Cricut Explore Air 2
Liz teaches us how to make a custom Disney t-shirt, so cool! She links to her cut files (free) so that you can either follow along to make the same design or swap in your own SVGs. If you're looking for free designs, I just posted a huge list of my favorite free cut files so check it out.
This project does require some iron-on vinyl which you should definitely have! You can usually pick it up at a Hobby Lobby or Michael's.
Cricut Maker
Cricut Maker: From Setup to First Cuts
George and Ken are informative, chatty, and they know their crafts. Their video takes us from setup through working with different fabrics and materials. Very easy-to-follow overview of the Cricut Maker.
Cricut Design Space Tutorials
Cricut Design Space for Beginners
I love all of Lorrie's tutorials, and this one is no exception. In 40 minutes she guides us through the basics of Cricut's Design Space 3.0.
Slice, Weld, Attach, Flatten & Contour – Cricut Design Space
After you've learned the basics of Design Space, this tutorial is the next logical step. It covers the most common tools you'll use and she includes easy, downloadable cheat sheets for keeping track of each tool as you're working.
Importing Images from Google into Design Space
Anytime I'm asked about how to import an image this is the first video that comes to mind.
How to Slice in Design Space
This is one of my own tutorials (part 1 of 5 on the most important tools in Design Space) on using one of the most useful (and frustrating!) tools available in Design Space software.
Free Cricut Projects, Designs, Tips & Tricks (bonus!)
Paper Tips and Tricks – working with Cricut Maker
Worth watching just for the tip on finding the direction of your paper grain
Cricut Pens: Writing and Envelope Addressing Tutorial
Jennifer gives us a tour of 11 different pens on the Cricut Explore / Cricut Maker. She also covers picking a font, how to use a calligraphy pen, whether or not other brand pens work, and how to address envelopes & invitations! Woo!
Using Sure Cuts A Lot with Cricut
Cricut machines no longer support using SCAL, but because it's such a useful piece of software I've figured out how to use Sure Cuts A Lot with Cricut machines.
That's all 14! If you have any favorites (or even your own!) that I left off the list please comment below, I'd love to check them out.
Other Great Collections
The tutorials listed above are some of my favorites, but it's not the only good compilation. Here are another few lists to check out that I'll always be adding to: