Any Cricut Joy review has to start with the obvious: this machine is TINY!
The Cricut Joy is the newest machine released by Cricut and if you've seen one in person the first thing you'll notice is it's their smallest yet.
So: does it match up to the hype? What are Smart Materials anyway? And… what's this I hear about it being a card making machine?
I've got the answers, and I'll give you a quick tour of this lovely new Cricut.
Cricut Joy Review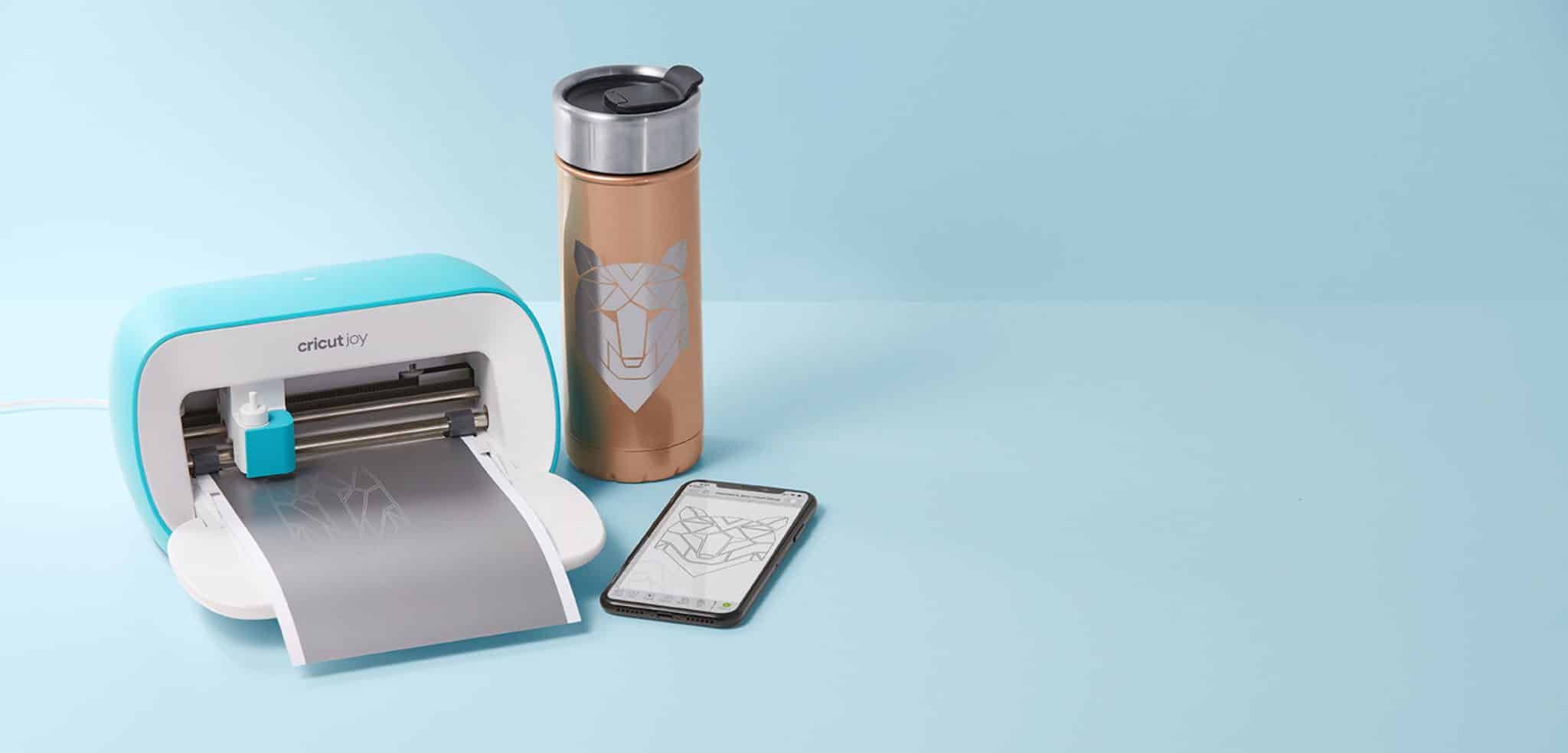 Released on March 1st, 2020, Cricut revealed what they've been calling your "DIY friend"… but what is a DIY friend? It sounds pretty nice, I like the DIY friends I have!
The Cricut Joy is an electronic cutting machine that specializes in two things: using Cricut's new Smart Materials (which only work with the Cricut Joy) and making small items, like greeting cards or custom labels. It uses a new cutting blade also that works with it exclusively (are you sensing a trend here?).
4 key Cricut Joy features:
Uses Smart Materials
Great for making cards
Tiny and portable
Designed for making labels
Uses Smart Materials. The Cricut Joy vinyl machine was designed to work with a new set of materials from Cricut which they're calling Smart Materials. These materials let the Cricut Joy cut them without any mat at all because they come with a built-in backing. You just load them in and start cutting. Pretty nice, right?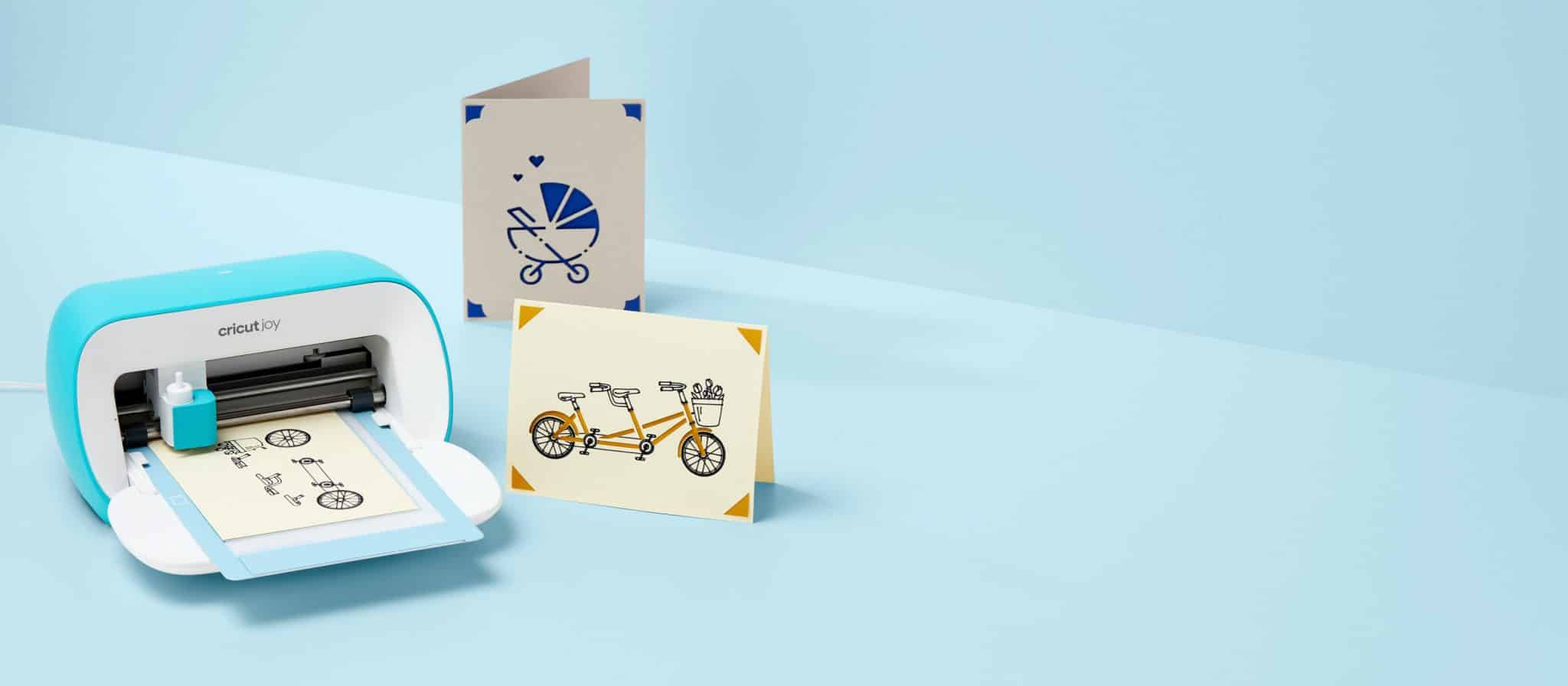 Card making. This is probably another feature you've heard a bit about. The Cricut Joy cutting machine uses specialty card materials (basically, fancy cardstock that's already cut to size) and a Card Mat which holds that material in place with a sleeve so only the front is cut through. Making greeting cards becomes super easy, so if it's something you've had trouble with in the past or something you find yourself doing a lot right now, this is a huge feature for you.
Tiny and portable cutting machine. The Cricut Joy weighs just under 4 pounds and is seriously tiny. This means if you're working in a small space or want a machine you can easily grab-and-go, you should seriously consider the Joy. The downside is, of course, that it can't work with large materials, you can only cut a max width of 5.5 inches, but length is actually a huge advantage, as you can cut up to 20 feet long because of its support of Cricut Smart Materials. If you have cubbies, that's where I keep mine.
Making labels. All of the advantages I mentioned above about card making hold true for label-making as well. Not only can you cut out writable labels using Smart Materials, you can also attach a pen tool to write out those labels for you. Pretty handy, and it honestly feels pretty nice to use.
If you're interested and want to see our Cricut Joy deals, click to skip ahead.
If you'd like further explore the machine in detail, we'll continue on and explore how it stacks up against the Cricut Maker, the Explore Air 2, and how useful those new, exclusive materials really are!
Specifications
First, let's start with a quick unboxing of the Cricut Joy:
The Cricut Joy specs and included materials:
The Cricut Joy machine
Cricut Joy Smart Blade
Fine Point Pen (Black)
StandardGrip cutting mat (4.5 in. x 6.5 in.)
Power adapter
Free trial to Cricut Access
Materials for a test project
Bluetooth (doesn't have a USB port, so you must use Bluetooth)
1-year limited warranty
Weight: 3.85 pounds
Dimensions: 5.5 in. x 8.4 in. x 4.25 in.
Cuts 50+ materials
Works with and without a cutting mat
Max cutting width: 5.5 inches
Max cutting length: 20 feet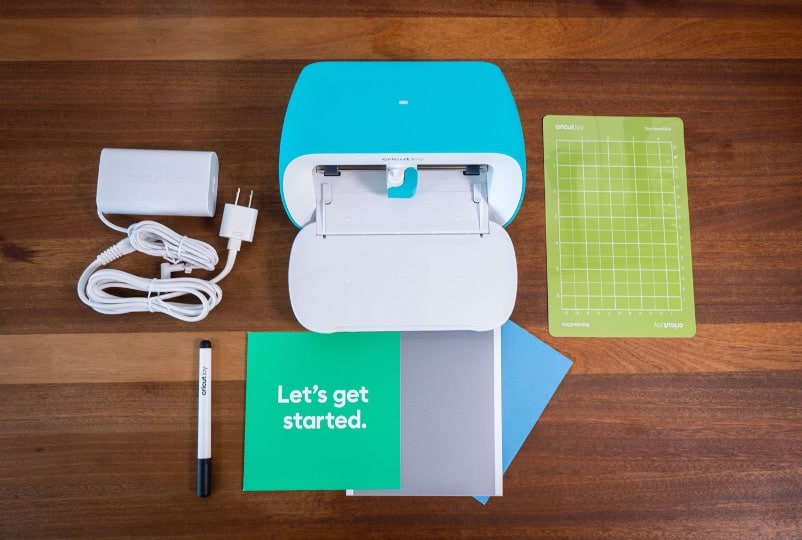 Compared to other machines like the Cricut Maker, you'll notice that it doesn't come with quite as much. Even the Cricut Explore Air 2 has recently started included fewer materials in the base model, which is a bit unfortunate because it's a lot easier to get started if you don't have to first worry about what else to buy.
(It also doesn't include this really cute Cricut Tote Bag.)
Don't worry though, we'll cover all of that later.
Smart Materials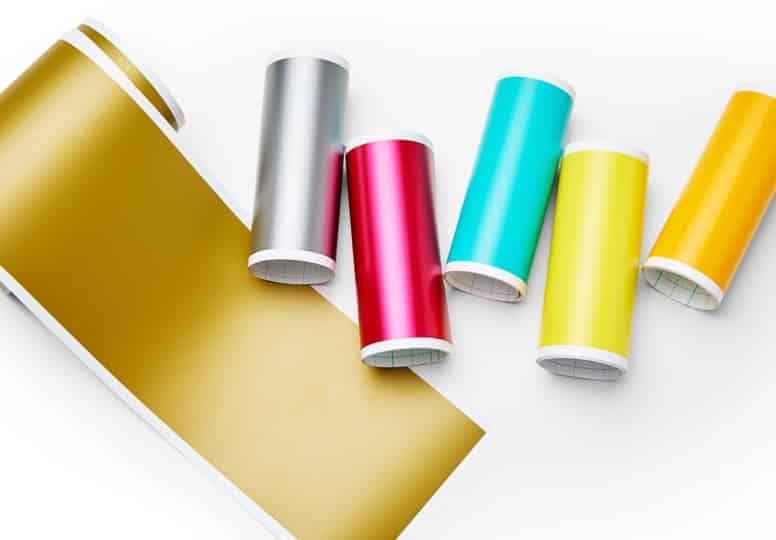 So if I'm going to be honest, I probably wouldn't have given the Cricut Joy a full review if it wasn't for this category.
What are Smart Materials, anyway?
Smart Materials are an exclusive new material designed just for the Cricut Joy. They're designed to be used without a cutting mat as they have a special thick backing material that serves the same purpose. Because there's no cutting mat, you can work with really long cuts (up to 20 feet long!).
In short, they make it a lot easier to set up and use.
The same Cricut Design Space software is used by the Cricut Joy, and it will let you know how much of a material you need before loading it into your project. If you're left with extra, you can save it and use it on a future craft. They can be used on cutting mats still, but there's no need. If you're trimming the excess, just make sure to square it off so that it loads into the machine properly.
Cricut has made Smart versions of:
adhesive vinyl
removable vinyl
iron-on vinyl
writable labels
All of them work just the same as their counterparts, and in our testing, they're the same quality as Cricut vinyl. The real advantage of Smart Materials is being able to make quick projects without a cutting mat. That's right, matless cutting.
If you're an experienced crafter, I don't think there's much of an advantage, but for someone working on their first project, it's nice to have fewer things to worry about.
If you are using them, you might have difficulty finding tutorials, because other machines can't use them. Something to think about before you make the purchase.
What can the Cricut Joy make?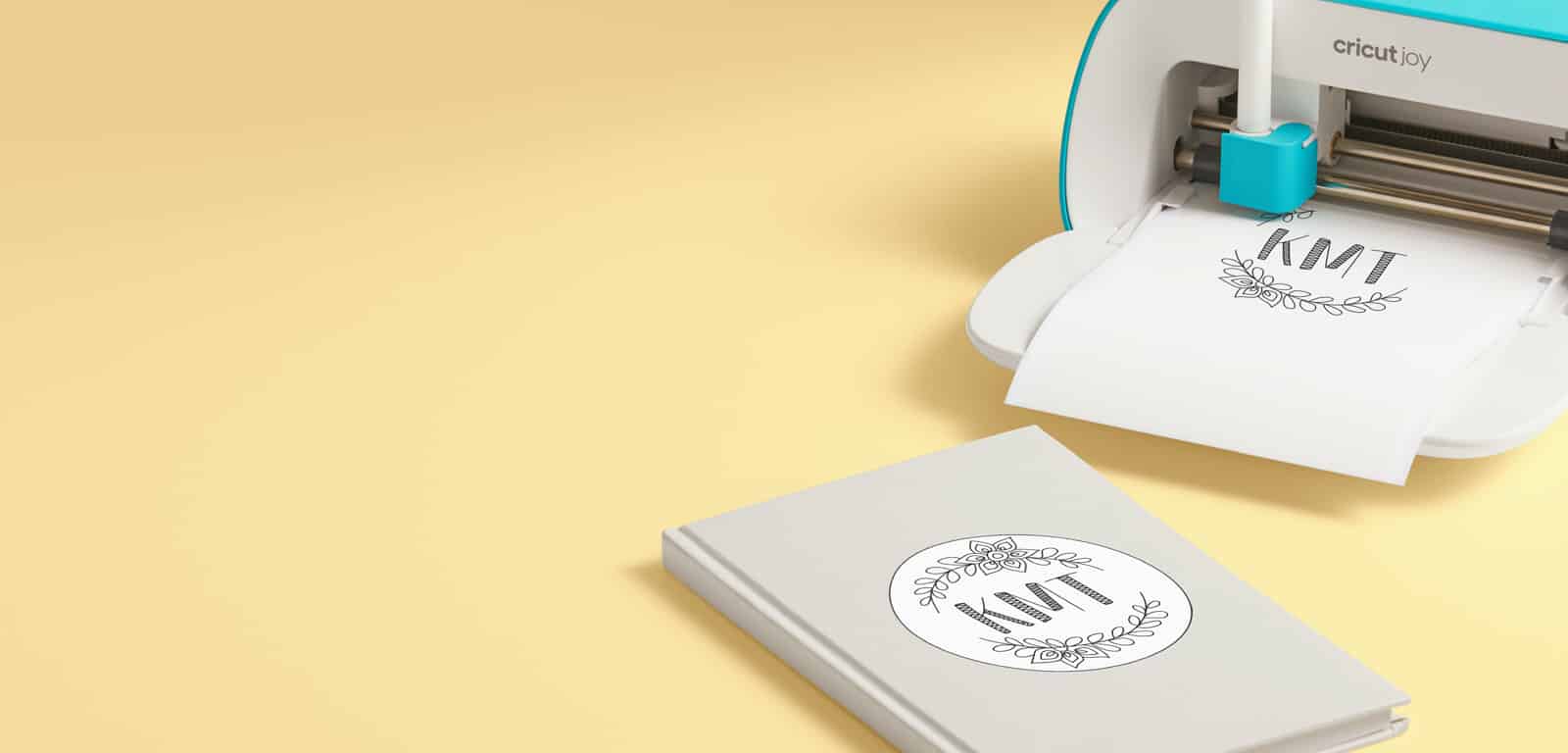 As you might have guessed from its size, there are some limitations to how much power Cricut was able to pack into this tiny machine.
The Joy is fantastic at making custom labels and greeting cards. Like other Cricut machines, it also is capable of working with the most popular materials like vinyl (adhesive and iron-on), cardstock, or construction paper. It doesn't have to cutting force or size to work with thick woods, acrylic, or metal.
Unlike other machines, it doesn't support etching or a dual-carriage that lets it cut and draw without having to swap out tools, but it does work with Cricut's Infusible Ink.
If you haven't used it before, Infusible Ink is a way of transferring colorful designs right onto your fabric using an iron or heat press. Cricut does recommend you use their own brand of "blanks" (like blank t-shirts) for the best result. In my experience, it works well on other brands as well.
Let's talk a bit more about greeting cards, because that's where the Joy really shines.
Making greeting cards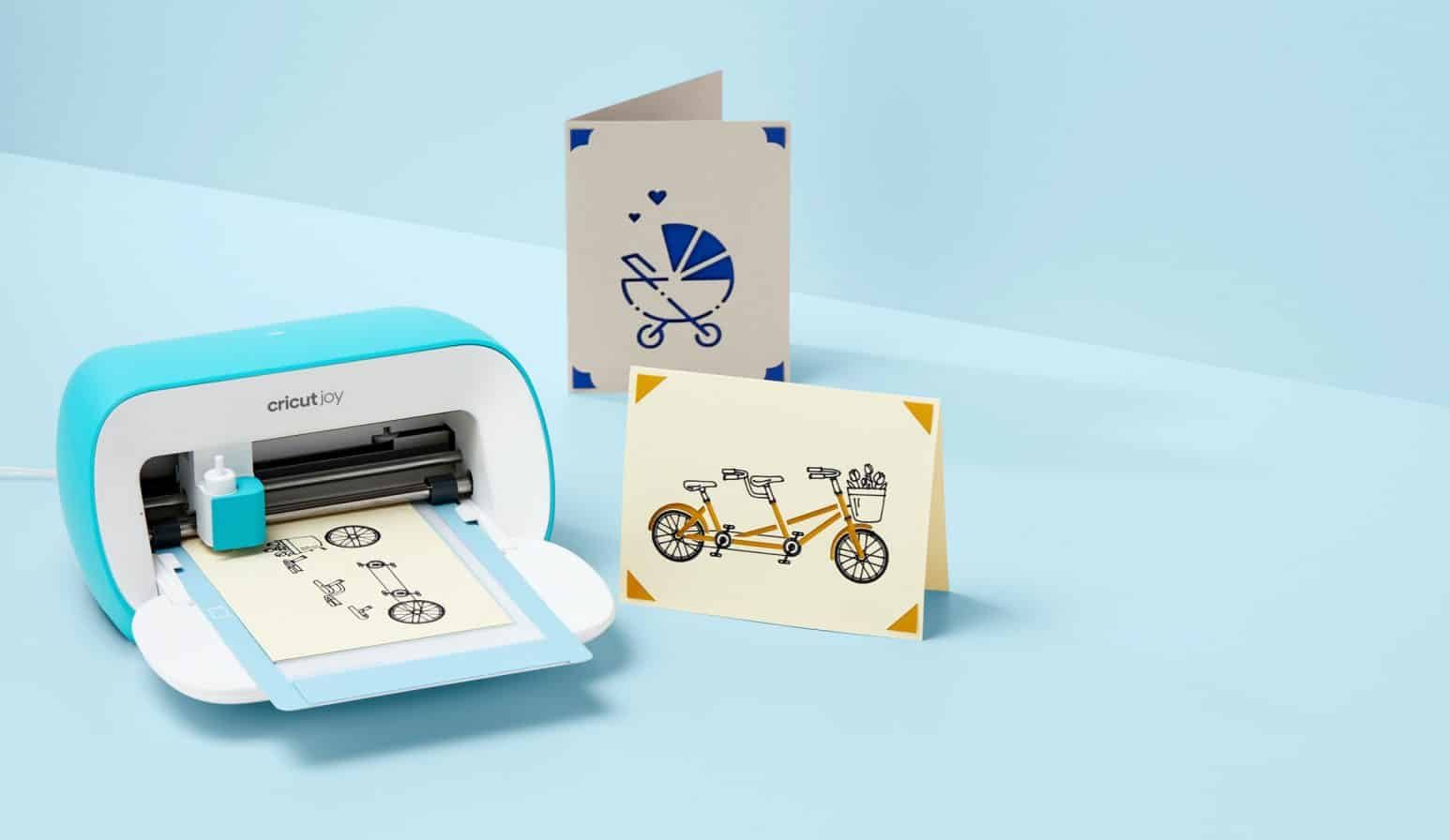 New to the Cricut Joy is an exclusive Card Mat which makes it really easy to work with the Insert Card material that Cricut is now selling. Insert Cards are basically normal cardstock except they're already cut to the perfect size.
As you can see above, they make it really easy to cut out a two-tone design, and with the Joy you can cut either personalized words onto the front of your card or a design as intricate as you like. Once you come up with a design (say for Christmas or Halloween) you can then reuse that design on all of your cards, while keeping the inside personal and authentic.
Of course, you can make these same projects with any other cutting machine, but what Cricut is counting on is how much easier the Joy is to use for beginners, especially those with a small size craft room.
Especially lately I find myself making a lot of custom cards as a way of connecting with my friends and family that I haven't seen face-to-face in a while. If I was just starting out, having something easier to use would be a huge advantage as well, because getting started on your first projects can make all the difference.
Ease of use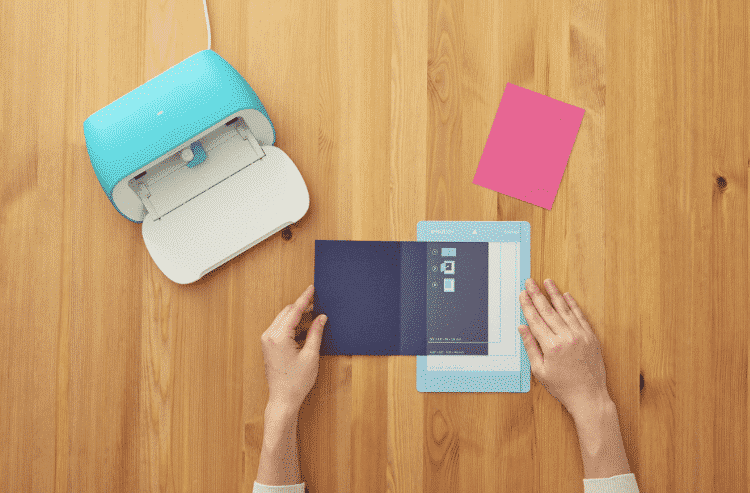 So let's talk about ease of use because I think for a lot of people, that's why they're really considering the Cricut Joy. It's the least expensive Cricut machine and it's clearly targeting beginner crafters who don't have a lot of experience. I have a few thoughts on this:
First, I've seen this time and time again: if you buy a new machine and don't make something with it within the first month, you likely won't use it. I know that sounds a bit harsh, but people see wonderful projects, they want to be able to make those things on demand, and they lose track of how exactly to get started.
Like I mentioned before, Cricut is providing fewer and fewer items with their machines (outside of the bundles), and if you just order a machine and nothing else, it's going to be hard to find the motivation to make anything (or figure out how).
So, in my honest opinion, it's a lot easier to use a Cricut Maker or Explore Air 2. I know, a bold statement.
They don't use Smart Materials, so you have to figure out how a cutting mat works, but honestly, it's not that hard. I also think they get you in the right mindset: that messing up is a part of growing and learning. That you don't need things super dumbed down to excel at them, what you need is a clear path to mastery (or at least a clear path to making a greeting card!).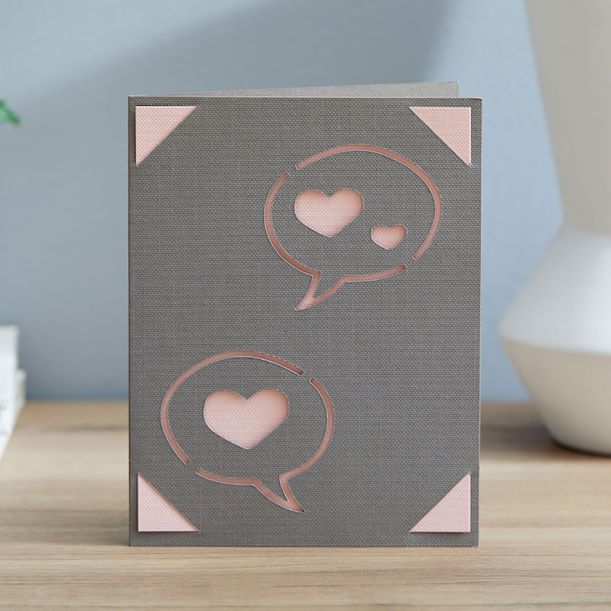 The Cricut Joy uses tools that you can't use with other cutting machines, so if you "graduate" after a few months to a more advanced machine, you don't really get to bring anything along with you other than the designs you've been using. What I like about their other machines is that many of the tools are interchangeable, as are the materials.
It does use Cricut Design Space app software (where you can download a Desktop App or the iOS/Android version).
Cricut has a wonderful community of crafters, and you can find wonderful tutorials here (or many other places!) on getting started with basically any machine you pick out.
Conclusion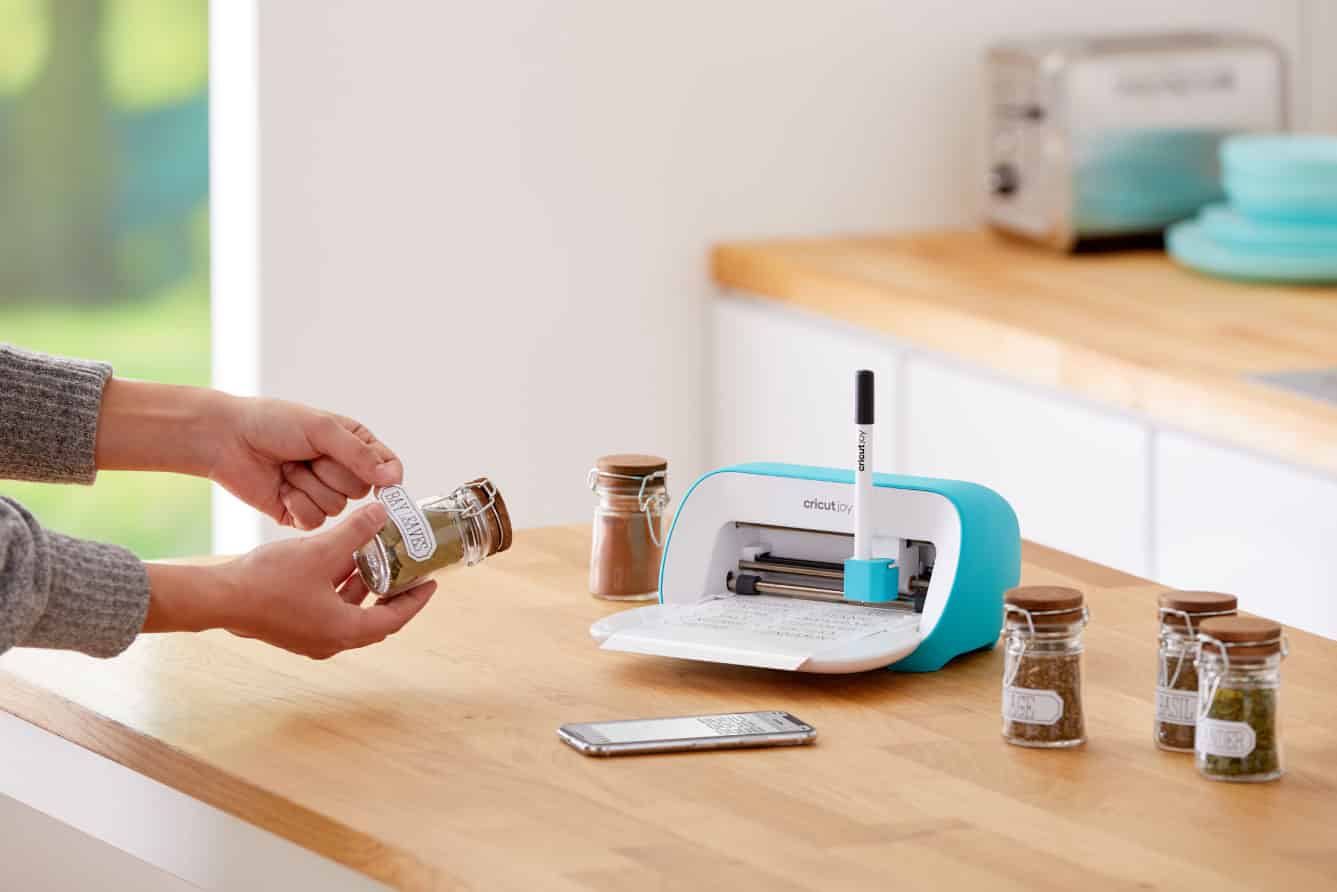 In this review of the Cricut Joy we've covered a lot, and it's certainly a different little machine than we're used to. If you're a beginner working with small projects like custom vinyl decals or greeting cards, you might find this machine to be all that you need.
However, it does have some drawbacks. You'll probably find that if you're using it a lot that you're frequently held back by the machine.
The design is certainly cute, but the whole ecosystem of Smart Materials and Insert Cards seems designed to keep people in the Cricut ecosystem for materials. It's a sort of a "walled garden", where things work well if you're inside but as soon as you try to expand your knowledge or use new materials things get very difficult.
If you guys have read my Cricut reviews before, you know that I tell it like it is, because I don't want you buying a machine that you won't use or regret later.
The price of the Joy is certainly attractive, and I do applaud Cricut for trying to keep prices low and accessible for new crafters.
You should buy the Cricut Joy if: you're pretty certain you just want to make small projects, like cards or personalized labels and if you really want things to be as easy as possible.
Sale
Cricut Joy
Compact, cute, and a beautiful design
Perfect for making greeting cards or custom labels
Less expansive than other cutting machines
Easy to use, portable, and can fit right in a cubby
Cricut Joy deals and bundles
If you've decided this is the machine for you, or if you just want to do a bit of window shopping, I've researched the best prices for the Cricut Joy that you can find right now. Any coupons or promo codes are automatically applied when you click on the links.
Like other cutting machines, you always need to be careful about where you source them. Many of the deals that look good either come from disreputable websites that don't actually have the product in stock (this has happened to me so many times!) or they're selling machines that don't come with the proper warranty.
All of these deals are verified to be legitimate:
Accessories + tools:
Cricut Joy vs Cricut Maker & Explore Air 2
I have a full article that's an in-depth comparison of Cricut machines, but I'll give a brief summary here.
Cricut Joy. Small, cute, and a bit limited in what it can do. It's the least expensive of Cricut's machines, but it can also do the least. If you're looking to get your feet wet and know that you tend to put off difficult projects, the Cricut Joy could work really well for you. It supports a variety of different materials (vinyl, cardstock, paper), and like we mentioned above, has a few exclusive features.
Cricut Explore Air 2. The next option up. It doesn't cost all that much more than the Cricut Joy, but it can do a lot more. The biggest advantage is its cutting force and size of cuts. You can work with a lot of materials that the Cricut Joy doesn't support (think thicker or tougher materials). If you want a good compromise between easy to use and versatile, this is a pretty good choice.
Original Cricut Maker. The former top-of-the-line option from Cricut. If you're working with fabric, really thick materials, or want a machine that's future proof, this is the choice for you. It's a much stronger machine than both the Joy and Explore Air 2, but if you think sometimes having too many options can be intimidating, you might want to consider one of the other machines.
Cricut Maker 3. A brand new machine released by Cricut (along with the Cricut Explore 3) that supports using Smart Materials. The upside? Now if you want to upgrade the Cricut Joy isn't the only cutting machine that can use them, so your materials won't be wasted.
FAQ
Is the Cricut Joy a good first cutting machine?
In my opinion, you could do a lot worse, but there are better options (listed above). If you're really undecided, you can't go wrong with the Explore Air 2. It's affordable, versatile, and there are a ton of tutorials available for it.
With the Cricut Joy, partially because it's new and partially because it uses exclusive materials you might have difficulty finding tutorials which you can easily follow along. That's without considering the machine size and cutting limitations.
Should I buy a Cricut Joy machine if I already have another Cricut cutting machine?
This ultimately depends on your individual needs and preferences. If you find yourself frequently working on small-scale projects such as greeting cards, labels, and small vinyl decals, the Cricut Joy's compact design and portability might be a welcome addition to your crafting arsenal.
However, if you're already satisfied with your current Cricut machine's capabilities and don't specifically require a smaller, more portable option, investing in a Cricut Joy might not be necessary.
Does Cricut Joy use the same Design Space as other Cricut machines?
Yes, Cricut Joy uses the same Cricut Design Space app software as the other Cricut machines. You can download the Desktop App or the iOS/Android version, depending on your preference. This allows you to access and utilize the same designs and templates you've used with your other Cricut machines, providing a seamless experience across the Cricut family of cutting machines.
Keep in mind that Cricut Joy has some exclusive tools and materials that aren't compatible with other Cricut machines, so you may need to adjust your projects accordingly when working with the Joy.
Does the Cricut Joy support using Smart Vinyl?
Yes, the Cricut Joy supports using Smart Vinyl. Smart Vinyl is a unique material designed specifically for Cricut Joy machines. It is available in various types, including permanent and removable options.
Smart Vinyl does not require a cutting mat, as it comes with a backing that allows the Cricut Joy to feed and cut the material directly. This makes it easy and convenient to use, especially for beginner crafters or those looking to create quick projects.
Does it compare to the Silhouette Portrait?
The Cricut Joy and Silhouette Portrait both cater to crafters who want a compact and portable cutting machine for smaller projects. While the Cricut Joy is designed to work seamlessly with Cricut's ecosystem of Smart Materials, the Silhouette Portrait works with a wider variety of materials but may require more manual adjustments and a cutting mat for some projects.
In terms of software, the Cricut Joy uses Cricut Design Space, while the Silhouette Portrait uses Silhouette Studio. Both have their own learning curves and unique features, so the choice between the two machines largely depends on personal preferences and the type of projects you plan to work on.
We generally prefer Cricut crafting here, especially because of the larger community and with the Cricut Joy it's likely you'll really prefer matless cutting.
Can you use a fine point blade?
The Cricut Joy comes with its own fine point blade, designed specifically for the machine. This blade is used for cutting various materials, such as vinyl, cardstock, and paper. However, it is important to note that the Cricut Joy's fine point blade is not interchangeable with the fine point blades of other Cricut machines, like the Explore Air 2 or the Cricut Maker.
Can you split a design into smaller parts and assemble them later?
You can! Cricut Design Space does have a feature for the Joy that allows you to take a larger project and split it up into smaller cuts. The software will prompt you on which materials to insert and then make the cuts as needed. Not all projects can be broken into smaller parts (like a large decal) so depending on what you want to do, this option might not be available.
Sources