Looking for the best vinyl for your Cricut or Silhouette project?
There are SO MANY kinds of vinyl. It's fabulous having so many colors and textures and options, but it can also be a bit overwhelming trying to remember which one to use.
In this article, I'll explain the different types of vinyl, exactly what they are used for, and then give you the best vinyl for every purpose and project.
I also have a few resources on how to find really cheap vinyl at the end of the article.
To start here's an easy cheat sheet I made so you can have all the important information in one place: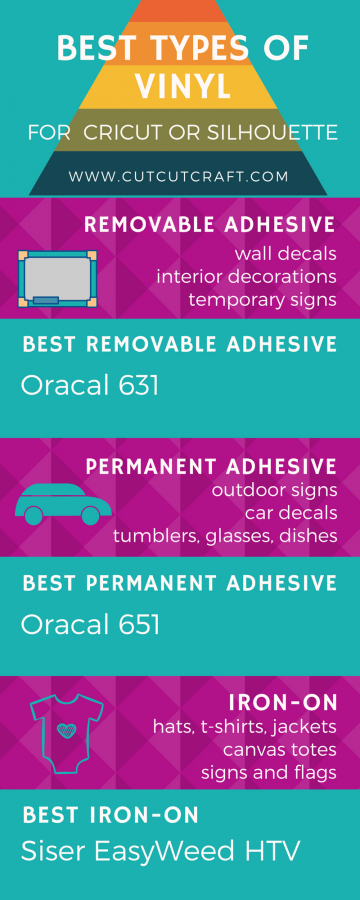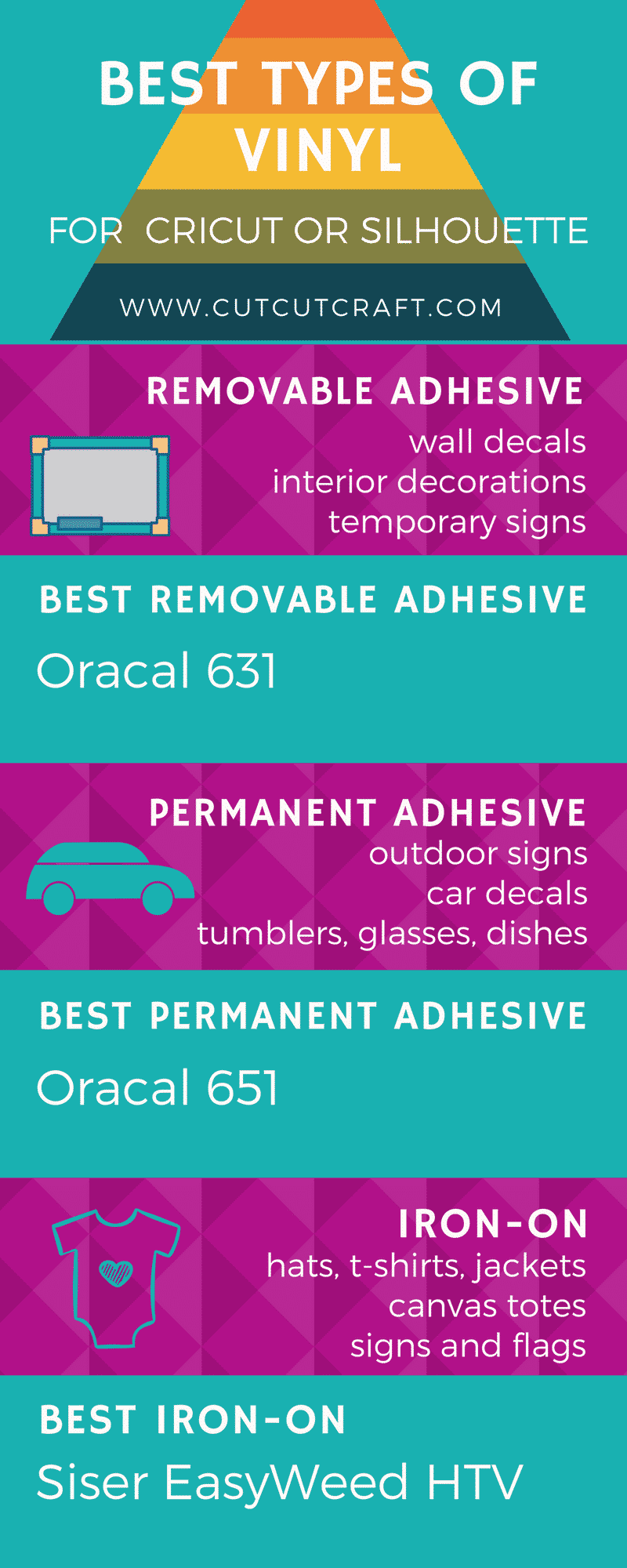 Different Types of Vinyl
Alright, so you want to know the best type of vinyl to get? Well, it depends completely on what you're planning on doing with it! There are a few different types of vinyl, and each is best suited for different applications.
If you want to work with vinyl, it is so valuable to learn about the different types so you'll always know you're buying the right materials for the job. I'll explain everything.
Adhesive vinyl
Adhesive vinyl is regular vinyl and the most common vinyl you'll come across. If you got any sort of starter kit with your Cricut or Silhouette machine, it probably included some colorful 12 x 12 sheets of this stuff.
Like regular stickers, adhesive vinyl comes attached to a white paper backing, also known as a carrier sheet. This backing is coated in silicone, so it's easy to pull the vinyl off. After the vinyl is cut and weeded, you use transfer tape to move it over to its final location.
There are a lot of different colors and patterns and finishes of adhesive vinyl. We're talking hundreds of different colors, from regular rainbow hues to neon, and animal prints, chevrons, dots, stripes, you name it.
Oh, and of course we've got glitter vinyl, holographic vinyl, glow-in-the-dark, even chalkboard and dry erase vinyl.
There are two types of adhesive vinyl that you need to know about: removable and permanent:
Removable (indoor) vinyl (Best choice: 

Oracal 631

)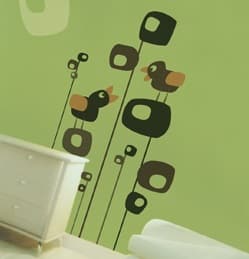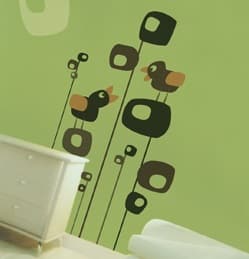 Removable adhesive vinyl is exactly what it sounds like: removable! It is great for indoor use, on any smooth surface that won't need to be washed or handled too much.
The regular Cricut-brand vinyl is this kind of removable vinyl. It typically has a matte finish, meaning it won't glare and reflect light.
This is the vinyl that you want to use for wall decals. (It can last for years, and you can peel it off after!)
It also works for smooth wooden signs, or for decorative glass and plates—as long as it stays indoors and doesn't need to go in the dishwasher. Actually, it's perfect for temporary outdoor use as well, just don't expect it to last for longer than a year. Removable vinyl is water-resistant, but not fully waterproof so it won't survive well in tough weather.
The best removable/indoor vinyl for Cricut and Silhouette is: Oracal 631.
Permanent (outdoor) vinyl (Best choice: 

Oracal 651

)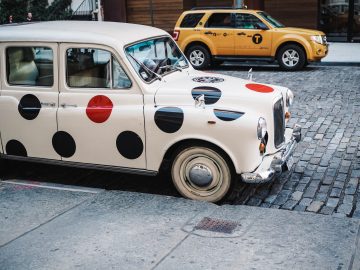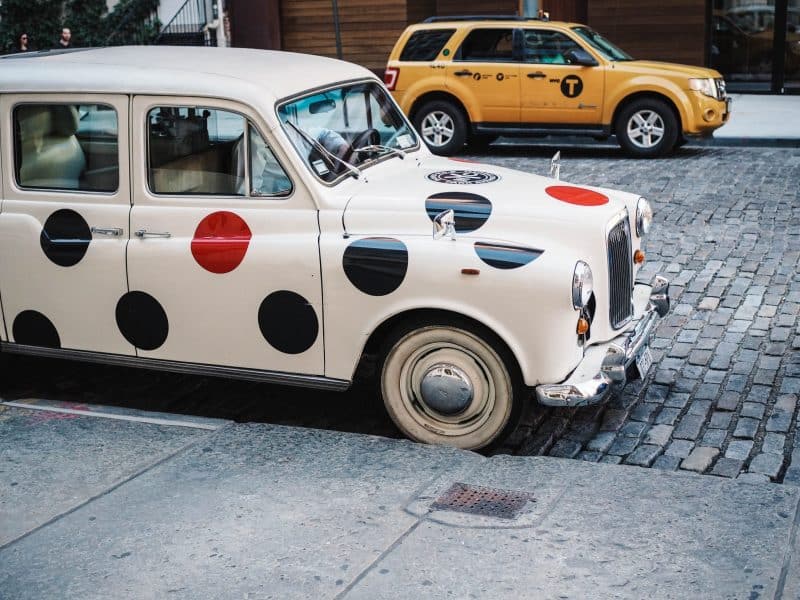 Permanent adhesive vinyl is, well, not actually permanent!
But it is waterproof and will last much longer than removable vinyl. (Most types are rated to last 6 years, but they can definitely stick for longer than that!)
You'll use this vinyl for anything that needs to be washed (or exposed to water/weather):
tumblers
cutting boards
shot glasses
champagne flutes
mason jars
exterior walls
outdoor signs
car decals
It also works perfectly for any interior decorations that don't need to be removed, like on wooden signs or decorative plates. You can even use it on rough surfaces.
This vinyl is also known as sign vinyl. It has a glossy finish, meaning it is shiny and reflects light.
If you need to remove permanent vinyl, you either will use some heat (like from a hair dryer) and a lot of scraping, or an adhesive remover like Goo Gone.
The best permanent/outdoor vinyl for Cricut and Silhouette is: Oracal 651.
Heat transfer vinyl (Best choice: Siser EasyWeed Heat Transfer Vinyl)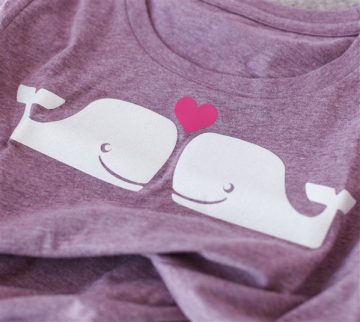 Heat transfer vinyl (HTV/iron-on vinyl) is what you'll use for sticking vinyl to any sort of fabric. It bonds to fabric using heat and pressure.
Typically I'll use a regular iron, although a heat press designed specifically for HTV will give much better, more consistent results.
HTV can be applied to:
t-shirts
jackets
hats
canvas totes
pillows
flags
quilts
any cotton or polyester fabric
leather, spandex, and nylon (with specialty HTV)
Unlike adhesive vinyl, heat transfer vinyl is not sticky itself, it comes on a clear, adhesive carrier sheet.
You don't need to use transfer tape with HTV, you leave the cut design on its backing sheet and just flip it onto your fabric before ironing it into place.
Heat transfer vinyl comes in almost as many colors and patterns as regular adhesive vinyl, and all the same awesome finishes like glitter, holographic, metallic, and glow-in-the-dark.
The best heat transfer vinyl for Cricut and Silhouette is: Siser EasyWeed Heat Transfer Vinyl.
Actually, all of Siser's HTV is worth recommending. They have patterned HTV (called EasyPatterns) and some awesome options like holographic and stretch. There's a lot of great information on Siser's website, so you should definitely explore the options there.
Cling vinyl (Best choice: Grafix Cling Vinyl Film)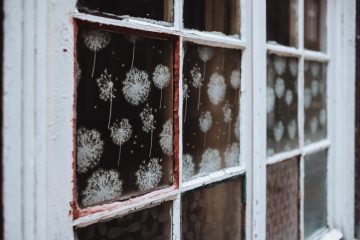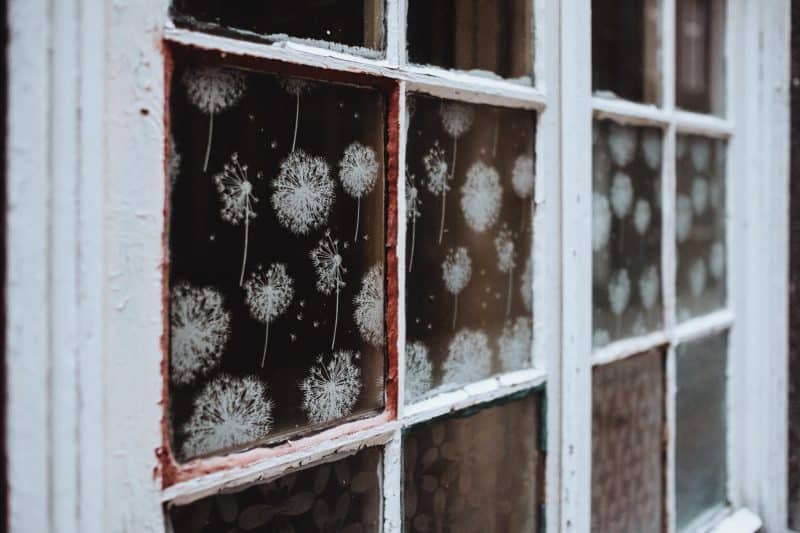 Window cling vinyl, or static cling vinyl, doesn't have any sort of adhesive at all. It uses the power of static electricity to stick to smooth surfaces like glass, plastic, and metal.
Cling vinyl is great for any temporary window decals you want to place. It's also perfect for removable decorations for lockers, mirrors, and whiteboards.
Static cling decals can be removed and replaced over and over (as long as the surfaces are clean and dry). They're perfect for holiday or birthday decorations because you can reuse them every year.
The best cling vinyl for Cricut and Silhouette is: Grafix Cling Vinyl Film.
The Best Vinyl for Every Application
I have tried a bunch of different types of vinyl over the years. When writing this article I also reached out to my craftiest friends and polled them on their favorites. Luckily, we agreed on the best brands of vinyl to use with your Cricut or Silhouette. Here's the deal:
Best vinyl for outdoors (walls, signs, and glass): Oracal 651
For outdoor use, you should use a waterproof permanent adhesive vinyl. The best kind is Oracal 651, which comes with a glossy finish and is rated to last up to 6 years. This vinyl cuts reliably and transfers cleanly.
If you are looking for something even more durable, check out cast vinyl like Oracal 751 (lasts 8 years) or Oracal 951 (10 years). If you want something temporary outside, the Oracal 631 will work, as long as it's not raining!
Best vinyl for indoors (painted walls and glass): Oracal 631
Indoors, you can use either removable or permanent adhesive vinyl. For wall decals, I recommend the removable Oracal 631, which can last up to 10 years (indoors), and still be quickly removed. This is the easiest vinyl to cut, weed, transfer, and remove! For any permanent decorations or rough surfaces, the Oracal 651 works great, too.
Best vinyl for fabric (apparel, flags, and bags): Siser EasyWeed HTV
The best heat transfer vinyl for use on cotton and polyester fabric is Siser EasyWeed HTV. EasyWeed cuts and weeds easily, and really lasts (even on t-shirts you toss in the washing machine).
The textured Siser HTV is great, too, but it is a bit more difficult to work with. It's totally worth it when you absolutely need a holographic unicorn t-shirt. Read all about it at Siser's website.
If you want another option, Chemica US also makes some great HTV!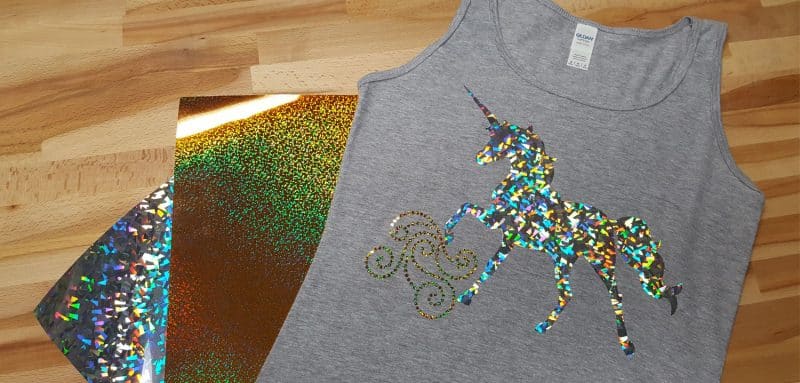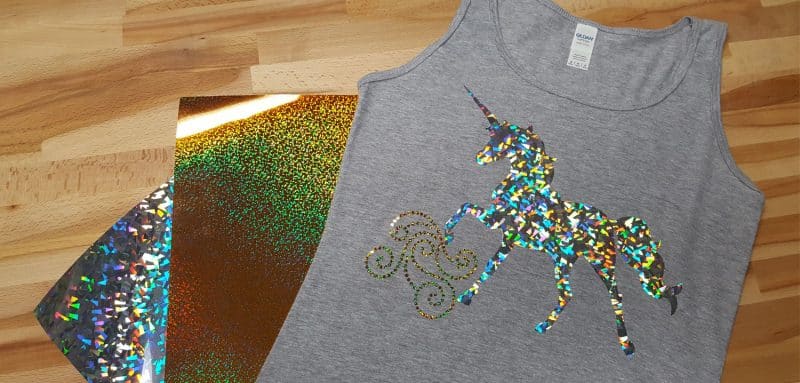 Best vinyl for glasses and dishes (that need to be washed): Oracal 651
For any sort of glassware or tableware that you need to be able to wash, you need permanent adhesive vinyl. The best kind is Oracal 651. Yep, the same stuff that you want to use for outdoor signs. Your vinyl-decorated tumblers should survive going through the dishwasher, but they'll last longer if you handwash them.
Cheapest Vinyl for Cricut and Silhouette
Here are some tips I've collected on how to find the cheapest vinyl for your cutting machine:
Don't buy vinyl in craft stores, if you can help it. Almost all the supplies you need for vinyl cutting are much cheaper if you buy them online! Of course, if you need an extra sheet of vinyl immediately, you can head to a Michaels or Joann Fabric store and probably find what you need. But it's best to plan a couple days ahead of time and order online!
Buy by the roll. If you're going to be using a lot of a single color, it will be much cheaper to buy by the roll than by the sheet.
Regular adhesive vinyl should cost less than a dollar per 12 x 12 sheet. Heat transfer vinyl is more expensive, but should be less than $4 for a 12 x 15 sheet. If you want fancy patterns or awesome finishes (glitter, holographic, etc), you'll have to pay a bit more.
Keep an eye out for online deals! I like Expressions Vinyl because they are fast and their site is so reliable and easy to use, but you can definitely find cheaper vinyl around. You can find cheap surprise packs of vinyl with random colors tossed in, as well as time-sensitive sales.
The cheapest Oracal 631, Oracal 651, and Siser HTV that I've found is from this page at CraftVinyl.com. On Tuesdays ONLY, their vinyl is buy one get one free, and comes out to $.50 a sheet for the adhesive, and $1.87 a sheet for Siser HTV. However, you'll have to wait weeks for delivery, so don't use this for anything time sensitive. And also, if you complain about their slow delivery, Nick from CraftVinyl will make sure it takes even longer, so be careful!
If you've found anything cheaper, please let me know in the comments! I'd love to add it to my list.
Best Place to Buy Vinyl
My pick for the best place to buy vinyl is online at Expressions Vinyl. They have a great selection, decent prices, fast delivery, and unlike some other online retailers, they are absolutely reliable.
If you want to shop around, you can find some really cheap deals from other online retailers. CraftVinyl has even cheaper prices (less than $.50 a sheet for adhesive) and SwingDesign has a wonderful selection.
I've read a lot of reviews on Amazon of people buying vinyl listed as Oracal 631 or 651, and then it turns out to not actually be Oracal! I love that fast delivery as much as the next gal, and I have certainly used it when I needed vinyl ASAP and couldn't make it out to a craft store. Just wanted to put a word of caution to check the labeling on your package after you receive it, and make sure you actually got what you paid for!
F.A.Q.
Is it Oracal or Oracle?
It is spelled Oracal! But sometimes it gets autocorrected to Oracle.
What's the difference between Oracal 631 and Oracal 651?
In brief: Oracal 631 is matte and removable, while Oracal 651 is glossy and permanent.
Can you use Cricut Vinyl with a Silhouette?
Absolutely! As long as the vinyl can fit in your machine, you can use it! Some prefer using the Silhouette Cameo 3 because it can work with material up to 10 feet long. I have a full comparison of the Silhoutte Cameo 3 vs the Cricut Explore Air 2 in another article!
Which Cricut is best at cutting vinyl?
The short answer would be the Cricut Maker or Explore Air 2. I have an in-depth article about the 6 best Cricut machines of 2018 where I break it down feature-by-feature.