Looking for the best vinyl for your Cricut and Silhouette projects?
It's fabulous having so many colors and textures and options, but it can also be a bit overwhelming trying to remember which one to use.
Worse, if you use the wrong kind, you could quickly ruin a project.
But fear not!
I'll explain the different types of vinyl, exactly what they are used for, and then give you the best vinyl for every purpose and project.
The best part?
I've tested every vinyl to make sure it's authentic, directly from the manufacturer, and the best deal available.
I also have a few resources on how to find really cheap vinyl at the end of the article (or you can click on that link to skip ahead).
Different Types of Vinyl
So you want to know the best vinyl to get?
Well, it depends completely on what you're planning on making. There are a few different types of vinyl, and each is best suited for different applications.
We'll start with an easy cheat sheet I made so you can have all the important information in one place.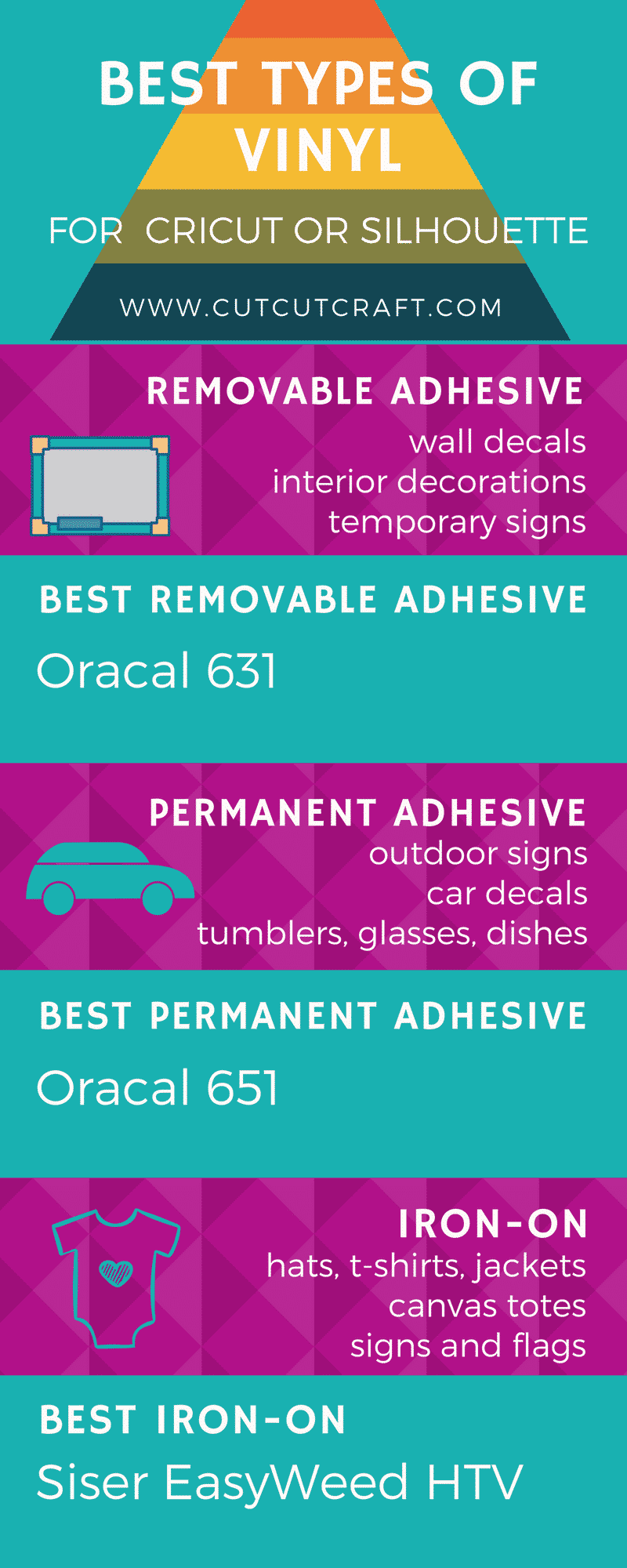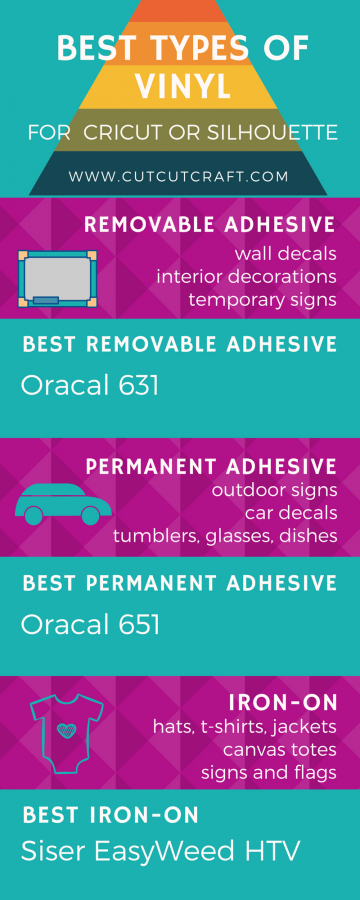 If you want to work with vinyl, it is so valuable to learn about the different types so you'll always know you're buying the right materials for the job.
I'll explain everything, and where to buy it so that you receive the authentic product.
Best adhesive vinyl
Adhesive vinyl is regular vinyl and the most common vinyl you'll come across.
If you got any sort of starter kit with your machine, it probably included some colorful 12 x 12 sheets of Cricut vinyl: that's this stuff.
Like regular stickers, adhesive vinyl comes attached to a white paper backing, also known as a carrier sheet. This backing is coated in silicone, so it's easy to pull the vinyl off. After the vinyl is cut and weeded, you use transfer tape to move it over to its final location.
There are a lot of different colors and patterns and finishes of adhesive vinyl. We're talking hundreds of different colors, from regular rainbow hues to neon, and animal prints, chevrons, dots, stripes, you name it.
Oh, and of course we've got glitter vinyl, holographic vinyl, glow-in-the-dark, even chalkboard and dry-erase vinyl.
There are two types of adhesive vinyl that you need to know about removable adhesive vinyl and permanent vinyl:
Best removable (indoor) vinyl (Top choice:
Oracal 631

)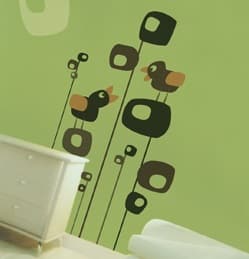 Removable adhesive vinyl is exactly what it sounds like: removable! It is great for indoor use, on any smooth surface that won't need to be washed or handled too much.
Regular Cricut vinyl is this kind of removable vinyl. It typically has a matte finish, meaning it won't glare and reflect light.
This is the vinyl that you want to use for wall decals. (It can last for years, and you can peel it off after!)
Cricut vinyl also works for smooth wooden signs, or for decorative glass and plates—as long as it stays indoors and doesn't need to go in the dishwasher.
Actually, it's perfect for temporary outdoor use as well, just don't expect it to last for longer than a year. Removable vinyl is water-resistant, but not fully waterproof so it won't survive well in tough weather.
The best removable/indoor vinyl for Cricut and Silhouette is Oracal 631.
Sale
Best permanent (outdoor) vinyl (Top choice:
Oracal 651

)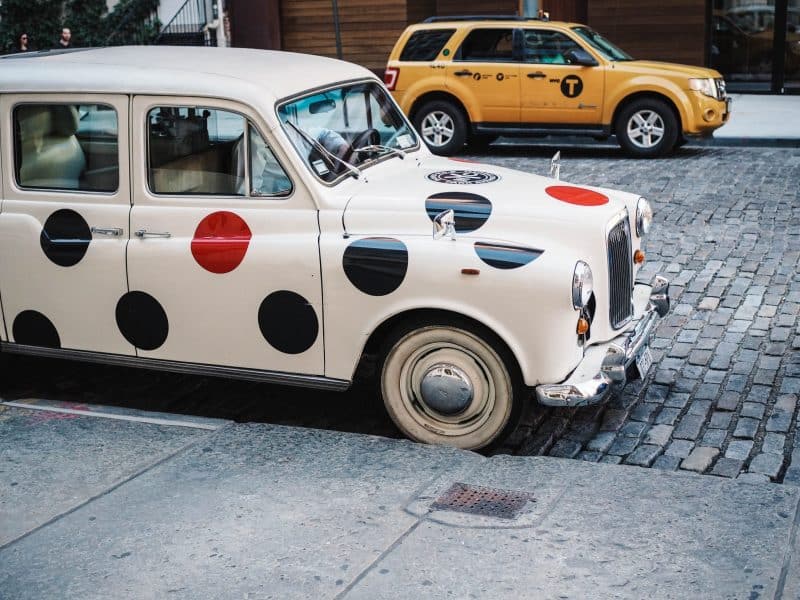 Permanent adhesive vinyl is, well, not actually permanent!
But it is waterproof and will last much longer than removable vinyl. (Most types are rated to last 6 years, but they can definitely stick for longer than that!)
You'll use this vinyl for any DIY projects that need to be washed (or exposed to water/weather):
tumblers
cutting boards
shot glasses
champagne flutes
mason jars
exterior walls
outdoor signs
car decals
It also works perfectly for any interior decorations that don't need to be removed, like on wooden signs or decorative plates. You can even use it on rough surfaces.
This vinyl is also known as sign vinyl. It has a glossy finish, meaning it is shiny and reflects light.
If you need to remove permanent vinyl, you either will use some heat (like from a hair dryer) and a lot of scraping, or an adhesive remover like Goo Gone.
The best permanent/outdoor vinyl for Cricut and Silhouette
ORACAL Vinyl Sheets (63 Pack)
All 63 Oracal 651 colors
Competitive pricing - ordered/processed/distributed efficiently to keep you crafting affordably
Oracal 651 - high quality vinyl made in Georgia use
12X 12 Sheets, professionally cut and packaged
Best heat transfer vinyl (Top choice: Siser EasyWeed Heat Transfer Vinyl)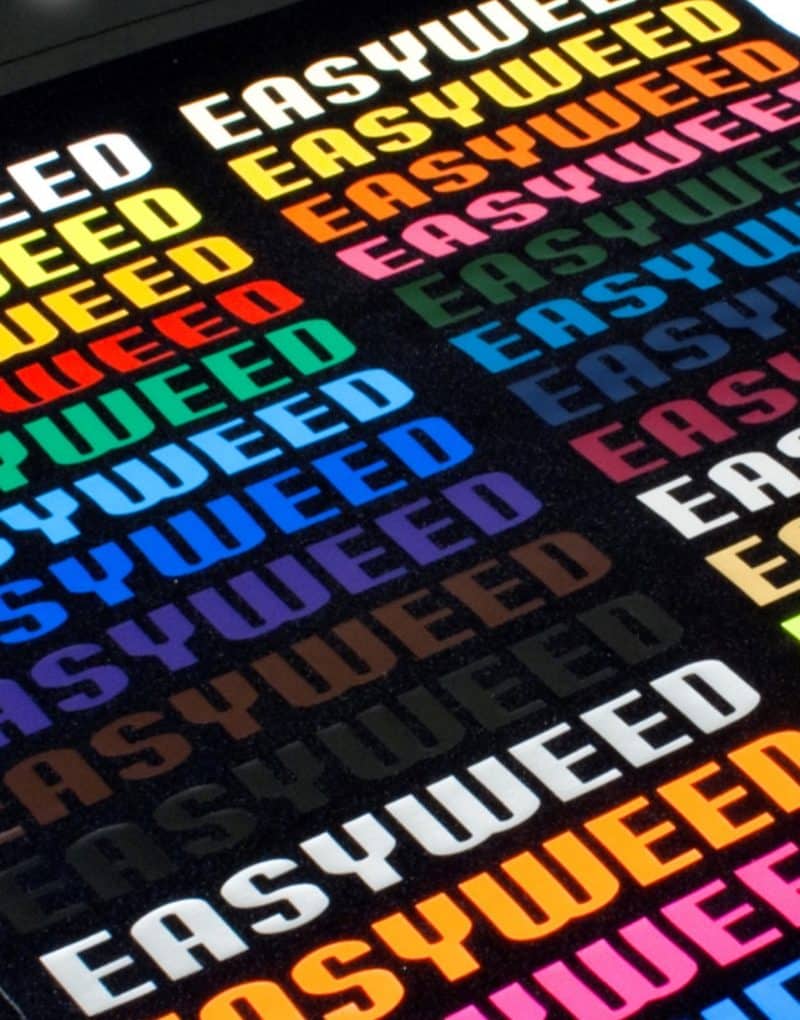 Heat transfer vinyl (HTV/iron-on vinyl) is what you'll use when you want your vinyl to stick to any sort of fabric. It bonds to fabric using heat and pressure.
(I have a full comparison of heat transfer vinyl available here)
Which is the perfect vinyl for you?
For me, it comes down to these attributes:
Color and finish
Reliability-of-cut
Ease-of-weeding
Durability
Price
I've tested + rated the 7 most popular HTV products on all of these qualities.
HTV can be applied to:
t-shirts
jackets
hats
canvas totes
pillows
flags
quilts
any cotton or polyester fabric
leather, spandex, and nylon (with specialty HTV)
Unlike adhesive vinyl, iron-on vinyl is not sticky itself, it comes on a clear, adhesive carrier sheet.
Typically I'll use a regular iron, although a heat press designed specifically for HTV will give much better, more consistent results.
You don't need to use transfer tape with HTV, you leave the cut design on its backing sheet and just flip it onto your fabric before ironing it into place.
This vinyl comes in almost as many colors and patterns as regular adhesive vinyl, and all the same awesome finishes like glitter, holographic, metallic, and glow-in-the-dark.
Okay, so which is my favorite?
When it comes to HTV, the best vinyl for Cricut is Siser EasyWeed Heat Transfer Vinyl
(available in sheets or 12in by 10ft rolls)
Siser EasyWeed Heat Transfer Vinyl, Starter BUNDLE
The most popular Siser EasyWeed colors on the market
Easy and Ready-to-cut material designed for custom garment decoration
Pressure-sensitive carrier allows you to weed small letters and fine designs easily
Much thinner than other film materials
EasyWeed offers excellent durability, even after repeated washings
This vinyl cuts consistently and actually lives up to its easy weed name. It comes in 50 colors and a few different finishes. You can buy it by the roll (12″ wide so you don't have to trim it to fit in your machine!) or in 12×12 sheets.
EasyWeed is CPSIA Certified lead-compliant, so it's safe for children's clothing.
Although Siser has a variety of different fantastic finishes, I definitely recommend sticking to a smooth finish like the regular EasyWeed until you have some experience.
It will be easier to use and troubleshoot than any of the glittery or holographic HTV, which can be a bit temperamental. In my experience, it's the best vinyl for shirts and works great with both Silhouette and Cameo machines.
Actually, all of Siser's HTV is worth recommending. They have patterned HTV (called EasyPatterns) and some awesome options like holographic and stretch.
If you're looking to try something almost as good, I can also recommend the Cricut brand iron-on vinyl.
(Here's where you can find it.)
While it may not be as easy to weed as Siser EasyWeed, Cricut vinyl (like Cricut Everyday Iron-On) is available in loads of colors, finishes, and patterns, so you're sure to find the perfect match for your ideas.
Cricut vinyl is also specifically designed to work seamlessly with Cricut machines, like the Cricut Explore and Cricut Maker. This means that you'll have an easy cutting experience with minimal adjustments needed.
Best cling vinyl (Test choice: Grafix Cling Vinyl Film)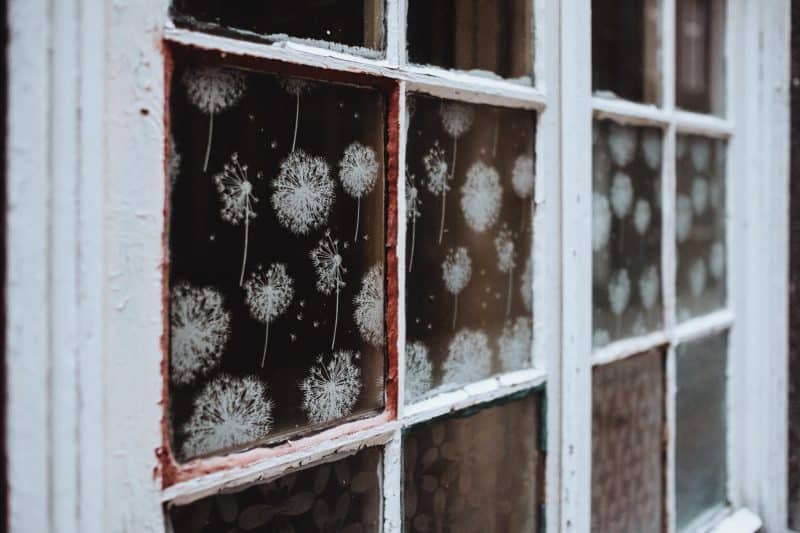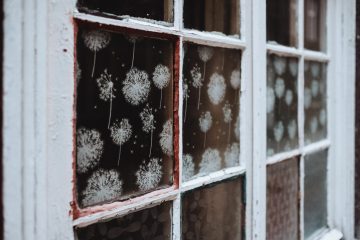 Window cling vinyl, or static cling vinyl, doesn't have any sort of adhesive at all. It uses the power of static electricity to stick to smooth surfaces like glass, plastic, and metal.
Cling vinyl is great for any temporary window decals you want to place. It's also perfect for removable decorations for lockers, mirrors, and whiteboards.
Static cling decals can be removed and replaced over and over (as long as the surfaces are clean and dry). They're perfect for holiday or birthday decorations because you can reuse them every year.
The best cling vinyl for Cricut and Silhouette is: Grafix Cling Vinyl Film.
It comes in both clear and assorted colors (check for current stock).
The Best Vinyl for Every Application
I have tried a bunch of different types of vinyl over the years. When writing this article I also reached out to my craftiest friends and polled them on their favorites.
Luckily, we agreed on the best brands of vinyl.
Here's the deal:
Best vinyl for Cricut outdoors (walls, signs, and glass): Oracal 651
For outdoor use, you should use a waterproof permanent adhesive vinyl. The best kind is Oracal 651, which comes with a glossy finish and is rated to last up to 6 years. This vinyl cuts reliably and transfers cleanly.
If you are looking for something even more durable, check out cast vinyl like Oracal 751 (lasts 8 years) or Oracal 951 (10 years). If you want something temporary outside, the Oracal 631 will work, as long as it's not raining!
Best vinyl for Cricut indoors (painted walls and glass): Oracal 631
Indoors, you can use either removable or permanent adhesive vinyl. For wall decals, I recommend the removable Oracal 631, which can last up to 10 years (indoors), and still be quickly removed.
This is the easiest vinyl to cut, weed, transfer, and remove! For any permanent decorations or rough surfaces, the Oracal 651 works great, too.
Best vinyl for fabric (apparel, flags, and tote bags): Siser EasyWeed HTV
The best heat transfer vinyl for use on cotton and polyester fabric is Siser EasyWeed HTV. EasyWeed cuts and weeds easily, and really lasts (even on t-shirts you toss in the washing machine).
The textured Siser HTV is great, too, but it is a bit more difficult to work with. It's totally worth it when you absolutely need a holographic unicorn t-shirt.
Read all about it here.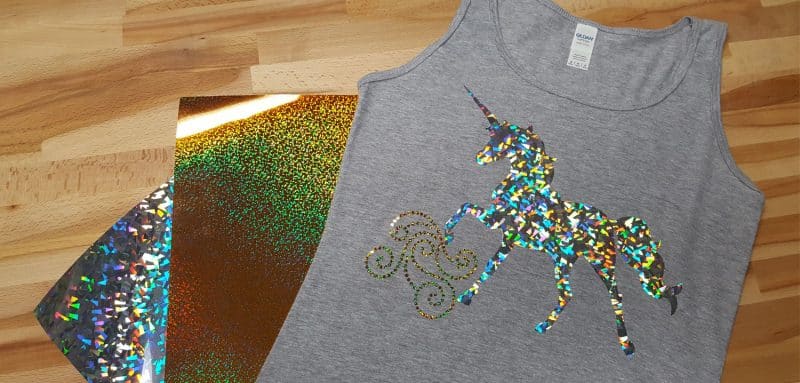 Best vinyl for glasses and dishes (that need to be washed): Oracal 651
For any sort of glassware or tableware that you need to be able to wash, you need permanent adhesive vinyl. The best kind is Oracal 651. Yep, the same stuff that you want to use for outdoor signs.
Your vinyl-decorated tumblers should survive going through the dishwasher, but they'll last longer if you handwash them.
Cheapest Vinyl for Cricut and Silhouette
Here are some tips I've collected on how to find the cheapest vinyl for your cutting machine:
Keep an eye out for online deals! I like Expressions Vinyl because they are fast and their site is reliable and easy to use, but you can definitely find cheaper vinyl around. You can find cheap surprise packs of vinyl with random colors tossed in, as well as time-sensitive sales.
Don't buy vinyl in craft stores, if you can help it. Almost all the supplies you need for vinyl cutting are much cheaper if you buy them online! Of course, if you need an extra sheet of vinyl immediately, you can head to a Michaels or Joann Fabric store and probably find what you need. But it's best to plan a couple days ahead of time and order online!
Buy by the roll. If you're going to be using a lot of a single color, it will be much cheaper to buy by the roll than by the sheet.
Regular adhesive vinyl should cost less than a dollar per 12 x 12 sheet. Iron-on vinyl is more expensive but should be less than $4 for a 12 x 15 sheet. If you want fancy patterns or awesome finishes (glitter, holographic, etc), you'll have to pay a bit more.
If you've found anything cheaper, please let me know in the comments! I'd love to add it to my list.
Best Place to Buy Vinyl
(These deals have all been updated in 2023. Check back from time to time as deals do change!)
I'm always on the lookout for a great deal on vinyl, but even if you're using the best vinyl for the project you're working on, you need to make sure you're actually getting that vinyl.
What do I mean?
A lot of vinyl I've tested isn't the real thing. Importers sometimes lose details in translation, or when trying to cut costs relabel an inferior vinyl as a brand-name product.
So I've made sure to test many sources and I have two suppliers I currently work with.
This is my pick for the most reliable place to buy vinyl online.
They have a great selection, decent prices, fast delivery, and unlike some other online retailers, they are absolutely reliable.
Second, there are three retailers that sell on Amazon that are completely reliable. Here are the currently verified best deals:
I'm always checking prices and updating this section, so be sure to stop back for current deals.
F.A.Q.
What's the difference between Oracal 631 and Oracal 651?
I have a complete comparison of 651 vs 631 here, but in brief: Oracal 631 is matte and removable, while Oracal 651 is glossy and permanent vinyl.
Can you use Cricut Vinyl with a Silhouette?
Absolutely! As long as the vinyl can fit in your machine, you can use it! Some prefer using the Silhouette Cameo 4 (full review here) because it can work with material up to 10 feet long. If you're looking for a complete comparison between Cricut machines and Silhouette, check out this post.
What Cricut machine settings should I use for HTV?
Most modern machines let you select the material in your software and the machine will adjust to the correct height, but you can also set it manually using these settings.
Is it Oracal or Oracle?
It is spelled Oracal! But sometimes it gets autocorrected to Oracle.