For Mothers Day I had given a friend a pack of Cricut's iron-on vinyl and guess what she told me? She hadn't even opened it!
I thought I was giving her a gift, or some fun new vinyl to play with, but really I had given her a problem: how the heck to use it?
So… I wrote up this tutorial on exactly how to use Cricut iron-on vinyl to make shirts (or hoodies, onesies, etc) with your Cricut.
(Sorry, Val!)
I'll go over what materials you need, and give you step-by-step instructions for how to design, cut, and weed your vinyl decal.
And then I'll show you how to apply the vinyl with an iron, EasyPress, or any other heat press.
Consider this tutorial as atonement for a troublesome gift!
What is iron-on vinyl?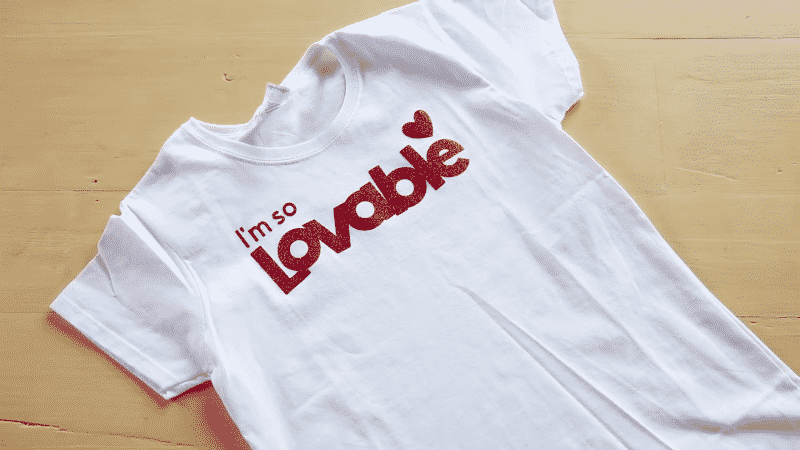 Iron-on vinyl, also known as heat transfer vinyl (HTV), is a type of vinyl with a heat-activated adhesive. You simply cut out your design, hit it with a hot iron or heat press, and voila! It permanently sticks to any fabric.
Cricut iron-on comes in all sorts of colors, patterns, and textures. There's the regular Everyday Iron-On, which we'll use in this tutorial. But there's also glitter, mesh, flocked, glow in the dark, and even holographic HTV.
I promise that by the end of this tutorial you'll not only know how to use iron-on vinyl, you'll be an expert!
What can you make with iron-on vinyl?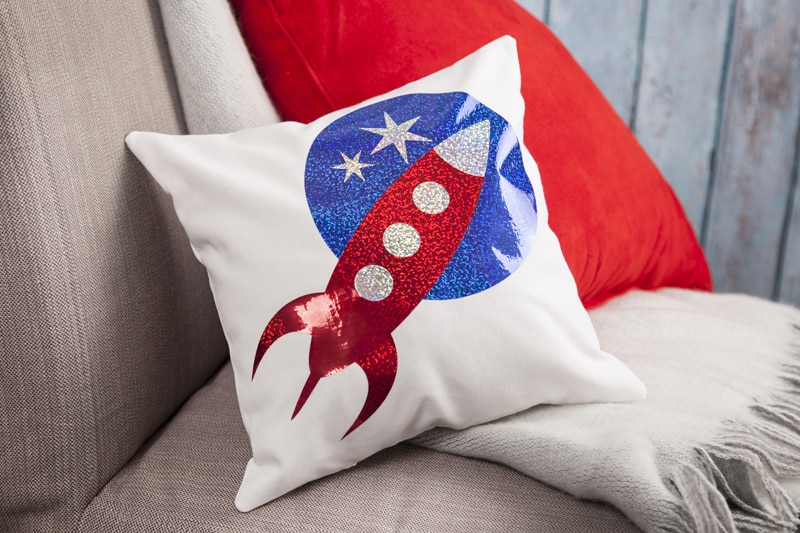 You can make so many different projects with iron-on vinyl! It can stick to all sorts of fabrics (cotton, polyester, felt, leather, etc) as well as wood, metal, paper, cardstock, & more!
You can:
Personalize t-shirts, onesies, hoodies, hats, etc.
Make matching jerseys and jackets for a sports team.
Design a tapestry for your baby's nursery.
Decorate luggage tags and backpacks.
Create a wooden or metal sign.
How to use Cricut iron-on vinyl: instructions
Iron-on vinyl is actually really easy to work with, especially if you know the correct technique. So I'll start with which materials you need, then we'll get into how to use it.
If you follow these Cricut iron-on instructions you'll soon be rocking your own silly t-shirts to those Zoom meetings in no time!
Supplies you need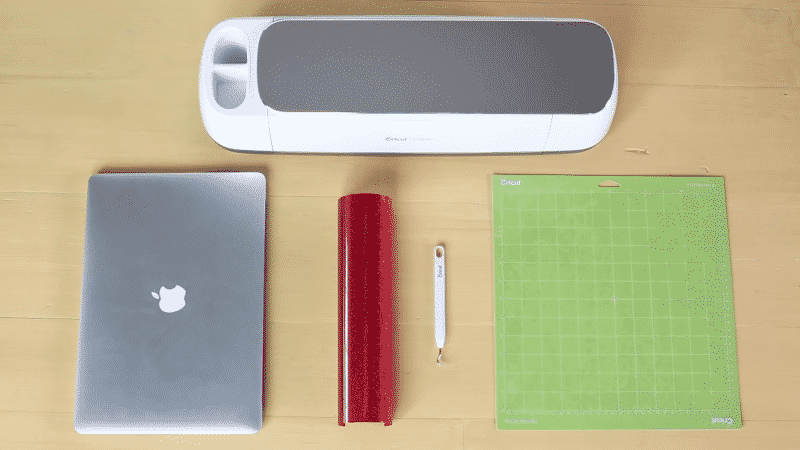 For cutting a design out of vinyl, you will need:
A computer with Cricut Design Space installed.
SVG or design ready to use. You can search for images and design your decal completely within Design Space.
Cricut Explore Air 2 or Cricut Maker. Any other vinyl cutter you know how to use will work as well, but this tutorial shows how to use a Cricut.
Cricut Everyday Iron-On Vinyl or Cricut Glitter Iron-on.
Cutting mat. Either the green standard grip or the blue light grip mat will work for iron-on vinyl.
Weeding tool. A weeding hook is the easiest way to lift up corners and grab tiny pieces of vinyl.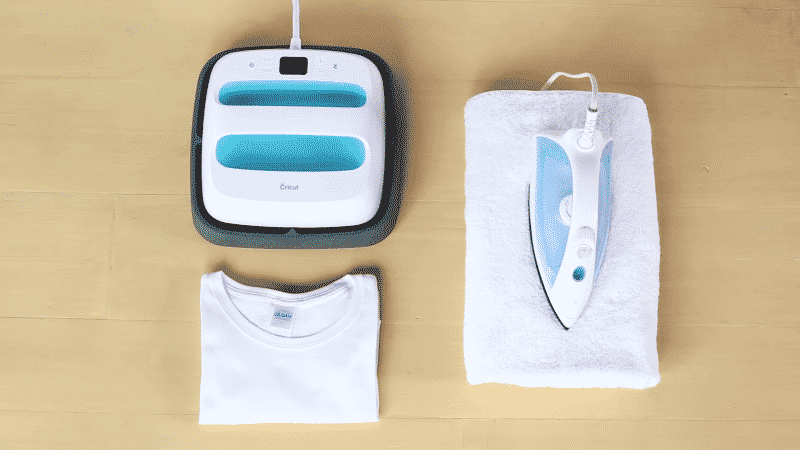 For applying the iron-on, you'll need:
A shirt (or other fabric you want to decorate). The fabric needs to be pre-washed without fabric softener and completely dried.
Iron, Cricut EasyPress, or heat press. I recommend the EasyPress to take all the guesswork out, for a perfect application every time! If you don't know how to use one, I have an article that explains how to use a heat press in detail!
Cricut EasyPress mat or a folded towel.
How To Use Cricut Iron-On Vinyl
Let's get to it! Here are the step-by-step Cricut iron-on directions:
1. Load your design.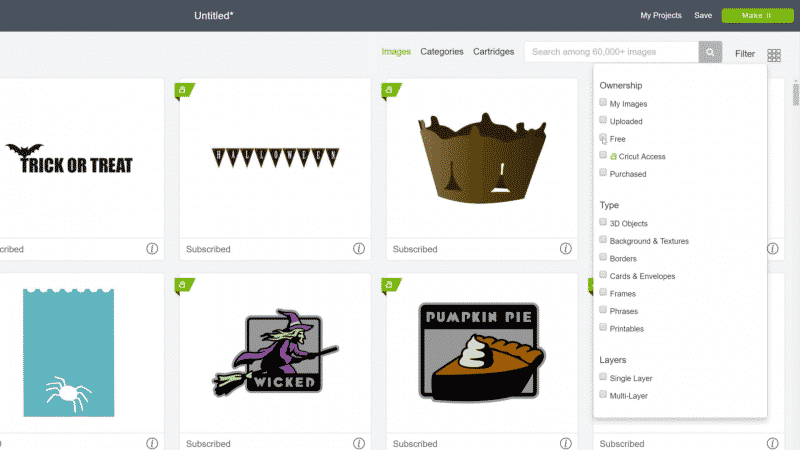 First, open up Cricut Design Space and load your design. You can:
upload files (SVGs or JPGs) that you've found online,
search the Cricut Image Library (hint: you can Filter by "free" to find free images!),
or create a unique design from shapes and fonts directly in Design Space.
2. Adjust your design.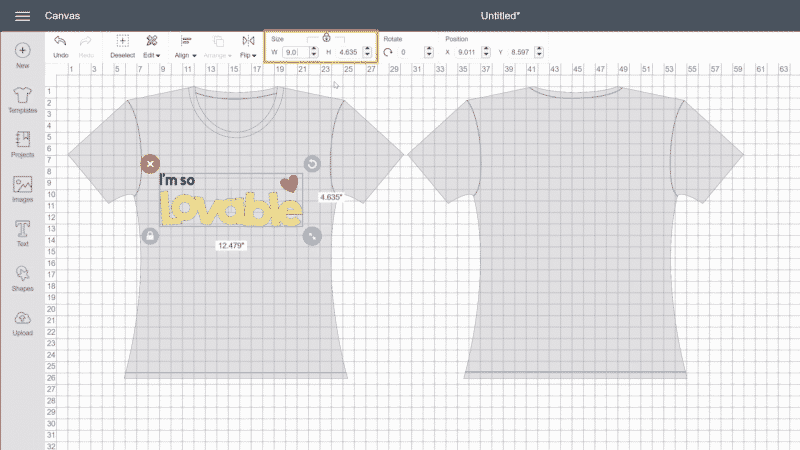 Resize your images to fit your project. You can use a t-shirt template within Design Space to see how the design will look on a shirt.
Select your entire design and adjust the size on the top toolbar to set the dimensions. A decal that is 9 inches wide will fit well for a standard t-shirt.
Then, hit Color Sync in the top right and make sure that all the parts of your design will be cut from the same color.
Once your design is finalized, click the green "Make It" button in the top right to take you to the preview screen.
3. Mirror your design.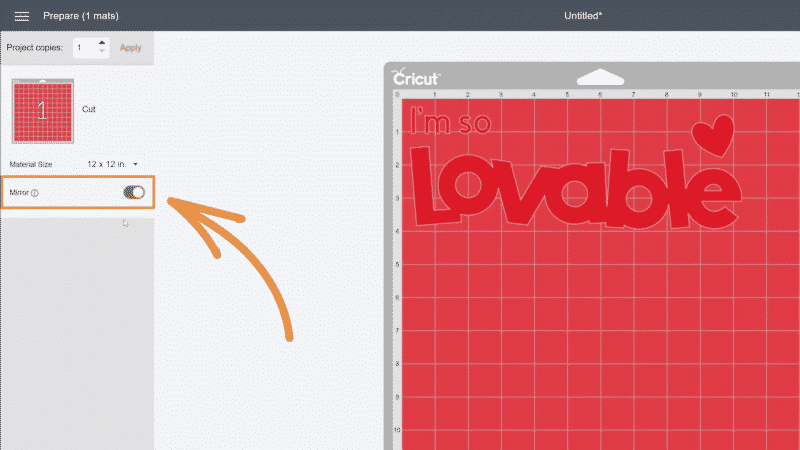 Select the "Mirror" option on the left panel. (It should be green when selected.) Then hit the green "Continue" in the bottom right.
Don't forget to mirror your design! I made this its very own step because it's so easy to forget.
4. Select the material.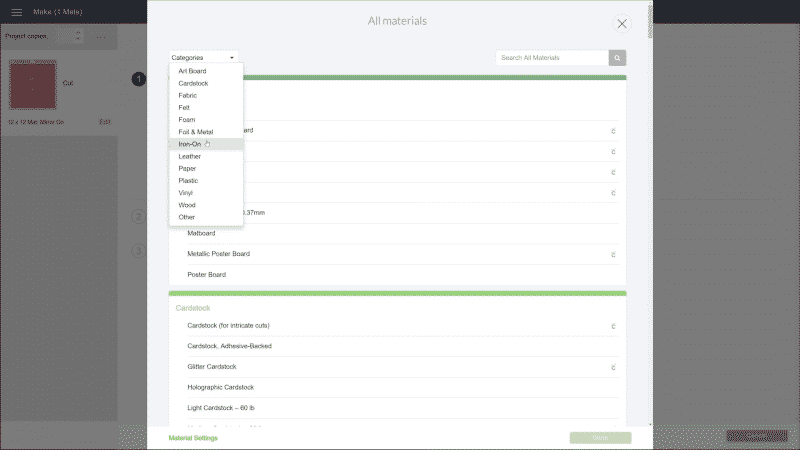 After clicking continue, Cricut Design Space will connect to your machine, and ask you to select your iron-on material.
If you're using a Cricut Maker, select the iron-on type from the drop-down menu.
If you are using a Cricut Explore, then just rotate the dial on your machine to Iron-On.
5. Prepare the vinyl on your cutting mat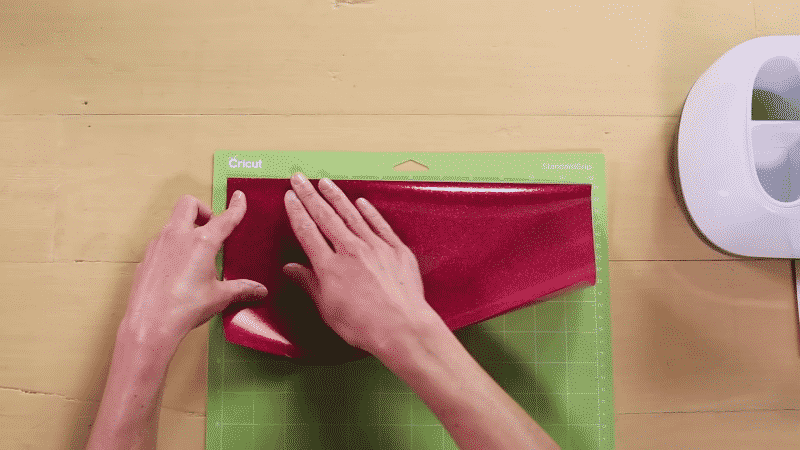 Place the iron-on vinyl plastic side down onto the cutting mat. Make sure the shiny plastic carrier sheet is facing downwards, so it doesn't get cut. Smooth the vinyl onto the cutting mat with your fingers or a brayer.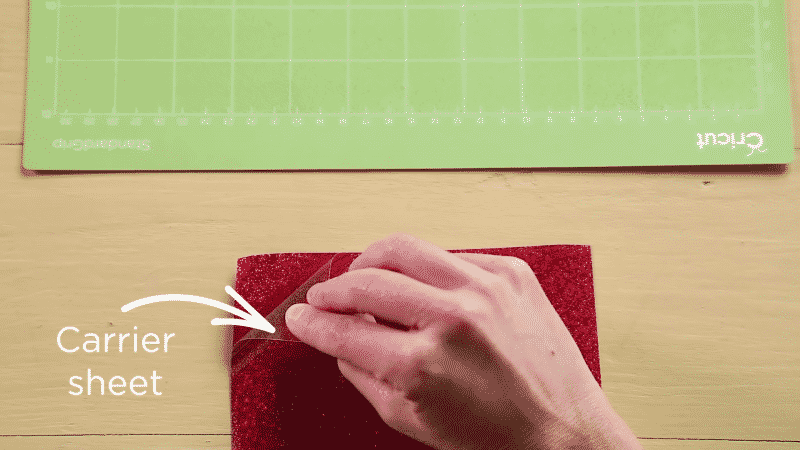 Now is also a good time to check to make sure that your machine has the fine point blade installed.
6. Insert mat into machine and cut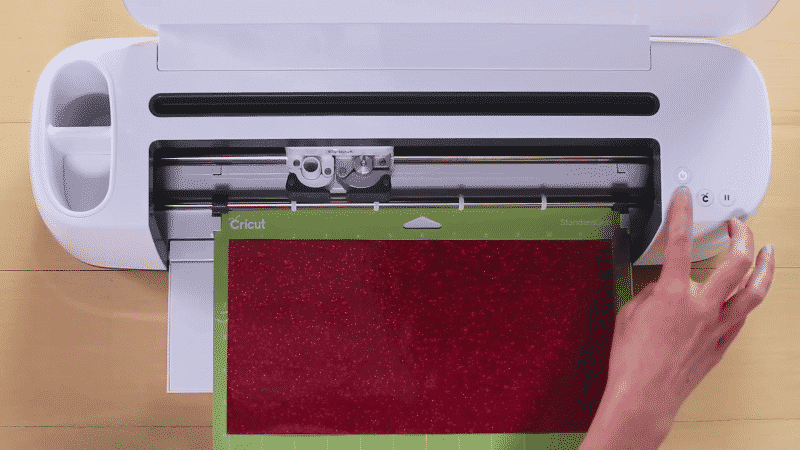 Insert the cutting mat (with the vinyl) into your Cricut, and push the up-down arrow button on your Cricut machine so it grips the mat.
Then, press the blinking "C" button on your Cricut to start cutting. Sit back and watch the magic happen!
7. Weed the vinyl
Once the Cricut is done cutting, press the arrow button once again so it releases your cutting mat, complete with cut out vinyl decal.
And now…it's time to weed.
Weeding is the process of removing all the excess vinyl material that is not part of your final design. I like to leave the HTV attached to the cutting mat as you peel pieces off, so everything is held in place.
Starting with the big outer pieces, use a weeding tool or hook to lift up a corner of the vinyl. Then you can use your fingers to pull the material away from the mat at a 45° angle.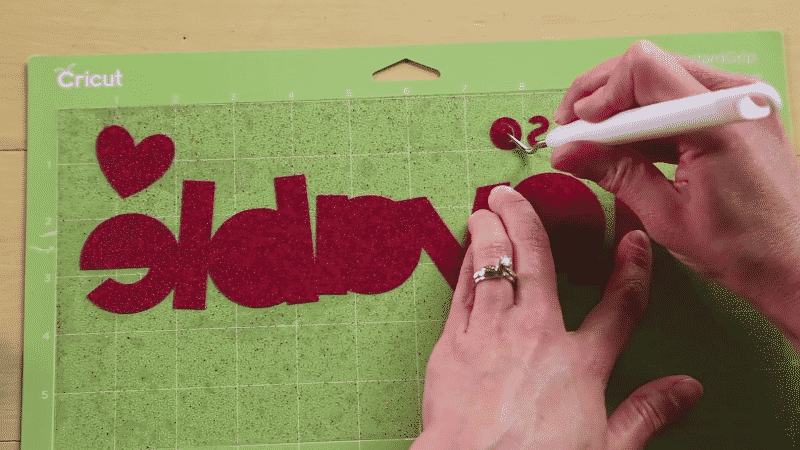 Next, use your hook or a pair of tweezers to grab and remove all the smaller pieces of vinyl. Don't forget the interior of A's and O's.
Compare your cut design with the image on your computer to make sure you removed all the right pieces.
Here's a helpful video to watch how to cut and weed your vinyl decal:
8. Transfer the design
You can use a regular household iron, the Cricut EasyPress, or any other heat press to apply the vinyl to a t-shirt (or any other material). The general process is the same, but I'll go over the specifics for each method.
With a Cricut EasyPress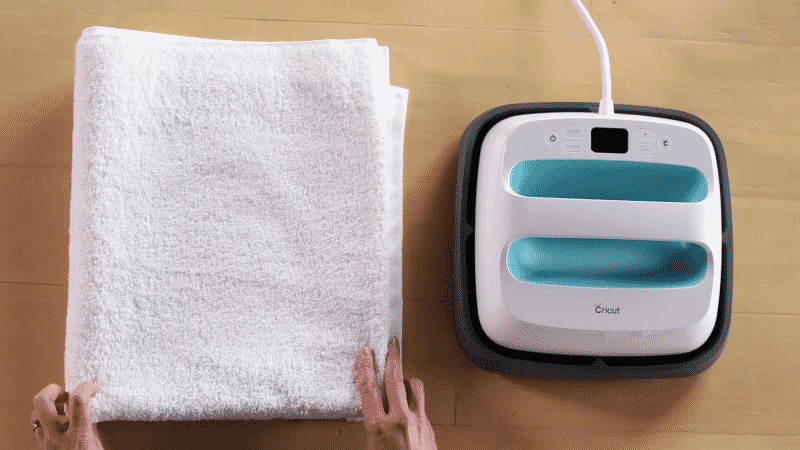 An Easy Press is, by far, the easiest way to use Cricut Iron-On. It's designed to work with Cricut HTV, so it takes all the guesswork away! It's simple to set the temperature, the timer, and it's big enough to cover your entire project in one go.
First, heat up your Easy Press.
So what temperature do you iron on Cricut vinyl? If you're working with 100% cotton (like we are) & Cricut Everyday Iron-On, set the temperature to 315°F.
For other types of Cricut Iron-On and other materials, search the amazing Cricut Heat Guide. You can search and find the exact temperatures and timings for every single combination. So if you want to know the settings for how to use Cricut iron-on glitter, they have you covered.
Pre-press
After the EasyPress is hot, you need to pre-press your fabric. This flattens the material, removes any moisture, and heats the fabric so it's ready to bond to the HTV.
Lay your shirt down on the Cricut EasyPress Mat or a folded towel, so you have a smooth, soft pressing surface. Set the timer for 5 seconds at 315°F, position the EasyPress in the middle of the shirt, and hit the green "C" button to start the countdown.
Press
Position the weeded vinyl decal shiny side up, so the vinyl is against the fabric and the plastic back is facing up. Make sure it is centered exactly where you want it.
Set the EasyPress timer for 30 seconds at 315°F, and place the EasyPress over the design. Hit the "C" to start the countdown and press down with light pressure.
Remember: the heat is doing most of the work here. Just keep an even, gentle pressure, and don't move the EasyPress around.
Flip your whole project over, and press from the back of the shirt for 15 seconds at 315°F.
Peel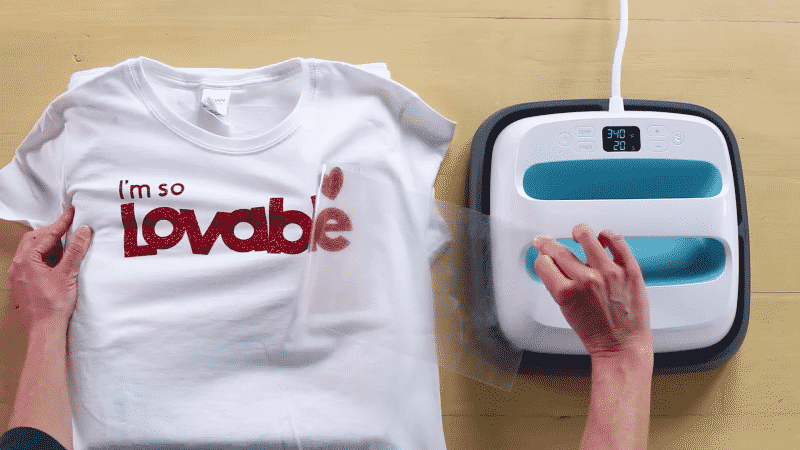 Let the shirt cool off for a few minutes.
Now, try to gently peel away the clear plastic liner from the vinyl. If the vinyl starts pulling away from the shirt, stop! Replace the liner and hit it with more heat. I usually do another 10 seconds on the front and 10 seconds on the back.
Once your HTV is fully bonded to the fabric, peel the plastic liner completely off, and admire your creation!
With an iron
You don't need to use any fancy heat press to transfer HTV. I'll explain exactly how to use Cricut Everyday Iron-On vinyl with an everyday iron.
Pre-press
Like with a heat press, you need to preheat the iron and your t-shirt before you transfer the vinyl. Pre-pressing helps remove any wrinkles and moisture from the fabric, and ensures that the HTV bonds properly.
Set your iron to high heat with zero steam, and press for 10-15 seconds where the vinyl decal will be placed.
Important: Do not use steam. Any moisture will inhibit the Cricut iron-on from sticking to the fabric.
Press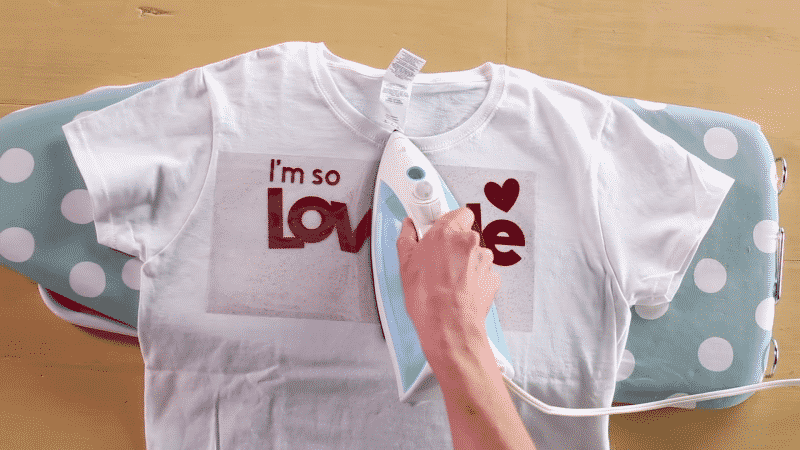 Now, place your weeded vinyl design plastic side up, where you want the image to go. The shiny plastic backing should be facing up, so the vinyl is directly on the fabric.
After your design is in place, cover the plastic with a thin piece of fabric (like a big cotton scrap or piece of pillowcase). Since most regular irons heat unevenly, this prevents any hot spots from melting the plastic.
With the iron set to high heat with no steam, press with medium pressure for 25-30 seconds on one part of the design. Then, lift up the iron, reposition it, and press again for 25-30 seconds, until you have covered the entire area.
Important: Do not slide the iron around. Moving the iron could cause the HTV to bunch up or slide out of position.
Flip your entire project over, and press for an additional 25-30 seconds from the back of the shirt. Again, pick up and reposition the iron, pressing each area for at least 20 seconds.
Peel
Let the vinyl cool. Start gently peeling away the plastic liner from the design. If the vinyl begins to lift off with the liner, stop and replace the liner. Cover with the cotton scrap again, and iron at high heat (no steam!) for 10 seconds from the front and 10 from the back.
When the vinyl is fully bonded to the fabric, slowly peel away the clear plastic.
With a heat press
Lastly, I'll go over how to use a regular heat press for iron-on vinyl. It's pretty similar to using the EasyPress, though please be extra careful not to burn yourself on the top plate.
Pre-press
First, preheat the heat press to 315°F and pre-press your shirt for 5 seconds. This removes moisture and wrinkles, and makes sure the vinyl sticks well.
Press
Next, carefully place the weeded vinyl design into position on your shirt, avoiding touching that top plate, and making sure the plastic backing is facing up.
Cover the work area with a Teflon heat press sheet, and press for 30 seconds at 315°F. Flip the project over, and press from the back for 15 seconds at 315°F.
Note: The Cricut Everyday Iron-On heat press temp can be found at Cricut's Heat Guide, which also shows the settings for all other types of Iron-On and material.
Peel
Let everything cool for a few minutes. Slowly start peeling the clear plastic liner off. If the vinyl lifts off your t-shirt, press again for 10 seconds or so. When it is fully bonded, then you can pull the plastic off the rest of the way.
9. Care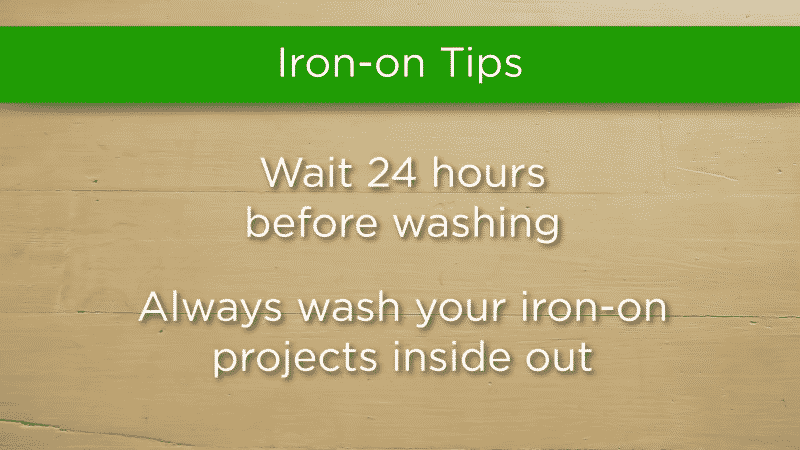 Wait at least 24 hours before washing or wearing your new shirt.
Wash (without bleach!) and tumble dry inside out to protect your design. (Air drying is fine as well.)
If any areas of iron-on begin to lift off the fabric, you can just press again using an iron or EasyPress to re-apply the vinyl.
Mistakes to avoid with iron-on vinyl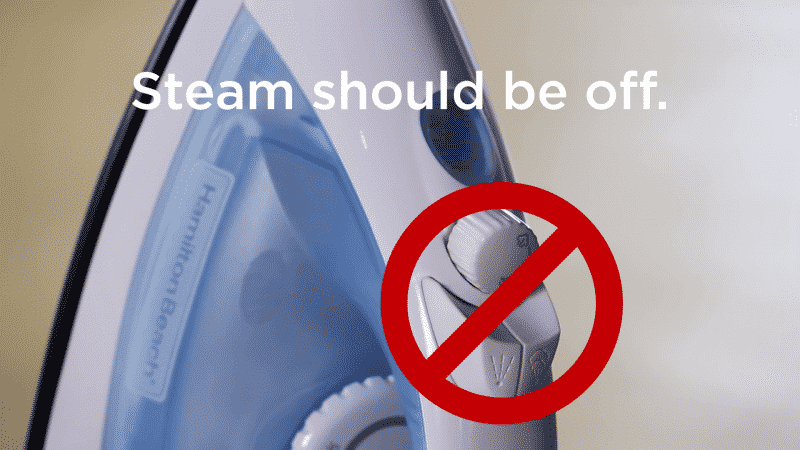 Don't forget to mirror your design before you cut! This is a mistake that will eventually happen even after you've made a hundred shirts. So make sure that the "Mirror" option is selected (green) before you cut. If not, you'll have to either scrap your vinyl, or maybe you can just use it for some selfies.
Make sure you don't use too high of heat. The iron on needs heat, but too much heat can melt the plastic carrier, or make vinyl end up all wrinkly on your project. Place a piece of thin cotton fabric(an old pillowcase) between the iron and your project to protect it from any hot spots your iron may have.
Don't use steam! Any moisture will prevent the iron-on from sticking to the fabric. Make sure your materials are bone dry when applying the vinyl so it adheres well.
Avoid pressing too hard. Press firmly and evenly, but remember that the adhesive is heat-activated, so let the heat do most of the work. Just use medium pressure, instead of putting all your weight behind it.
Don't slide the iron around. This could end up shifting your design around before it's set, resulting in wrinkles and misplaced pieces. Instead, press one section at a time. Then lift the iron and place it onto the next section to press again.
Don't wash immediately with hot water. The HTV needs to set after you've applied it. Wait 24 hours, wash inside out in cool water, and avoid drying on high heat.
Be careful not to cut through the carrier! If your cutting depth is too thick, you'll cut all the way through the plastic carrier sheet that holds the vinyl together. If you cut through the plastic liner, you can still transfer a simple design piece by piece. But you'll need to reduce the cutting thickness when you try to cut again.
Conclusion
And that's a wrap! I hope you enjoyed my Cricut iron-on tutorial. And I know you'll enjoy your new ability to make anything you want out of iron-on!
If this guide was helpful, or if you have any questions, please let me know in the comments below!
FAQ
Which side of iron-on vinyl goes down?
When you are cutting iron-on, place it shiny side down on the cutting mat. When you are ironing it, you flip it over so the iron-on is shiny side up.
What temperature do I use for Cricut iron-on?
For Cricut Everyday Iron-On, set your heat press or EasyPress to 315°F, or a regular iron to the high or cotton setting.
How deep do I cut iron-on vinyl?
With a Cricut, just set the material type to Iron-On and it will automatically know how deep to cut.
How do you remove the back of the Cricut iron-on?
For Cricut Iron-On, it's best to wait until the vinyl has cooled down after ironing, and then slowly peel the plastic backing away.
Can you use a regular iron for iron-on vinyl?
Of course! Check out the section in the step-by-step directions for how to transfer the vinyl with an iron.
How can you use multiple colors of vinyl on your cutter?
Here's a great video by Official Cricut on how to use two colors with iron-on.