What is the best vinyl cutting machine available today?
Well, I've spent the last year testing 30+ models, and I'm finally ready to release my review (and my top pick).
Picking the best vinyl cutter can be a bit of a daunting task – there are so many to compare. It's difficult to figure out the differences between various models, and even once you learn their specifications, how do you analyze which are relevant to you?
Worst of all?
You could end up losing a lot of money on a vinyl cutter that won't be supported next year. Or worse, one that has software that's hard to use or completely incompatible with your PC.
I want to make sure that everyone can pick the perfect cutting machine for themselves, so I've compiled and evaluated all the top vinyl cutters for your home and business, as well as essential advice you should know before selecting the right cutting machine for you.
So whether you're a hobbyist looking for the latest and greatest, a beginner about to make their first cuts, or you're making an important purchase for your business, I've got you covered.
Comparison of the Best Vinyl Cutting Machines of 2023
I'll start with a quick comparison, highlighting the main differences of the top vinyl cutters you can buy today.
After this, I'll go deep into the features of each model so that you can make the right choice for your own uses and projects.
Best Vinyl Cutter for Home
Top overall

Best gift!

Most portable


Best for
Cutting versatility: fabric, vinyl, crepe paper
Easy cutting at a great value
Portability: small and lightweight
Making signs and decals, value bundles
Cutting quality




Ease of use




Software




Value for price




Overall




Top overall

Best for
Cutting versatility: fabric, vinyl, crepe paper
Cutting quality

Ease of use

Software

Value for price

Overall

Best gift!

Best for
Easy cutting at a great value
Cutting quality

Ease of use

Software

Value for price

Overall

Most portable

Best for
Portability: small and lightweight
Cutting quality

Ease of use

Software

Value for price

Overall


Best for
Making signs and decals, value bundles
Cutting quality

Ease of use

Software

Value for price

Overall

Best Plotters for Business
Best value



Best for
Professional size on a budget
Overall



Best value

Best for
Professional size on a budget
Overall


Overall


Overall

Reviews of the Best Vinyl Cutters and Plotters
Now I'll take you one by one to find the best vinyl cutting machine available.
There are a lot of amazing vinyl cutters out there, from small portable devices to powerful machines that can cut long sheets of vinyl with incredible speed and precision.
First up: the top cutters for home use!
If you are looking for vinyl cutting machines for business, jump straight down.
Best Personal Vinyl Cutters
Cricut Maker 3 (Most versatile vinyl cutter)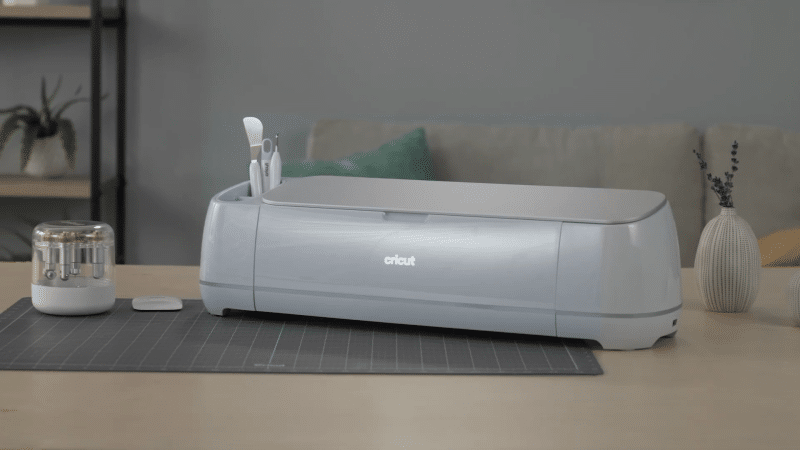 The Cricut Maker 3 is the new vinyl cutting machine from Cricut and is definitely on the …ahem… cutting edge of home vinyl cutter machines. The Cricut Maker 3 was released in late 2021, and quickly became the favorite of many crafters and bloggers, including myself!
The Cricut Maker 3 is a significant upgrade over other Cricut vinyl cutters and is packed full of futuristic features that offer even more capabilities to your crafting arsenal, making it the most versatile craft machine in existence. The Cricut Maker 3 is the top choice for quilters, anyone else who works with fabric, and crafters who want the freedom to use the greatest variety of materials.
The biggest drawback is the price: the Cricut Maker costs a bit more than most other home vinyl cutters. But if you're really looking for the best vinyl cutting machine, this would be our choice.
Versatility
The Cricut Maker 3 is the most versatile electronic cutter I've seen, able to handle a greater variety of materials and projects than other personal home cutters. It features a double tool holder (also in the Cricut Explore Air 2), so you can cut and score, cut and write, or cut and emboss in just one go.
The Cricut Maker 3 also now supports Smart Materials, meaning that you can cut long runs of vinyl without a mat, allowing for larger projects and a much faster maximum cutting speed.
The Cricut Maker 3 is designed to cut fabric without stabilizers. The rotary blade for precision cutting through fabric is included along with a special pink fabric cutting mat. This combo lets you cleanly and easily cut through delicate fabrics and crepe paper, without needing to bond it to a stiff backing (like Heat n Bond). It's absolutely game-changing for quilters, especially since this desktop vinyl cutter can label all your squares or blocks with a fabric pen at the same time that it cuts, helping you remain organized while quilting.
With its knife blade, the Cricut Maker 3 is also able to cut thicker materials than most other cutting machines, up to 2mm deep.
Innovative design for incredible power
The Maker uses an Adaptive Tool System that provides 10x the cutting force of other Cricut vinyl machine models. It's a smart technology that controls the cutting width, blade direction, and pressure based on the material you're cutting.
Pros
Rotary Blade for cutting fabric (included)
One of the most versatile vinyl cutter machines.
Adaptive Tool System for incredible power (4000gf equivalent)
Supports Smart Vinyl, with 2x cutting speed
Comes with Bluetooth for wireless cutting
Cons
Expensive for a home craft machine
Essential accessories not included
Requires internet connection to design and cut
Best vinyl cutter machine for:
Best all-around craft cutter
Rotary blade makes it the best machine for cutting fabric
Knife blade lets you cut thick materials that others can't
Tons of designs and sewing patterns available through Cricut Access
Sale
Cricut Maker 3
Cricut's most versatile cutting machine: cuts, draws, and scores on everything from paper and vinyl to fabric and balsa wood. Over 125+ different materials can be used with a variety of blades and pens.
Cutting-edge technology: the SmartSet Dial and Adaptive Tool System help you automatically adjust for the perfect cut, every time.
The BEST home cutter for cutting fabric, ideal for quilters! Mark and cut your pieces in one go.
Cricut Explore Air 2 (Best all-around value)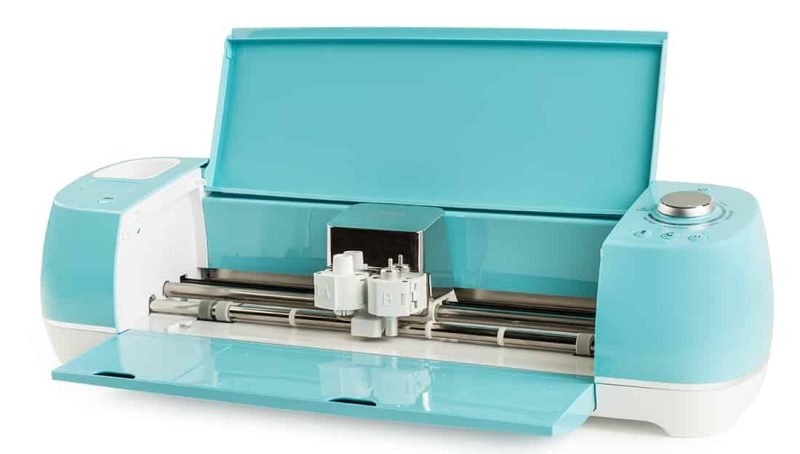 The Cricut Explore Air 2 has earned its place as the most popular Cricut machine available. It cuts a wide variety of materials reliably and accurately, while at the same time is more affordable than the Cricut Maker 3 (Cricut's newest vinyl cutter).
It is a fantastic versatile vinyl cutter for beginners or veterans making crafts at home, or even for starting your own business. It's the top all-around value you can find. I'd feel proud to call it the best vinyl cutting machine available today when you take price into account.
Easy to use
The Cricut Explore Air 2 can cut the most common lightweight to medium-weight crafting materials including adhesive vinyl, cardstock, iron-on (heat transfer vinyl), specialty paper, and bonded fabric. It can even cut thicker materials up to 2mm thick like leather and craft foam, though you'll need the Deep-Point Blade (not included) and multiple-cut passes to get through thick material.
Cricut's fastest model
It is also a speedy cutter, offering a Fast Mode that cuts at double speed, a significant improvement over the previous Explore Air. However, the Fast Mode is noisier, on top of a cutting machine that is already a bit noisy, to begin with. Don't expect to have business calls while your Cricut is cutting in the background.
A new design with new features
The machine design is quite attractive: it has a cute retro shape that comes in fun colors like mint green, flamingo pearl, sky blue, and a basic black. It opens smoothly at the touch of a button, and everything from the dial to the accessory storage is well-engineered. It also has a few hidden compartments to store accessories like extra blades and fabric pens.
Cricut's Explore Air 2 has a few features that make it super easy to use. It includes Bluetooth so you can connect to your machine and cut wirelessly. It features a double tool holder, letting you cut and write, or cut and score, at the same time, without having to change tools in between. This is a real time-saver for multimedia crafters making cards or 3D papercrafts. It also has a Smart Set Dial, which lets you select your material and automatically picks the appropriate cut settings.
The biggest drawback to this Cricut vinyl cutter is its software. Cricut Design Space software is functional, and pretty easy to learn, though a bit basic as far as capabilities are concerned. However, the software is web-based and requires an internet connection to design or cut anything. If you suffer from poor internet connectivity, this can make it really slow and frustrating to design and cut.
The best feature isn't anything that comes with the machine, but its community. As one of the most popular brands, if you get a Cricut machine you'll find a great community online to help you troubleshoot your projects or provide inspiration for crafts to make.
Pros
2x fast mode for cutting
Amazing online community for support and tutorials
Accurately and easily cuts most common materials like cardstock, vinyl, and iron-on
Bluetooth for wireless cutting
Imports and export SVGs for free
Double tool holder
Cons
Requires internet connection for PC/Mac
Cricut Design Space software runs in the browser, which can be slow
Simplistic software is difficult to use for complex designs
Best vinyl cutter machine for:
The best overall vinyl cutter for home use
Easy to use and affordable to buy
Tons of online tutorials and blogs, and designs at Cricut Access
Sale
Cricut Explore Air 2
Amazing online community for support and tutorials
Upload your own images for free or choose from Cricut's vast library of pre-made designs and projects
Make custom vinyl stickers, personalized home decor, unique greeting cards, custom-designed apparel, and more
Silhouette Cameo 4


The Silhouette Cameo 4 is a new vinyl cutting machine made by Silhouette America. All around, it's a vinyl cutting machine for home crafters. Unlike some personal models, it's able to cut vinyl without a mat, meaning you can cut vinyl decals (up to 10 feet long!) directly from a vinyl roll. And now that it comes in 3 additional colors: aqua, mint, and black, it's more stylish as well!
Great software with Silhouette Studio 4
Silhouette Studio 4 is the design software that comes with every Silhouette vinyl cutter machine. It's my favorite design software, and in testing dozens of machines I've found it to be the most important quality in choosing the right machine. It's standalone (and not web-based like Cricut's Design Space) and works with or without an active internet connection.
It's easy to use and is a functional, but basic, design program. Silhouette Studio can print with registration marks that are then read by the Silhouette Cameo 4, so you can print & cut colorful stickers (or even temporary tattoos!).
The free version is compatible with both Windows and macOS.
However, it does have one major drawback.
The free version of the software that comes with the Silhouette Cameo 4 doesn't let you import SVGs, which is an essential operation for digital cutting machines. SVG files are how crafters exchange their cuts and designs. If you want to be able to download designs to use with the Cameo, it will cost you another $50, which effectively increases the cost of the machine.
For those familiar with more advanced design programs, you can instead get a plugin ($40) to send designs directly from Illustrator or CorelDraw.
AutoBlade makes cutting a breeze
With some home craft machines, you have to manually adjust the blade depth to the proper height for your material. Not with the Silhouette Cameo 4! It comes with Silhouette's new AutoBlade which automatically adjusts the cut settings from Silhouette Studio software. It will definitely save you some headaches and wasted sheets of vinyl.
The Silhouette Cameo 4 also features several significant upgrades over the previous Cameo 3 that will improve your quality of life (and your cuts). It has 3x the cutting speed of the Silhouette Cameo 3 when cutting vinyl.
For a desktop vinyl cutter, it's also maybe the best vinyl cutter machine for cutting wide vinyl, supporting widths of 20″ with the Silhouette Cameo 4 Pro. They also re-designed its dual-carriage tool holder to be gear-driven with new tools (Rotary Blade and Kraft Blade).
Pros
AutoBlade automatically adjusts cut settings from the software
Dual carriage holds two tools at once
Included software is user-friendly
Bluetooth
Cuts material over 10 feet long, 20″ wide
Cons
Importing and exporting SVGs requires a software upgrade ($50-100)
Not as many tutorials as for other vinyl cutters
Best vinyl cutter machine for:
Best for home crafters who want an accessible machine
Great for making vinyl signs and decals
AutoBlade and dual carriage help you make your projects with ease
Sale
Silhouette Cameo 4
Cuts a variety of materials including vinyl, paper, cardstock, fabric, and other materials up to 12 inches wide and 10 feet long.
Features a dual-carriage for multi-tool use
Use the powerful Silhouette Studio design software to create your projects. Features Bluetooth for wireless cutting or plugs into your home computer.
Silhouette Portrait 2 (Best portable cutting machine)


The Silhouette Portrait 2 is a small and versatile machine that was released in November 2017. It is basically like a portable version of the Silhouette Cameo 3, with the same machine parts, but a smaller cutting width and reduced price.
The Portrait 2 features automatic contour cutting. It has an optical scanner for sensing registration marks for print and cut jobs, and can also use PixScan to scan and cut your own drawings or images.
Like other Silhouette machines, one of the biggest drawbacks of the Portrait 2 is its relatively weak cutting force, at just 210 gf. This is plenty for cutting paper, vinyl, HTV, and a variety of other thin materials, but it can't handle very dense materials.
Fancy blades for cutting depth and ease
While the Portrait 2 doesn't feature a dual carriage that can hold two tools at once, it does take the variety of Silhouette's blades that let you cut a variety of materials with ease.
The AutoBlade is a real time-and-material saver. It automatically adjusts your blade based on the cut settings in Silhouette Studio, so you don't have to manually ratchet the blade to the right depth. No more wasting vinyl because you, uh, accidentally forget to change the blade setting! (That would never happen, I'm sure!)
The Deep Cut blade is what lets you take advantage of the 2 mm cutting clearance of the Portrait 2. This means you can cut thick and light materials like balsa wood and craft foam, perfect for jigsaw puzzles and party decorations.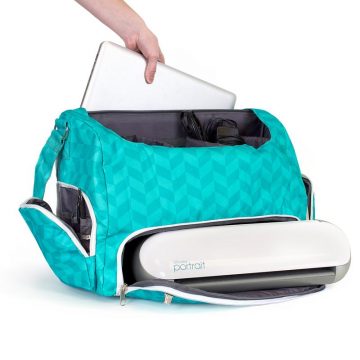 Portable!
I've said it before and I'll say it again: my favorite thing about the Portrait 2 is its size. It has all the features of a standard home vinyl cutter in a frame that, at 16″ by 5.5″, can easily fit on a shelf. And it only weighs 3.5 lbs, making it so easy to bring to a friend's house to help with making decorations or invitations.
For some, the small size will certainly be a drawback. It can only cut 8 inches wide, so if you want to cut a long sign of foot-tall lettering you're out of luck.
But the Portrait 2 is perfect for making stickers or vinyl decals using print & cut on letter-sized paper or vinyl sheets. Okay, it can't cut all the way to the edge of a piece of 8.5 x 11 printer paper, but the included cutting mat is just the right size for regular paper.
Pros
Small-sized personal cutter
Incredibly portable at just 3.5 pounds
Takes AutoBlade and Deep Cut Blade
Bluetooth for wireless cutting
Great for print & cut on letter-sized paper
Cons
Weak cutting force
Cuts just shy of 8″ wide
No dual carriage
Best vinyl cutter machine for:
Best portable vinyl cutter
Just 3.5 lbs!
Includes AutoBlade and Bluetooth
Silhouette Portrait 2
Cuts over 100 materials including cardstock, fabric, heat transfer material, transparencies, paper, vellum, adhesive vinyl and magnet paper
Use the powerful Silhouette Studio design software to create your projects. Features Bluetooth® technology for wireless cutting or plugs into your home computer.
The most portable electronic vinyl cutter available!
Brother ScanNCut DX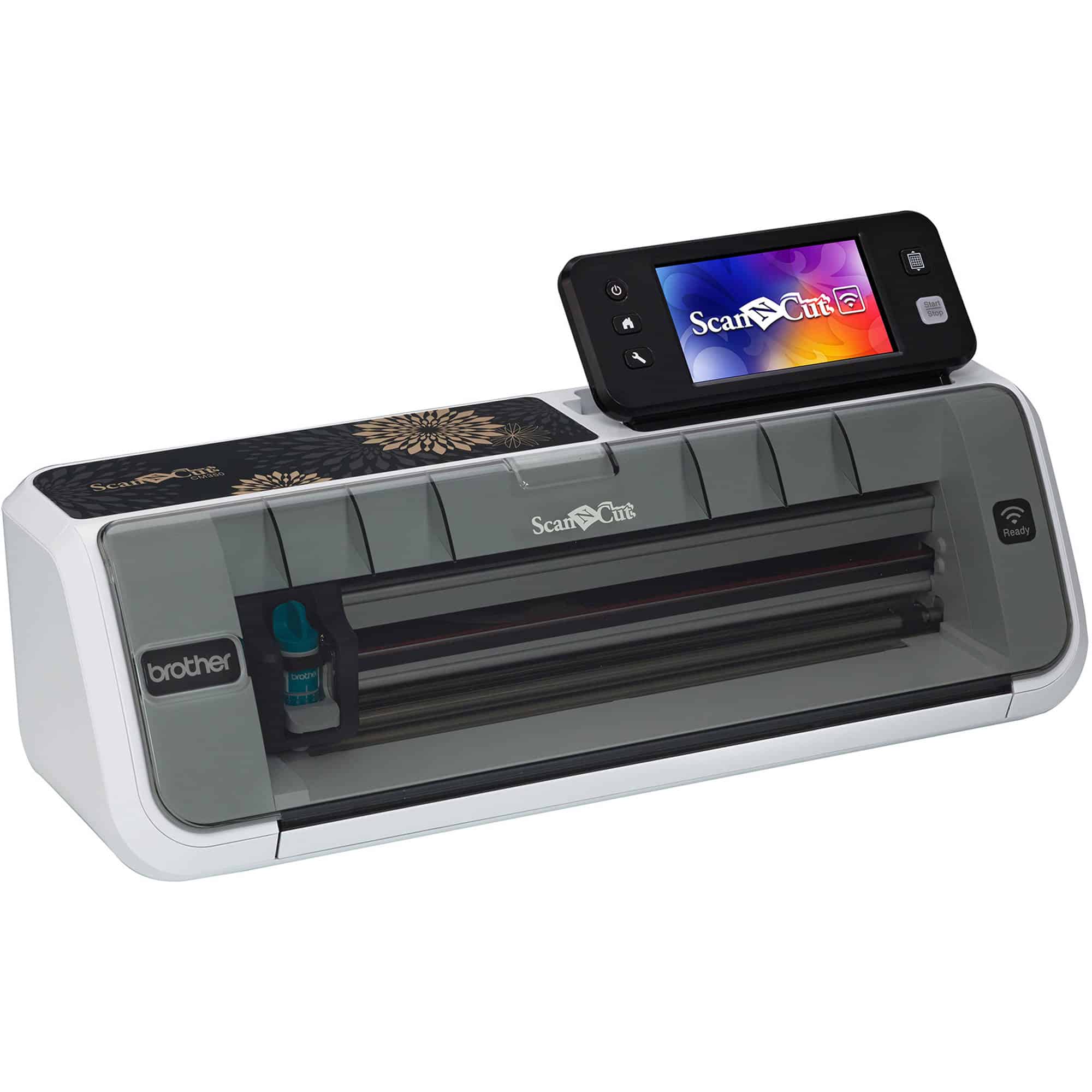 An upgrade to the ScanNCut 2 from Brother is the newer Brother ScanNCut DX, featuring a few unique abilities that other vinyl cutters just don't have. It features a high-resolution scanner and touchscreen that lets you create and edit designs directly at your machine.
The Brother ScanNCut DX is fantastic for quilters and sewers. It comes with 100+ free applique designs you can access directly from the machine. It also has a function to easily add seam allowances for cutting fabric pieces.
It comes with a 12″ x 12″ cutting mat, though there is a larger 12″ by 24″ one you can add on if you want to work on longer projects.
The Brother cutters use CanvasWorkspace, a free web-based design software. The functionality is simple and it's not quite as intuitive as the software that's used with some of the competitors.
So if you want to do any serious design work, you'd be better off using separate design software like Adobe Illustrator or Inkscape. But the CanvasWorkspace will easily convert any SVGs you download or create to the format used by the Brother cutter.
Built-in 600 DPI scanner
Alright, the biggest appeal of this machine is that it has a high-quality scanner integrated into the design. This lets you create really unique designs and patterns from any pictures you find or draw.
So you scan in your own drawings, or photographs, magazine clippings, fabric patterns, etc, and then the machine will create and save a shape based on the outline of the image scanned. And now you can cut that shape out of any material! Or combine it with other shapes you have drawn to create an endless variety of cut designs out of your hand-drawn characters.
It's a super interesting feature that is unique to the Brother ScanNCut. If you just want to doodle with a pen on paper, and then turn those drawings into vinyl decals or fabric pieces for a quilt, this is absolutely the machine for you!
https://www.youtube.com/watch?v=V5LUtCkGSKo
Standalone machine, works without a computer
The ScanNCutCanvas software is web-based, and the machine has wireless functionality to connect to your PC or tablet. But one of the biggest appeals to the ScanNCut 2 is that it works without a computer. (And without cartridges!)
The cutter now has a larger 5″ LCD that you can use to view and edit your design library and scanned images. With the included stylus you can weld, rotate, and resize these images to create custom designs to cut or draw out of all sorts of materials.
The machine comes with 631 built-in designs (including 100 applique shapes) and 7 different fonts that you can manipulate right on the LCD screen. Plus, you have all the shapes that have been scanned in, as well as anything you have added from the Brother CanvasWorkspace design software.
Pros
600 DPI built-in scanner
On-screen editing with 4.85″ LCD touchscreen
No cartridges or computer needed: hundreds of built-in designs, 100 applique patterns, and 7 lettering fonts
Cons
Not fully compatible with MacOS, some users have issues
Web-based software is simplistic
Best for
Fantastic for quilters and people who like to draw
Scan your own drawings or photographs to create custom cut files
Create and edit designs directly on the machine's touchscreen
Brother ScanNCut DX
Allows you to turn your scanned images into unique cut designs and patterns
Includes a 5" LCD touchscreen that allows users to easily select functions
Users can edit designs directly on its LCD touchscreen
Sizzix Big Shot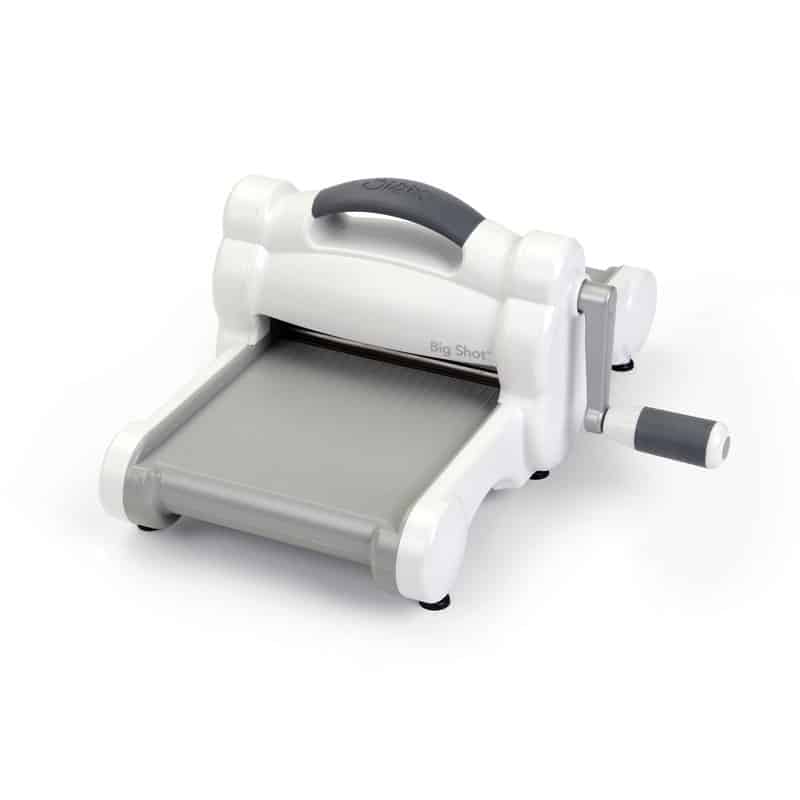 The Sizzix Big Shot is an award-winning die cutter that has continued to be a favorite of scrapbookers, jewelry makers, quilters, and all sorts of creative crafters for at least a decade.
This machine is the only manual cutter on this list. It is a true die cutter, using cookie cutter-like metal dies to cut shapes out of paper or vinyl. (Instead of a computer-controlled cutting blade like the other machines on this list.)
You can also use embossing folders to imprint designs into paper or foil. Turns out, it is much better at embossing than most of the fancy electronic machines!
It is small, portable, and easy to use. It cuts paper and vinyl surprisingly well, so it's fantastic for small crafts like cards, and for making stickers, decals, and embellishments for scrapbooks.
The Big Shot is also good at cutting out shapes from fabrics. There are a bunch of quilting dies and applique shapes you can buy, making this machine a top choice for working with fabric.
Portability
The Sizzix Big Shot is the most portable cutting machine I've reviewed. The best reason is that it's a completely manual machine! This means no power cables going into the wall, or USB cables chained to your computer.
You can take the Big Shot anywhere, even outdoors for a backyard scrapbooking session! That's not something you can easily do with any of the electronic cutters.
The machine weighs 7.5 lbs, and measures about 14″ x 12.5″ x 6.5″. It has a bit of weight to it, mostly in the well-built base. But it's still light and small enough to carry around.
It's sturdy and hard to break, so it's also great for making crafts with your kids.
Texture and embossing
As I mentioned above, the Sizzix Big Shot is a fantastic little machine for embossing papers and foils. Embossing requires strong pressure and a firm base and is something that digital cutting machines still struggle with.
The Big Shot actually has more power in the manual crank than the electronic craft machines, which helps it emboss like a dream.
You'll have to buy embossing folders or textured masks separately, but the Big Shot also works with all sorts of non-Sizzix brand dies, so you have a lot to choose from.
Pros
Best machine for manual die cutting and embossing
Small and portable
3-year limited warranty
Surprisingly powerful cutter
Great for cutting quilting squares and fabric appliques
Cons
Requires dies or embossing folders (not included)
Narrow maximum cutting width & embossing (6″)
Best for
Best manual die cutting machine
Small, sturdy, and portable
Great for cutting paper, vinyl, fabric, and embossing paper and foils
Sizzix Big Shot
Manually die cut and emboss a great variety of materials up to 6″ wide, straight out of the box.
The small, sturdy cutter is perfectly portable: ideal for crafts projects with kids.
Compatible with the entire Sizzix library for crafting, scrapbooking, quilting, applique, & more.
Cricut Explore 3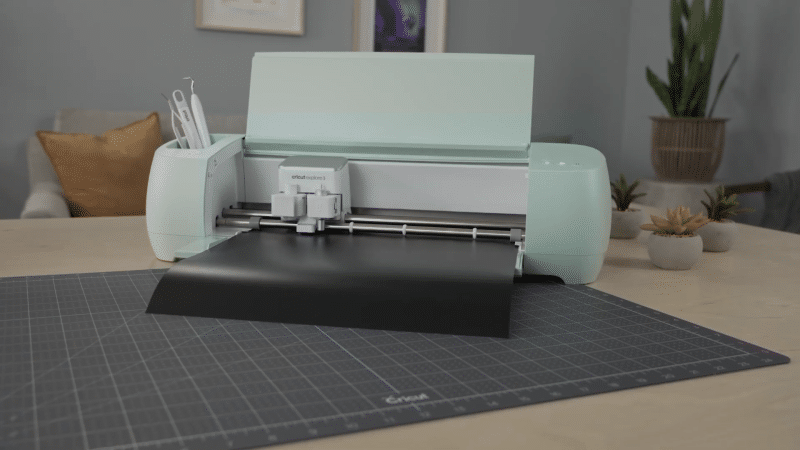 At first glance, the Cricut Explore 3 looks awfully similar to its older cousin the Cricut Explore Air 2, but there are a few important differences.
Cricut originally designed the Explore One as a cheaper introductory alternative, but now in its third version, Cricut has consolidated its Explore line and released a new model combining the best parts of the Cricut Explore Air 2 (wireless cutting, a great form factor) and added a few missing features, like support for Cricut's Smart Materials.
The result? A vinyl cutter that can cut vinyl twice as fast as before without giving up any features for the same precise cutting power and technology
Price
If you haven't worked with a cutting machine before, one of the best things you can do is set yourself up for a small investment so that you're not out a lot of money if cutting machines aren't for you.
The Explore One line has a great resale value so it's a very low risk to get started. A bundle pack, cutting mat, and vinyl should cost you less than $200. And if you need to sell it used later locally or donate it to your school's maker space, you'll have a slightly larger wallet than if you purchased the Explore Air 2 or one of the more expensive professional machines.
Cartridge compatible
On the other hand, if you're a seasoned pro with a lot of pre-existing cartridges that you've used with older, compatible Cricut vinyl cutter machines, you might just be looking for something to replace your Cricut Mini or Expression (both of which no longer work with a PC due to Cricut's discontinuation of Craft Room).
If you haven't used cartridges before, it's an optional feature and you can think of cartridges as physical collections of cutting patterns that are often organized by a single designer or theme (like Christmas, or Springtime).
Pros
The best entry-level machine from Cricut today
Works with cartridges but add-on required
Cons
A little bit cheaper than the Cricut Maker 3 but a lot less of a versatile vinyl cutter
Doesn't work without an active internet connection
Best for
Best entry-level machine
Compatible with Design Space and Cricut cartridges
Cricut Explore 3
Lower-priced alternative to the Maker, is the best, and most affordable, starter machine for those new to vinyl cutting.
Design anywhere. Free access to Cricut's simple design software, Design Space. Create and design from your computer, tablet or mobile phone using the Cricut Design App for iOS and Android devices
Cuts 100+ materials. Cricut offers a wide range of materials specifically designed and tested for use with the Cricut machine including basic and specialty Vinyl colors, Iron-on Vinyls, Cardstock, Faux Leather, Adhesive Foils, Specialty Paper, Poster Board and more
KNK Force (The most powerful plotter)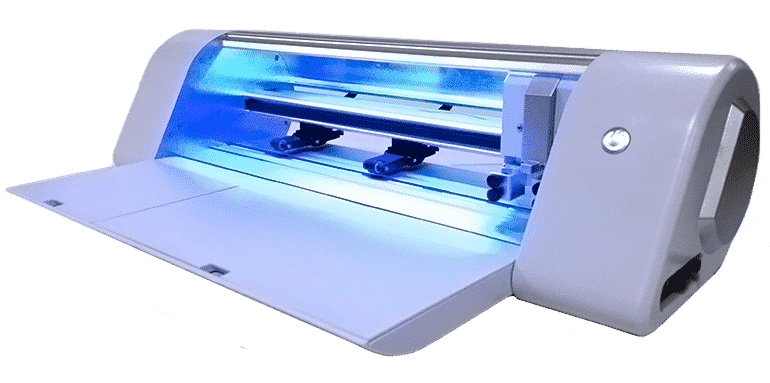 The team over at Klic-N-Kut consistently make powerful home cutters. So when they decide to name one of their electronic plotters "Force," you can bet that they aren't fooling around.
And a quick glance at the specs shows that the KNK Force can cut with a simply huge force of 4000 gf, or 8.8 lbs. That's more than any other cutter I've seen, beating even the industrial or professional machines that cost thousands of dollars.
Yeah, it's got some force.
The maximum cutting speed is 750 mm per second, meaning this machine definitely has the stats to handle professional production, but at a price and size that fits neatly in your home.
The KNK Force has a WiFi adapter installed, as well as Ethernet capabilities. So you can connect directly to your home network. It comes with KNK C3 (their Cutter Command Center) software which lets you control the cutter from a PC, Mac, smartphone or tablet. It also is compatible with popular and precision cutting software like Make the Cut or Sure Cuts A Lot.
The Force also has a camera for manual or automatic contour cutting and print & cut projects. The plotter has a dual head, so it can use two tools at once to draw and cut or score and cut without having to change tools. It can cut materials up to 15″ wide and comes with a 15″ x 15″ cutting mat.
Z-axis control
Most vinyl cutters use a solenoid to control the tool pushing into the material. This is like a powered electromagnet that simply drops the cutting blade into the material to cut it.
The KNK Force is able to achieve its massive force by using an actual motor to control the vertical (Z) axis. This gives unparalleled precision over the depth and pressure of the cutting head. You can slowly increase pressure on dense material, or maintain easy, light control for cutting thin, delicate material like vinyl and paper.
The unique vertical control makes multi-pass cutting even more accurate. By setting starting and ending depths, the blade can progressively push farther and farther through the material, rather than trying to press all the through each time (like most other machines). This gives you more accurate cuts with incredibly smooth edges.
Pros
Best for powerful cuts and engraving
Unbeatable cutting force at 4000 gf
Motorized head makes it a true 3-axis cutter
Connects to your network via Ethernet or WiFi for wireless cutting
Dual tool head and optical eye for contour cutting
Cons
Can be difficult to operate
Lots to learn before you can cut easily
Software not included
Best commercial vinyl cutter machine for:
Huge power at an affordable price
True 3-axis cutter
Currently unavailable for purchase.
Best Professional Vinyl Cutters
Now we enter a new realm entirely, the vinyl cutters which are specifically designed for professionals and businesses. You'll notice right away they're a tier above the personal cutters, both in price and quality.
Many of these machines aren't quite as easy to use, so they're not recommended for the novice or beginner.
Instead, you'll want to investigate these if you're running a high-volume business with specific requirements for cutting speed, force, and accuracy.
I'll start with my absolute favorite choice for the best vinyl cutting machine for businesses, but make sure to read on if you're intrigued as a few of the best vinyl cutting machines also have unique features that only they provide.
USCutter MH 34″ (Best value commercial cutter)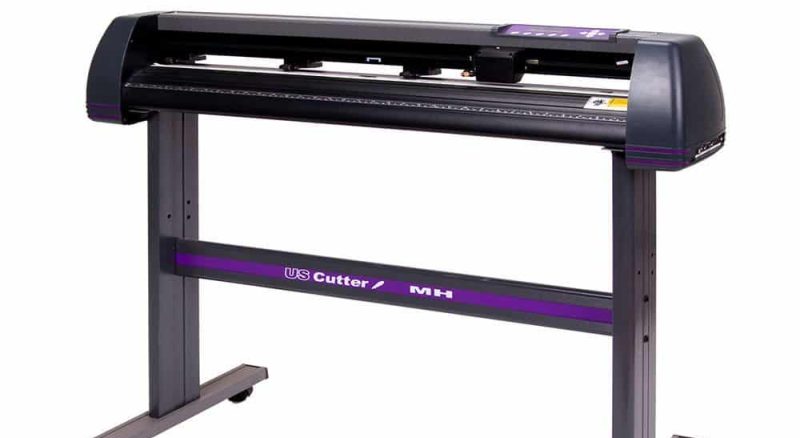 The MH Series from USCutter is the most popular commercial-sized cutter, with an affordable price tag. It's an incredible value for small shops, businesses, and serious hobbyists.
It is straightforward and priced well, so it's also a great "first cutter" for those new to vinyl cutting who want a serious machine.
While the MH series can cut vinyl up to 8 feet long, it's not that reliable for big jobs. It doesn't have the large memory you can find in more expensive plotters, so it will sometimes freeze on long or complex jobs. To work around this, USCutter recommends performing big jobs in smaller batches.
This machine has a stepper motor and can cut with a downward force up to 350 gf at 39 in/s. It's not the most powerful cutter, but it is pretty quick and plenty powerful for cutting adhesive vinyl, heat transfer vinyl, paper, card stock, and paint mask.
Easy to use
One of the best things about the USCutter MH series is how easy it is to set up and get cutting. Even people who are totally new to cutting vinyl can get the machine up and running in an hour or two.
The blade holder is compatible with Roland blades, the industry standard for reliable and affordable blades. The pinch-rollers can be easily adjusted to accommodate a range of media widths. And the media rollers use dual ball bearings so you can save time by top-loading, instead of having to feed vinyl through the rolls.
It comes with the basic edition of VinylMaster Cut software (a $60 value), which makes designing vinyl signage a snap. You can import AI, EPS, and PDF files (though not SVGs), and can easily create and edit your graphic designs.
VinylMaster Cut is only available for PC, but the MH series is fully compatible with other popular software like Sure Cuts a Lot, which works with a Mac.
Pros
Best affordable commercial vinyl cutter
Easy to use
Compatible with Roland blades
Great software included with VinylMaster Cut
1-year warranty & lifetime phone support
Cons
Included software doesn't work with macOS
Not reliable for complex or large jobs
No contour cutting
Best professional vinyl cutter machine for:
Best entry-level vinyl cutter for signmakers and small businesses
Easy to set up
Unbeatable price for a commercial-sized vinyl cutter
USCutter MH 34inch
Three fully adjustable pinch-rollers allow you to use a flexible range of materials.
Roland compatible blade holder gives you access to the most economical blades available.
Vinyl rolls, transfer tapes, magnetic blanks, knife, squeegee, lifetime phone support.
Roland GS-24 CAMM-1 (Best for accuracy and precision)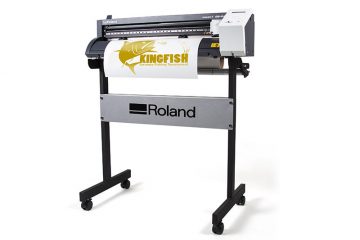 The Roland GS-24 is the most beloved machine by vinyl cutting enthusiasts, and for a great reason:
Nothing can beat Roland for cutting precision and accuracy.
The GS-CAMM-1 is the intermediate Roland machine, the most advanced machine in a mid-size. It's a hefty desktop cutter at a hefty price.
If you are looking for the best machine for making professional vinyl cuts, that can still fit on a table, then this is it. It weighs 30 pounds and 34 inches wide, and now comes with a stand included.
The GS-24 can cut up to 23″ inches wide, easily handling 24-inch rolls of vinyl.
Roland completely redesigned the blade holder and cutting carriage for power with incredible stability. So the machine is fast, cutting up to 20″/s while maintaining incredible precision.
Advanced contour cutting
The GS-24 is fantastic for print and cut applications, such as runs of stickers or printable vinyl decals. It includes a camera to recognize crop marks made by any inkjet printer, ensuring accurate contour cuts on pre-printed graphics.
Combined with a digital servo motor that gives an incredible cutting resolution of up to 0.0005″, you will be able to cleanly cut even the most complex contours with this machine.
The GS-24 can also do perforated cutting, so your stickers will be cut all the way through for easy stacking and sales.
Pros
Digital servo motor provides excellent cutting precision and speed
Cutting speed up to 20 inches per second
Mechanical resolution up to 0.0005″
Precise contour cutting with optical registration
10x overlap for thick materials
Cuts difficult materials like sandblast, stencil, and window tint
3-year trouble-free warranty
Cons
CutStudio takes limited files types (no SVG, only EPS files from Illustrator)
Mac compatibility is only through Adobe Illustrator plugin
Best professional vinyl cutter machine for:
Precision contour cutting for complex designs
Able to cut even tricky materials with accuracy and speed
USCutter Titan 2 (Best deal for contour cutting)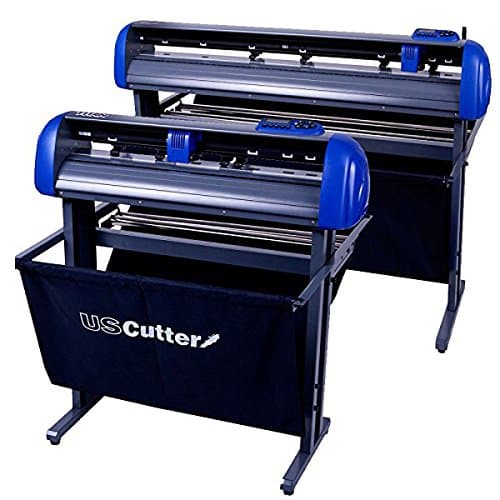 USCutter's Titan 2 is an affordable commercial-sized vinyl cutter with an advanced servo motor.
It features an aluminum frame with all-metal moving parts, for long-lasting durability. But if that fails, it has a 2-year warranty and free lifetime phone support. If you have trouble finding help or guides online for the Titan 2, the people at USCutter are always incredibly helpful over the phone.
It has a large LCD display and control panel with large, convenient buttons for adjusting the cutting force and speed. And it looks awesome with great blue ABS end caps.
The Titan 2 comes in a maximum cutting width of: 28″ or a whopping 53″, both with included stand and hanging media basket.
Like all the vinyl cutting machines from USCutter, the Titan 2 comes with VinylMaster Cut software that works only on PC. However, the Titan 2 is compatible with a Mac using other vinyl cutting software like Sure Cuts a Lot.
Servo motor for quiet power
The Titan 2 is one of the more affordable vinyl cutters that comes with a digital servo motor, instead of the less powerful and noisier stepper motors.
The servo motor places the Titan 2 in a tier above the budget commercial cutters. It provides up to 750gf of cutting force that lets you cut through thicker materials like laminate, twill, and sandblast mask. And the servo motor provides more accurate cuts through thin media like adhesive vinyl, card stock, and heat transfer vinyl.
It is also exceptionally quiet, at least compared to any of the stepper motor cutters you can buy.
Accurate tracking for long cuts
The USCutter Titan 2 has exceptional pinch rollers and grit rollers that securely feed lengths of vinyl through the machine.
It can cut material up to 25 feet long, and the advanced feed mechanisms help ensure that long cuts will stay properly aligned.
It does not have the ARMS system for contour cutting (you'll have to go up to the Titan 3 for that), but it does have decent laser-assisted alignment for manual contour cutting.
Pros
Affordable commercial cutter with servo motor
Quiet and powerful cuts through thick material
High-quality pinch and grit rollers for accurate tracking
Comes with floor stand and catch basket
Cons
Included software does not work on Mac
Only manual contour cutting, but it is laser-guided so it's easy to use
One of the best vinyl cutter machines for:
Most affordable cutter with a servo motor
Precision cuts at incredible length
Great for making professional signs
USCutter Titan 2 28-inch Vinyl Cutter
Laser registration for contour cutting function
Aluminum alloy construction, precision ABS sides
Large LCD display & control panel for adjusting speed and cutting force
Yescom 34″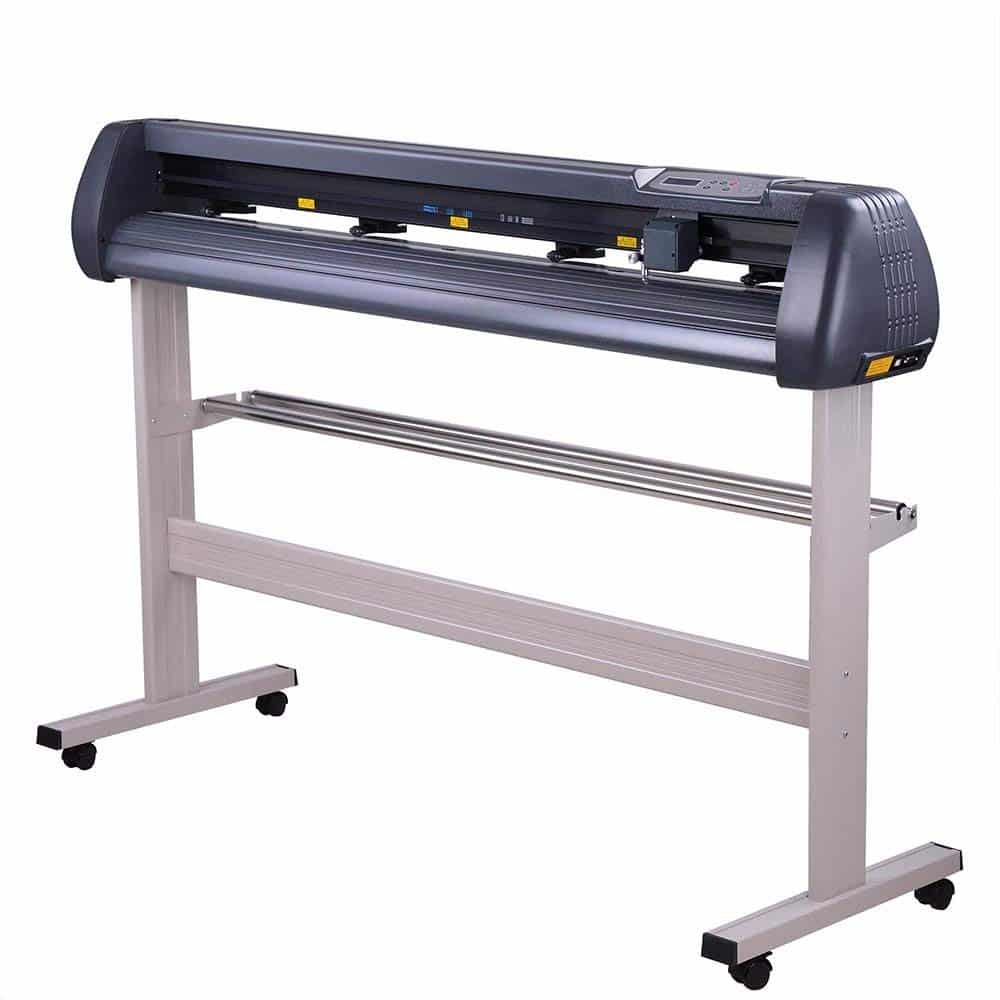 The electric plotter from Yescom is an affordable, large-format vinyl cutter that comes in widths of 28″, 34″, and 53″.
The Yescom cutter has speeds up to 32″/s, and force up to 500 gf. The cutting speed and force are adjustable and can be programmed into the machine's memory.
Functional within a restricted range
It's a bit of a bare-bones machine. It is industrial-sized for commercial purposes, but the stepper motor won't give you the precision and power of the top-of-the-line commercial cutters.
It can only take media up to 0.5mm thick, meaning it's strictly for thin paper and vinyl. The models have two to four pinch rollers (depending on width) so they can securely hold all different widths of media.
It's compatible with Roland blades, which are the best value, high-quality blades around.
The machine connects to your PC via USB and comes with Signmaster Cut Basic software. The software provides some basic design capabilities for creating vinyl lettering or simple designs, and can easily import vector graphics (including SVG and PDF). Unfortunately, this software can be a bit tricky to get working, especially on newer computers.
Most affordable wide cutter
This cutter from Yescom is not the most powerful or the most reliable vinyl machine that you can get. But if you are simply looking for the most affordable machine that can cut very wide rolls of vinyl, then you should check it out.
The price for the 34″ model is less than most of the smaller desktop cutters. And the 53″ vinyl cutter is an absolutely insane deal!
As I've said before, you typically get what you pay for with vinyl cutters. So don't expect top quality here. It's certainly cheap and it'll hopefully get the job done.
If you want a much more reliable budget commercial cutter, check out the USCutter MH Series reviewed above, which is my choice for the best value professional cutter.
Pros
Best for large vinyl cutting at a cheap price
Comes with stand and Signmaster Cut Basic software
Roland compatible blade holder
Features emergency stop/start
Cons
Not compatible with Mac
Max media thickness is just 0.5 mm
Software is finicky
Poor customer service
Best commercial vinyl cutting machine for:
A very affordable machine for cutting wide rolls of vinyl
Includes stand and compatible software for PC
Buying Guide: Finding the best vinyl cutting machine
There's an incredible array of different vinyl cutters you can choose from, ranging from hand-cranked machines you can find for under a hundred bucks that use cookie-cutter metal dies, to giant industrial powerhouses that can cut wide rolls of vinyl at almost 5 feet a second.
With such a broad range of price and utility, it's helpful to split up vinyl cutters into two main groups for comparison: those intended for personal use, and the machines designed for heavy-duty commercial use.
Depending on if you want one for home or business, you'll want to focus on different features of the vinyl cutters to find the one that is appropriate for your needs.
First, I'll share some of the best deals I've found recently for personal and professional vinyl cutters. Then, I'll explain exactly what attributes are the most important for each type of machine.
Remember, like with any comparison, consider both the features you're going to take advantage of immediately (these are often your must-haves) but also what you might use down the line. Having a machine that grows in functionality along with your knowledge is essential!
Personal Vinyl Cutters
Professional Vinyl Cutters
Design
sit on a desk
small and attractive
come in a variety of colors
installed on a stand
large, heavy, and sturdy
a range of widths (24" to 68")
Price
from $50 (manual) to $400 (versatile)
from $300 to $5000
Usage
designed for occasional home use
best for making crafts
can cut thicker materials or fabric
can draw or emboss
1 year warranty
designed for heavy-duty, daily use
best for large projects or businesses
can cut difficult specialty materials
compare the specs of different models
2 to 3 year warranty
Best deals & bundles for vinyl cutters
Top bundles for personal cutters
Cricut Maker 3 Smart Vinyl & Tools Bundle (in stock)
Cricut Tool Kit
Smart Iron-On Vinyl, Black Binylo, Transfer Tape, & Guide
and more!
Silhouette Cameo 4 Vinyl Starter Bundle (back in stock)
26 sheets Oracal 651, 1 roll of premium transfer tape
Cameo 3 online instructional class, full color printed vinyl application guide (plus 7 bonus guides online), 1-month memberships to Silhouette Club and Silhouette U (access to 150+ videos and perks)
and more!
Cricut Explore Air 2 Iron On Beginner Bundle (in stock)
Cricut Tool Kit with spatula, weeder, scraper, scissors, tweezers
4 sheets of glitter iron-on vinyl, 8 sheets adhesive vinyl, 2 sheets transfer paper
and more!
Top bundles on cutters for business
Graphtec CE7000-60 Plus (in stock)
Loads of additional software: Pro Studio license key and training videos
Pen adapter tool
Heat transfer and adhesive vinyl guide
USCutter MH 34-inch Vinyl Sign Shop Bundle (in stock)
5 rolls of Greenstar vinyl (24″) in: black, white, red, green, yellow
1 roll (6″ x 10 yd) TransferRite clear gridded transfer tape
1 roll (6″ x 10 yd) TransferRite high tack application tape
3 vinyl cutting blades, 1 hobby knife, 1 squeegee
Personal vinyl cutters
Personal electronic cutters, also called craft cutters or personal cutting machines, are designed to be accessible for home use, or even small businesses.
When you're looking to buy a personal vinyl cutter, the top things to consider are design, price, community, and how you'll use it. Let me break those down for you:

Design
Personal vinyl cutters sit on a desk or table just like a home printer. They are small enough to move around: to bring to a friend's house or store in a closet. Though the larger ones do weigh up to 20 lbs, so lugging them around can be a bit of a chore.
They usually cut up to 12″ wide, so they can't fit the large rolls of vinyl that are two or three feet wide. But a foot-wide clearance is plenty big enough to handle most of the projects you can dream up. And you can find 12″ rolls of vinyl in plenty of different colors and finishes.
The machines tend to be aesthetically pleasing, and some are downright cute! They can come in a range of colors, so you can find the style that suits you.
Personal vinyl cutters close up when not in use, which protects the machinery and helps it look attractive in your workspace. They also have all sorts of neat compartments for storing extra blades and accessories.
Price
With vinyl cutters, you definitely get what you pay for. Personal cutters are affordably-priced, ranging from $50 (for a manual machine) to $400 (for the most versatile home cutter).
But this means they aren't as reliable or robust as the professional models that cost over a thousand dollars. Personal cutters typically have stepper motors that are loud and slow compared to the pricey servo motors in industrial vinyl cutters.
Community
One of the best things about home vinyl cutters is the community: getting to interact with other people who share your passion.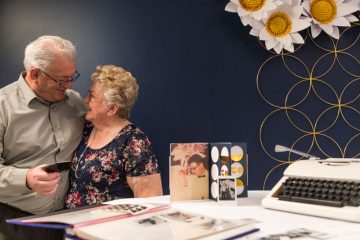 There are amazing online communities on forums, blogs, Facebook groups, and YouTube channels where you can learn all about your machine. You can find all sorts of projects and tutorials that show you exactly how to use your machine, and people to answer your questions or gush over your recent creations.
If you go with one of the popular brands like Cricut or Silhouette, you'll also gain access to thousands of pre-made designs you can browse online.
Usage
Surprisingly, home craft machines are more versatile than commercial cutters. Instead of having a narrow and optimized focus on cutting vinyl, the machines are designed to handle a greater range of materials and tools to help you create all sorts of custom DIY projects.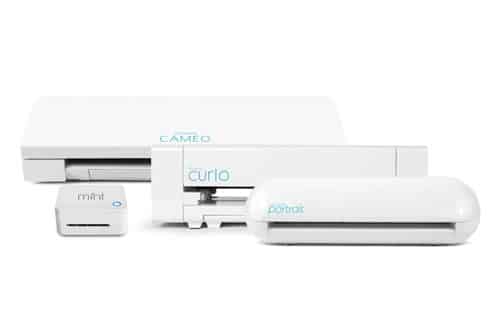 They're better at cutting thick materials and can have special blades and mats for cutting fabric. They often come with colorful markers, and a dual tool holder so you can cut & draw in a single pass. They sometimes have other tool accessories that let you emboss, etch, or stipple media like paper, foils, and metal sheets.
Most of the home vinyl cutters that I recommend have a camera for sensing printed registration marks, so they can print & cut via automatic contour cutting around printed designs. Perfect for making custom stickers and decals.
But these machines aren't designed to handle heavy daily usage. You can certainly get a lot of mileage out of a Cricut or a Silhouette, but the parts will wear out more quickly than in a commercial cutter.
You'll definitely be able to make small batches of stickers or decals for gifts or selling on Etsy. Home machines are also decent choices for schools, offices, and small businesses that only require light usage.
But if you are planning on cutting hundreds of items a day, every day, you'll be better off looking at the more expensive, heavy-duty professional machines.
Professional vinyl cutters
Professional vinyl cutters or plotters are fast, reliable, and are built to handle a lot of big projects.
And they're priced to match.
For professional vinyl cutters, you'll want to examine the design, price, specifications, blades, and warranty. Let's go over exactly what to look for when buying a vinyl cutter that's intended for your business.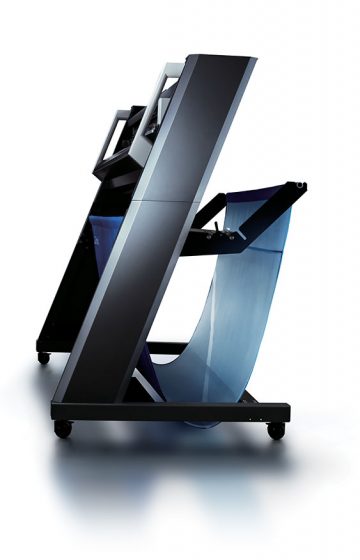 Design
Most professional cutters are large, heavy, no-nonsense machines. They typically offer a selection of widths, ranging from 24″ to 60″, and so can fit large rolls of vinyl, paint mask, and reflective films.
Professional vinyl cutters can be massive and usually come with a dedicated stand, as well as media feeders and media catchers. The larger machines will weigh over a hundred pounds, including the stand.
They'll probably have an LCD screen and controls, and be able to connect to a computer through USB or serial port. They don't use Bluetooth or WiFi as often as the home cutters.
Price
Okay, straight up: professional vinyl cutters can get expensive. The budget brands and cheapest models might cost just a few hundred dollars. But the most advanced models can cost thousands.
You'll be able to tell from the specs of the machine that it is worth the hefty price tag. The more expensive machines will:
cut wider and longer
have advanced features like automatic contour cutting
cut at incredible speeds
handle the trickiest materials like high static window tint or prismatic reflective vinyl
Usage and Specifications
Professional cutting machines are most often used to cut a lot of vinyl, fast. You might be cutting out 30-foot signs or runs of thousands of stickers.
But they are also used to cut more exotic and temperamental materials like window tint or prismatic vinyl, that are too dense or reflective for your standard cutter.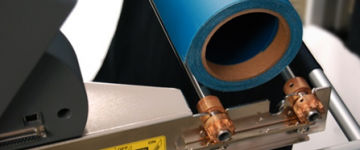 Or maybe you are making complex, high-quality paint masks, where precision is of utmost importance.
Since professional vinyl plotters are pretty standardized, you can easily compare the specs of different models to see if they'll suit your specific needs. I'll cover the most important terms to know when examining these machines.
Motor type (stepper vs servo)
One of the most important [and expensive] features of your vinyl cutter is the motor.
Servo motors are faster, more powerful and precise, and much quieter than steppers. These are the higher-tier of commercial vinyl cutters. And as you might expect, they also cost much more.
Stepper motors aren't as good, but they'll get the job done at a more affordable price tag. The budget or value commercial cutters will usually have a stepper motor.
You want a machine with a servo motor if you can afford it.

Size (maximum cutting width)
The next biggest factor in determining a vinyl cutter's functionality and price is the size.
The size is given as the cutting width in inches. For professional cutters, this ranges from 12″ to 64″. The machines can hold media a couple of inches wider than they can cut. So a 22″ or 23″ machine is designed to hold 24″ rolls of vinyl.
Media types (what material it can cut)
Before purchasing a cutting machine, you should have some idea of what you'll be using it for.
All professional vinyl cutters excel at cutting adhesive and heat transfer vinyl. Most of them can cut paper and cardstock, though paper products will dull your blades more quickly than anything else.
If you want to cut thick media like flocked heat transfer vinyl, make sure your cutter can hold longer or 60-degree cutting blades.
And if you want to cut any particular specialty media, like window tint or high-intensity reflective film, make sure it is listed by the manufacturer as a compatible media type.
Cutting force
The downward cutting force is given in gf or grams-force. It's actually not as important as you might think, because the quality of the cuts depends on how the blade is moved and turned through the material.
Better to just check the manufacturer's listing of materials that can be cut to judge whether the machine is capable of your intended projects.
Cutting speed
Faster is better, but often not as accurate. If you are looking to mass-produce stickers or vinyl lettering, get a machine with a high speed. But if you want quality cuts, you'll probably be reducing the cut speed in the software for greater accuracy.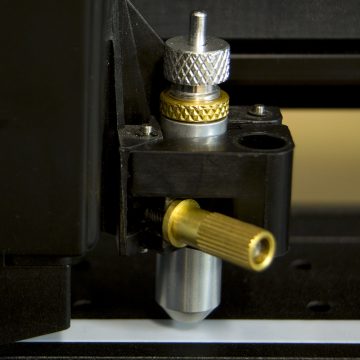 Contour cutting
Automatic contour cutting is essential if you want to be able to quickly and accurately cut around printed graphics, like for making stickers or printed iron-on.
These machines have cameras or optical eyes that can sense registration marks on the printed media, and align the cuts appropriately.
If you'll be using a lot of contour cuts, you want automatic contour cutting, and not manual, where you have to manually line up the cutting blade over the registration marks. Trust me, it's a pain to have to set it up by hand each time.
Operating system (PC/Mac) and software
Some of the budget professional vinyl cutters are only fully compatible with a PC. Most of the upper-tier work with software that works on either Mac or PC.
Make sure you're getting a machine you can actually use with your computer! So you don't get surprised at having to buy another piece of software, or even borrow someone's old laptop, to get it working.
Blade types
It doesn't matter how fancy your machine is: if you don't have good cutting blades you won't get good cuts. Using the wrong cutting blade, a poorly installed blade, or a dull blade, will result in messed up cuts and wasted material.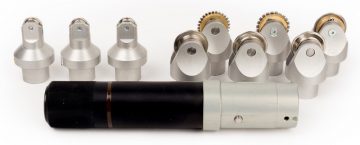 If you're cutting with any frequency, you'll be buying lots of replacement blades, so you'll want them to be quality and affordable.
Some machines will only take their specific brand of blades, meaning you will be limited to the original equipment manufacturer for replacement blades.
Ideally, your professional cutter (even if it's a budget brand) will be compatible with a trusted brand of blades. If your cutter is compatible with Roland or Graphtec blades, you're in good shape.
(Tip for personal cutters: Cricut blade holders often work with Roland blades, whereas the Silhouette housing will take Graphtec blade + housing combo.)
Warranty
This is pretty self-explanatory. These are big, expensive machines that will see a lot of use. The longer and more comprehensive a warranty, the better.
Professional vinyl plotters will usually come with a 2-3 year warranty, sometimes with the option to purchase an extension. Always verify that you're buying from a reputable source so that you're sure your machine isn't grey market. Grey market machines often have no warranty or a warranty that requires you to ship a sometimes heavy package several countries away, with a risk of loss or a prohibitively expensive shipping expense.
Conclusion
If you'll be cutting lots of vinyl every day, you should check out the professional tier of cutters. You'll want to know what materials and sizes you are planning to cut before you purchase, so you can carefully compare the specifications to your intended usage.
It's important to take the time and research your vinyl cutter before you buy, so you know you are actually getting a machine that is right for you.
FAQ
What is the best vinyl cutter to get as a gift?
My vote goes to the Cricut Maker 3. It has the most versatility in a powerful home crafting machine, able to handle everything from balsa wood to vinyl to crepe paper to silk. It's easy to use, comes with its own software, and has great community support for finding projects, tutorials, and people to help answer any questions.
What is the best machine for cutting stencils?
If you are new to cutting vinyl, I recommend the Cricut Explore Air 2, it's a great value for its cutting quality. It's also a great machine for making crafts and stencils and should be quick to master. It comes with access to a library of designs that you can either subscribe to or purchase just the ones you want to use.
What would be the right vinyl cutter for starting my t-shirt business?
You want the best machine your business can afford! For a casual business, the USCutter SC2 is a great value, if not the fanciest cutter.
But if yours is a serious endeavor, I would at least go with the Roland GS-24. It's reliably been one of the most popular machines for small businesses.
Those are a lot of machines! Which is the best for beginners?
If you're new to craft machines and want something that is more affordably priced, go for the Cricut Explore 3! It's a cheaper version than the best Cricut models, so it's a little slower and doesn't have Bluetooth, but it gives the same quality cuts as my other favorite starter machine, the Explore Air 2.
And with Cricut, you can find an amazing online community to help you find tutorials and guides to help you get started.