Every machine comes with its own built-in software.
It's only natural to wonder: is this really the best vinyl cutting software?
Should I upgrade?
Can it damage my machine if I use it, or will I be wasting my time learning how to use plotter software that isn't completely compatible with my machine?
I'll go over all of this in a bit.
In this review, I'll go over the best vinyl plotting software you can buy today, along with some free software options.
Whether you're looking to design your own vinyl signs, stickers, or clothing, I'll go over the best choice for you.
What's the best vinyl cutting software?
I'll start with the software that's used the most for vinyl cutters – all of the vinyl design software mentioned here is currently recommended.
These options are completely safe to use and will not damage your machine.
As new updates are released, I'll update this article.
Sure Cuts A Lot 5 review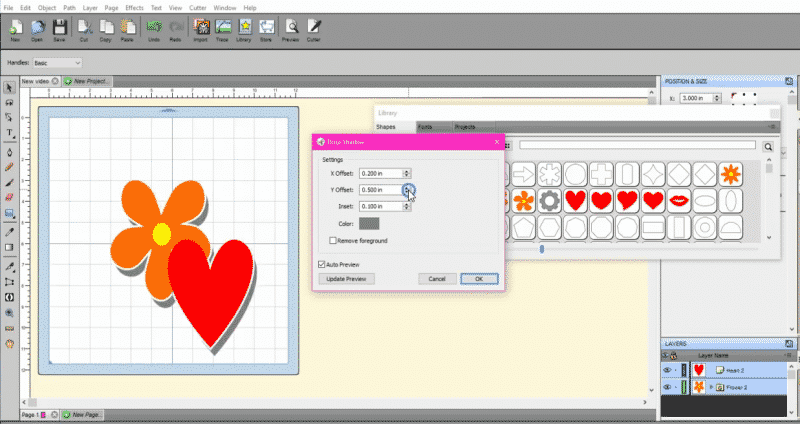 Sure Cuts A Lot is one of the easiest to use programs for cutting. It supports combining fonts, importing your own shapes, lines, artwork, cut lines, as well as drawing your own.
With Sure Cuts A Lot 5, they've brought a lot of the typical functionality you're used to in Photoshop and other Adobe editing products into the SCAL workflow (easy to use guidelines, magnetic snapping, and masking).
SCAL supports both TrueType and OpenType fonts so you'll have lots of fonts that you can download for free and use.
If you have pre-existing images that aren't vectors, you can use its auto-tracing features to convert any shape into a cut image. This makes it a great option for sign making software.
If you don't have preexisting shapes, you can either draw them, use their 200+ free built-in images, or download them through their escape store.
Works with both Windows and Mac OS.
Pros
SVG importing/exporting
Incredibly easy to use
Low system requirements
Works offline
Great forum and community support
Cons
Due to a lawsuit, doesn't work natively with Cricut machines (I've posted a workaround here)
If you design more than cut files, it's a bit pricey ($60) for its functionality
Get the latest version now: Sure Cuts A Lot 5
Site: www.surecutsalot.com
Easy Cut Studio Review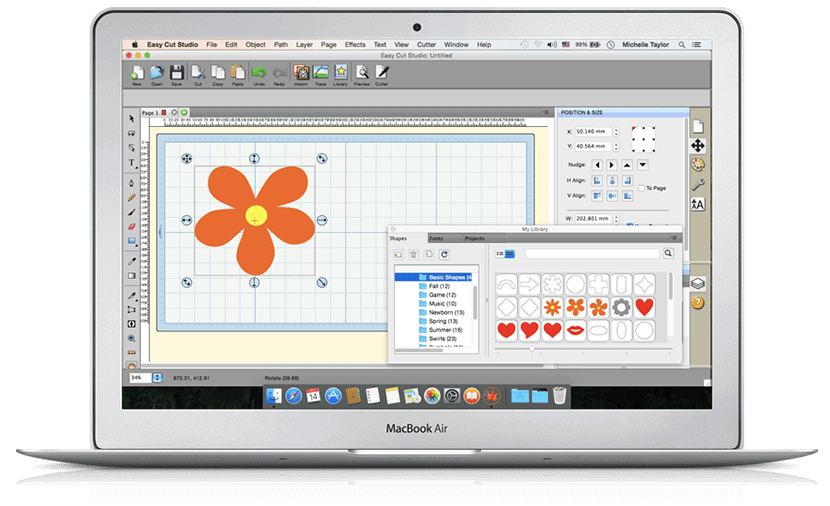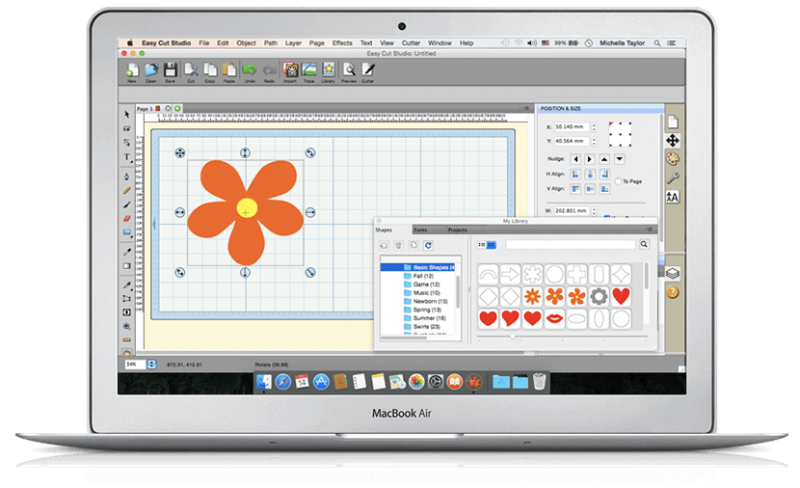 Easy Cut Studio is a newer contender that I just used for the first time recently. It has one of my favorite interfaces, making it easy to draw your own images directly on your cutting mat.
Easy Cut Studio does what every essential piece of cutter software must do: supports SVG file importing and exporting.
This is so important.
Many cutting machines only work with natively the software they come with (for a variety of reasons). With SVG files you can export from one piece of software and import into the native software that comes with your cutting machine, making the list of compatible machines very long indeed!
Its support for vectorization (turning a regular JPEG/PNG into a cut file that you can use) is the best in the industry.
The cut paths it generates are more accurate than other software I've used and I rarely have to clean them up after, even with complex shapes.
Pros
Works for MacOS/Windows
Updated frequently
SVG import/export
Great built-in shape library
Supports scanning directly into the software
Free trial, so you can test the software before purchasing
Cons
Like most other software, doesn't work natively work Cricut vinyl cutting machines unless you export SVGs and then re-import (not a huge drawback).
Smaller support community
Buy the latest version now: Easy Cut Studio for Windows or MacOS
Site: www.easycutstudio.com
More coming soon!
Feel free to leave me a comment with any features you'd like for me to examine, other software that I should look at, or details that I might have left out!
I'll be also updating this review with my favorite free recommendations as well, including the most popular software from Cricut and Silhouette.
I also have a full review of the best vinyl cutters (for both home crafting and business uses). Feel free to check that out if you're interested in an in-depth look at not just the software but the machines themselves.
And if you're looking for heat transfer vinyl, I just finished my review of the best heat transfer vinyl!
I'll go over where it works, falls short, and what the best recommendation is for each use! Stay tuned…