Every machine comes with its own built-in software.
It's only natural to wonder: is this really the best vinyl cutting software?
Should I upgrade?
Can it damage my machine if I use it, or will I be wasting my time learning how to use plotter software that isn't completely compatible with my machine?
I'll go over all of this in a bit.
In this review, I'll go over all your options, including free vinyl cutting software that you can download today.
Whether you're looking to design your own vinyl lettering, signs, stickers, or clothing, I'll go over the best choice for you.
The best free vinyl cutting software options
I'll start with the software that's used the most for vinyl cutters – all of the vinyl design software mentioned here is currently recommended.
These options are completely safe to use and will not damage your machine.
As new updates are released, I'll update this article. If you're looking for free vinyl cutting software, each of these has a trial and many have earlier versions that have become free. We also have a free section after.
If you're looking for free Cricut designs and cut files to use with these programs, check out our huge collection.
Sure Cuts A Lot 6 review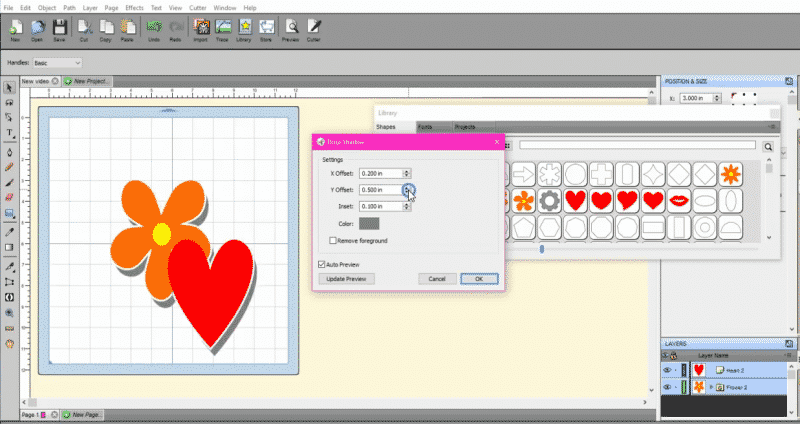 Sure Cuts A Lot is one of the easiest to use programs for cutting. It supports combining fonts, importing your own shapes, lines, artwork, cut lines, as well as drawing your own.
With Sure Cuts A Lot 6, they've brought a lot of the typical functionality you're used to in Photoshop and other Adobe editing products into the SCAL workflow (easy-to-use guidelines, magnetic snapping, and masking).
SCAL supports both TrueType and OpenType fonts so you'll have lots of fonts that you can download for free and use.
If you have pre-existing images that aren't vectors, you can use its auto-tracing features to convert any shape into a cut image. This makes it a great option for sign making software.
If you don't have preexisting shapes, you can either draw them, use their 200+ free built-in images, or download them through their escape store.
Works with both Windows and Mac OS.
Pros
SVG importing/exporting
Incredibly easy to use
Low system requirements
Works offline
Great forum and community support
Cons
Due to a lawsuit, doesn't work natively with Cricut machines (I've posted a workaround here)
If you design more than cut files, it's a bit pricey ($60) for its functionality
Get the latest version now: Sure Cuts A Lot 6
Site: www.surecutsalot.com
Easy Cut Studio Review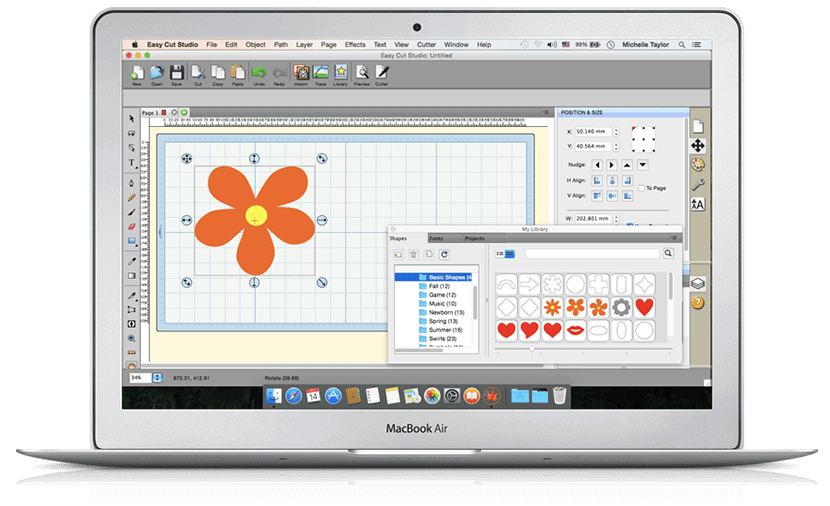 Easy Cut Studio is a newer contender that I just used for the first time recently. It has one of my favorite interfaces, making it easy to draw your own images directly on your cutting mat.
Easy Cut Studio does what every essential piece of cutter software must do: supports SVG file importing and exporting.
This is so important.
Many cutting machines only work with natively the software they come with (for a variety of reasons). With SVG files you can export from one piece of software and import into the native software that comes with your machine, making the list of compatible machines very long indeed!
Its support for vectorization (turning a regular JPEG/PNG into a cut file that you can use) is the best in the industry.
The cut paths it generates are more accurate than other software I've used and I rarely have to clean them up after, even with complex shapes.
Pros
Works for MacOS/Windows
Updated frequently
SVG import/export
Great built-in shape library
Supports scanning directly into the software
Free version (trial), so you can test the software before purchasing
Cons
Like most other software, doesn't work natively work Cricut vinyl cutting machines unless you export SVGs and then re-import (not a huge drawback).
Smaller support community
Buy the latest version now: Easy Cut Studio for Windows or MacOS
Adobe Illustrator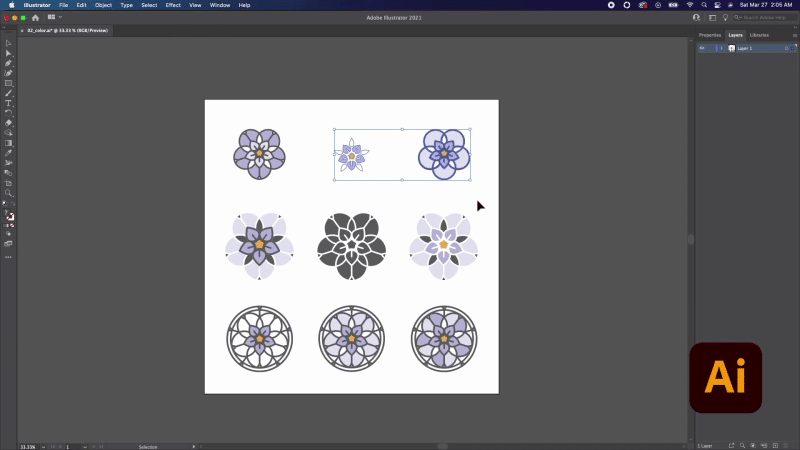 If you're already familiar with Adobe's software, you might just want to really consider using Adobe Illustrator. Although some of these programs are designed for the vinyl cutter, because Cricut machines (and really, most vinyl cutters) don't easily allow you to use external software to control them, you'll be exporting SVG files anyway.
So, is it worth using Adobe Illustrator with a vinyl cutting machine? You bet!
Many of the advantages come from Illustrator's powerful design tools and compatibility with various file formats, such as SVGs. By using Illustrator, you can unlock your full creative potential and make your projects truly stand out. So, let's dive into some of the key features and why Illustrator might be the perfect companion for your vinyl cutting machine.
Wide range of design capabilities: Illustrator provides a vast array of design tools, letting you to create unique and intricate designs that can be cut using your Cricut or other vinyl cutting machines. From simple shapes to complex illustrations, it's perfect.
Flexibility with file formats: Adobe Illustrator allows you to work with diverse file formats, including the preferred SVG format for Cricut Design Space and other cutting software. This versatility ensures your designs are easily compatible with your cutting machine, making it a breeze to bring your creative visions to life.
Improved precision and control: Working within Illustrator grants you greater control over the quality and precision of your designs. Boasting a robust set of tools, you can effortlessly adjust and fine-tune each element of your project, guaranteeing that your final cut will be clean and precise.
Advanced layer management: Illustrator's ability to manage layers simplifies the process of organizing and manipulating the different elements of your design. This streamlined approach makes it a cinch to create complex, multi-colored projects that are easily customizable in cutting software like Cricut Design Space.
(Pro tip: When using Illustrator, remember to save your files in the SVG format to ensure compatibility with vinyl cutters.)
Access to extensive tutorials and learning resources: Adobe Illustrator comes with a vast array of readily available tutorials and learning resources. From beginner to advanced levels, you'll find an extensive selection of video tutorials, step-by-step guides, and online forums dedicated to mastering the various features and techniques offered by Illustrator. With such an abundance of learning materials at your fingertips, you can quickly elevate your design skills and create stunning projects for your Cricut or other vinyl cutting machines.
Using professional-grade software: Illustrator is a top-tier design software used by professionals across multiple industries, such as graphic design, marketing, and fashion. By incorporating Illustrator into your crafting toolbox, you're utilizing the same tools and techniques as the experts. This not only elevates the quality of your vinyl cutting projects but also gives you valuable experience in using professional-standard software. As your skills progress, you may even find yourself exploring new creative avenues and opportunities beyond vinyl cutting.
Pros
Probably the best vinyl cutting software you can find, with premium features not found in other software.
With image tracing, you can convert any image into SVG files to be sent to your cutting plotter.
Comes with helpful training videos that even include exporting your files and layering so that you can take advantage of advanced cutting features like Print Then Cut.
Cons
Unless you're a student, this isn't free software. Many universities do include Adobe Creative Cloud, so if you have access to a subscription (or student plan) this could actually be free vinyl cutting software for you.
Does require exporting to work with your vinyl cutter.
Free vinyl cutting software
Inkscape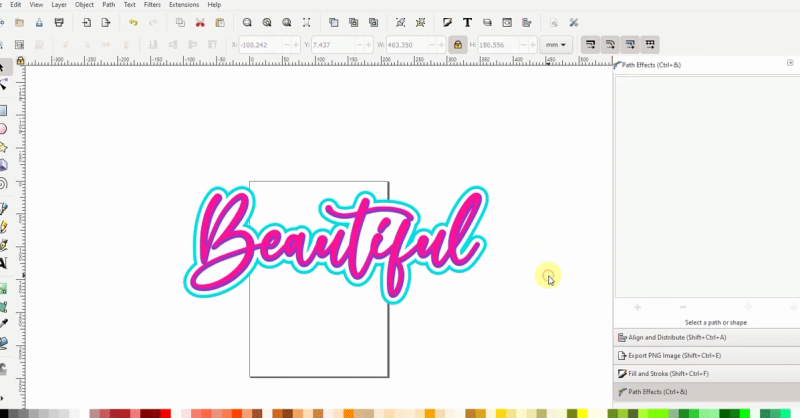 Inkscape is a powerful, open-source vector graphics software that offers an affordable alternative for creating vinyl cutting designs. With its user-friendly interface and extensive design tools, Inkscape is an excellent choice for both beginners and experienced designers.
Inkscape supports SVG file importing and exporting, making it compatible with a wide range of machines. This feature allows you to design in Inkscape and then import your SVGs into your cutting machine's native software, ensuring seamless compatibility.
One of the highlights of Inkscape is its extensive library of tools and features, which rivals even paid software options. Inkscape also has a strong community of users who share tips, tutorials, and support, making it a welcoming environment for those new to vinyl cutting.
Pros
Not just a trial but fully free vinyl cutting software!
Supports SVG import/export
Extensive design tools and features
Compatible with both Windows and Mac OS
Active user community
Cons
Doesn't work natively with vinyl cutters, requires exporting SVGs and importing into cutting software
Steeper learning curve compared to some other vinyl cutting software options
Overall, Inkscape is a fantastic option for those looking for a free, feature-rich vinyl cutting software. While it doesn't work natively with Cricut machines, the SVG support ensures compatibility with a wide range of devices. If you're willing to invest some time in learning the software, Inkscape is actually a very powerful option.
Site: www.inkscape.org
How vinyl cutting software works
Vinyl cutting software is a specialized type of design software specifically tailored for creating and editing designs to be cut out of vinyl using a vinyl cutting machine, such as a Cricut machine. These software programs allow users to create custom designs, manipulate shapes, text, and artwork, and prepare files for cutting with precision and ease.
When working with vinyl cutting software, one of the essential features to look for is SVG support. SVG, or Scalable Vector Graphics, is a versatile file format that traces line paths, much like the way a vinyl cutter cuts vinyl. This makes SVG files natively compatible with vinyl cutters, ensuring smooth and accurate cuts.
Why SVGs matter for vinyl cutting
As vector files, SVGs can be scaled up or down without losing any quality or detail. This means when working with vinyl cutting software you can create designs of any size and maintain their sharpness and intricacy when cut. In other words, the same design can be cut at various sizes, and it will always maintain its perfect appearance.
SVG support in vinyl cutting software greatly increases the software's compatibility with a wider range of vinyl cutters. As noted in the Easy Cut Studio review, many machines have their own native software, which might have limitations or be less user-friendly. By exporting your designs as SVG files, you can overcome these limitations and work with your preferred cutting software, while still being able to import your designs into the native software that comes with your vinyl cutter.
Making the most of your vinyl cutting software
If you're using vinyl cutting software that doesn't directly control your machine, such as Sure Cuts A Lot 6 with Cricut machines, don't worry! You can still take advantage of your preferred software's features by following these simple steps:
Design your project using your chosen vinyl cutting software and save your design as an SVG file.
Open the native software that comes with your machine (for Cricut, this would be Cricut Design Space).
Import the SVG file into the native software, adjusting the size and settings as needed to ensure a perfect cut.
Send the design to your vinyl cutter for cutting/drawing.
As you delve into the world of vinyl cutting, keep these essential principles in mind:
Vectorization: Converting raster images (like JPEGs and PNGs) into vector graphics allows for seamless scaling without a loss of quality. Many vinyl cutting software programs, such as Easy Cut Studio, have built-in vectorization features that can transform your images into cut-ready files.
Cut Paths: The lines that your vinyl cutting machine follows to cut out your design are called cut paths. Ensuring that your cut paths are precise and clean is crucial for achieving professional-looking results. Some software generates more accurate cut paths, minimizing the need for manual adjustments.
Compatibility: Compatibility is key when choosing vinyl cutting software. Make sure the software you select works well with your machine, either through direct control or by exporting SVG files to be imported into your machine's native software.
Feel free to leave me a comment with any features you'd like for me to examine, other software that I should look at, or details that I might have left out!
I'll be also updating this review with my favorite free recommendations as well, including the most popular software from Cricut and Silhouette.
I also have a full review of the best vinyl cutters (for both home crafting and business uses). Feel free to check that out if you're interested in an in-depth look at not just the software but the machines themselves.
And if you're looking for heat transfer vinyl, I just finished my review of the best heat transfer vinyl!
FAQ
Can you cut vinyl directly from Illustrator?
While Adobe Illustrator is vector graphics software that can be used to create designs, it cannot directly control a vinyl cutter to perform the cuts.