If you're wondering how to export a Silhouette file into a PDF, PNG, or JPEG, you've come to the right place!
The free version of Silhouette Studio lets you save your designs as formats that can only be used with Silhouette Studio (.studio, .studio3, .gsp). I know, it's totally a pain.
But don't worry, I have an easy way to save your design in any file format and I'll show you exactly how to do that on a Mac or in Windows.
(This article is up-to-date with the most recent version of Silhouette Studio, as of November 2020.)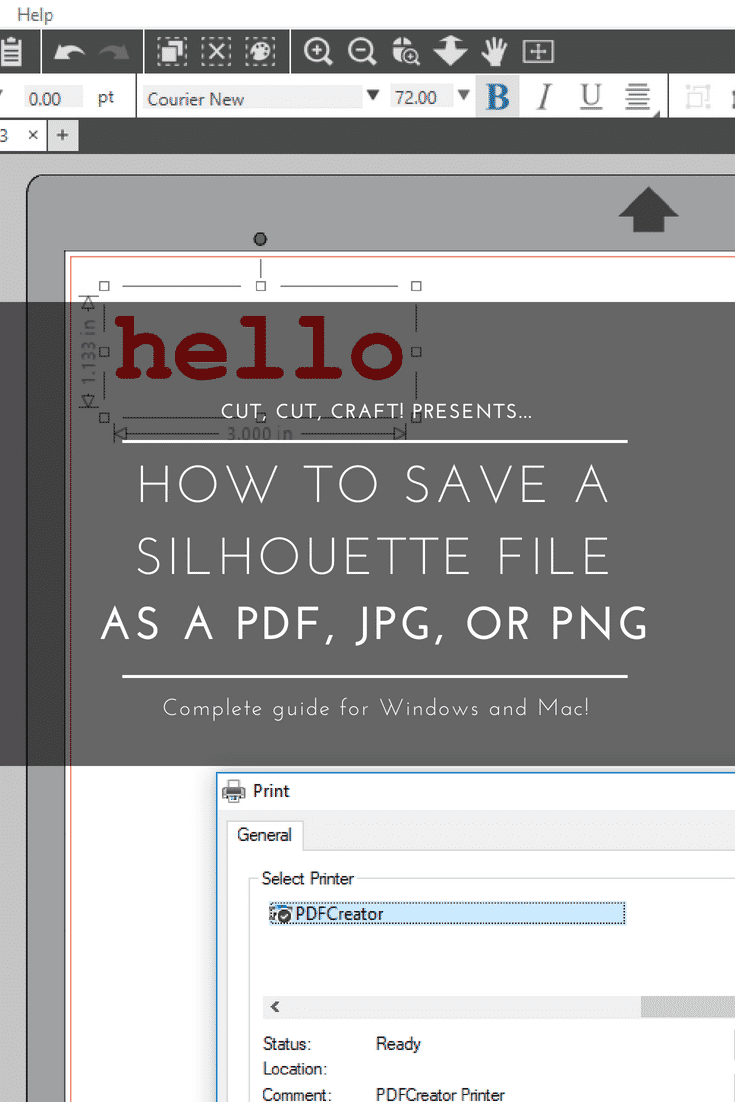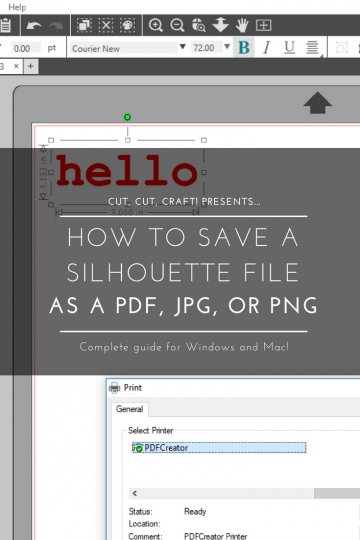 Why would you need to save to a PDF?
There are plenty of reasons why you might need to save your design as a PDF:
You want to take your design to be printed with a high-quality printer at a copy and print shop (like Staples or Office Depot).
You're designing something for a client, so they need to see your design to give it a green light before you cut it out.
You need images to display in your online shop.
You simply want to share your design with other people who might not use Silhouette Studio.
You want to edit your design in Sure Cuts a Lot, Illustrator, or some other design program.
So if you want anyone to see or use your design without Silhouette Studio, you need to be able to save (or export) your design as a more common file type, like a PDF, JPG, or PNG.
Saving from Silhouette as a PDF, JPG, or PNG
Alright, so how do you actually get your Silhouette files into a usable format?
This method was tested with the Silhouette Cameo 4 and the Portrait 2 (review) (update: and also the Silhouette Curio here).
With Business Edition
If you have Silhouette Studio Business Edition, it's easy to save your design as a PDF, JPEG, or SVG. When you are saving your file, simply click the drop-down menu for "Save as type" (on Windows) or "Format" (on Mac) and select the file type you want.
With the free version
The free version of Silhouette Studio doesn't let you save as a PDF, but you can print your design as a PDF.
The process is a little different for Mac and PC. I'll go through how to do this on a Mac first, and then explain how it works in Windows.
Exporting from a Mac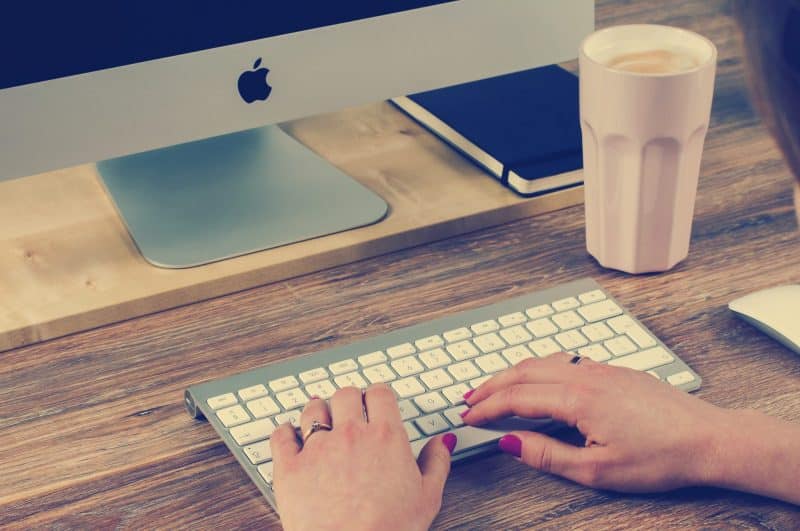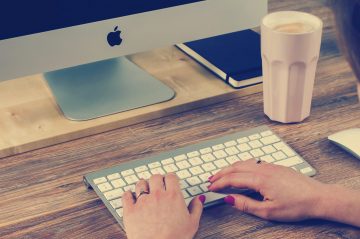 On a Mac, it's pretty easy to print to PDF because this functionality is built into the operating system.
Open up the print dialog by clicking the printer icon in the top left (or hit File > Print, or Command-P, you know the drill).
In the bottom left corner, click the drop-down menu that says "PDF."
If you want to save as a PDF, select "Save as PDF."
If you want to save as a JPG or PNG, it takes just a couple more steps:
First, from the PDF drop-down menu, select "Open PDF in Preview."
Then, in Preview, go to File > Export… which will open up a dialog window to save your file.
Finally, from the "Format" drop-down menu near the bottom, you can select JPEG, PDF, or PNG. Make sure to keep the resolution high, at 300 pixels/inch.
If you want to see how it's done, check out this awesome video from CleverSomeday. The video includes tips on how to change the page size, and get rid of those pesky grid lines that won't disappear:
That's it!
Now how about for Windows?
Exporting from a PC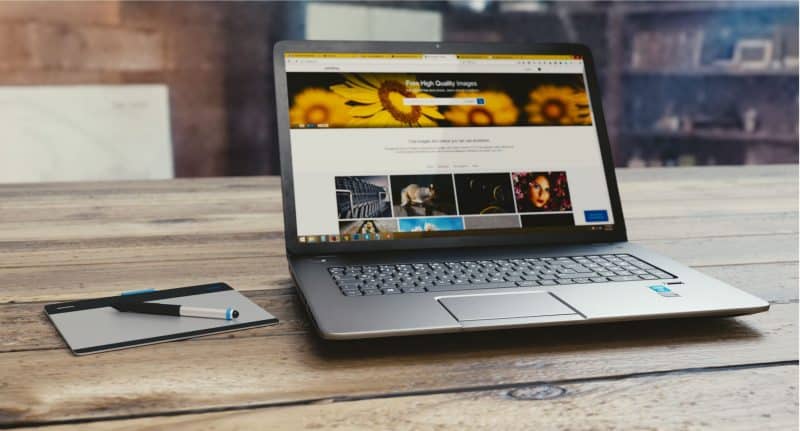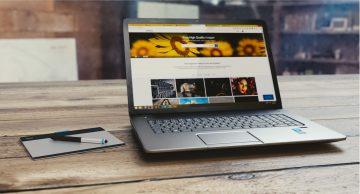 In Windows, you need another app or program that can print to PDF. These programs work as a "virtual printer," so when you go to print your design, you select the program as your "printer" and it actually just saves it as a PDF. (A little sneaky, heh!)
There's a good chance you already have a virtual printer installed! "Microsoft Print to PDF" is a virtual printer that comes pre-installed on Windows 10. Or if you have Adobe Acrobat, you'll see Adobe PDF as one of your printer options.
But if you want greater functionality, or don't already have a PDF printer installed, I recommend installing the free program PDFCreator. PDFCreator will let you save in multiple formats (like JPG and PNG), print to custom page sizes like 11×14, and save your designs as high-quality images.
To print to PDF on Windows:
Open up the print dialog by clicking the printer icon in the top left (or select File > Print, or hit Ctrl-P).
Select your "virtual printer" as your printer. This will be called "Microsoft Print to PDF" or "Adobe PDF" or "PDFCreator."

With Microsoft Print to PDF and Adobe PDF: Hit "Print." Select a folder location, and save your file. Voila! PDF!
With PDFCreator, click on "Preferences" and then click "Advanced" to change the paper size or print quality (dpi) before you select "Print."
Check out this video to see how it's done:
Just take a screenshot
If you quickly need an image of your design, and don't care about the quality, you can just take a screenshot! This will work on any Studio version, on any operating system.
On a Mac:
Press Shift-Command-4. Your cursor will change to crosshairs.
Click and drag a rectangle across your design.
It will be saved as a PNG on your desktop!
In Windows, you'll want to use the Snipping Tool. The easiest way to do this is to:
Click the Windows icon or start button, and navigate to the Windows search box.
Type "snip" or "snipping tool," and select the Snipping Tool from the search results.

Make sure the "Mode" is set to "Rectangular Snip". Select "New," and use the crosshairs to click and drag a rectangle around your design.
The Snipping Tool will show you a preview of your screenshot. From there, you can save it as a PNG or JPG.
Tips
If you need to convert your PDF to another file format, you can use zamzar.com to convert it to any format you'd like (including JPG, PNG, SVG).
Make sure to remove your cut lines if you don't want to see them in your PDF or JPG.
FAQ
What is a GSP file?
A GSP file is like the .STUDIO file you usually use in Silhouette Studio, but it's meant to be saved to an SD card and read directly by your Silhouette. Only use the .gsp extension if you are saving to an SD card to insert directly into your Silhouette's SD card slot.
Do you need to have the Designer's Edition?
Nope, the Designer's Edition won't help you here. If you buy the Business Edition (more expensive than the Designer's Edition) you can save your designs as a PNG, SVG, PDF or JPG. But you can follow the tutorial above with the free version of Silhouette Studio.
When I save/print as a PDF and then open, I only have blank pages or certain parts are missing. What am I doing wrong?
Text and shapes are often created with no fill, and with a border of thickness "0". If you have these sorts of cut lines in your project, they won't show up when it's printed or saved as a PDF!
Open the "Line Style" panel to increase the thickness of your lines so they are visible! I think 1pt lines look good. You can also fill your text or shapes with a color to be visible when printing.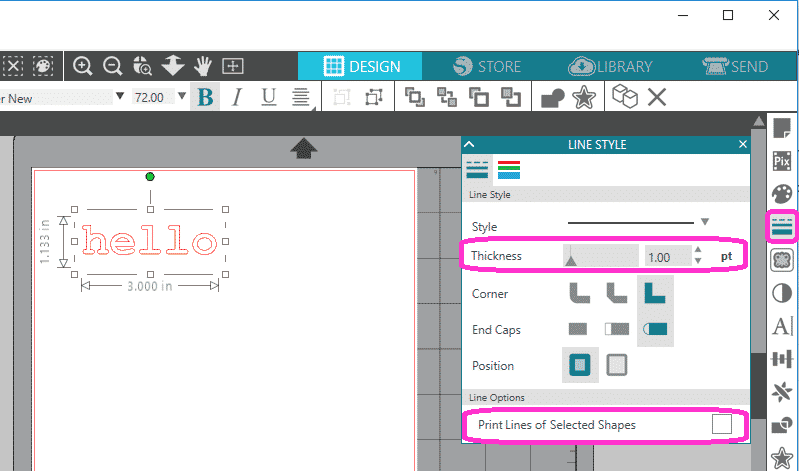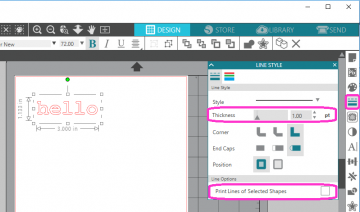 You can also select "Print Lines of Selected Shapes" down at the bottom, but this will give you only very faint lines.
When I save as PDF, the image is no longer centered on the page as it was in Silhouette Studio. How can I fix this?
Make sure your page size is set to Letter (8.5×11). If your page size is too wide, Silhouette will sometimes rotate the page and so parts of your design will no longer look centered.
If you need a larger page size, you should use PDFCreator instead of Microsoft Print to PDF.
If that doesn't work, you can always move your design around on the page until it looks centered with you save it as a PDF. Not the best solution, but if it works, it works.
My file is bigger than the standard letter size (8.5×11). How can I save a bigger page as a PDF without it getting cut off?
If you use PDFCreator you can change the paper size from the print dialog by selecting "Preferences" then clicking "Advanced Settings". See the video above to watch how it's done.
How do I get rid of the grid lines from Silhouette Studio?
On the top menu bar, select "View" and uncheck "Show Grid."
If this doesn't work, you're probably on a Mac trying to save a PDF. (It's a known bug.) In Preview, you can export as a PNG to get rid of the grid lines. Then you can export that PNG to a PDF, and you'll have it without the grid lines.
What's the difference between JPEG and JPG?
Nothing! JPEG and JPG mean exactly the same thing. You can save your files as either .jpg, .jpeg, .JPG, or .JPEG and they all will be the exact same file. Personally, I prefer to use .jpg.
How do you save it as a PNG with transparent background?
Use the free webtool LunaPic to make a PNG with a transparent background.
Go to lunapic.com and click on "Browse" to navigate to your folder and upload your file for editing.
Select Edit > Transparent Background. And then click the color(s) you want to make transparent.