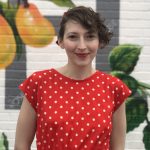 Hi guys! I'm Ali, a work-at-home mom, engineer, and total DIY & crafting geek from Cleveland, Ohio!
I started this website after being taught so much by the crafting community and I wanted to give back a bit (whether your allegiance is to Cricut/Silhouette, I don't judge! :p).
I own a ton of cutting & sewing machines, a handful of heat presses (though I use my iron more than any of them) and love to write about home organization and craft rooms.
I've previously written for Today.com and am always looking for opportunities to engage with other passionate and enthusiastic crafters, so feel free to get in touch if you have any ideas for a subject I should cover or a tutorial that would make your life a lot easier!