Sometimes, the hardest part about using a cutting machine is figuring out exactly what to make. You might have an idea in your head, but then you have to find the perfect images online. And make sure it's in the right format. And get it all set up in your editing software. It can be a huge pain!
The Brother Scan and Cut 2 is a unique cutting machine: if you can draw it, you can cut it! You can scan in your own drawings or printouts and easily turn them into cut patterns, all without a computer.
The Scan N Cut 2 is the updated model of Brother's scanner and vinyl cutter. Though it was released back in 2015, its truly unique capabilities still make this machine a solid choice for certain crafters.
I'll go over how it measures up against other popular models. Then, I'll go through my Brother Scan and Cut 2 review and evaluate its pros and cons.
At the end, I'll show you where to get the best deal, and cover exactly what happened to the now-discontinued Scan and Cut 2 CM650W.
Brother Scan and Cut vs Cricut: how does it compare?
There's a good chance you're wondering whether to get a Brother, Cricut, or a Silhouette. How do you choose? Which is right for you?
To help you decide, I made a quick table comparing the most popular models. They have a lot in common, but the difference really boils down to…
You guessed it: scanning! (it's right there in the name!)
Best scanning

Best cutting

Best software

Best for
Scanning to create your own designs
Easy cutting with a great community
Designing signs and decals
Ease of use



Cutting quality



Software



Overall



Best scanning

Best for
Scanning to create your own designs
Ease of use

Cutting quality

Software

Overall

Best cutting

Best for
Easy cutting with a great community
Ease of use

Cutting quality

Software

Overall

Best software

Best for
Designing signs and decals
Ease of use

Cutting quality

Software

Overall

The ScanNCut2 is the only craft cutter with a scanner, so you can scan in your own drawings or pictures. Plus, you can then edit and cut your designs directly on the touchscreen. Without a computer. You can even just choose and combine from the hundreds of designs and fonts built into the machine. It's truly capable as a standalone machine, more-so than the popular Cricuts or Silhouettes.
If this appeals to you at all, you should take a close look at the Scan and Cut 2 and see if it's the right vinyl cutter for you. Luckily for you, you're in the perfect place to do that!
Brother Scan and Cut 2 CM350 Review (2023)
Pros
300 DPI built-in scanner
Can edit directly on the 4.85″ LCD touch screen
Comes with hundreds of designs, 100 applique patterns, and 7 lettering fonts, built-into the machine
Cons
Software is simplistic
$50 extra to activate wireless functionality
Missing the vast online community of Cricut or Silhouette
Best for
Cutting out patterns from your own paper drawings and designs
Quilting and applique (patterns included!)
Versatility: the scanner gives you the ability to easily incorporate anything you find into your cut patterns
Standalone machine: works without a computer!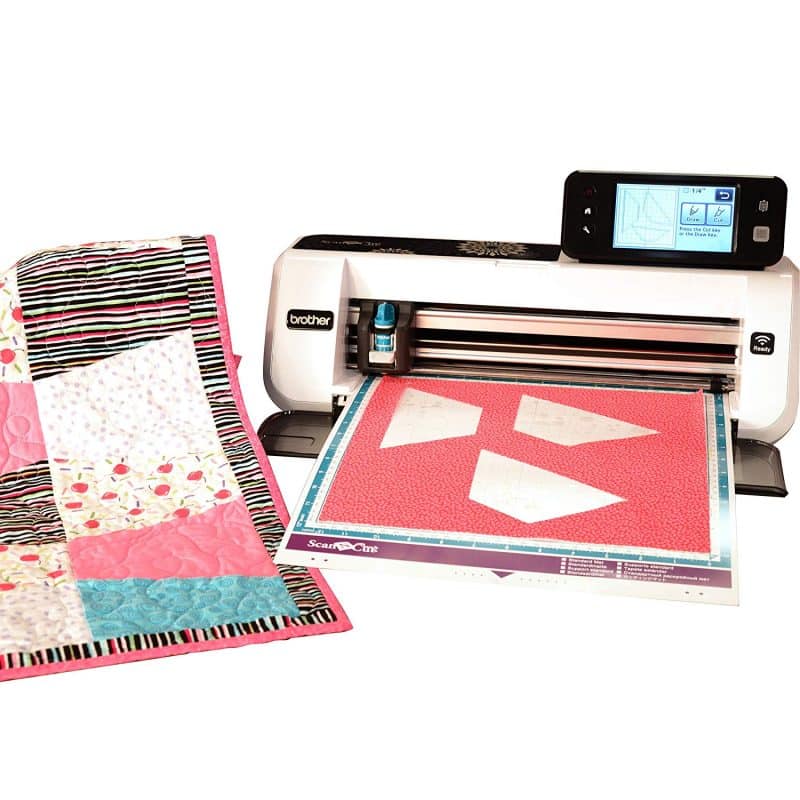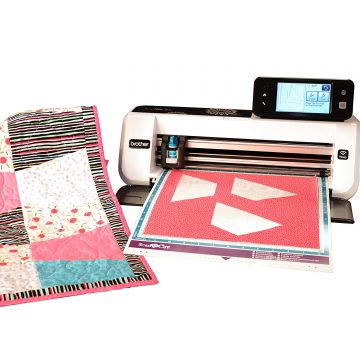 Features: let's break it down!
I'll take you through all the best features that the Brother ScanNCut 2 has to offer, and, of course, explain any drawbacks they have as well.
High-resolution scanning
The Brother Scan N Cut 2 comes with a 300 DPI color scanner. It can scan up to a 12″ x 12″ area, the size of the included mat.
You can scan in anything to be used in a cut pattern: photos, hand-drawn designs, magazine cutouts, images printed from your computer, characters from your favorite children's book…you get the idea. You can even create your own fonts if you are skilled at calligraphy, or find a good source in a magazine.
The ScanNCut automatically detects cut lines from the scanned images. It features three different modes for figuring out the cut pattern, as shown in the image below:
outline detection
region detection (great for cutting-by-color)
line detection (only for gray-scale scanning)
The machine can then immediately cut the design out of your designated material, or save your cut patterns in its internal memory to be used, edited, or combined with other patterns in the future.
You can even use the scanner as a mundane, regular ol' scanner. It has high enough resolution to scan in any photos you want to save to your computer or any other documents that you need a digital copy of. When you are considering costs, remember that means you can get the ScanNCut 2 instead of another scanner, which would save on money, as well as desk space in your craft room.
Designing on the LCD touchscreen
The Scan and Cut 2 features a 4.85″ full-color LCD touchscreen with great editing capabilities. This is probably my favorite part about the Brother machine since it means you don't need a computer to cut out your designs. No need to hook up cables or worry about finicky WiFi and Bluetooth.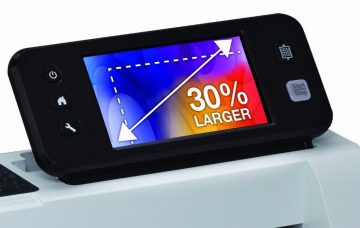 From the touchscreen, you can
browse the built-in designs or any that you have previously scanned in
edit the designs
cut them out, all entirely from the LCD interface.
There's a decent range of editing abilities accessible from the touchscreen. You'll get more from most computer editing software, of course, but it's pretty sufficient for creating and editing new designs.
The editing functions available on the touchscreen include:
resize and reposition
rotate and mirror
zoom
select parts of the design to manipulate
weld images or lettering
add margins or seam allowances
adjust fonts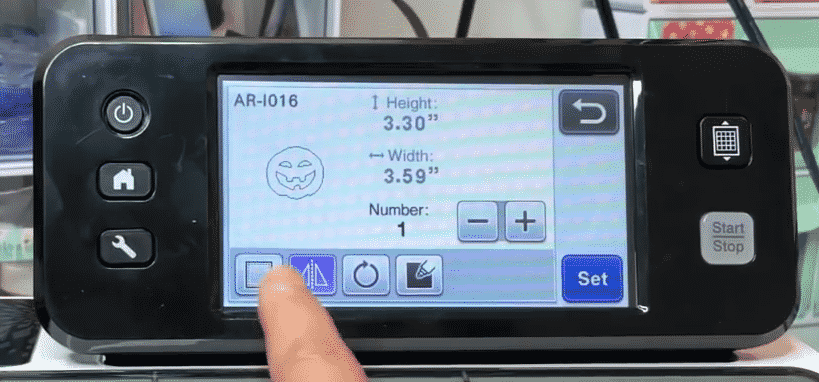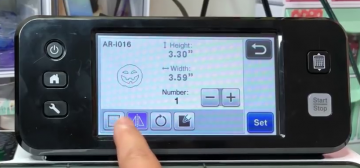 Adding seam allowances is actually a really neat feature for quilters and seamstresses: it's super useful for turning designs into quilting squares, clothing, or whatever else you dream up.
If you want to be able to design and cut vinyl decals or quilting squares away from your clunky old computer, then this is the machine for you!
Hundreds of built-in designs
Another of my favorite features is that the ScanNCut2 comes with hundreds of built-in designs, easily accessible directly from the touchscreen.
You get 531 different designs to choose from, plus another 100 quilt and applique designs. It also has 7 different fonts you can select from, to add lettering to your designs.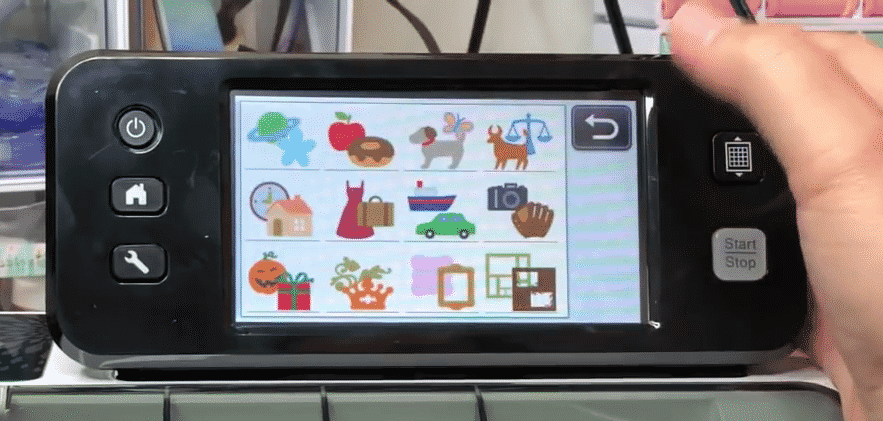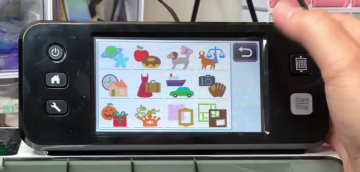 If you remember the old Cricut cutters, it's kind of like it comes with thirty different design cartridges, all included and built-in. But no little plastic cartridges to keep track of, it's all stored in the machine's memory. It's the best of all worlds.
And honestly, sometimes trying to find designs online can get overwhelming (and expensive), because there is just SO much to choose from. Having built-in designs is a really useful feature for new designers because you have such an easy selection right at your fingertips.
Software: Scan and Cut CanvasWorkspace
If you do want to design on your computer or tablet, you can use ScanNCut Canvas, completely free. (No monthly subscriptions!)
You can easily import SVGs and convert them to the FCM format to feed into the ScanNCut. This means you can use any files you already have, or make use of all the free designs you can find online.
CanvasWorkspace used to be only web-based, which made it kind of slow and required a reliable internet connection to create and edit your designs. (Might sound familiar to any Cricut users.) And it used to only work on a PC.
But no more! Brother recently developed a desktop version for Windows and Mac, so you can now use it offline. It's seriously a big improvement, making the software more accessible to people in different working environments.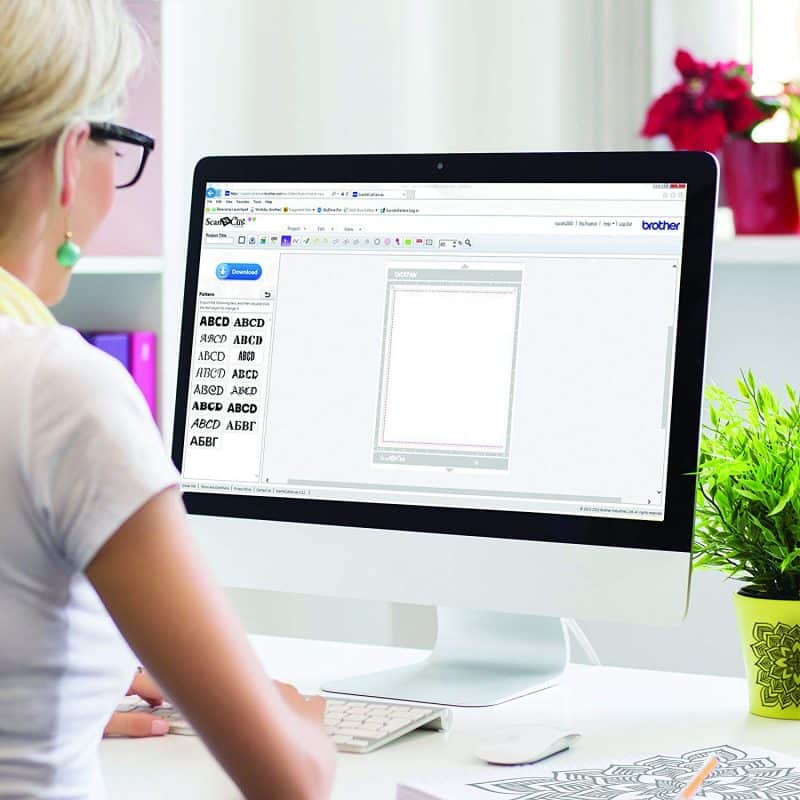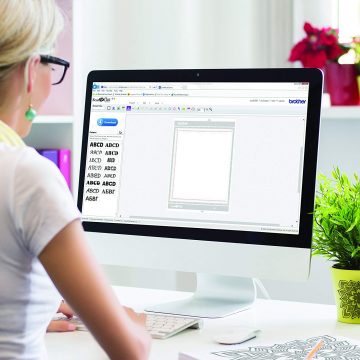 The biggest drawback is that CanvasWorkspace is still fairly basic software, offering limited design tools. So if you need a more robust design program, you'll have to design in something like Illustrator or CorelDraw, and then import it into the CanvasWorkspace to send to your Brother machine.
The CanvasWorkspace still has web-based options, so you can use their cloud system to access and edit your designs from any computer, tablet, or even your phone.
When you are ready to cut (or draw) your design, you can send the design to the cutter over WiFi (activation card required, not included), or directly with a USB cable (not included). Note: the machine requires a ScanNCut Online activation card to receive files over WiFi. This is an additional cost, but if you buy the right bundle it will be included.
Cuts paper, vinyl, fabric, and more
Okay, so the ScanNCut2 can scan, and it can design, but how does it cut?
Turns out, it's a pretty solid cutter, but not the best home cutting you can buy. It cuts precisely through a great variety of different materials.
It's certainly not as versatile as something like the Cricut Maker, but it is sufficient for cutting all sorts of types of paper, vinyl, fabric, and more:
printer paper
thin scrapbook or tracing paper
cardstock and poster board up to 0.5 mm thick
cotton, flannel and other fabrics up to 0.6 mm thick
felt and denim up to 1 mm thick (with the Deep Cut Blade)
adhesive vinyl up to 0.2 mm thick
heat transfer vinyl up to 0.5 mm thick
magnetic sheet
sticker paper
plastic sheet up to 0.2 mm thick
So it probably won't be able to handle very thick cardstock, and it might have some trouble with thick flocked vinyl that is more than 0.5 mm. Though I suspect the Deep Cut Blade would make thick flocked HTV work, and Brother even sells some in a sample pack, so please let me know if you have some success with this.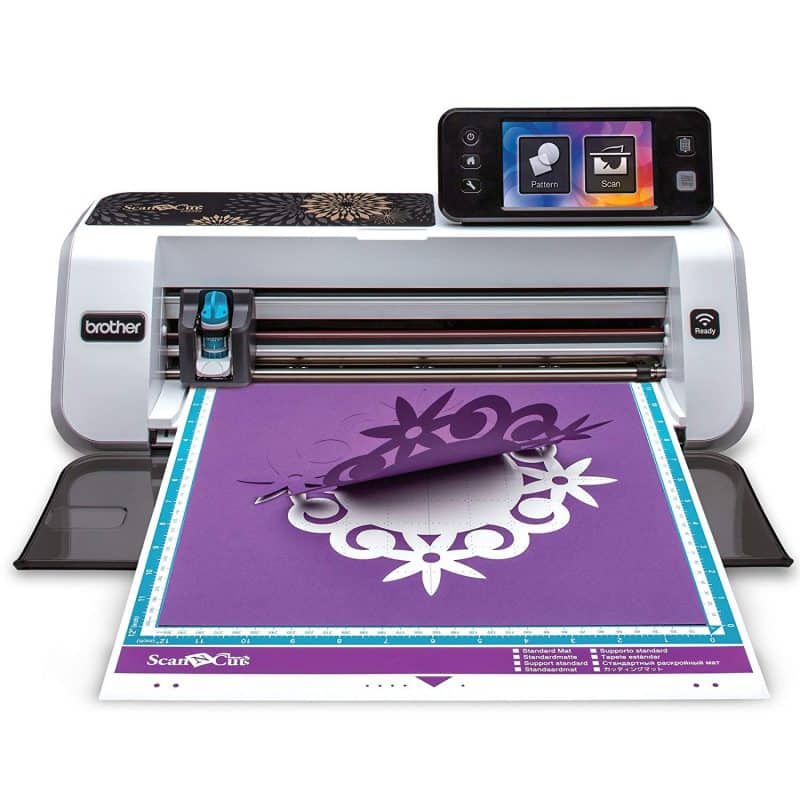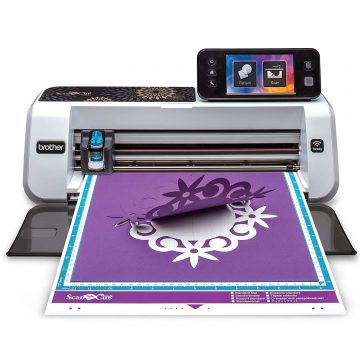 The Brother machine can cut up to 12″ by 12″ with the included cutting mat, or up to 12″ by 24″ if you purchase the longer cutting mats. The cutting mats are required; it cannot make very long cuts directly from vinyl rolls like the Silhouette machines can.
It has two different fabric backings that make it cut fabric more reliably. One allows for more precision for cutting applique shapes out of thin fabric. The other is especially good at cutting difficult fabrics with seam allowances because you don't need to be as precise as, say, cutting applique shapes.
The Scan and Cut doesn't just cut, it can also draw! It comes with a pen holder and a variety of pens so you can draw or add lettering to cards and scrapbooks. It even has fabric pens that are useful for numbering your pieces of fabric before they're cut out, which is essential for more complex projects.
It can also emboss and deboss with an additional embossing tool. You will also need a special embossing mat, as well as the Brother embossing metal sheets so they won't damage the scanner. You can try to emboss any sort of paper though, and the results look super fun!
Appearance
I'll be honest, the visual design of the Brother machines doesn't thrill me the way a Cricut or Silhouette does. It's light gray, boxy, with rounded corners, and looks a fair bit like a printer. This is not that surprising since Brother is a company that is primarily known for its printers.
Really, the best thing about how the machine looks is the incredibly functional LCD screen right on top, which I've already gone on and on about. It looks like a cellphone sitting on top of the cutter.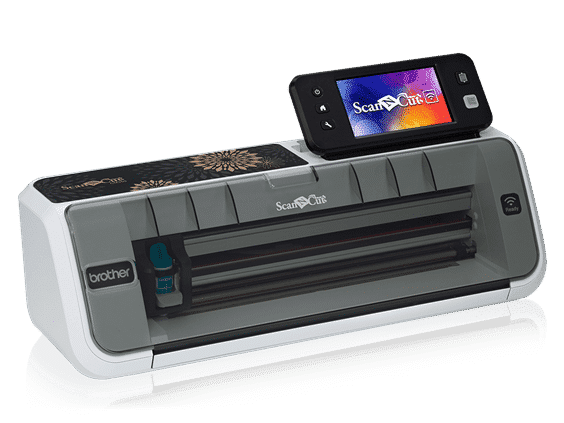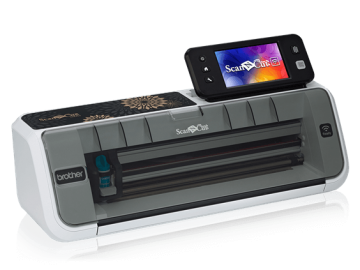 You can adjust the angle of the touchscreen, and lower it all the way down when you aren't using it. There's a little stand behind the touchscreen for its stylus and a spatula as well.
The machine also has a translucent gray lid so you can close it up and protect the cutting heads when not in use.
The cutter weighs 8.6 lbs, which is actually much lighter than most other home cutters. The whole shipping carton measures 10.25″ W by 23.0″ D by 10.5″ H. The actual machine isn't nearly that deep, it looks more like six or eight inches front to back, so a pretty small footprint when it's all closed up. But you will need a decent amount of space in front and behind of the cutter to allow the cutting mat to move back and forth when in use.
Warranty
The Brother Scan N Cut 2 comes with a 1-year limited warranty for parts & labor (including defects in accessories like cutting mats, blades, pens, etc), and a 2-year limited warranty for electronic components and printed circuit boards. A 1-year warranty is pretty standard on home craft machines, so getting 2 years on the electronics is a bonus.
The Brother warranty (pdf) does not distinguish between personal and commercial use, so you should still be covered even if you use your cutter to make and sell stickers or vinyl decals.
Specifications & accessories
Crafting machines can use all sorts of accessories: blades, mats, pens, and more. I'll show you everything that is included with a brand new Scan and Cut machine, then I'll talk about the quality of the most important accessories.
What's in the box?
Like most cutters, it includes all the basic accessories you need to make your first cuts or drawings. However, if you want to cut fabric or cut more delicate papers, you'll have to purchase the specialized cutting mats and fabric interfaces.
The ScanNCut 2 comes the following accessories:
Standard cut blade holder (turquoise) with the blade installed
Standard 12″ by 12″ mat (purple and turquoise)
Pen holder
Two color pens
Spatula
Stylus for the touchscreen
Accessory bag
AC adapter
Power cord
CD with:

Wireless Network Setup Guide
Pattern List
Basic Quilting Guide
Blades
Brother cutters come with German carbide steel blades (similar to the Cricut blades) that boast "Japan design quality." They look like relatively standard cutting blades that can easily handle paper, vinyl, fabric, etc.
The blades have to be manually adjusted to the right blade extension by rotating the blade in its holder and then inserting it into the machine. Luckily, removing and installing the blades are easy: they just lock into place with a single lever.
There is also a Deep Cut Blade and Blade Holder (not included) that is used for cutting felt and fabrics up to 1.5 or 2 mm thick.
Cutting mats
The Brother cutting mats are 12″ by 12″ or 12″ by 24″, allowing for longer designs or bigger runs.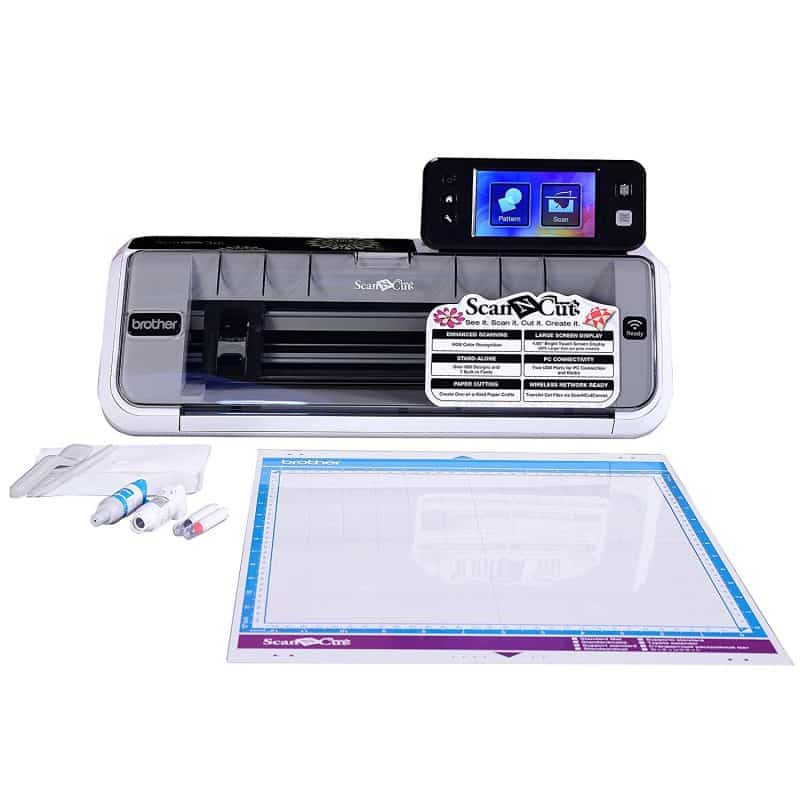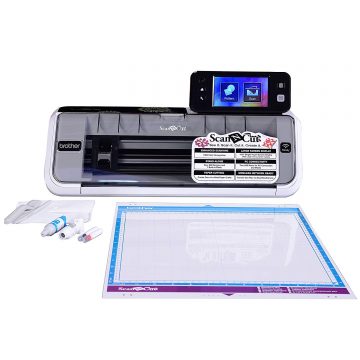 They come in three different strengths:
standard mat (purple and turquoise) with high adhesive strength (included)
middle tack mat (pink and turquoise) with medium adhesive strength
low tack mat (turquoise) with low adhesive strength
There are two additional sheets that act as interfaces for cutting fabric:
iron-on fabric applique contact sheet for reinforcing the fabric
high tack adhesive fabric support sheet to hold fabric more firmly in place
The cutting mats aren't the top of the line (that award goes to the Cricut mats). Paper can get stuck and the mats lose their stickiness very quickly. You can minimize this by using the right tackiness for the job.
For example, if you use regular printer paper on the high tack (standard) mat, it may become stuck or partially stuck to the cutting mat. Using fabric without the sheets for fabric cutting may cause a lot of fibers to be stuck to the regular mat, reducing its stickiness. Brother has a whole chart in their user manual that tells you which mat should be used with which materials.
Pens and pen holders
The Scan and Cut 2 can draw using pens with the pen holder, that goes where the blade would normally go.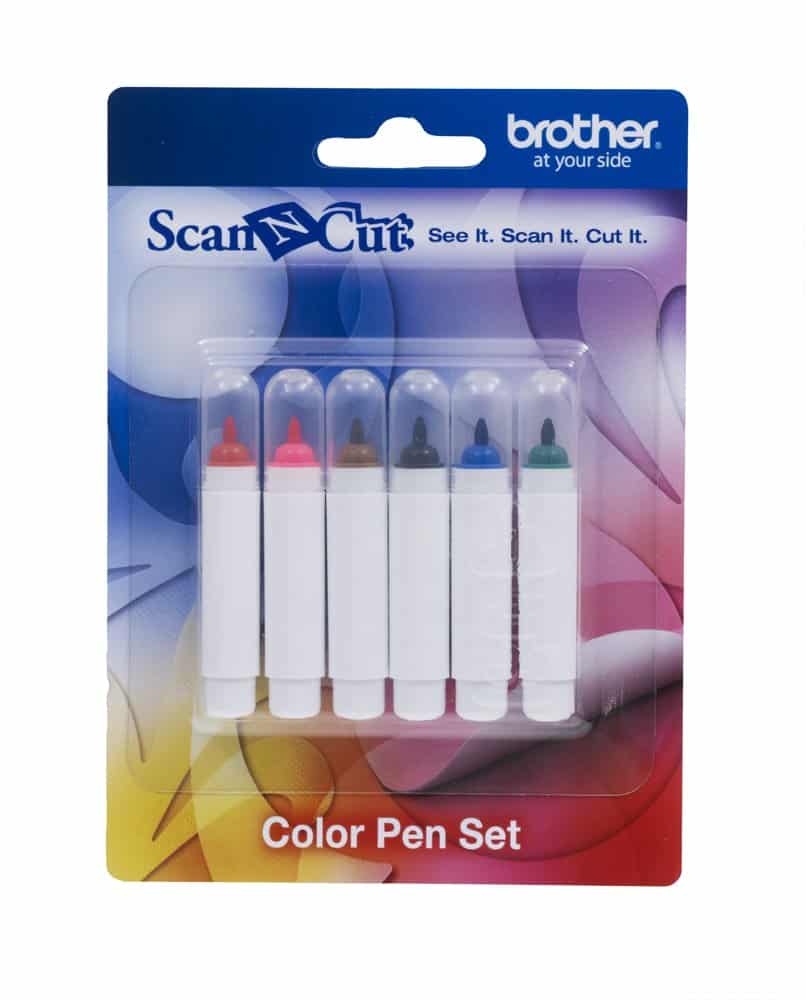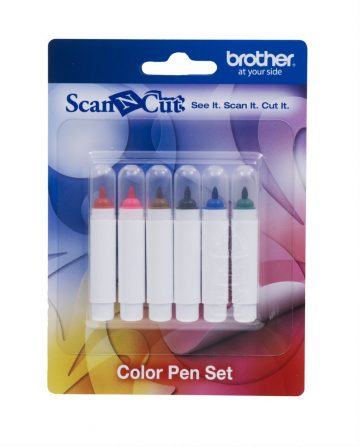 There are five colors of its regular pen, as well as two special erasable pens for fabric:
blue fabric pen washes out with water
purple fabric pen disappears within 2-14 days on its own
Just another really neat feature that Brother has added to make this machine especially appealing for seamstresses.
Conclusion
Overall, this is a very solid home cutting machine, with unique features that make it perfect for certain groups of people.
It's a great choice for anyone who wants to be able to cut patterns without a computer since you can find and create designs using the touchscreen right on the cutter.
It's perfect for anyone who likes to hand-draw, or include found objects in their work. It's easy to scan in your own drawings or found graphics and turn them into vinyl decals or scrapbook shapes. You can even write out a party invitation by hand, and then have it copied onto 20 different cards. All on one machine.
It is also especially great for seamstresses and quilters. You can tell by all these added features that the machine was designed with you in mind. You can add easily seam allowances and use built-in applique and quilting shapes. It has different fabric backings for different types of fabric cuts (applique or with seams). There are even special fabric pens so you can mark up unwashable fabrics, and the marks will simply disappear on their own within a few days.
So, if you fall into one of these groups, this is the machine for you! If these aren't your priorities for home crafts, you might do better off with a Cricut or Silhouette.
Where to buy the best deals and bundles
When buying an expensive machine, you need to first make sure that you purchase from an authorized dealer, so your machine falls under Brother's warranty. The best deal from an authorized dealer I've been able to find is:
Sale
Brother CM350 ScanNCut 2
300 DPI built-in scanner lets you scan in your own designs
Edit directly on the full-color LCD touchscreen
Perfect for quilters, seamstresses, and anyone who likes to draw
I've got to be completely honest: I spent a really long time researching all the bundles and deals I could find for the Brother Scan and Cut and came to this conclusion: they aren't actually worth it! You're better off buying the machine at that cheap price above, and getting the accessories separately. So, here are the best accessories:
What's the difference between the Brother Scan and Cut 2 CM650W and the CM350?
When the Brother ScanNCut 2 was first released, there were two different models: the CM350 and the CM650W. The 350 is the more basic model, the one discussed in this review. The 650W has some more advanced features and a much higher price tag.
Unfortunately, the CM650 has been discontinued by Brother and is no longer for sale by any authorized dealers. You might be able to find them for sale on sites like eBay, sometimes even new in box, but be aware that they will not fall under Brother's warranty.
The biggest concrete benefit of the CM650W is that it is able to directly import PES files, which are used for quilting and sewing. Additionally, the machine has twice the scanning area. It is able to scan the entire 12″ by 24″ cutting mat, instead of just 12″ by 12″.
The 650 also has almost twice as many built-in designs (1102 vs 631), and almost twice as many fonts (15 vs 7). That's a lot of extra designs, and where most of the increased cost comes from.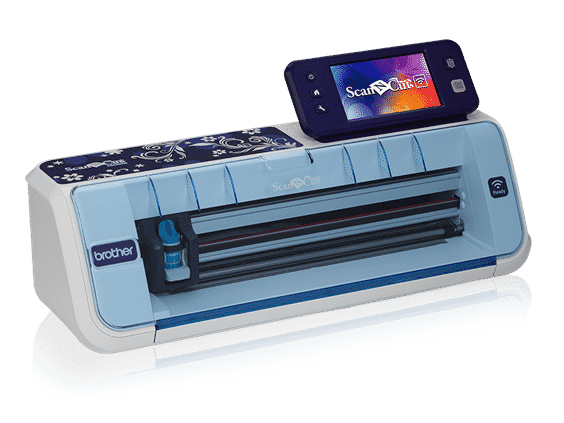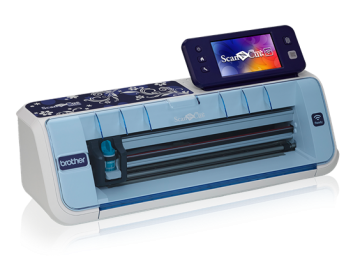 It also looks a bit nicer, with a transparent blue color.
Lastly, the CM650W comes with a bunch of extra accessories included, such as:
the wireless activation card
both kinds of fabric sheets
medium tack adhesive sheet
erasable pen set
more colors of regular pens
a 12″ x 24″ mat
Outside of those differences listed above, the basic scanning, editing, and cutting abilities of the two machines are absolutely identical. They are fundamentally the same machine, with just some extra features tacked on.
So even if you can't track down a CM650W, you aren't missing out on much.
FAQ
Can I use the Scan and Cut with a Mac?
Yes! ScanNCut Canvas works on a Mac, and you can send it to the cutter over WiFi, or using USB.
Can the Scan and Cut 2 do a 12 x 24 scan?
No, this cutter can only scan 12″ by 12″. It can, however, cut up to 12″ by 24″.
Does the Brother Scan and Cut take SVG and JPGs? What image formats should I use?
Yes. The CanvasWorkspace software accepts JPG, GIF, PNG, BMP, as well as SVG, so you can use any image format you prefer.
What is the ScanNCut Online Activation card and do I need it?
The Online Activation card is what lets you connect the cutter to your computer wirelessly.
You do not need it! You can design and cut entirely from the touchscreen directly on the machine. Or you can connect your computer to the machine through USB. You can even print out your designs, and scan them into the machine to be cut.
Can the Scan and Cut be used to make vinyl decals from start to finish?
Absolutely, and it's really the only machine that lets you do this, entirely on the machine. You can design and cut directly on the touchscreen, and it cuts vinyl easily and cleanly.
Can I cut fabric without using the stabilizer?
You can certainly try, but you most likely won't get a clean cut without using the stabilizing fabric interface. It's really necessary to stiffen fabric before cutting it.
Can it print?
No, this machine is not a printer. The closest is really gets is drawing, which you can do with one color at a time.