Which Cricut machine is best?
This November I've compared the best Cricut machines of 2023. The Cricut Maker and Explore Air 2 have both secured themselves a winning spot.
If you're looking to buy a Cricut machine but aren't sure about all of the differences, I don't blame you. They have similar names, designs, and a confusing list of features.
I've rewritten all of my Cricut machine reviews and put them in one place (with a simple Cricut comparison chart!) so that it's easy to compare.
Are you ready?
Let's find the best Cricut machine!
The Best Cricut Machines Reviewed for 2023
Buying a cutting machine is a huge investment and many of my friends are always asking me which they should buy. Many of them aren't even quite into crafting yet, and they don't know the differences between each Cricut machine.
That's why I put this article together! To compare the features of each model so that you can decide which the best for you and the types of crafts you'll work on.
I tried to make this pretty easy and skimmable, so you can just skip around to the end of each section to see which type of crafter the machine is best for, along with a link to the best deal I could find.
If you guys have been here before: you know me. I'm completely honest (to a fault, sometimes!) and won't hold anything back.
Let's get started!
Cricut Maker (
Best Cricut machine

)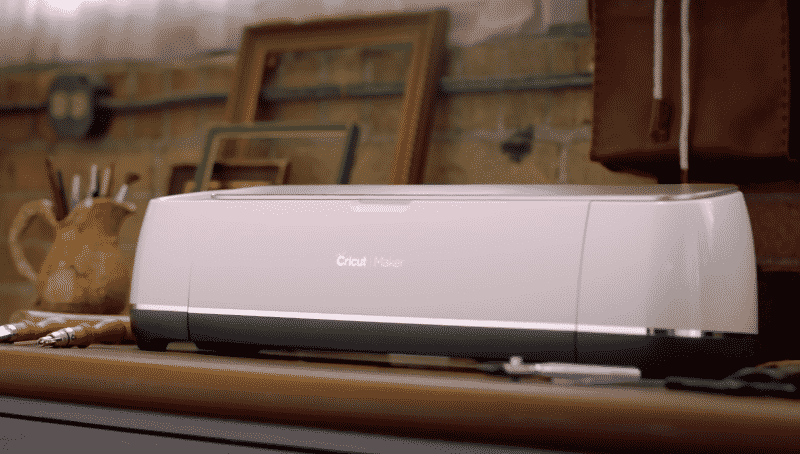 Read our full review.
Of the Cricut machines I've reviewed, the Cricut Maker has definitely received the most hype, but it is justified or just an expensive upgrade?
It's totally justified.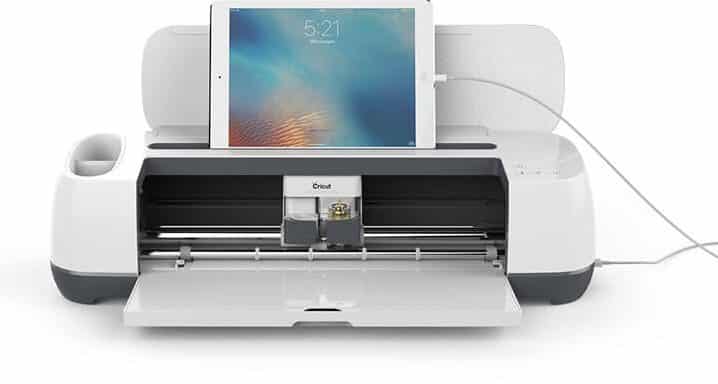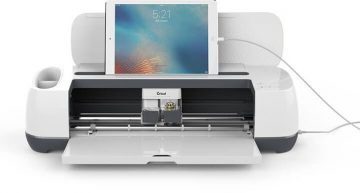 The Cricut Maker is the fastest and most powerful machine created by Cricut (it also happens to be the priciest).
If you're looking for the best machine for cutting fabric, this is it. Felt, silk, canvas, denim, it cuts all of them accurately. It's a complete game-changer.
This Cricut machine is designed to be used with a tablet or phone. It has a ledge on the top for setting your tablet up and it's capable of powering your device directly. If you prefer to use it with a PC, it supports Cricut's Design Space software as well.
New Adaptive Tool System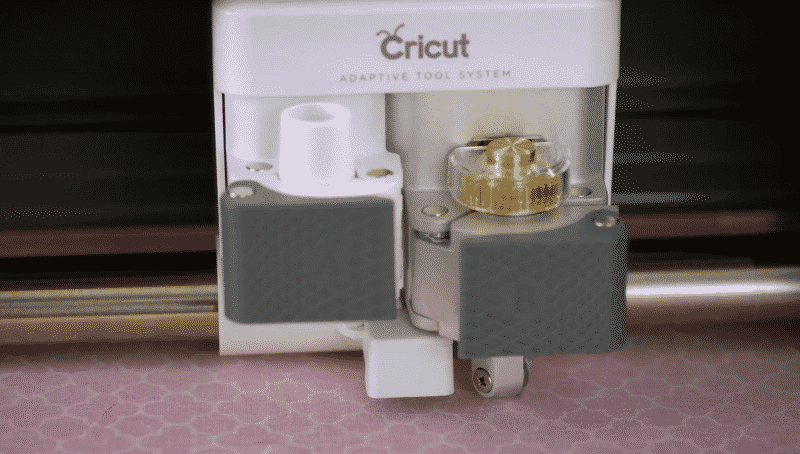 The Adaptive Tool System adds a set of gears to the blade that allow it to lift and turn, intelligently controlling the cut pressure and rotation.
This is the equivalent of cutting in 3D. It also makes this Cricut the strongest machine (10x stronger than the Explore series) and the best at cutting fabric.
Let's look at two of these new tools:
Knife Blade: It's designed to make cutting thick materials (like balsa wood) a snap. So, what can we use it for? Here are just a few materials it's capable of cutting:

balsa wood
craft foam
chipboard
leather
metal

Rotary Blade: This is the second exclusive tool released by Cricut. It is the reason the Cricut Maker is the best machine available for cutting through fabric (even silk). The Rotary Blade gently passes over your fabric, cutting it without the need for any backing. With a regular blade, delicate fabrics (like crepe paper) are often ripped or torn, especially if the blade has dulled. This means with the Maker you don't need any backing for the fabric you cut, you just load it directly on to your cutting mat.
Sewing pattern library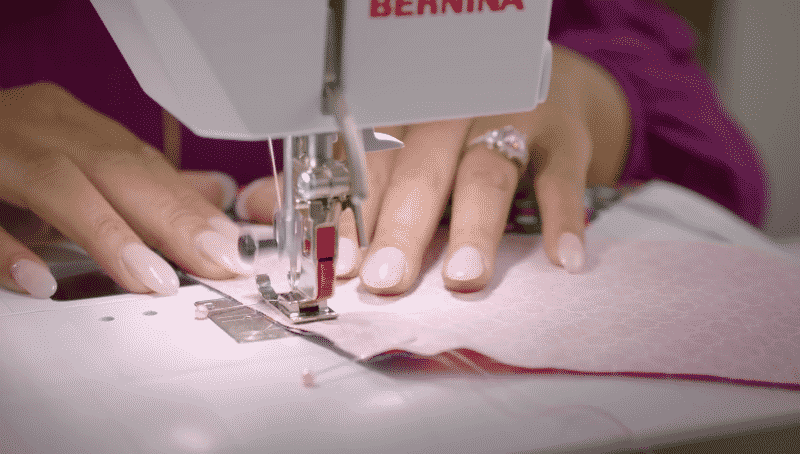 The Cricut Maker also comes with access to a sewing pattern library. If you aren't familiar with sewing patterns, I'll break it down.
A sewing pattern is a template for tracing a cut pattern on to the material you're going to sew.
Typically you'd mark the pattern on to your fabric and then cut it out by hand. With the Cricut Maker and its sewing pattern library, you can skip both of those steps and have the machine immediately cut them out for you.
This is huge (especially for quilters). A project that took 2 hours to prep now would take only 15 minutes.
What we like
Our top choice!
Best for cutting fabric (including crepe paper and silk)
Best for cutting thick materials (like leather or balsa wood)
Uses tools that no other machine can

Rotary Blade. Cuts through almost any fabric without needing to use a backing material.
Knife Blade. Like an X-Acto knife, it can cut through heavy materials like matboard or balsa wood.

Features the Adaptive Tool System. Controls the direction of your blade while adding 10x the cutting force of other machines.
Cuts paper and vinyl quickly with its 2x fast mode.
Future compatibility. All new tools will be designed for the Adaptive Tool System.
Supports Bluetooth and wireless cutting.
What we don't like
It's expensive, with an MSRP $100 more compared to the Cricut Explore Air 2.
It can be slow. Using specialty blades can slow this cutting machine down to a crawl.
You can't easily load your pre-existing sewing patterns into Design Space. You're limited to the commercial patterns provided unless you're capable of re-creating them in Design Space or importing them as SVGs.
Can't be used on its own, requires an internet connection or a connected iPad/iPhone/Android device.
The accessories aren't included and you'll spend at least another $40 to add them on.
Summary
There's a reason that I placed the Cricut Maker at the top of this comparison.
It's the top machine that you can buy today, especially if you're someone who works with fabric.
Sale
Cricut Maker, Champagne
Best overall machine reviewed
New Rotary Blade, making it the best for cutting fabric
New Knife Blade, letting it cut thicker materials than any other machine
Future-proof with the new Adaptive Tool System
Bluetooth & wireless cutting
Cricut Explore Air 2 (
Top value

)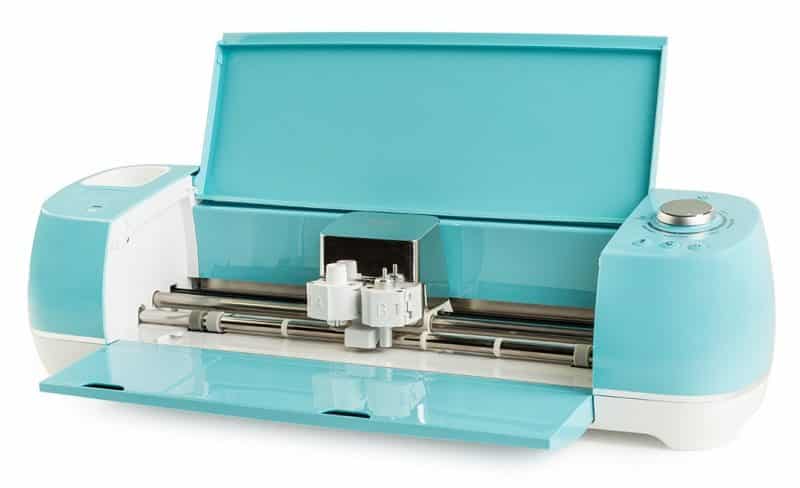 Read our full review.
The Cricut Explore Air 2 is the most popular model of Cricut cutting machine available right now.
This Cricut has a 2x fast mode for working with paper, vinyl, iron-on, and cardstock. It also comes in three pretty colors: mint green, pastel pink, and sky blue.
If you use Cricut cartridges, the Explore Air 2 supports them. However, it doesn't have a touchscreen or keyboard so you'll need an active internet connection or iPhone/iPad/Android to use them.
Machine design
The machine design and its accessory drawers are my favorite features of the Cricut Explore Air 2. The machine is a pleasure to open. Its colorful panels gently glide open at the touch of a button.
It really feels like Cricut consulted crafters before they made this machine. All aspects of the storage are perfectly placed and convenient. The smaller accessory drawer even has a magnetic strip for securely holding replacement blades.
Quality of cuts
This is where the Cricut Explore Air 2 excels. Compared to every other Cricut model reviewed, other than the Maker, it cuts faster and more accurately.
When cutting paper or vinyl you can use its 2x fast mode which trades accuracy for speed, so make sure to perform a test cut on your material first.
What we like
Best bang for your buck. Compared to the Cricut Maker you'll save ~$150 while cutting vinyl, paper, and most materials just as accurately and quickly.
A beautiful design, with three modern-yet-vintage colors.
Cuts paper and vinyl quickly with its 2x fast mode.
Supports Bluetooth and wireless cutting.
What we don't like
It can be difficult to cut through fabrics.
You can't cut through thicker materials, like balsa wood or leather.
Requires an active internet connection or connected iPad/iPhone/Android to use.
Unlike its Silhouette counterpart, the Cameo 3, it has no touchscreen.
Its software (Design Space) is simplistic and can be difficult to use for complicated designs.
Summary
If you aren't going to be difficult materials: this is the machine to buy.
While it's not the best machine we reviewed here, the Explore Air 2 is a good deal cheaper than the Cricut Maker and still has a beautiful design that Cricut clearly put a lot of work and attention into.
Like the Cricut Maker, most of the downsides are issues with Design Space and not the machine itself.
You can get around a lot of its software issues Cricut machines have by designing in another program (like Sure Cuts A Lot) and importing your SVGs, which you can do for free.
Sale
Cricut Explore Air 2 Mint
Best bang for your buck
Features 2x fast mode for quickly cutting paper and vinyl
Beautiful, vintage-inspired design (available in three different colors)
Bluetooth & wireless cutting
Cricut Joy (
Most portable Cricut

)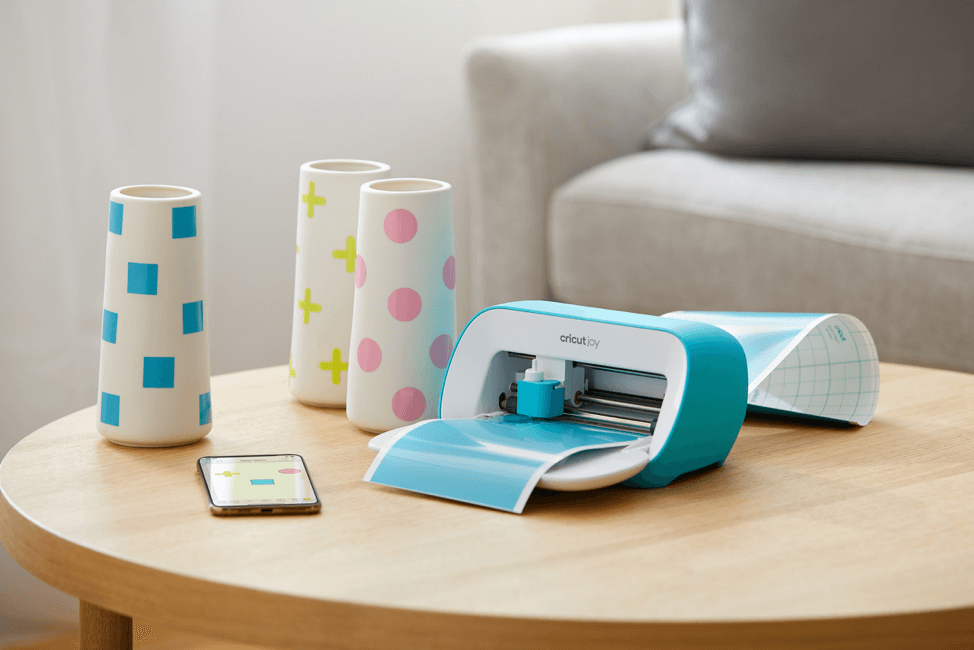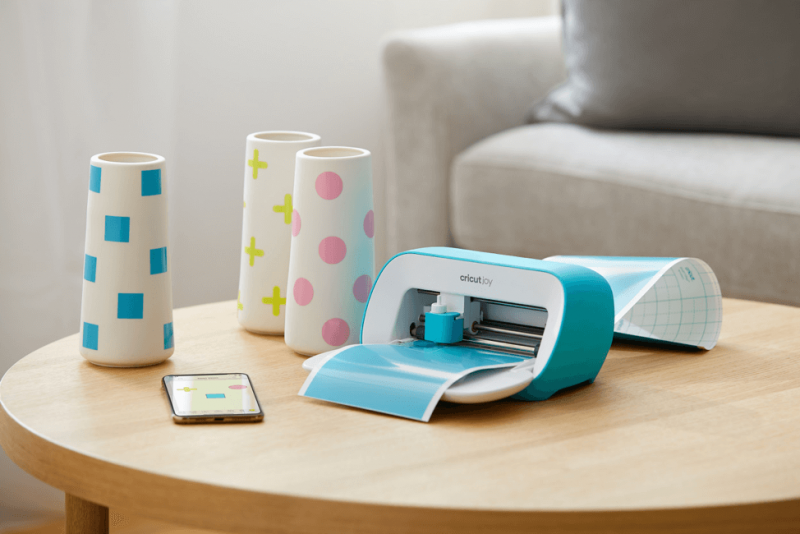 Read our full review.
The Cricut Joy is the newest machine released by Cricut and it's been capturing the imagination of many crafters.
It's small. It's super cute. It's pretty inexpensive. It uses new Smart Materials. So what's the catch?
Well, its size is kind of the limiting factor. It can't work on larger projects like the Cricut Maker or Explore Air 2, and it doesn't have their cutting power or speed either.
What it lacks in those areas it makes up for in portability (it's just under 4 pounds) and its ability to use the new Cricut exclusive Smart Materials.
Smart Materials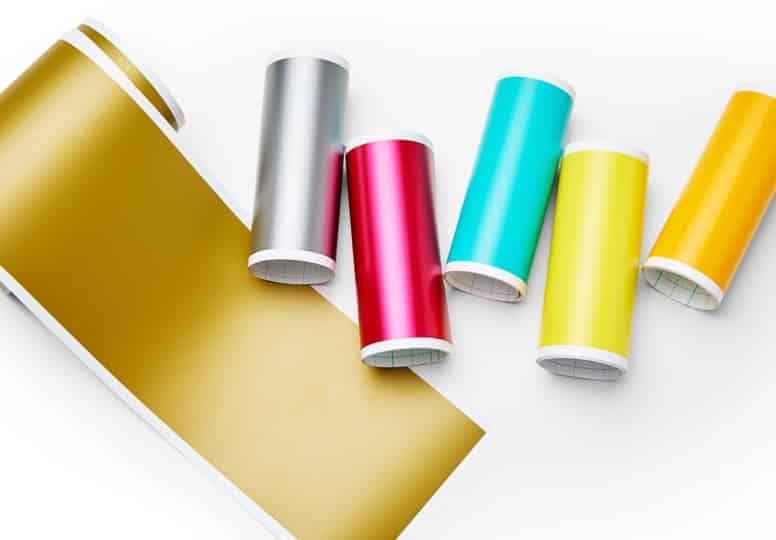 The Cricut Joy was designed from the ground up to work with these new materials from Cricut. You can think of them as vinyl that you don't need a Cricut mat to use. You just load them into the machine and cut!
Cricut so far has released Smart versions of adhesive vinyl, removable vinyl, iron-on vinyl (HTV), and writable labels.
In our tests, they work just as well as the previous versions, they're just a bit quicker and easier to use.
The downside is if you upgrade your machine later, you won't be able to use any of your supplies because they only work with the Cricut Joy. They're also a bit more expensive than the normal versions.
Ease of Use
This is where the Cricut Joy is supposed to shine: it's designed and advertised as a great entry-level machine for new crafters. It's the least expensive Cricut machine we're recommending, so we're pretty happy that Cricut is making an attempt at making crafting more affordable for everyone. The problem is that it also uses new materials that cost a bit more, so you aren't really saving all that much after a few months of use.
It's also not all that much easier to use. It's the same software, just a more limiting machine that doesn't come with any starter materials to get you going. You also might have issues finding tutorials, because so many of them are designed for other Cricut machines.
If you're just getting started and only going to make greeting cards (which is where this machine really excels) or custom labels, this could be a great choice for you. If you think you want to make signs, stencils, t-shirts, or work with thicker/harder material, the Explore Air 2 is a much better choice.
What we like
Inexpensive to get started, the cheapest Cricut machine we recommend
Cute, compact design that looks great in a cubby
Able to use Smart Materials to make projects without a cutting mat
Even though it only supports a max cutting width of 5.5 inches, it can cut materials up to 20 feet long.
What we don't like
Doesn't draw and cut simultaneously because it lacks a dual-carriage for tools
Its small size really limits the projects you can work on
Not a lot of tutorials available for it
Only supports Bluetooth, no USB
Summary
The Cricut Joy is a beautiful little machine that looks just perfect parked in a tiny cubby. It's inexpensive, great at making cards and labels, and won't set you back too much money.
The downside is that you'll be limited in the projects you can work on and you're buying into a Smart Material ecosystem which can be more expensive over time. It doesn't share the same tools or cutting mats as other Cricut machines, so the path to upgrade is a bit murky.
You should buy the Cricut Joy if: you're primarily going to be making greeting cards or personalized labels and you're a very inexperienced crafter who wants things to be as easy as possible.
Sale
Cricut Joy
Least expensive Cricut machine
Super cute, super small, super portable.
Fantastic at making greeting cards and labels
Bluetooth & wireless cutting
Cricut Cuttlebug (
Best for embossing

)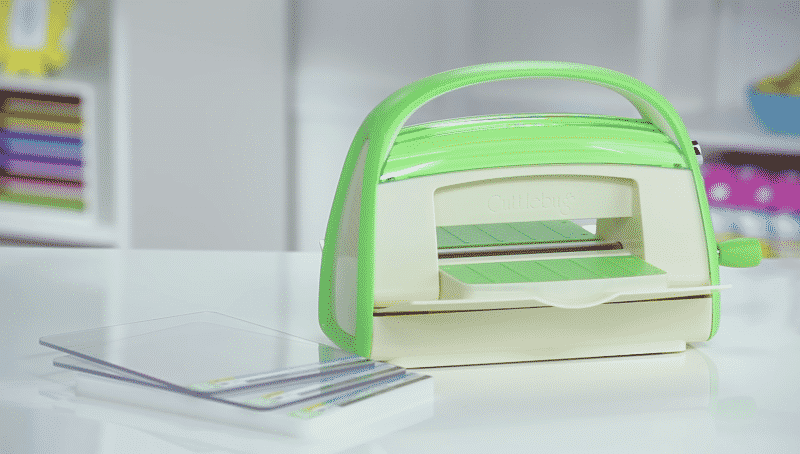 The Cricut Cuttlebug sits in a class of its own among the Cricut machines in this review, as a true manual die cutting machine.
It's not intended like the Maker to cut through a wide variety of materials.
It's also not like the Explore Air 2, capable of making intricate vinyl decals.
However, it has a feature that neither of them has: it can be used offline, with no power, without a computer.
Worried about your software crashing? No problem, the Cuttlebug can't even use it!
The Cuttlebug takes us back to the origin of at-home crafting, with manual dies (like a cookie cutter) and an extremely portable machine (around 7 lbs).
It's simple to use, great for children, and a superb introduction to crafting. Manual die cutting is a lot easier to approach and understand.
It's the least expensive Cricut machine you can buy, but with one downside. You'll have to spend a lot of money on manual dies that won't be useful if you upgrade to a digital machine later.
Cutting quality
If you're just working with cardstock and simple paper designs, this machine might work for you. It's limited to cutting material less than 0.125″ thick, but that still includes a pretty wide variety:
paper (including tissue)
cardstock
thin metal
foil
some fabrics (like felt)
chipboard
foam
It's also great for creating confetti! Cricut has released a ton of dies for making confetti out of foil, thin metals, cardstock, or just plain paper.
Embossing
If you're looking to emboss greeting cards and paper, it might be worth buying a Cuttlebug even if you already have another Cricut machine.
In fact, it's the best Cricut for embossing and designed for this very purpose. Most of my crafting friends who own one purchased it just to emboss cards and foils.
What we like
The cheapest Cricut machine available today.
Only Cricut machine that can emboss
Lightweight and portable.
Simple interface, no software to use.
Doesn't require power or internet to work.
What we don't like
Limited to using manual dies, which are expensive and won't work with digital machines if you upgrade. You also can't make your own designs.
Very small cutting area.
Cuts a very limited range of material.
Dies are expensive and unlike the digital machines, you can't use free designs.
Summary
If you're only looking for a machine to emboss, the Cricut Cuttlebug is your best choice. However, it is the cheapest machine I'm reviewing and with that comes with many significant downsides.
Even if you think you'll stick with crafting this could still be a decent choice. You'll have an embossing machine to use alongside your other Cricut machines.
If you won't be embossing, or if you think that you'll want to cut vinyl, avoid the Cuttlebug.
Cricut Explore One (An
entry-level alternative

)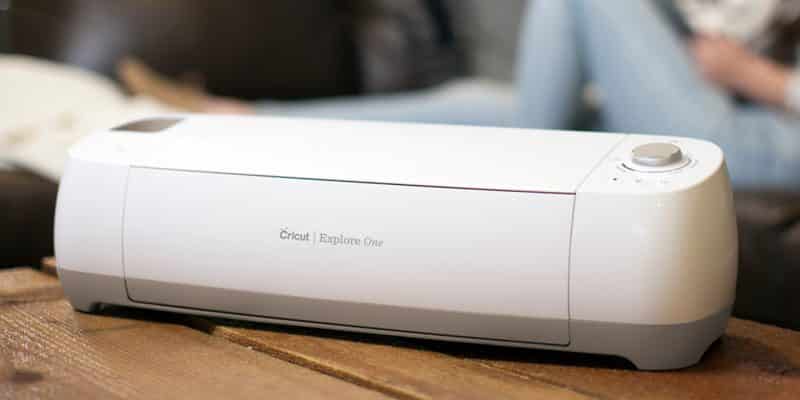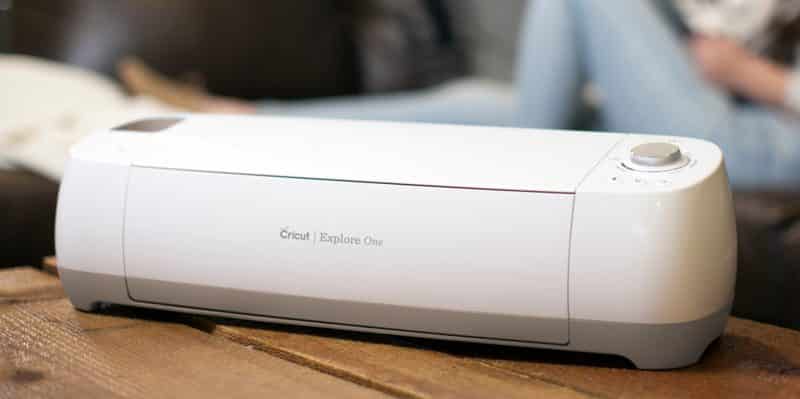 If you're looking at the Explore One and thinking… doesn't this look an awful lot like the Explore Air 2… you're not alone.
Cricut released the Explore One as an inexpensive alternative to the Explore Air 2. It comes with optional Bluetooth and only a single tool holder (it can't cut and write simultaneously).
It also doesn't have 2x fast mode, meaning it's a bit slower at cutting paper and vinyl.
If you're just looking to get your feet wet and buy a reliable digital Cricut machine, this is the best choice for you. It's available from Cricut's website at a significant discount.
What we like
Best entry-level Cricut.
An inexpensive alternative to other Cricut machines.
The cheapest machine that works with Design Space and cartridges.
What we don't like
Only has a single tool holder, so it cannot cut and write simultaneously.
Doesn't come with Bluetooth, so you'll have to purchase an adapter.
Requires an internet connection to work
Doesn't support 2x fast mode.
Summary
If you don't need Bluetooth or 2x fast mode, the Explore One is a cheaper alternative to the Explore Air 2.
Final Verdict
We've looked at a range of Cricut machines here, from the powerful Cricut Maker through the compact and portable Cricut Joy. We've considered key features like ease of use, Bluetooth support, cutting force, and which materials machines can work with. We'll go into more detail about these features just below if you're still looking to learn more.
Our recommendations for buying a Cricut:
Our top choice: Cricut Maker. It's versatile, powerful, and not that much more expensive than the other machines we've looked at. If you're working with fabric or thick materials, it's probably the only choice for you.
Our value choice: Cricut Explore Air 2. While it doesn't work with all of the tools that the Maker supports, it's still a powerful machine that can quickly cut through cardstock and vinyl for making decals or t-shirts.
Our inexpensive alternative: Cricut Joy. The newest machine from Cricut, designed for crafters new to cutting machines, it's tiny, cute, and very capable of making greeting cards and personalized labels.
Picking the best Cricut machine
A lot has changed in Cricut machines, we've gone from manual die-cutting machines where you would physically load in a design to new digital machines, some of which only work with an internet connection and wireless Bluetooth. Let's take a look at some of the features we've considered for each machine:
Ease of use: Not all Cricut machines are created equally here, even though they use the same software, you'll notice vastly different physical interfaces and cutting abilities. The Maker and Explore series both have a wealth of tutorials available for them, where other machines like the Joy are a bit more limited even though it's targeted at beginners.
Wireless capability: Now that Cricut has fully featured iOS & Android apps available, they're including Bluetooth wireless on all of their new machines. Having less clutter in your craft room, or more portability to be able to pull out a machine and use it anywhere in the house not only makes crafting a lot easier, in my case it makes me a lot more likely to use the machine.
Cutting force: If you're only working with thin vinyl or cardstock, most machines are going to be sufficient for you, but as soon as you try to work with thicker materials like leather, acrylic, or wood, you'll start having issues. Too much cutting force is never a problem, but not enough of it can leave you wondering why your project isn't quite looking like the example you're following in the tutorial. If cutting force is a priority of yours, I'd avoid the Cricut Joy.
Tools available: Cricut offers a variety of tools that you can drop into their machines, some for cutting thicker materials, others for making working with fabric much easier. Not all machines support the same tools, so be sure to think about what kinds of crafts you'll want to work on before committing to a purchase.
Software: All of the digital machines in this review use the same Cricut Design Space software. The software your machine uses is probably more important than any other factor, and it's what you'll be doing most of your work in. Design Space is easy to use, works with iOS or Android devices as well as MacOS/PC, and has recently added an offline mode, which makes it easier to craft if you won't have internet access.
Tools & accessories
If you're interested in cutting fabric or working with Cricut's new Adaptive Tool System, the Cricut Maker is your best (and only) choice.
The Knife Blade takes advantage of the increased cutting power of the Cricut Maker to cut through a variety of thick materials.
The Rotary Blade changes how you cut your fabric. Since it uses a blade that rolls over, instead of tearing through, you can cut through fabrics (like silk) even without backing.
These new tools work with the Adaptive Tool System which allows the blade to both lift and turn. This makes it possible to control the pressure of your cuts as well as the rotation of the blade.