If you're looking for the absolute best heat transfer vinyl for your Cricut or Silhouette, you're in the right place. I won't recommend anything I haven't used personally.
Some of the articles on heat transfer vinyl seem to have been written by a blender. They don't even know what brand they're reviewing, and they say the exact same thing about each type of heat transfer vinyl sheet!
I'm here to explain what the actual differences are between each different brand of heat transfer vinyl.
There are a lot of mystery packs of heat transfer vinyl sheets from unknown manufacturers available on the internet.
Not only are there tons of fake reviews, but the products are completely inconsistent from one month to the next. It seems like they just buy up whatever is the cheapest vinyl and resell it as their own wasting us a lot of money in failed projects.
And no, there aren't "10 best" or "top 20" — there aren't even that many decent options!
Heck, I'll tell you right now and you can save reading the whole article if you want:
The best heat transfer vinyl for t-shirts is: Siser Easyweed. 100%. I'll explain why.
Best Heat Transfer Vinyl for T-Shirts
Best heat transfer vinyl for t-shirts and fabrics: Siser EasyWeed Heat Transfer Vinyl
Siser EasyWeed Heat Transfer Vinyl
The absolute best heat transfer vinyl for t-shirts
CPSIA certified: safe for use on clothing or accessories for children
Long-lasting, won't peel off your clothing
Easy to cut and weed
As I mentioned above, the best heat transfer vinyl for t-shirts is
Siser EasyWeed
.
EasyWeed is the top all-around iron-on vinyl for all sorts of fabrics, remaining a tried and true choice for t-shirt makers and crafters alike. It applies at a lower temperature and pressure, can be peeled hot or cold, and is extremely durable in the washing machine. Plus, it comes in a great variety of colors!
Siser EasyWeed is one of the easiest HTVs to cut and weed. Siser includes the exact vinyl cutter settings for the most popular machines (Cricut, Silhouette, Brother, Roland, Graphtec, etc), so there's no guesswork involved. It can even be cut with a laser cutter! Also, the pressure-sensitive backing makes easy weeding a breeze, since your cut designs will stay put.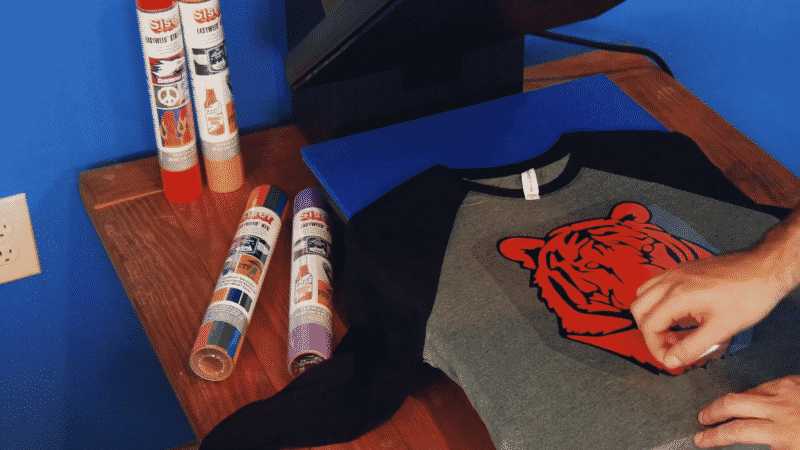 EasyWeed is easy to apply. It transfers at a lower temperature and pressure than other iron-on vinyls, and comes with clear directions to follow. It works well if you want to hot-tack and layer different colors as well. After ironing, you can peel the backing off when it's hot or cold, so there are fewer ways to mess up your design!
Siser's heat transfer vinyl sheets are CPSIA Certified, which means they're safe to use on clothing or accessories for children. It's free of lead or phthalates that can hard growing babies and children.
Siser has been producing quality heat transfer vinyl for decades. It's a reliable brand, so you know you are always getting the same high-quality vinyl. Unlike many other vinyl bundles for sale, they actually provide all sorts of useful information on their website: from vinyl specifications to directions for cutting, applying, and washing.
Siser EasyWeed is long-lasting, and won't wrinkle, crack, or peel off your clothing. It is durable enough to survive on clothing you just toss in a regular wash. It can even be dried in the dryer at normal settings.
There are so many different colors of EasyWeed, and I love that you can choose your own colors to make a bundle of regular or glitter iron-on vinyl. Hands down the best HTV vinyl.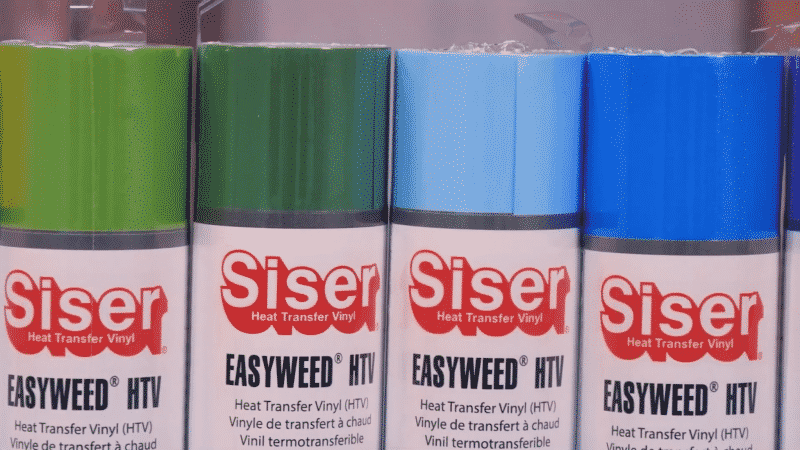 Key Features
Simple to cut: vinyl cutter settings provided by Siser for all machines
Easy to transfer: uses a lower temperature and pressure than most other HTV
Can be peeled hot or cold after applying
CPSIA Certified so it's safe for decorating children's clothing and toys
Durable and long-lasting: can be machine-washed and dried on normal settings
51 different regular colors, plus 51 glitter, 23 electric, 17 holographic, 4 metallic, 19 flocked, and 20 different patterns
Specifications
Roll width: 12″ or 15″ wide
Sheet size: 12″ x 15″ regular HTV, 10″ x 12″ glitter HTV
Thickness: 0.09 mm (3.5 mils)
Composition: PU (Polyurethane)
Transfer temperature: between Cotton and Linen for regular iron, 305°F/150°C for heat press
Transfer pressure: medium pressure
Transfer time: 15 seconds
Peel: hot or cold
Finish: semi-gloss
Layerable: yes
Pressure-sensitive backing: yes
Blade: standard
PROS
Siser gives clear directions for all parts of the iron-on process
Easy to cut, weed, and apply
Great for t-shirts and other fabrics
Lasts for a long time, through many washes
Reliable manufacturer of heat transfer vinyl
Incredibly variety of colors, patterns, and textures
CONS
More expensive than cheap brands
Doesn't come in wide rolls
Runner up for best heat transfer vinyl: Cricut Everyday Iron-On
Sale
Cricut Everyday Iron-On Vinyl Sampler
Runner-up heat transfer vinyl choice
Tons of colors and patterns (including for Disney, Star Wars & Marvel!)
Reliable product and doesn't change a lot from batch to batch
Another fantastic choice for HTV is
Cricut Everyday Iron-On
.
Don't worry, this HTV works for all machines, not just Cricuts! It is easy to cut and weed and transfers reliably onto a wide range of materials. It is long-lasting and comes in great bundles or rolls of fun colors and textures.
Cricut Iron-On is easy to use. It cuts cleanly and weeds easily, without tearing or sticking to the backing. It also comes with clear directions on how to transfer the vinyl to fabric, and how to care for your garments after application.
Cricut heat transfer vinyl sheets are great to use with the Cricut Easy Press, one of the most fun (and affordable!) heat presses you can get for your home. Cricut's interactive Heat Guide will give you very detailed directions for the specific type of Cricut Iron-On and fabric you are applying to, for foolproof results.
I also have an article all about how to use a heat press.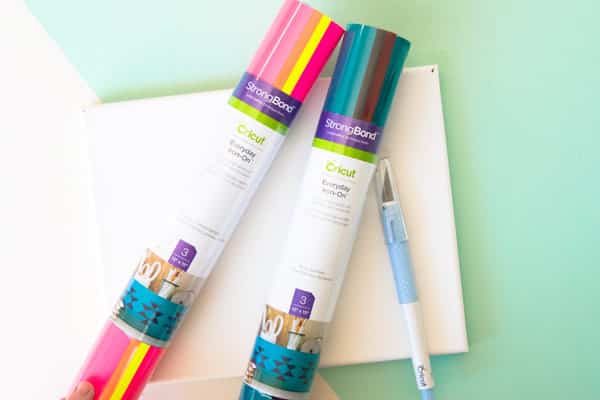 The best thing about Cricut Iron-On is how many different colors and patterns you can pick from. There's glitter, foil, holographic, as well and neat meshes and mosaics. You can even find patterns with some of your favorite characters from Disney, Star Wars, Marvel, and Sanrio!
Cricut Iron-On is not quite as easy to use as Siser EasyWeed, so it's not quite the best iron on vinyl. It is a little thicker, so it requires deeper cut settings and takes much longer to transfer.
However, the Cricut brand is just as reliable as Siser, so you know you are always getting a product that will last. And the Cricut Everyday Iron-On is guaranteed to last 50+ washes.
5 Key Features
Simple to cut and weed, transfers reliably
Works great with Cricut Easy Press
Durable: lasts 50+ washes
Comes in 39 regular colors, 27 glitter sheets, 15 foil, 12 mesh + 11 glitter mesh, 18 holographic, and over 50 different patterns (including Disney and Star Wars!)
Patterns include Disney cartoons, Star Wars, Marvel, and Sanrio
Specifications
Roll width: 12″
Sheet size: 12″ x 12″ or 12″ x 24″
Thickness: 0.18 mm (7 mils)
Transfer temperature: Linen on a home iron (the hottest setting) or 315°F with a Cricut Easy Press
Transfer pressure: medium pressure with iron, light pressure with heat press
Transfer time: 30 seconds per side (60 seconds total)
Peel: warm
Finish: matte
Layerable: yes, up to 3 layers
Blade: standard
Care: wait for 24 hrs before the first wash, wash warm or cold, and dry on normal
PROS
Easy to cut and apply
Comes in fun bundles with a huge variety of colors and patterns
Lots of help online with the Cricut community
Can find good sales
Super durable when applied well
CONS
More expensive than Siser EasyWeed
Long rolls only come in basic colors
Long transfer time and higher temp required
Best iron-on heat transfer paper for light fabrics: Koala Light T-shirt Transfer
The best printable iron-on for light fabric is Koala light t-shirt transfer paper.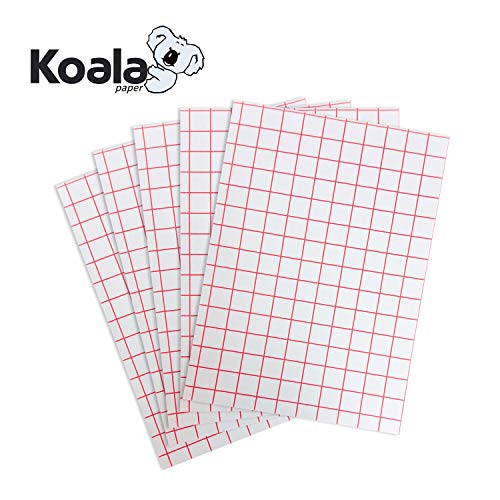 This is your solution if you want to print out cute images with an inkjet printer and transfer them to t-shirts, onesies, bags, or jackets. The Koala transfer paper prints well and transfers easily with a household iron. And at way less than a dollar a sheet, it's got a price that can't be beat!
Koala light t-shirt transfer paper prints cleanly in any inkjet printer, and can then be cut with any vinyl cutter. It uses a special ink absorbing technique, so the pigment ink will dry instantly. This means there's no risk of smudging your design, and immediately wasting the sheet!
The transfer paper is 100% waterproof. Of course, you want everything to be bone-dry when doing any iron-on. But it's reassuring that water won't damage the image before or after it's transferred.
The Koala transfers are easy to use with any iron you already have at home, or can be used with a heat press. They also are super cheap, which means you get to experiment and play as much as you like without worrying about how much each sheet costs.
5 Key Features
Prints cleanly in an inkjet printer
100% waterproof
Special ink absorbing technique for instant drying of your design
Transfers easily with regular iron or heat press
Very affordable
Specifications
Sheet size: 8.5″ x 11″
Peel: hot or cold
Finish: matte
Layerable: no
Blade: standard
Printer type: inkjet printer
Care: wait for 24 hrs before washing, wash inside out, and dry on low
PROS
Best price for printable heat transfers
Easy and reliable to transfer onto cotton or cotton-poly t-shirts
Can be used with a regular iron and peeled hot or cold
The paper absorbs ink beautifully and quickly for smudge-free designs
Stretchy and elastic means it won't crack or peel
CONS
Instructions are a bit hard to understand
Backing paper can be difficult to peel off
Best iron-on heat transfer paper for dark fabrics: Avery Printable T-shirt Transfers
If you are looking to put your printed designs on dark fabric, your best bet is Avery printable T-shirt transfers.
These transfers have a special white layer so the light parts of your designs show up brightly on dark t-shirts. The Avery transfer paper works on cotton or poly blends, transfers with a household iron, and is super durable and guaranteed to last over 20 washes.
This Avery heat transfer paper prints vivid, crisp colors in an inkjet printer. Avery offers free templates, fonts, and clip art so you can get easy inspiration for designs or slogans you want to put on a t-shirt. And you can import these designs into your craft cutter to cut them out afterward.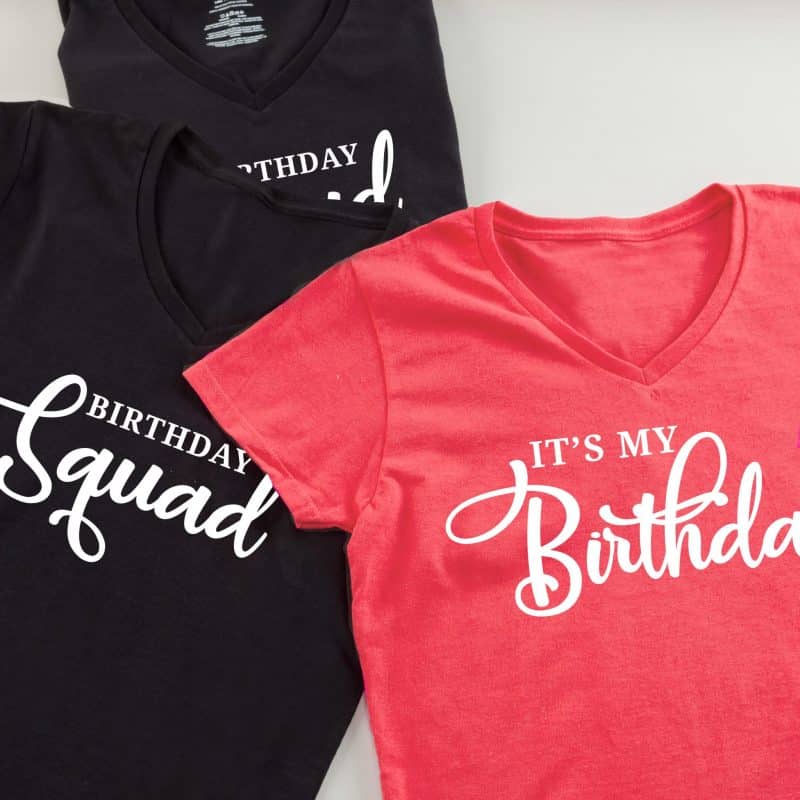 These heat transfer papers apply reliably when you follow the directions provided by Avery. They can be applied on 100% cotton or cotton-polyester blends using a household iron or a heat press.
Best of all, the Avery paper is quite durable. It features Color Shield technology which guarantees that your vivid designs will stay looking good for 20 or more washes.
5 Key Features
Prints crisp colors in an inkjet printer
Works on cotton or cotton-polyester blends
Transfers cleanly with a household iron or heat press
Color Shield technology ensures that designs last through 20+ washes
Comes with free templates, fonts, and clip art
Specifications
Sheet size: 8.5″ x 11″
Transfer temperature: Cotton setting on iron
Transfer pressure: firm
Transfer time: 40 seconds (for 1/4 sheet) to 2 minutes (for full sheet)
Peel: cool for 2-3 minutes, then peel
Blade: standard
Printer: inkjet printer
Care: wait for 24 hrs before washing, wash inside out on cold, remove promptly, tumble dry low
PROS
Transfers with heat press or iron
Designed for dark fabric, but works on light fabric as well
Prints wonderful, crisp colors that last
Durable to last for 20+ washes
Avery is a reliable company with great paper products
CONS
Must follow directions closely
White parts can turn brown if too high of heat is used
Best printable heat transfer: StarCraft Vinyl
(Available on sale here for dark materials or light materials)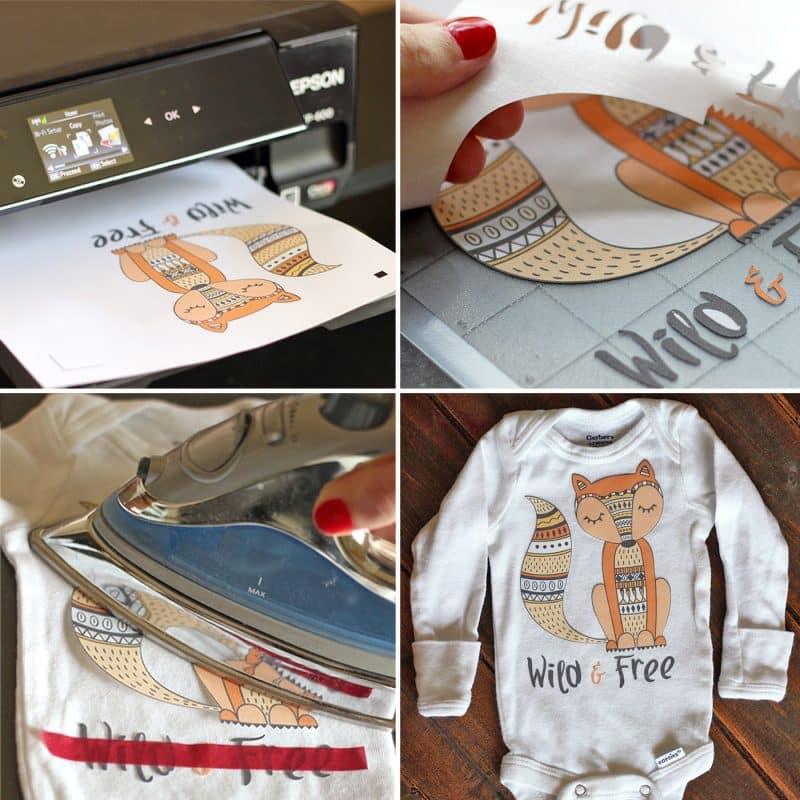 My favorite printable heat transfer paper is from StarCraft Vinyl, they make a version for dark and one for light fabrics.
StarCraft printable heat transfers has been a longstanding favorite of the serious crafters. It is known for providing a quality, reliable transfer paper, though that quality does come at an increased cost.
The StarCraft printable transfer prints clean, colorful images that transfer reliably to your fabric. It is one of the more durable types of transfer when applied correctly, which is why it remains the favorite transfer of cutting machine community.
If you aren't sure whether you should use the transfers for light or dark material, StarCraft put together this handy flowchart to help you decide. But make sure to follow the directions provided for dark vs light materials, as the transfer settings are different for the two types of paper.
One downside is this paper requires a higher temperature and pressure to transfer, so it works much better with a heat press than with just an iron.
5 Key Features
Favorite heat transfer paper of the serious crafting community
Great instructions provided by StarCraft
Transfers reliably with a heat press
Durable images that won't peel or crack
Specially formulated for dark or light fabric
Specifications for printable transfers for DARK MATERIALS
Sheet size: 8.5″ x 11″
Transfer temperature: 350°F
Transfer pressure: medium pressure
Transfer time: 30 seconds
Peel: completely cool to the touch
Blade: standard
Printer: inkjet
Care: wash inside out in cold, tumble dry low
PROS
Reliable, quality product
Durable transfers that last
Extra polymer around the printed image fades with time
A longtime favorite of the heat-pressing community
CONS
High temperature and pressure required for transfer, heat press recommended
Higher price than other printable transfers
Best glitter iron-on vinyl: Siser Glitter Heat Transfer Vinyl
The best glitter iron-on vinyl is Siser's Glitter HTV.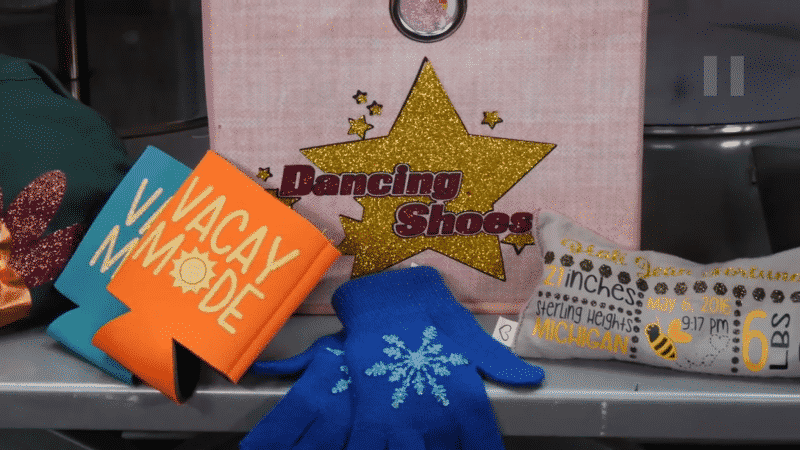 This is the same high-quality heat transfer vinyl we recommended above as our best pick with one important difference: it's glittery!
So not only does it come in a wide variety of bright and vibrant colors, but all the shiny variations as well! I can't over-emphasize how much my kids love this stuff (okay, me too)!
It obviously looks great, but the important part is: does it work the same as Siser's Easyweed? It does while sticking to the mat really easily and is really easy to layer and weed. If you're only looking for ease of use, I highly recommend Siser's products. Plus, you can get GLOW IN THE DARK glitter vinyl. Not even kidding!
3 Key Features
Consistent, easy-to-repeat results
CAN GLOW IN THE DARK
100% kid approval rating (from two at least)
Specifications
Sheet size: 12″x19.6″
Transfer temperature: 320°F
Transfer pressure: medium pressure
Transfer time: 20 seconds
Peel: warm
Blade: standard
Care: wash inside out in cold, tumble dry low
Pros
Super easy to weed
Vibrant colors
Favorite of kids everywhere
Cons
Some counterfeit versions are around which work terribly
Can bit a bit pricey unless you buy on sale
Buying Guide for heat transfer or iron-on vinyl
How I chose the best HTV
While looking for the best heat transfer vinyl, I had to dig through a lot of reviews for cheap bundles of vinyl. And honestly, most of them did not even seem worth my time to try out. Here are some of the most important factors that I value for finding heat transfer recommendations.
Consistency. First of all, you need a heat transfer vinyl you can rely on. When you buy a cheap grab bag of iron-on from some no-name seller on Amazon or eBay, you might get an entirely different product from one week to the next. These sellers will just buy whatever is cheapest and re-sell it to you at a markup, so you have no idea what sort of HTV you'll actually be getting.
There is no way I would recommend any of these shoddy bundles to any of you…at least not without heavy disclaimers. It's not even worth it for me to try them out! I want you to have a reliable vinyl, and not drive yourself crazy trying to figure out why it won't cut or pull off the backing when the batch you got last week worked perfectly.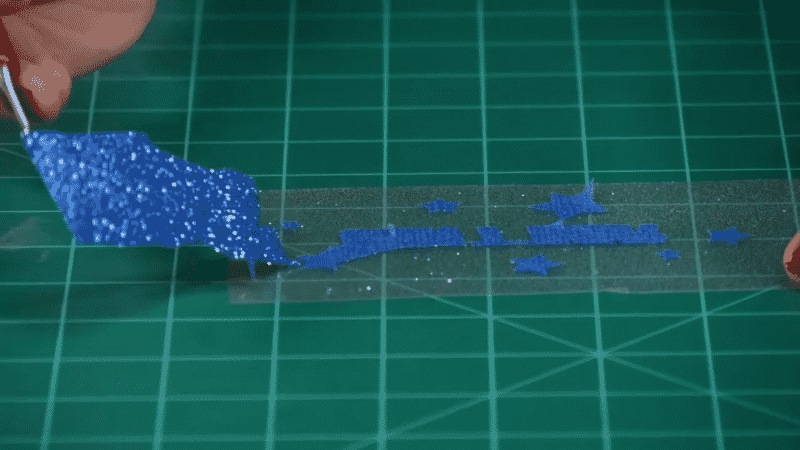 Quality. Next, I examine the quality of vinyl from different brands that I can trust. I'll break this down more in the next section, but I look for iron-on that is easy to work with through all stages: from cutting to weeding to transferring. You need vinyl that is durable and will last where you apply it, instead of peeling off after a few days. You also should have vinyl that looks and feels good, which is where my own testing helps the most.
Price. Lastly, I compare the price per inch. It's a useful metric, and how I determine which rolls or sample packs are a good value. Price is especially important for my recommendations of vinyl rolls, because I know you'll be going through a lot of vinyl and so any savings I can find will be multiplied for you.
Features to look for in iron-on transfers
Working with a vinyl heat transfer product comes with some unique features, but the features have a lot in common with any vinyl you'd work with.
Ease of cutting. If you can't even cut through the vinyl, your project will never get off the ground. I love brands that clearly state the cut settings you'll want to use on your Cricut or Silhouette. But listing the iron-on vinyl thickness is enough to help you figure it out as well.
Color selection. You want the black vinyl to be black (not navy!) and the white to be white. But more important than that is the range of color. Ideally, once you find a kind of HTV that you like and know how to work with, you'll be able get it in any color that you want. I prefer brands that list all their colors and patterns on their website, for easy reference.
Size. I prefer sheets of vinyl that fit into the cutter or printer without having to trim then down first. If you are buying rolls of vinyl, it's even more important to check the width! If the manufacturer doesn't clearly list the specs of the rolls, you can often find the roll measurements by going through reviews and answered questions.
Durability. After spending so much time creating your masterpiece, you want it to last! Your final result should survive machine-washing and drying for years. It's a good idea to read the manufacturer's directions for care, as well as checking out reviews to see how well other people's t-shirts survived repeated washings before beginning to crack or fade.


Note: When vinyl designs pull away from the fabric in the first week, it's probably an issue of improper transfer, and not the durability of the vinyl.
Safe for kids. If you'll be using the HTV on anything that goes near an infant, toddler, or a woman who may be pregnant, you want a product that is CPSIA Certified. This will assure you that the vinyl will be free of lead and phthalates that may harm a growing baby. It's absolutely necessary for kids, but it's a great idea to look for this certification for adults as well. No one needs to be wearing lead products!
Look and feel. You want vinyl that looks good and feels good, too. I find pictures to be very untrustworthy here, so it's best to read reviews or buy small sheets and actually try it out on a t-shirt before buying a whole roll. And sometimes different colors from the same brand will have a different texture or finish, so make sure to try out the exact vinyl you'll be ordering in large quantities.
Ease of transfer.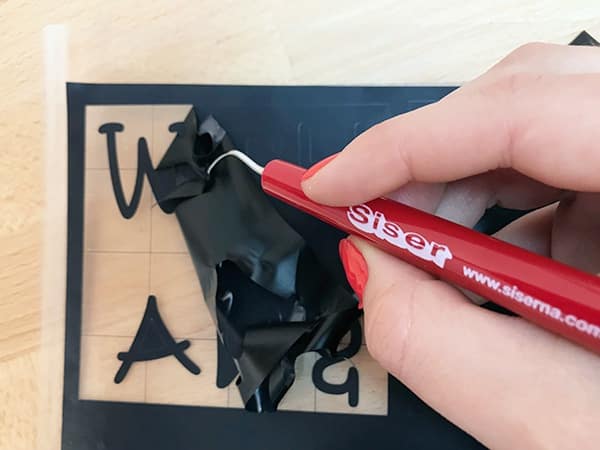 This is a big one, so I'll have to break it down into the most important factors.
Most HTV transfers well with an expensive heat press that has strong pressure and precise temperature controls. But most of you need iron-on that you can iron on with just a regular ol' iron you already have! And when iron-on is difficult to transfer, the edges begin to peel off and your designs will fail.
Here's what to look for:
Temperature. When using an iron for heat transfer, lower is generally better. Most iron-on transfers at around 300°F (150°C), which is around the wool or polyester setting on your iron. Some HTV requires such high heat that you risk scorching your fabric if you set your iron that hot. However, if the temperature required is too low, you won't be able to stick your finished t-shirt in the dryer (except maybe on low).
Time required. Less time is better. Most iron-on requires 10-15 seconds of heat and pressure. Unless you have a heat press, I would steer clear of anything that needs a lot more time than that to transfer. Your arms will get so tired pressing down and you'll be more likely to do a sloppy job.
Pressure-sensitive carrier. I prefer iron-on whose adhesive backing is activated by both heat and pressure. This type of vinyl is easier to weed and less likely to be destroyed by the heat of a dryer. A pressure-sensitive carrier feels a bit sticky or tacky, whereas a heat-only carrier (called a "static carrier") is smooth.
Hot or cold peel. HTV that you can peel when hot or cold is ideal, because it's just one fewer thing that you can go wrong. Either way, just make sure to read the directions so you peel at the right time if your vinyl requires a hot or cold peel.
Types of the heat transfer vinyl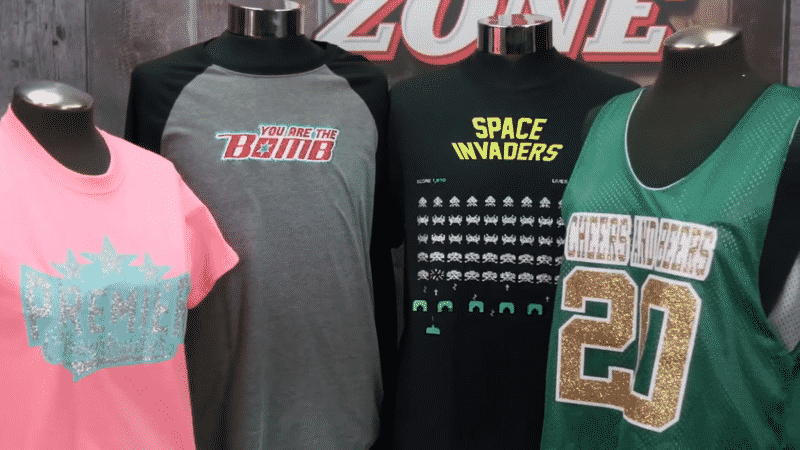 Usually, I'd be breaking down your options into the best all-around, best budget pick, best for quilters, etc. That sort of analysis makes sense for a big sticker item, like picking out a new Cricut or Silhouette. But since heat transfer vinyl is a consumable craft supply, you'll end up buying it over and over for different sorts of DIY projects.
You don't just need the best vinyl for each project, you also need the right kind of HTV vinyl.
There are a lot of different kinds of vinyl: adhesive vinyl, removable, and window cling. Luckily, this entire article is all about heat transfer vinyl, and iron on. Still, there are a whole bunch of different types of HTV!
So for this article, I researched and found the best type of heat transfer vinyl for the most common uses and looks you will want.
Best iron-on for t-shirts. First, I searched for the best iron-on for t-shirts. This is the same sort of HTV you'd use for any fabric, but making t-shirts is the most common way that people get into using iron-on.
Whether you are starting a small t-shirt business, or want to make cute tees for a bachelorette party or your kid's sports team, you need vinyl that is easy to cut and will last through a washing machine. And you'll often want a big roll of plain black iron-on vinyl, since that's what you'll be using the most.
Best printable heat transfer paper. Next, I found the best printable heat transfer paper. To be honest, you'll probably be using this on t-shirts as well! But it's the kind of vinyl paper that you can run through your inkjet printer to make colorful custom t-shirts or bags, without painfully layering 5 different colors of vinyl. For printable heat transfer paper, you need a kind of vinyl that easily takes and holds onto your printer's ink, and won't get jammed in the thing either.
There are two main kinds of printable iron-on paper: for light or dark fabrics. The iron on transfer paper for light fabrics comes is easier to print and peel, and it is transparent to let the white of the shirt show through where needed. Iron on transfer paper for dark fabric has a special white layer so you can make light colors in your design, even on dark polyester fabrics.
Best glitter HTV. Lastly, I got to try out and find the best glitter HTV. This is the most common sort of specialty iron-on that people request. It's a little difficult to use because it is seriously thick, so sometimes it will take multiple passes to cut through with your vinyl cutter.
Best kinds of other specialty HTV. In the future, I may add sections for other types of specialty HTV: best glow-in-the-dark, best holographic, best patterned, or best metallic iron-ons. Let me know in the comments which ones you like and I'll get researching!
Why you can trust this review
I've spent years working with heat transfer vinyl hands-on. I also spent over 30 hours researching the essential qualities of iron-on, as well as all the different brands and bundles for sale on Amazon. I bought them, tried them out, and reported on what worked to you.
I've been cutting vinyl with my Cricut and Silhouette machines for over a decade now, and I have personally tried so many kinds of vinyl. I understand where the process becomes tricky and where it is essential to use high-quality products.
Plus, my background in science and engineering helps me read through all the manufacturer's specifications and technical pages. I can see right through empty marketing lingo to get you information that is actually important and useful.
Best Deals and Bundles for heat transfer vinyl (where to buy)
So like I mentioned early on, there's a lot of bad vinyl out there, and a lot that's advertised as being a name brand but when you get it… it's something very different.
All of the deals below are verified to be 100% authentic. Like with Cricut or Silhouette vinyl cutting machines, when at all possible I recommend buying directly from the maker itself. They support their products a bit better than third-party resellers and often give better deals.
With that said, a few of the deals are only available from third parties, so I'm only recommending those retailers I've worked with a lot in the past and whose products are authentic.
Okay! On to the deals and the best place to buy heat transfer vinyl.
Siser Easyweed Heat Transfer Vinyl deals
Cricut Everyday Iron-on Vinyl deals
Avery Printable T-shirt Transfer deals
Koala Light T-shirt Transfer deals
StarCraft Vinyl deals
Accessories
This part I can make pretty easy, if you don't have a heat press machine yet (or an iron), I absolutely recommend Cricut's EasyPress 2. If you think you'll be working with larger sizes, get the 12″x10″ bundle.
Otherwise, the 9″x9″ size is perfect.
FAQ
Do you need transfer tape with iron-ons?
Regular HTV does not need transfer tape for application. It comes stuck on a plastic carrier sheet, and you simply flip it over and iron it onto your shirt.
However, printable heat transfer paper usually does require a heat transfer mask to help transfer. Since this sort of paper needs to be printed on, it doesn't come on a carrier sheet. So you apply the heat transfer mask to act as a carrier when you transfer it onto your fabric.
What can I use for printing designs onto t-shirts?
I cover this above, but you have two options, either using printed transfers or heat transfer vinyl.
What is HTV?
If you see HTV a lot and aren't quite sure what it means: HTV is an abbreviation for heat transfer vinyl! Heat transfer vinyl is an adhesive-backed vinyl where the adhesive becomes activated by heat, making it a great choice for fabrics. I have a guide on using Cricut Iron-on Vinyl if you want to learn more!
What's the difference between Cricut Iron-On Lite and Everyday Iron-On?
Cricut Iron-On Lite is the older version of Cricut heat transfer vinyl. The Everyday is new and improved to be more durable, and comes in way more colors. But they are very similar, and you can use either one for shirts, bags, jackets, etc.
The Everyday Iron-On has longer rolls (24″ long vs just 19″) and so costs a bit more per roll. (Really these rolls are more like a long sheet.)
Do I need a heat press to make t-shirts?
Nope! You can make tshirts (and all sorts of fabric projects) using the regular iron you already have. However, a heat press will give you better, more consistent results and may also allow you to transfer at lower temperatures which can be important for more delicate fabrics.
Can I use the transfer paper with a laser printer?
The most common types of transfer paper are designed to only be used with pigment ink from an inkjet printer. Putting this heat-sensitive paper in a laser printer could damage your printer, plus the toner. However, if you have a laser printer you want to use, I recommend Techni-Print EXP Laser Heat Transfer Paper which you can get right here.
Sources