Are you curious about this boxy little machine from Silhouette?
Want to emboss paper, work with wood, and etch metal, without having to buy or make dies and embossing folders for every single design?
The Silhouette Curio is not just unique-looking among Silhouette machines, it also has some unique abilities that are completely exclusive to the machine. Also a few unique draw-backs.
More on this later.
Along with the standard functions of cutting, drawing, and scoring, the Silhouette Curio can emboss, deboss, etch, and stipple, directly from your computer.
If you want to add more creative possibilities to your crafting space, read this review of the Silhouette Curio cutter, one of the most interesting machines Silhouette has released.
2023 Silhouette Curio: Reviewed
Released in summer of 2015, the Silhouette Curio is one of the older models that Silhouette still has in production.
I'll explain just what makes this machine so special, and why no other Silhouette has been able to replace it.
I'll start by reviewing the five best features of the Silhouette Curio, as well as the most important pros and cons so you can get an idea of what the Curio is all about.
Later on I'll give a more detailed breakdown of all of the Curio's abilities and attributes, to help you decide if it's the right machine for you.
Cutting size
8" x 12" with large mat (sold separately)
Cutting depth
2 mm (with Deep Cut Blade)
Cutting ability

Design

Software

Accessories

Overall rating

Our favorite compact cutting machine
Cutting size
8" x 12" with large mat (sold separately)
Cutting depth
2 mm (with Deep Cut Blade)
Cutting ability

Design

Software

Accessories

Overall rating

At the end, I have the best bundle deals I've found for the Silhouette Curio (feel free to skip ahead if you're just looking for a bargain).
5 best features
Dual carriage. The double-headed tool system lets you use two tools at once.
Debossing & Embossing. The Curio can imprint any design you create.
Stippling & Etching. With this tool, the Curio can stipple and etch metal sheets.
5 mm height for materials. This incredible clearance lets the Curio work on materials that no other Silhouette can.
Silhouette Studio 4. This design software is the best in the industry.
Pros
Four unique functions: stippling, etching, debossing, and embossing
Can emboss and etch from your own designs on your computer
Cuts every type of material the Cameo 4 can cut, and more!
Dual carriage for multi-function projects
Uses materials 5 mm thick for surface projects
Cuts materials 2 mm thick (with deep cut blade)
Cons
Small cutting capacity (8.5″ x 12″ with purchase of additional base)
Larger base and mats not included
Stippling & Etching tool not included
Embossing mats are easy to ruin/destroy
No Bluetooth
No AutoBlade
Difficult learning curve
Must be connected to the Curio via USB to access design options to emboss or stipple
The version of Silhouette Studio on the included CD is out of date
Specifications
A new Silhouette Curio includes all of the following: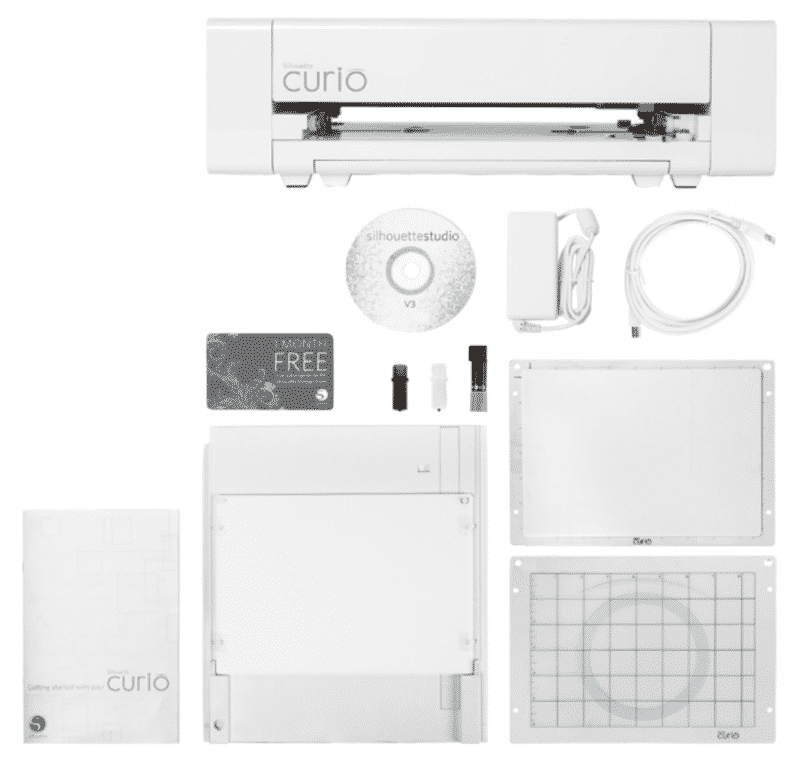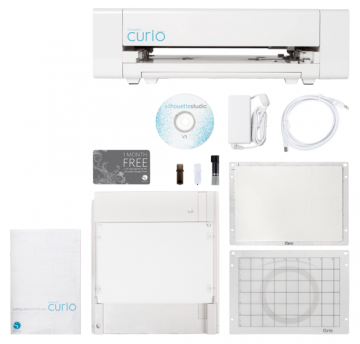 Silhouette Curio machine
Regular Base (8.5" x 6") and 4 removable platforms
Embossing Mat (8.5" x 6")
Cutting Mat (8.5" x 6")
Regular cutting blade
Fine embossing tool
Wide embossing tool
Power/USB cables
50 exclusive digital designs (online)
1-Month basic subscription to Silhouette Design Store (includes $25 credit)
Silhouette Studio software (online)
1-Year limited manufacturer's warranty
4 material fasteners
4 replacement snaps
3 Print & Emboss squares
The technical specifications are:
Cutting force: 210 grams
Max speed: 3.9 in/second
Max media thickness:

5 mm for etching, scoring, drawing, stippling, and embossing
2 mm for cutting

Max cutting size: 8.5″ x 12″

Included base cutting size: 8.5″ x 6″

Dimensions:

Length: 17.25″
Depth: 6.75″
Height: 5.25″ (9.5″ with open lid)

Weight: 5.5 lb
Creative abilities
Calling the Curio a cutting machine isn't really accurate. You can almost call it an embossing machine, because that's what it is most specialized for.
But the most appealing thing about the Curio is the range of creative functions it is capable of.
Yes, it can cut.
But it can also emboss, stipple, etch, score, and sketch. And with the dual carriage head to hold two tools at once, it can also do all sorts of combinations of these.
Let's take a look at a quick video showing how the Silhouette Curio works, in action:
Emboss & Deboss
As I mentioned above, the Curio is specialized to be an embossing (or debossing) machine, in addition to a cutting machine.
(Embossing and debossing are two sides of the same coin: while embossing yields a raised surface of your design, debossing gives you an indented surface.)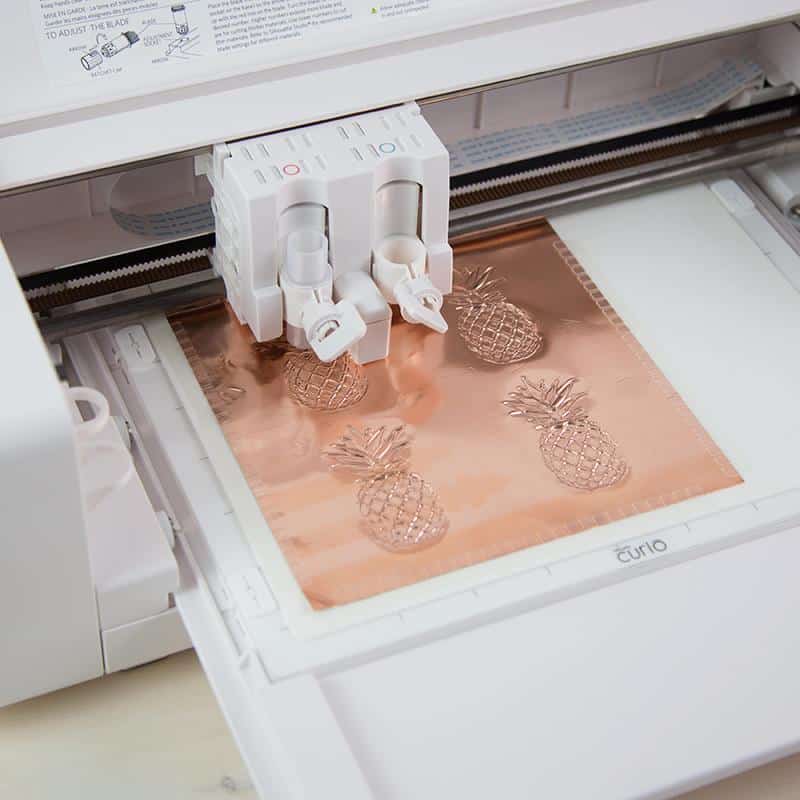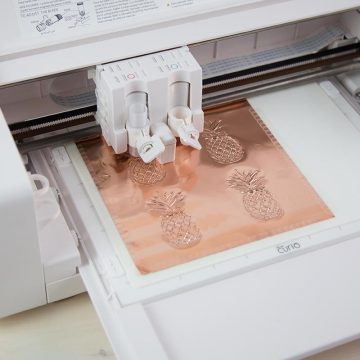 The Silhouette Curio comes with everything you need to emboss, right out of the box.
It includes two different embossing tools: a fine tip for strong indents and a wide tip for gentle indents.
You will also receive the special, cushioned embossing mat, as well as three Print & Emboss squares you can use to try out embossing.
The Curio has a sort-of-complicated platform and base system that I'll explain more about down below (see Machine Design). But for now, you should know that the entire point of the system is to let you emboss things.
The base plus platform contraption gives you the hard surface required to actually support the material, while the embossing mat gives some cushioning to allow your paper to compress.
Embossing is different enough from cutting that it typically requires specialized machines and hardware. Most embossing machines are manual and use pre-made raised stamps or folders to imprint a design onto paper, vellum, cardstock, and other soft materials.
You can't emboss with any other Silhouette machine, or any other digital cutting machine (as far as I'm aware).
The embossing and debossing looks beautiful on thin media, like paper, foils, and vellum. However, one big drawback is that, despite all its specialization, the Curio system isn't as good at embossing as manual embossing machines like the Sizzix Big Shot or the Cricut Cuttlebug.
When trying to make raised impressions on thick material like cardstock, the results from the Curio are not that impressive. To get better embossing results on thick media, you have to score first, and then emboss with multiple passes to make the design stick out. (Thankfully, the dual carriage means you don't have to change tools in between.)
Still, the Curio lets you emboss any design you can come up with in Silhouette Studio, rather than restricting you to pre-made dies and folders. This is something that the hand-cranked machines can't give you.
So, what else can the Curio do?
Stipple & Etch

The Silhouette Curio enables you to stipple and etch metal sheets! This is my favorite ability of the Curio. I just love the look of metal engraving and it's great to be able to do it at home, and not by hand!
In order to stipple or etch metal with the Curio, you'll have to buy the Stippling & Etching Tool, which is NOT included.
I'm not exactly sure why they don't include this tool. You can't use it with any other Silhouette machine. And the cost of the Curio is already so high, it makes sense to have this ability included. But, hey, I don't make the decisions around here.
If you're unfamiliar with stippling, it's just a bunch of little dots used to create a picture or design. You can stipple with markers, but when you stipple metal sheets it actually creates indents in the paper, like so: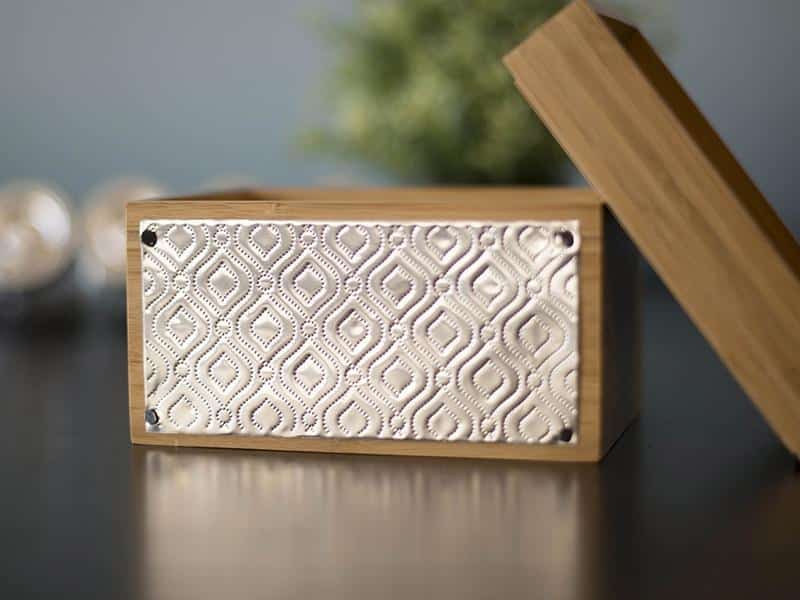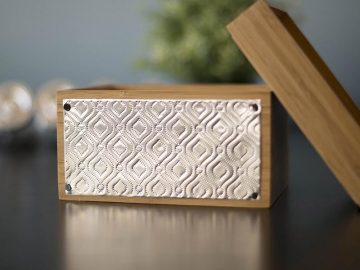 As you can see, the Curio can etch and stipple metal beautifully. Etching or engraving works well on soft metals like aluminum but may need multiple passes for hard metals like steel.
Sketch
The Curio can sketch, draw, and felt-tip stipple with the Silhouette sketch pens, or any other pen or marker. Silhouette has 3 different-sized pen holders to let you use a range of pens and markers. (And you can always jury-rig some padding if they don't fit quite right.)
With the dual carriage in the Curio, you can use two different colors at once, or draw on a card and then cut it out, without having to stop the machine and switch out tools.
5 mm clearance
The Silhouette Curio has the deepest clearance of any Silhouette. The machine can do surface projects, including drawing, scoring, etching, and embossing, on materials up to 5 mm thick. That's a massive clearance for a craft cutter. This means you can sketch on pieces of wood, draw on canvas, and handle materials that no other Silhouette machine can.
Alright, let's move on to how the Curio cuts.
Cutting ability
The Silhouette Curio has the same internal machinery and the same basic cutting ability as the Silhouette Cameo 4.
Deep cut

Even though the Curio can fit 5 mm materials for some tools, it only cuts materials 2 mm thick. Still, this is as good as, or better than, most of the other personal cutting machines on the market.
Before the most recent Silhouette models were released (the Silhouette Cameo 4 and the Silhouette Portrait 2), the Curio was actually the only Silhouette that could cut materials this thick.
The previous Cameo and Portrait models were limited to media 0.8 mm high, and the Curio's high clearance was an additional specialty. Not so much, now that all the other machines are getting better.
Note: the standard blade that is included is only 1 mm long. In order to actually cut up 2 mm, you'll have to purchase the Deep Cut Blade, which is sold separately.
Weak cutting force
The Curio shares the relatively weak cutting ability of other Silhouette machines, at 210 grams of force. This is sufficient for thin materials, so the Curio will cut vinyl and paper with ease.
However, the weak cutting force means the Curio has difficulties with some thick materials. It can't emboss thick cardstock that easily.
Thick and tough materials like leather and balsa wood may not cut in a single pass. Usually, multiple passes will finish the job; however, trying to cut very dense materials like a hard metal may actually damage the blade.
Still, there are a lot of materials to pick from, that can be used in so many different kinds of projects.
Materials that can be cut
The Curio can cut everything that the Cameo 4 can cut, which means an impressive list of hundreds of materials. A few too many to list here, but I'll do my best:
vinyl (adhesive, permanent, heat transfer, stencil, window cling, glitter, dry erase, chalkboard, holographic)
paper (printer, photo, crepe, washi, vellum, specialty patterned, freezer, wax, construction)
cardstock and matboard
fabric (with the appropriate iron-on interfacing)
craft foam, leather, balsa wood, chipboard (with the Deep-Cut blade)
rhinestone template material
Machine design
The Silhouette Curio has a boxy design, with nicely rounded corners. I think it looks rather distinguished and complements the sleek curves of a Cameo 4 pretty well.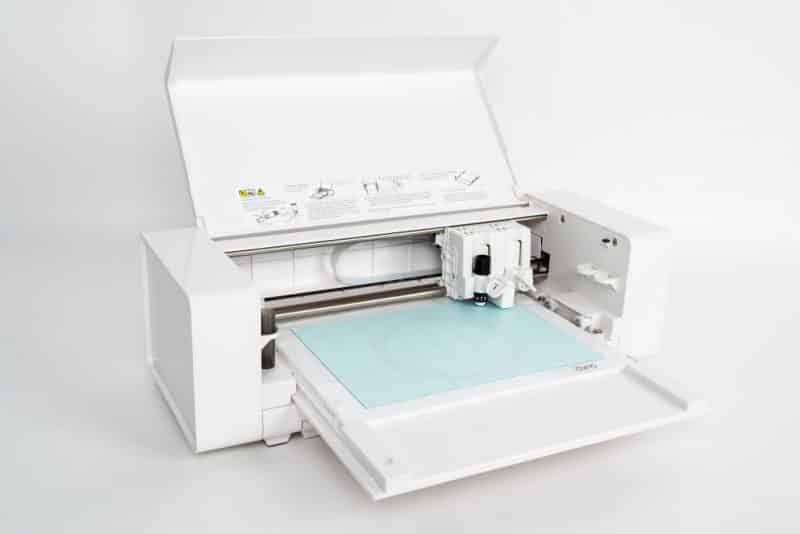 Base and platforms
The platform system used in the Curio will be familiar to anyone who has used an embossing machine before, but it may feel a little foreign to those who are used to electronic cutters.
Because the Curio has such a high clearance, when you are working on thin materials you have to build up the base of the platform to bring it up within range of the tools. The Curio base comes with two types of platform: 1mm thick and 2 mm thick. Depending on the thickness of your material, you'll use different combinations of these platforms to get the right height.
But don't worry, you won't actually have to do the math yourself (if you don't want to). Silhouette Studio will tell you exactly what combination to use, depending on what material you select. Still, it takes a bit of time and practice to figure out how to assemble the base correctly. Online video guides are a great help!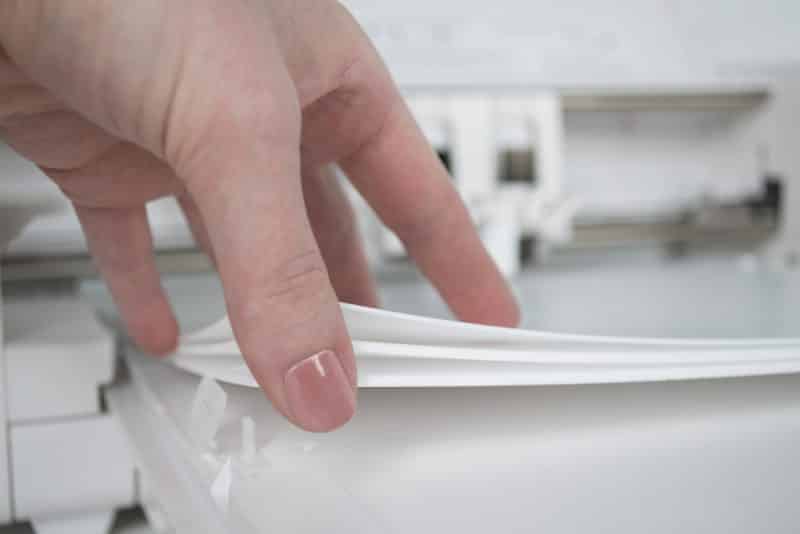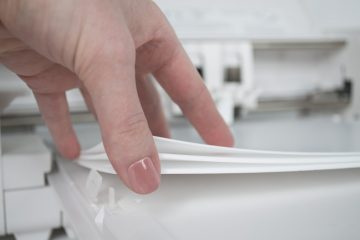 The biggest drawback to the Curio is probably its small cutting size.
The base, platforms, and cutting mats that are included measure just 6″ by 8.5″, about half a sheet of printer paper. You can compare that to the Silhouette Cameo 4 (reviewed here), which can cut things up to 12 inches wide and 10 feel long! The small size can be limiting if you want to make anything other than small cards.
The max project size for the Curio is 12″ by 8.5″, but you'll have to buy an additional base + platform set, as well as the bigger cutting and embossing mats, in order to use materials that size.
Storage
Storage on the Curio is minimal but useful. There are 4 storage slots (2 on each side) for holding various Silhouette tools that fit in the dual carriage head.
On the base of the Curio is a ratchet for setting the depth of the standard cutting blade. It's a handy location, and since the Curio doesn't take the AutoBlade (sigh!), you'll definitely need to use it.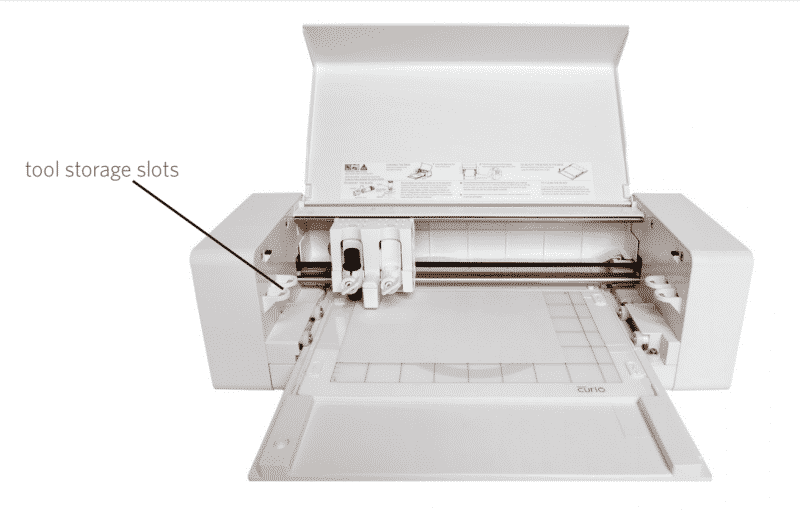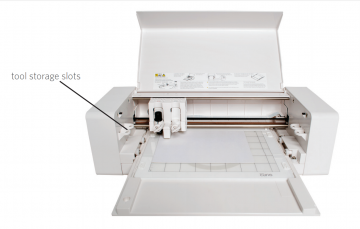 Dual carriage
The Curio was the first Silhouette to feature the dual carriage system, which lets you use two tools at once. So you can Cut & Score, Score & Emboss, Sketch & Cut, or draw with two colors at once! (They don't have a fancy name for that last one.)
You don't have to stop the machine and change out tools in between using different functions. This is such a time saver, and a quality of life improvement.
Double tool holders are a great feature, so great that they're now common across the Cameo 4, the Portrait 2, and most of the Cricut models. Still, it's especially useful for the Curio because there are so many different accessories the Curio can utilize.
Accessories
I've gone over most of the interesting tool accessories throughout this article, but I'm going to list them all in one place for your convenience:
Included
Regular Base (8.5" x 6") and 4 removable platforms
Embossing Mat (8.5" x 6")
Cutting Mat (8.5" x 6")
Regular cutting blade
Fine embossing tool
Wide embossing tool
Not included
Large base (8.5″ x 12″)
Large cutting mat (8.5″ x 12″)
Large embossing mat (8.5″ x 12″)
Deep-Cut Blade
Stippling & Etching Tool
Sketch pens (24 colors)
Pen holder (to hold 3 different sizes of pen or marker)
Premium Blade (ratchets like the regular blade, but lasts 3 times as long)
Dust cover
As you can see, you have to purchase quite a few additional items in order to actually take advantage of the full range of the Curio's creative abilities, as well as its full cutting size. This adds a fair bit to the cost, which isn't that cheap to begin with!
Software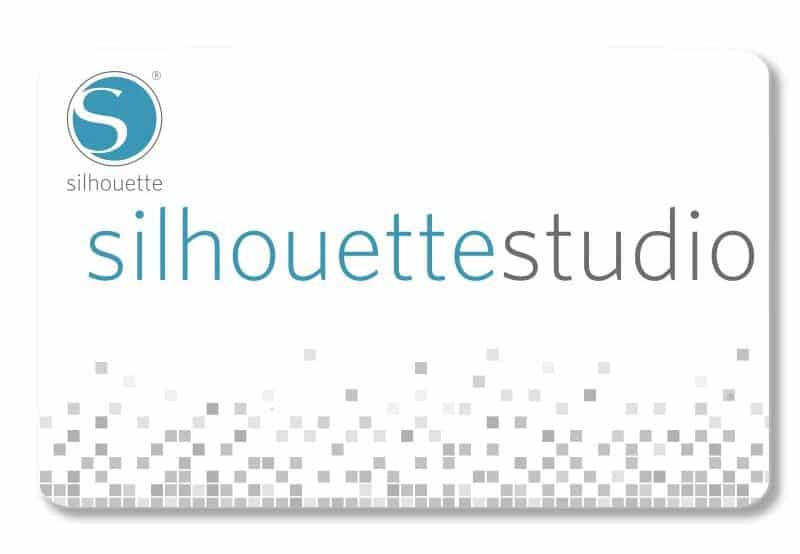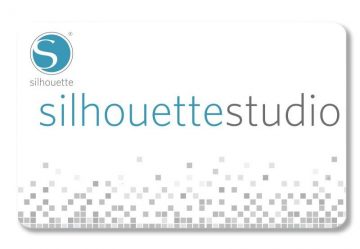 The Silhouette Curio uses the same design software as the other Silhouette machines, Silhouette Studio 4.
I think this is the best software in the industry for designing and editing; however, there are a few drawbacks of using it with the Curio.
The best feature is that you can take advantage of Silhouette Cloud and have all your designed and purchased images automatically saved to your computer, so you can edit and cut and emboss offline.
In contrast, Cricut's Design Space requires an active internet connection to do anything.
Another great feature is the ability to import and export SVGs, which is the best format for cut files. However, you have to pay to upgrade your version of Silhouette Studio in order to actually take advantage of this, which is kind of a bummer. I do highly recommend the upgrade to access all of Silhouette Studio's features.
With the Curio, you get a 1-month subscription to the Silhouette Design Store, which has over 100,000 designs for sale!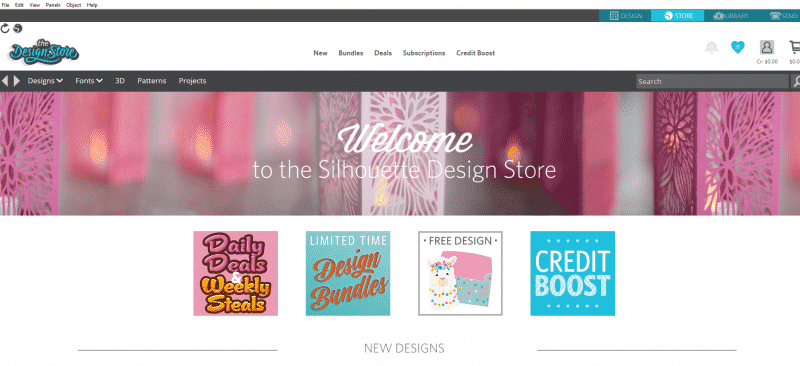 Software issues
There are a few issues of Silhouette Studio that are unique to the Curio, which is why it gets a lower software rating than other Silhouette machines:
For embossing, you place your material upside-down, so the indent will come out the front of your paper. Silhouette Studio automatically mirrors your entire cutting area to account for this, but it doesn't show you the preview.
So there's a fair bit of guesswork involved in trying to figure out where to place your paper or foil, and will probably result in some wasted material until you get the hang of it.
It's pretty frustrating, and the lack of full-length grid lines going across the embossing mat makes it incredibly difficult to find the right place to put your foil to be embossed.
Another drawback is that you must have Curio connected to your computer via USB in order to unlock the Embossing and Stippling tool panels in Silhouette Studio. (Okay, the stippling actually works with a Cameo 4 plugged in as well.) For someone like me, who wants to sit on my couch and design while I binge on Gilmore Girls, having to be plugged into the Curio is a real hassle. What, do they have something against Gilmore Girls?
Conclusion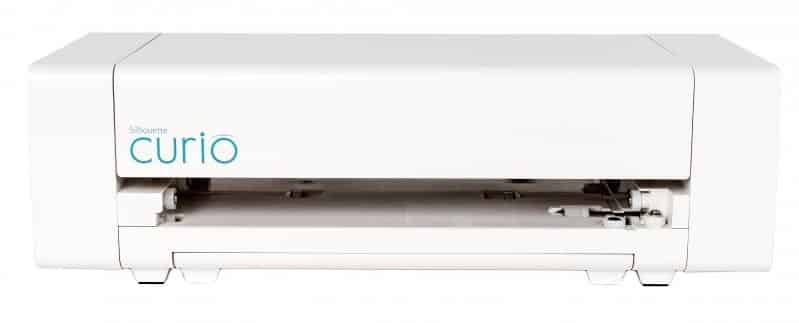 All around, the Curio is a great companion to a larger cutting machine but doesn't really replace the ease of use and cutting size you can find in most other vinyl cutters.
If you are interested in the unique creative abilities—embossing and debossing paper and foil, or stippling and etching on metal—then the Curio will be a useful addition to your crafting room.
If you're looking primarily for a home cutting machine (like for making vinyl decals, custom cards, or heat transfer t-shirts), then the Curio is perhaps not the best choice.
The small cutting area, combined with the awkwardness of the platformed base, make other cutting machines a more appealing value. (The Silhouette Cameo can cut materials up to 10 feet long!)
It's a neat little machine that provides some noteworthy capabilities you won't see in any other digital cutting machine. However, the price tag, combined with the cost of additional accessories, is a bit steep for what the Curio does offer.
Where can I buy a Silhouette Curio?
Silhouette Curio bundles
These deals have all been updated for Black Friday & Cyber Monday! They will sell out fast, so I will keep them updated throughout November!
When purchasing an important tool like the Curio, you want to make sure it works and that you're getting the best deal for an authentic product.
A lot of retailers will sell what are known as "grey-market" machines that come without a warranty and if you need repairs you'll have to mail them to another country.
That's why I've verified all of these deals to be both current (as of October 2020) and to come with the manufacturer's original warranty.
Since the best bundle deals sell out, I'll keep this section updated:
Silhouette Curio Etching & Embossing Bundle includes:

Stippling & Etching tool
3 metal etching sheets (5″ x 7″)
6 metal stippling sheets (5″ x 7″)
50 sheets of Score & Emboss paper (5″ x 7″)

Silhouette Curio Large Base Bundle includes (this one is huge!):

Large base (8.5″ x 12″) and 4 platforms
Large cutting mat (8.5″ x 12″)
Large embossing mat (8.5″ x 12″)
Stippling & Etching tool
Deep Cut Blade
15 colors of sketch pen
3 metal etching sheets (5″ x 7″)
6 metal stippling sheets (5″ x 7″)
10 paper embossing sheets (5″ x 7″)
10 paper embossing sheets (8″ x 11.5″)

Silhouette Curio Starter Bundle (only a few left) includes:

24 sheets of permanent Oracal 651 vinyl (12″ x 12″)
24 sketch pens
1 roll of premium Oracal transfer tape
hook and scraper tools
If you have any questions that aren't answered below, feel free to leave a comment.
FAQ
What can a Curio do that the Cameo or Portrait can't?
Metal and foil stippling, metal etching, embossing, Score & Emboss, Print & Emboss, using thicker materials as project surfaces (such as stencils sketched onto 5mm thick wood).
Can I upload my own designs for embossing and engraving?
Absolutely! You can create designs on your computer, or purchase them online, and the Curio will use that to emboss and etch/engrave.
Can you cut from a roll of vinyl or use the vinyl roll feeder?
No, the Curio can only cut material on its hard base, which measures 8.5″ x 6″ or 8.5″ x 12″.
What can I make with a Silhouette Curio?
Oh, the possibilities are actually limitless! You can make stickers, vinyl decals, cards, gifts, invitations, paper crafts, etched glass, scrapbooks, holiday decor, magnets, kids crafts, accessories, stencils, sketches, labels, stamps, temporary tattoos, 3D projects, and school projects.
Think that's enough to get you started?
Can I use the AutoBlade with the Silhouette Curio?
Unfortunately, no. Only the Silhouette Cameo 4 (reviewed here: cutcutcraft.com/silhouette-cameo-4-review) and the Silhouette Portrait 2 can use the AutoBlade.
Which version of Silhouette Studio should I get?
It depends on what you want to do! I'm a huge fan of all the features in the Business Edition, but they're aren't necessary for everyone. If you want to be able to download SVGs from the web, then you should at least upgrade to the Designer Edition.
You can always start off with the free Basic Edition and upgrade whenever you need to!
Do you have to be connected to the internet to use the Curio?
Nope! One of the reasons why I love Silhouette Studio is that it downloads all your home-made and purchased designs to your computer or device, so you can design, edit, and cut without being connected to the internet.
Does the Silhouette Curio work with normal cutting mats?
No, the Curio uses special cutting mats that snap to its rigid base platform.
How large is its cutting/embossing mat?
The included cutting mat is 8.5″ x 6″, but you can buy larger ones at 8.5″ x 12″. But you'll also have to get the larger sized base + platforms to use that.