Oracal's two most popular vinyl are often confused but they're used for completely different applications.
If you confuse them, it's likely that a well-planned project could soon turn into a disaster.
That's why I wrote this article, so that you could have a complete comparison of Oracal 651 vs 631.
I'll go over both Oracal 631 and 651 vinyl and cover in detail the projects each is best suited for. I'll also cover when you absolutely shouldn't use them.
More on this later.
I'll also tell you the very best place to buy 651 and 631 vinyl and how to make sure you aren't getting an imitation.
Let's get to it.
Oracal 631 vs 651
Let's start with a brief run-down:
Oracal 631: is removable, matte, and the best choice for temporary applications.
Oracal 651: is permanent, glossy, and the best vinyl for outdoor usage.
If you're just looking for information at a glance, I've put together an easy table showing the differences between the two.
For other uses and vinyl, I have a complete guide to the best vinyl for Cricut and Silhouette, including my pick for the best heat transfer vinyl.
Alright, let's break down each in detail.
Oracal 631 vinyl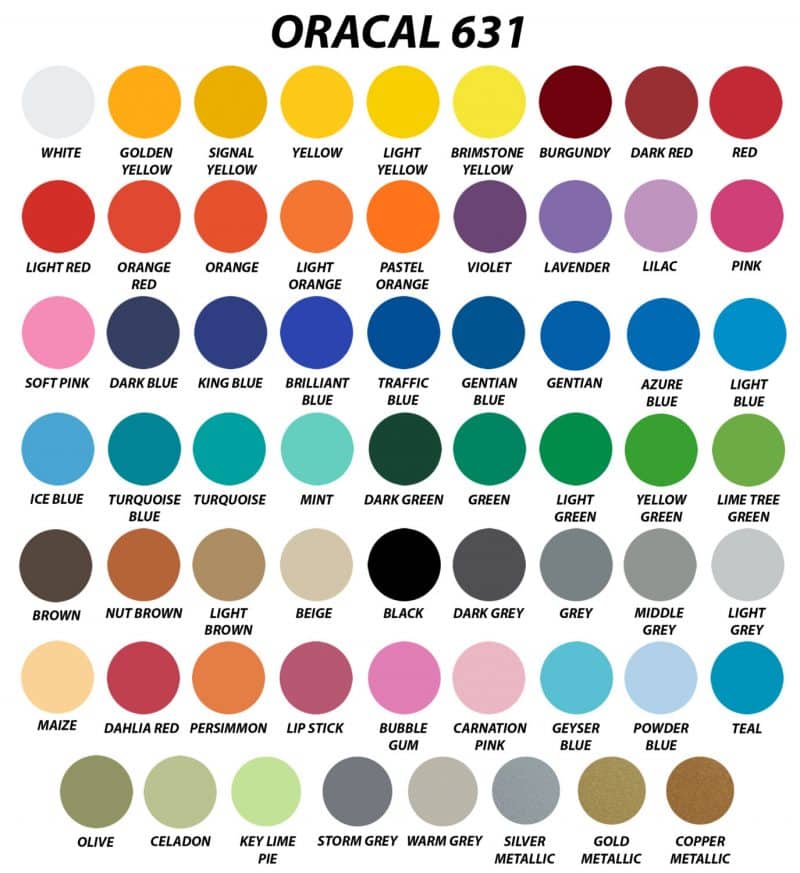 Oracal 631 adhesive vinyl is the most popular vinyl to use with Cricut and Silhouette cutting machines. It is perfect for making temporary designs, like indoor wall decals.
631 is just like the regular Cricut and Silhouette brand vinyl, but it is more affordable, easier to cut/weed, and lasts longer on your finished product.
(Can you tell I prefer the Oracal?)
I'll break it down by feature:
Adhesive-type:
Removable
Oracal 631 uses a clear, water-based, removable adhesive.
This is perfect for applying wall graphics or temporary signage because you can remove it without damaging your paint or leaving behind a residue. A lot of the cheaper knock-offs do exactly this, which is why we always want to buy it from an authentic source.
Since it is water-based, it is not suited for projects that are cleaned frequently, like dishware or anything exposed to a lot of water.
Finish:
Matte
631 comes in a matte finish. Like the paint on your walls, a matte finish stops unwanted glare and reflections.
Waterproof rating:
Resistant
Oracal 631 is water resistant, but not fully waterproof.
It is not recommended for anything that needs to be fully immersed in water to be cleaned, or for surfaces that will be constantly exposed to water.
If you need to clean something with an Oracal 631 design, it's best to wipe it with a damp cloth.
Durability:
3 years

(indoors)

Oracal 631 vinyl is rated to last at least 3 years when applied correctly to a vertical surface indoors. But from experience, I can tell you that it will often last much longer than that.

Make sure the surface you are using is completely clean of any dust, grease, or crud that could interfere with the adhesive binding.

631 typically lasts for a year or more outdoors, depending on how severe the weather conditions are.
Usage:
Indoor
Oracal 631 is best suited to indoor usage because its adhesive is not strong enough to survive outdoor conditions for more than a year.
It is not fully waterproof nor does it have great UV-resistance. However, it still works fine for short-term outdoor usage, especially in mild weather.
Colors:
90
This vinyl is available in 89 matte colors as well as transparent.
Thickness:
3 mil
The thickness of Oracal 631 is 3 mil, or 3 thousandths of an inch. That actually sounds pretty thin to me but it's 20% thicker than the 651.
Okay, now let's run through the features of Oracal 651 in the same format. After that, I'll go into the best place to purchase it.
Oracal 651 vinyl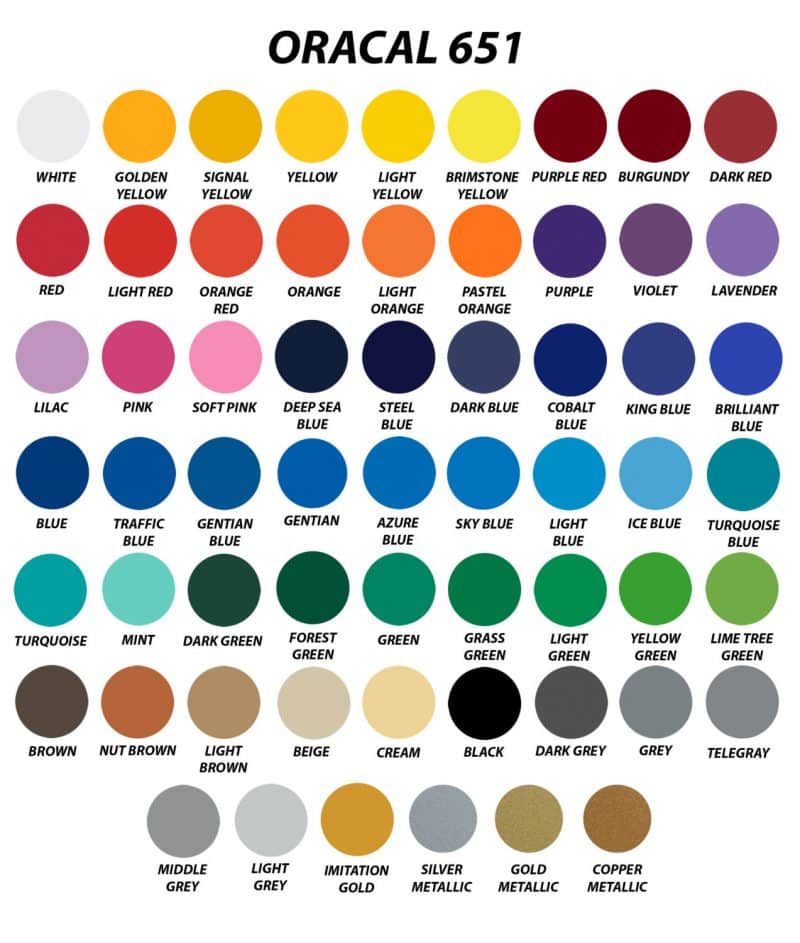 Oracal 651 adhesive vinyl is the other very popular vinyl to use in your Cricut and Silhouette machines.
Known as outdoor vinyl, 651 is more durable than 631, and is often used to make outdoor signs.
I'll go through all the properties of Oracal 651 here.
Adhesive:
Permanent
Oracal 651 vinyl uses a clear, solvent-based, permanent adhesive.
This doesn't mean it is actually a permanent vinyl, but to remove it you'll have to either scrape it off or use an adhesive remover like Goo Gone.
It's best for purposes where you won't need to easily remove the vinyl decal.
Finish:
Glossy
This vinyl comes in a glossy finish, which is very shiny and reflective.
Waterproof:
Yes
651 is fully waterproof, making it the ideal choice for anything that needs to be washed or exposed to rain, like coffee mugs and your car. It even works on boats!
Usage:
Outdoor
Oracal 651 has a strong enough adhesive to survive outdoor weather conditions and is the better choice for outdoor projects. It is often called "outdoor vinyl" or "sign vinyl," as it is the popular choice for outdoor signs. However, 651 still works great for anything you need decorated indoors
Durability:
6 years
Almost all Oracal 651 vinyl colors are rated to last at least 6 years outdoors when properly applied.
The metallic finishes have a life expectancy of 4 years, while the brilliant blue color lasts for at least 3 years.
If you use it indoors, it will last a bit longer.
Colors:
63
This vinyl comes in 60 gloss colors, plus transparent, matte white, and matte black.
Thickness:
2.5 mil
The thickness of Oracal 651 is 2.5 mil, or 2 and a half thousandths of an inch. This is around 83% as thick as the Oracal 631.
Applications and Uses
What is Oracal 631 vinyl used for?
Oracal 631 vinyl is used for:
wall decals
stencils
interior decorations
temporary signs (<1 year outdoors).
You'll want to use 631 for anything that needs to be removed easily, without damaging the surface.
It also works great for any general purpose decorating, and long-term signs that will be staying inside and out of the rain.
What is Oracal 651 vinyl used for?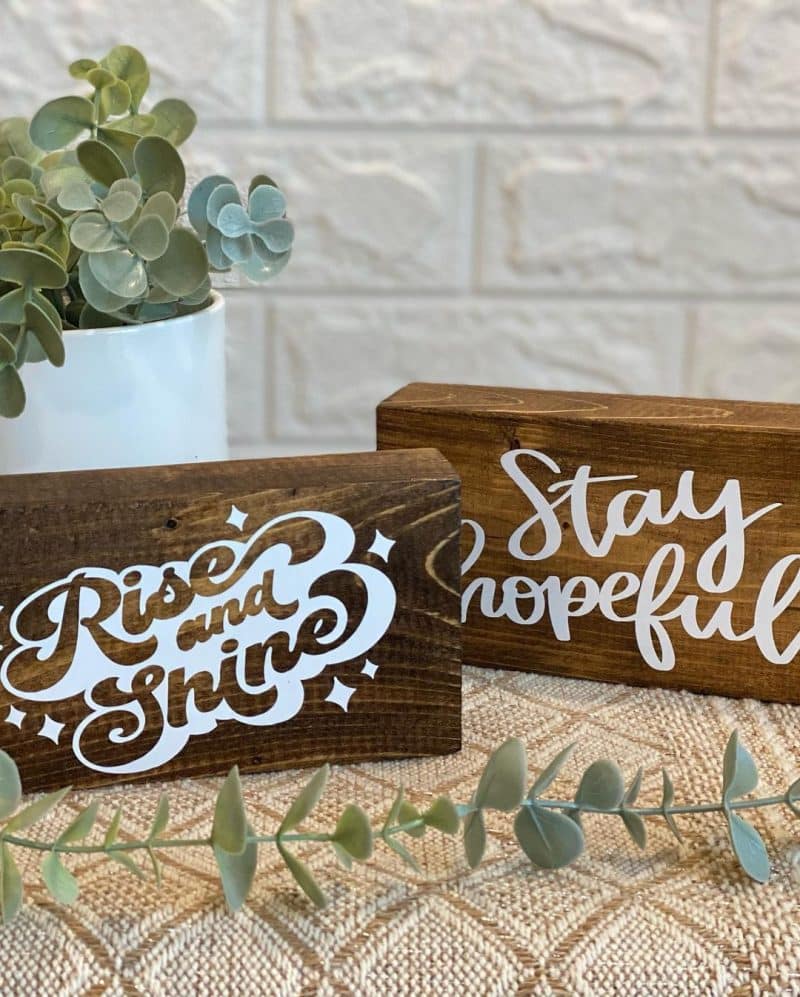 Oracal 651 vinyl is great for:
car decals
dishwares (mugs, glasses, cutting boards, plates)
indoor or outdoor signs
If you're decorating tumblers, like yeti cups, you want to use Oracal 651.
If you ever have trouble getting the 631 to stick try switching to the 651. The glue in the 651 vinyl is stronger, so it works better for surfaces that aren't perfectly smooth and flat, like unfinished wood.
Best deals for Oracal 631 and 651 vinyl
Like I mentioned above, low-quality knock-off vinyl is, unfortunately, a common problem. That's why I placed orders with all of these sources and compared them with samples received from Oracal to absolutely make sure they were the real thing.
You'll hear a lot of horror stories of people having trouble weeding their vinyl or it not lasting as long as it should, sometimes instead of cutting cleanly it will rip through it.
Most of these are due to lower quality vinyl that's being passed off as the real thing.
Okay, on to the best deals and authentic sources!
Haven't used either before and both sound enticing?
I absolutely recommend picking up this variety pack of both 631 and 651 (fortunately it includes all of the best colors) and experimenting. It's a really good deal, and comes in 12″ x 12″ sheets.
Best place to buy just Oracal 631 (indoor) vinyl
Sale
Best place to buy just Oracal 651 (outdoor) vinyl
ORACAL Vinyl Sheets (63 Pack)
All 63 Oracal 651 colors
Competitive pricing - ordered/processed/distributed efficiently to keep you crafting affordably
Oracal 651 - high quality vinyl made in Georgia use
12X 12 Sheets, professionally cut and packaged
F.A.Q.
Is Oracal 651 microwave safe? Can I use it on a coffee mug?
Yep! I've used 651 on tons of mugs, and they microwave without issue. Just make sure you let it cure (sit) for a few days before you put it in the microwave. But don't put anything with a metallic finish in the microwave! Metallic vinyl in the microwave will create sparks, cause the vinyl to peel off, and is a fire hazard.
Is Oracal 651 dishwasher safe?
Not necessarily. Washing anything with vinyl in the dishwasher is risky business. It really depends on the specifics of your dishwasher and how well the vinyl was applied. I have a few mugs with 651 decals that I always toss in the top-shelf of the dishwasher, and they're still going strong after years.
Intricate or delicate designs, like a narrow glass container, are more likely to fall apart. I definitely recommend gentle hand washing to increase the longevity of your finished work. And remember to let it cure (sit) for a few days before you wash it.
How can I tell Oracal 631 apart from Oracal 651?
Easiest way is to look at the finish! Oracal 631 has a matte finish, while Oracal 651 has a glossy finish.
What is Oracal outdoor vinyl?
That's the Oracal 651! Rated to last 6 years outdoors.
Are there any other resources you'd recommend?
You can check out USCutter (a popular vinyl shop), they have a brief comparison. Parsbee is another Cricut/Silhouette accessory store that has a pretty useful write-up as well. If you're looking to buy vinyl, I usually go with one of Amazon's starter packs. That way you get a good sample of everything without a huge commitment. The Oracal website also has useful information.