If you want to learn how to make your own vinyl decals and stickers at home, you've come to the right place!
Maybe you're looking to start your own custom vinyl decal business. Maybe you just want to make stickers for your friends and family…and…yourself!
These stickers can have any complex or colorful design that you want. They're easy and quick to place (without weeding or transfer tape).
That makes them perfect for selling on Etsy, promoting your Instagram, or as gifts for friends and family.
I will teach you the easy way to make your own custom vinyl stickers. Then, if you're still with me, how to turn this into a business you can run from your own home.
(I just completely updated this article in January, 2023! It's full of new ways to turn your hobby into a bit of additional income, and I'll show you exactly how to do that.)
What can you make?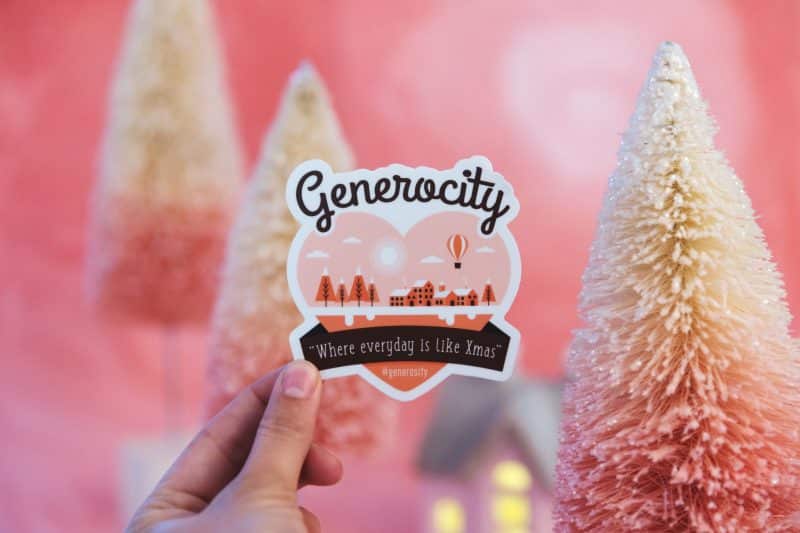 What are vinyl stickers good for? Pretty much anything you want to personalize, label, customize, or advertise.
Whether you're thinking of selling stickers and decals on Etsy, or just want to wow your friends, here are some ideas of what you can do with DIY vinyl decals and printable vinyl.
You can:
personalize water bottles, mugs, and tumblers
decorate pencil boxes, lunch boxes, and lockers
label all the containers and jars in your kitchen
advertise for your blog, Pinterest, or company
sticker for your band
decorate your phone and laptop
make bumper stickers or decals for your car
Let's first talk about what printable vinyl is exactly, and why it makes the perfect material for cheap, colorful stickers.
What is printable vinyl?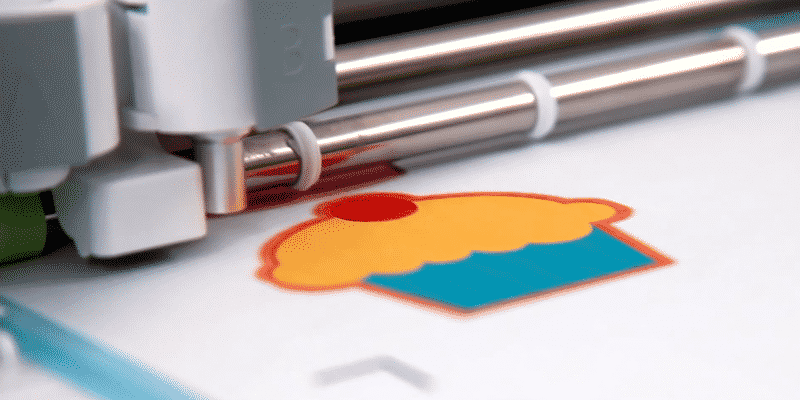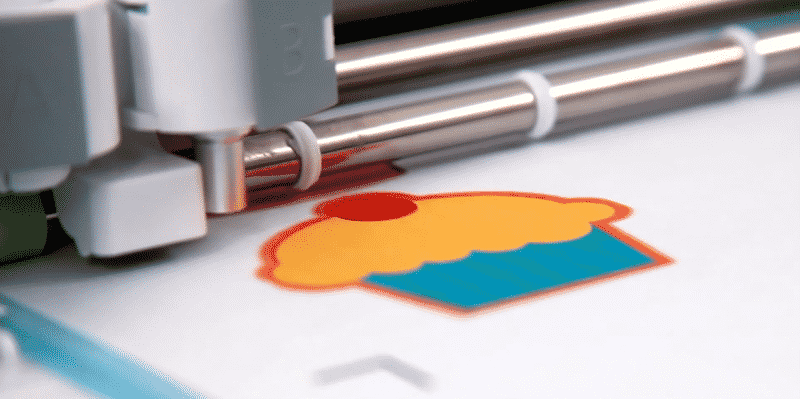 Printable vinyl was once a mystery to me too, and now it's the simplest thing in the world.
You know how you can print on paper in your desktop printer? You can print on vinyl too! For making easy, professional-looking stickers there is nothing better.
But… what about regular vinyl? Here's why it doesn't work.
If you try printing on regular vinyl, it won't soak into the vinyl. It just pools and runs off the page. It looks horrible!
Instead, you could try painstakingly laying six different colors of vinyl on your transfer tape. The final product can be absolutely stunning, but the process of weeding and layering and transferring can be…a bit of a chore. (To say the least!)
Or you could just use printable vinyl, it comes with a special coating on one side that can be printed on beautifully.
When you design with printable vinyl, you don't need to cut out the insides of letters or the centers of objects to make them visible. Hear that? No weeding! No transfer tape! We're talking stickers here.
Suddenly you can make decals with cartoon animals, anime characters, logos, even pictures of your cat or…your chicken?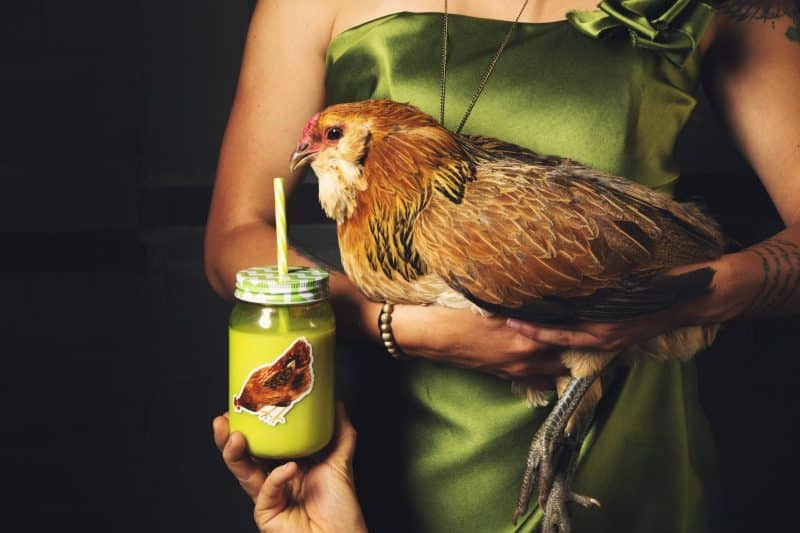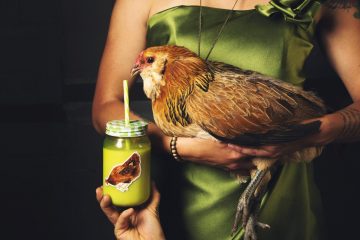 You can get color effects and details that are impossible with regular adhesive vinyl, like watercolor, shading, and intricate line work.
And when you're working with a vinyl cutter (Cricut/Silhouette/another brand) you can make lots of these stickers without any extra effort. Whether you're selling them, giving them as party favors, or handing them out at craft fairs to advertise for your business, being able to mass-produce these babies is fantastic.
Better than regular paper stickers, printable vinyl can actually be made waterproof by adding a layer of clear vinyl on top. If you try this with regular sticker paper, it won't last on mugs and tumblers, on your bike or mailbox, or survive a cup of spilled coffee. If you want stickers that really last you definitely want to use printable vinyl.
Let's try it out!
DIY Tutorial: How To Make Custom Vinyl Stickers
Alright, enough talk, time to get crafting.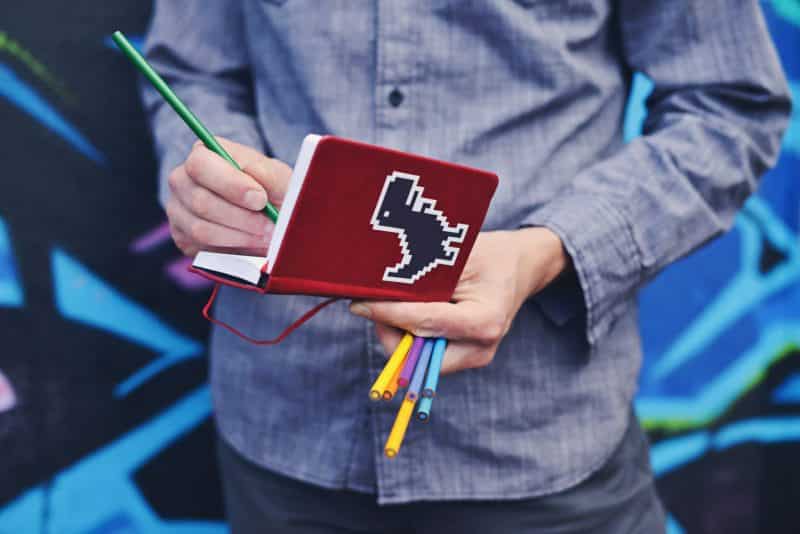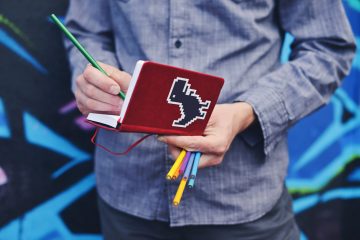 First, I'll take you through the necessary equipment for making DIY stickers. Then, I'll show you how easy it is to make your own custom-printed decals: from designing to cutting to applying.
Get ready, because soon everyone will be knocking on your door wanting special stickers printed and cut for all of their projects and events.
After the tutorial, I'll teach you exactly how to transform that demand into your own money-making business.
If you want to skip ahead to setting up your business, just click here.
Supplies you'll need
DIY decals are super easy to make as long as you have the right equipment, materials, and tools for the job.
A cutting machine. For this tutorial, I'll be cutting with a Silhouette Cameo 4 (full review here: www.cutcutcraft.com/silhouette-cameo-4-review).
Design software. I'll be using Silhouette Studio, but Cricut Design Space or your software of choice will work, too.
An inkjet printer. For the custom stickers we're making today, you'll need to use printable vinyl and a color inkjet printer. (If you only have black & white, you'll have to make black and white stickers, like that dinosaur up there.) This is my favorite.
Printable vinyl. I'll be using Expressions Vinyl Inkjet Printable Vinyl in this tutorial. It comes in 8.5″x11″ sheets to easily fit in a regular desktop inkjet printer.
Clear vinyl laminate. (optional) Regular printable vinyl is rated to last one year (outdoors) without a laminate. With a clear vinyl laminate, that outdoor durability extends to 4 or 5 years! I recommend these pre-cut sheets of Oraguard 210 Economy Vinyl Laminate, so you don't have to buy a whole roll.
Cutting mat. The Cricut cutting mats are my favorite, but whatever came with your machine will work.
Application tool. This is a hard, straight edge for helping burnish vinyl, sealing it into place. A plastic scraper, or something like an old credit card, will work.
If you don't have a cutting machine and aren't sure what exactly they are or how to use one, I have a complete guide to die cutting that quickly explains exactly what they are and how they can be used to cut vinyl, paper, and other materials.
If you have a Cricut machine, you can follow along with this tutorial and just use Design Space instead.
Got it all together? Let's get started!
Stage 1: Prepare and print your design
I'll be using Silhouette Studio to work with my Silhouette Cameo 3.
Open up a new design in Silhouette Studio.
Go to the Page Setup panel, select the leftmost tab for Page Size, and set the Size to Letter (8.5 x 11 in), or to whatever size vinyl sheet you are using.

Under Page Setup, select the rightmost tab for Registration Marks, and set the style to Type 1 (for the Cameo) to turn on Registration Marks. Registration marks help your Silhouette line up its cuts with the printing, so everything is cut perfectly.

Import or open up your designs, pictures, or logos and arrange them on the page. If you are making a bunch of stickers, try to fit as many as you can onto the page. You can rotate them and move them around to make the most of your vinyl, or leave them arranged in a neat grid if you are selling them.

(Make sure not to place anything within the hatch-marked area at the top and bottom left, or the Silhouette won't be able to recognize the registration marks. And don't go outside of the red box, because the machine can't cut past those lines.)
Time to add the cut lines!

Open up the Trace panel on the right, click "Select Trace Area", and drag a rectangle around your designs.

Adjust the threshold all the way up (to 100%) until your design is filled with yellow.

Click "Trace Outer Edge" to make an outline, which will add a cut line right at the edge of each of your stickers.

If you want a white (or colored) border around your stickers, use the offset tool. Open up the Offset panel on the right, click Offset, and set your desired distance. (It depends on your design, but I think 0.02 in looks good.) This will add a cut line just outside the edge of your drawing.

If you added the offset, make sure to delete the original cut line made from the trace tool. You should be able to select them all as a single rectangle, like when you originally traced them.

Load your printable vinyl into your printer. Make sure it is placed so the ink will be printed on the matte side of the vinyl. (The shiny side is the backing.)
Once your designs are arranged and cut lines finalized, simply hit File > Print to send the job to your printer.
Stage 2: Apply vinyl laminate (optional)
The top printable layer of this vinyl is a little more delicate than regular adhesive vinyl. On its own, the stickers will last for about a year and won't be very water-resistant. But if you protect them with a clear vinyl laminate, then they can last for up to 5 years and withstand being washed.
Once your design is printed, place it on a hard, flat surface.
Starting from one edge, begin to peel the backing off of your clear vinyl laminate. Only peel off an inch or so to start.
Line up the edge of the laminate with the edge of your paper, and press it down smoothly so there are no creases or air bubbles.
Using a ruler or scraper, smooth the laminate onto the printed page as you pull the paper backing away.
Use that same tool so burnish the laminate onto the printed vinyl. This helps the laminate stay in place and helps get rid of any air bubbles.
Check out this awesome video from Persia Lou to watch how to apply the clear vinyl laminate overlay:
Step 3: Cut your vinyl decals
Place your printed (and laminated) sheet onto your cutting mat, and feed that into your Silhouette. Line up the cutting mat with the arrows on the left, then hit load on the touchscreen on the right.

In Silhouette Studio, select the mat size and the material/cut settings. For the Expressions Printable Vinyl with a clear laminate overlay, I have found these cut settings to work best: Blade: 2, Thickness: 33, Speed: 5.
Send the file to cut, and the Silhouette will use the registration marks printed on the page to make sure it cuts right around the edges of your stickers.
Step 4: Peel 'em and place 'em
Peel 'em off.

Stick 'em on.

Smooth 'em out. For long-lasting results, use your application tool to burnish the sticker in place and smooth out any air bubbles or wrinkles.
Tips, tricks, and advice
If you notice your ink running when you place the laminate or acrylic spray, let the page dry for up to a day to let the ink fully set. Some types of ink take longer to set.
If your printer keeps jamming, you'll want to use a printer that can handle heavier weight paper. These printers will have a "straight path" instead of a "U-shaped path" so the paper doesn't need to be bent.
Okay, now that we've talked about how to make our own stickers, let's start thinking about taking it to the next level and making… a bit of income!
How To Start Your Own Vinyl Decal Business from Home
Wouldn't it be great to be able to make money while making the sort of crafts you love? It's a dream a lot of people have, from everyone at your local crafts fair to almost 2 million sellers on Etsy!
Don't let that number intimidate you though. It can be a competitive market, but as long as you keep your startup costs low you aren't risking very much by selling your work.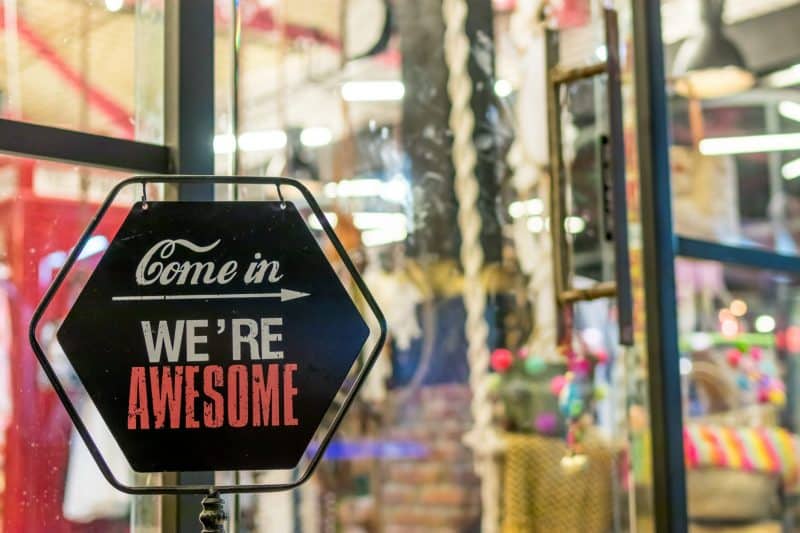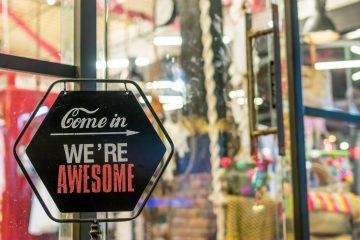 In this second half of the article, I will guide you through how to start a sticker and decal business from your very own home. We'll go through making a name for yourself, selling to your local community, and starting an online shop.
I'll go over all the materials you need to get a vinyl sticker business started. After that, I'll discuss how to expand your business to other sorts of vinyl, like removable vinyl decals and heat transfer vinyl for t-shirts.
At the end, I have some useful tips and tricks, as well as the answers to the most frequently asked questions.
How to get started selling vinyl decals
Okay, so how do you actually get started turning your DIY crafts into a business? And how do you get customers?
I'll give you some advice, so you can take advantage of best practices and avoid tricky pitfalls. It starts with making a name for yourself.
Branding and social media
Whether you are selling your stickers on an Etsy shop, or just to people and businesses in your neighborhood, you will absolutely benefit from developing a brand identity and having an online social media presence. People need a way to find out about your work, look through your designs, and contact you if they want to hire you or buy your products.
Your brand starts with picking a name. You want something descriptive and catchy that isn't already being used.
Check with the US Patent and Trademark Office to make sure your potential name is not already trademarked.
Use a WHOIS lookup to make sure it's available as a domain name for your future website.
See if your name candidate is available on Instagram, Facebook, etc.
I recommend setting up a personal blog, as well as starting social media accounts with this name. WordPress is a super accessible platform, and they have an easy guide for setting up your blog.
You'll be filling your site with pretty examples of your work. You'll also have a way for potential customers to see your work and ask questions. Always try to be very responsive to potential inquiries, especially when you're first gettings started.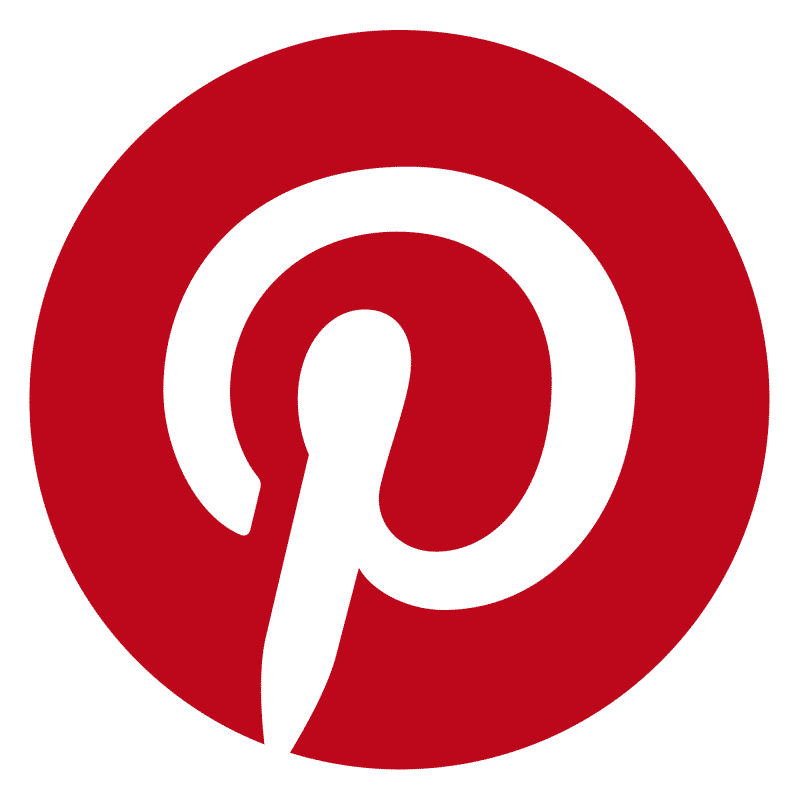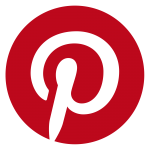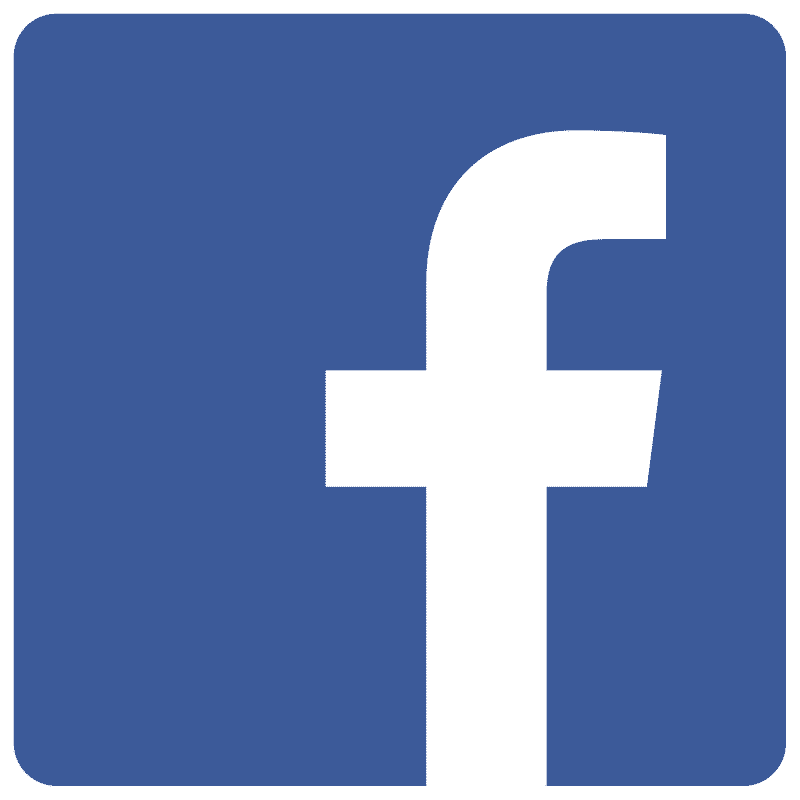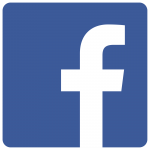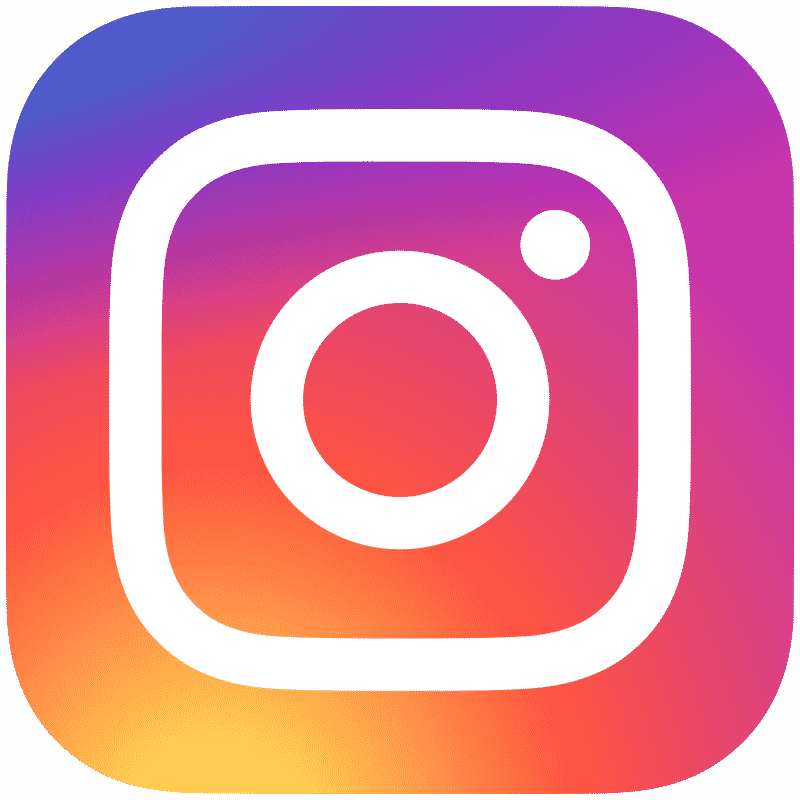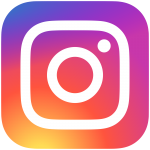 Pinterest is the main social media site for vinyl crafters and you absolutely should be on there, but it's a good idea to make accounts on Instagram, Facebook, and Twitter. The more places you are, the more easily you can be found, and the more people you can reach.
So where's the best place to start selling, local or online?
Begin selling locally
Before you go through making an online shop or posting your items on eBay, the easiest way to validate your business idea is approaching your friends and family. Make them put their money where their mouth is!
If you find success among friends and family, it's time to branch out to the rest of your community. Make sure to ask your friends and acquaintances to pass along word of anyone in need of custom vinyl decals, stickers, labels, signs, cards, or party accessories.
Here are some great people and places to target, and some ideas about how they can absolutely benefit from your vinyl cutting abilities. For many of these ventures, it's best to first find out what customers want, and then arrange a deal to custom make whatever they need.
Schools. They have all sorts of events and organizations that could use decorating.
Local sports teams. Bumper stickers, anyone?
Kids sports teams. How cool would it be for every kid on a Little League team to get their own personalized water bottle, with their team name and number? You can even make iron-on jackets…
Wedding planners. From invitations to menus to commemorative glasses, the possibilities are endless.
Party planners. Stickers as party favors! Place cards for baby showers.
Interior decorators. Vinyl wall decals are a great removable decoration to brighten up any room.
Local businesses. Businesses and shops always need signs made. And you can probably sell them some stickers to advertise while you're at it!
You can also try local craft shows and farmer's markets. For these events you want beautiful, finished products to display, so people can pick up and handle a beautiful craft. You can sell decorated tumblers and mugs, but you can also sell just the loose stickers and decals. You should feel free to experiment, and see what works better with your audience.
And the best people to offer your business to at the farmer's market? Other venders! Many of them would love a promotional sticker to give out with their products, and almost all of them are happy to barter their own goods for yours.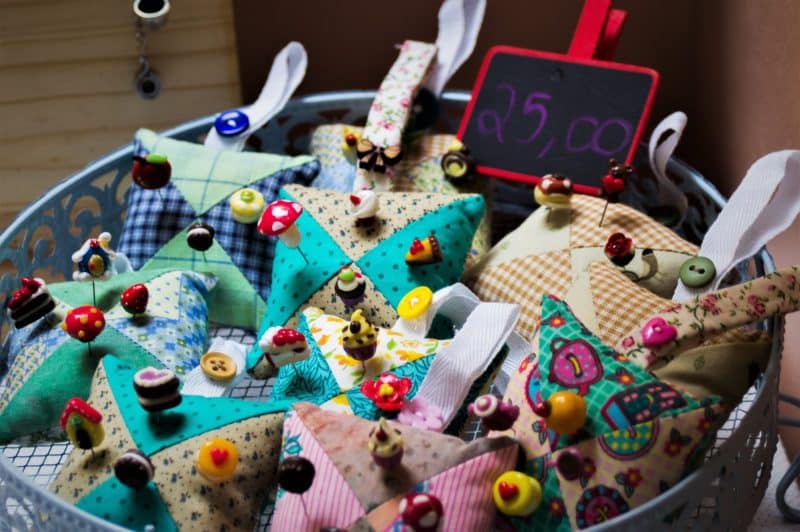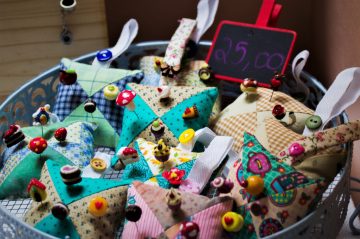 One of the best guides on setting up a booth at a craft show comes from hearthookhome.com, their most lucrative tips include:
Nail the presentation. The first impression of your buyers will make or break your business. You can spruce up a table with a flat sheet from Walmart, old suitcases for flair (make sure they aren't too smelly unless you're selling vinyl soaps), or wooden crates to add depth.
Advertise your business. Have a few business cards on your table and include one with every purchase. Refer people to your blog or Instagram so they can learn more…and purchase more later!
Accept credit cards. You can set up an account with Square for free and advertise that you accept them.
Advantages of selling locally:
Get to know people and organizations in your community
Customers get to touch and look at your work
Get to go to local events and fairs to get business
You get to meet the people who will enjoy your crafts
Disadvantages of selling locally:
Must be a people person
Small market, cannot scale with your growth
Working within other people's deadlines
After you've mastered the local circuit it's time to go online.
Open an online shop
The reach you can have locally is limited, so it's no surprise that millions of people now sell on sites like Etsy. People will stumble across your online shop by browsing and searching for the sorts of things that you have for sale.
I suggest you go through their Beginner's Guide to get started with Etsy. Or if you prefer, here's a wonderful introduction on getting started with your first Etsy shop:
A few tips to get you started on Etsy:
Gorgeous pictures are a must. Make sure they are well-lit and in focus. Your work won't sell if it doesn't look good!
Have a few friends buy your products from your online shop to build up reviews + get their feedback.
Pack and ship your products out quickly. No one likes having to wait!
Consider having low prices at first to build a good reputation and a following.
Look at the shops you want to grow into in the future and emulate them. Check out their products, photography, descriptions, and keywords.
Optimize your keywords. See what is popular, try out different keywords, and keep what sells.
Pretty packaging. This is the first thing people will see, and nice wrapping will make people feel positive about your product.
Add a handwritten note with your orders. A little personal touch can make a big difference!
Follow-up with your customers to improve your service. Get feedback and remind them to leave reviews.
Include a sticker with your shop name. Advertising built to stick around.
Once you've built up a bit of a following through your Etsy shop and social media, you can transition to selling on your own website to avoid the fees on Etsy.
Advantages to selling online:
Set your own schedule.
Don't have to interact with people face-to-face.
Giant market! Uncountable numbers of customers can view your products.
Make sales while you are cooking dinner or napping!
Disadvantages to selling online:
More difficult to get started and slow to make a name for yourself.
Have to quickly pack and ship things.
Must be responsive to online messages.
People don't get to physically look at your work.
You don't get to see customers smile as they take home your work!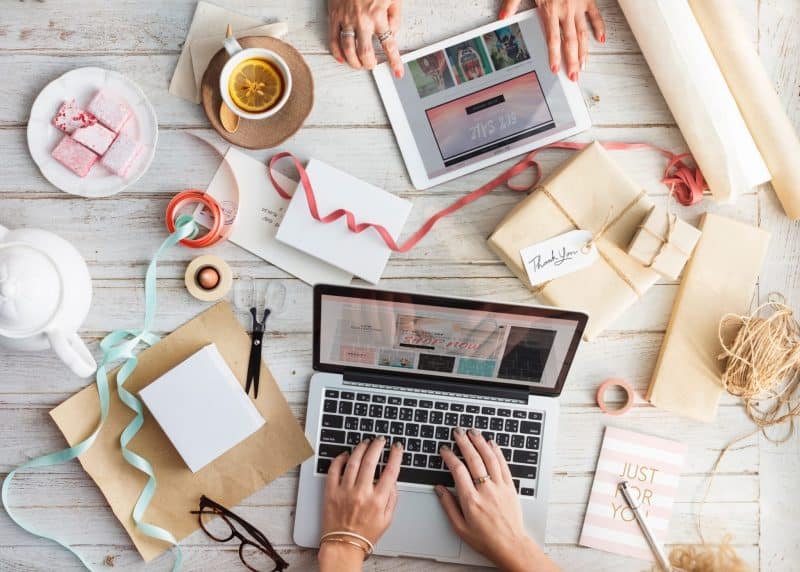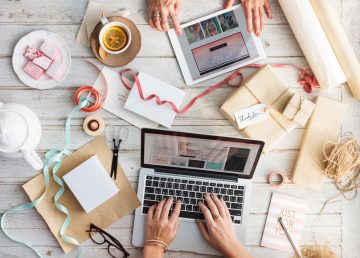 Alright, enough of the internet. What sort of physical materials are needed, and how much will this all actually cost?
Supplies to get started
Luckily, the startup costs for a custom sticker business are pretty low!
If you already have the large equipment (a vinyl cutting machine, color printer, computer, and camera/iPhone), the rest of the supplies should be less than $200.
Even if you are buying a new vinyl cutter, and a new color printer, you should be able to get started for under $500.
So, what exactly do you need?
Vinyl cutting supplies
Let's run over the list of the supplies you'll need to be able to cut vinyl decals and get started with your own shop. Turns out, it's not all that different from the tutorial above!
I'll go over the most important ones in more detail below:
Vinyl cutter & software. I recommend a Cricut Maker (on sale) or a Silhouette Cameo 3. They both come with free design software. If you want an in-depth look, I have a review where you can choose for yourself the best vinyl cutting machine.
Color inkjet printer. Something with a high printing resolution (like this printer) and ability to handle thick paper is ideal.
Computer. A PC or MAC will both work. Having Bluetooth will be helpful for connecting to your cutting machine, but you can always purchase a Bluetooth adapter if your computer is lacking. Not included in startup costs.
Printable vinyl. Also available by the roll. $30 for 8.5″ x 5yd roll
Clear vinyl laminate. Matte and glossy versions available by the roll. $20-30 for 12″ x 5yd roll
Application tool. A hard plastic edge is needed for burnishing the vinyl and removing air bubbles. Something like this, or an old plastic credit card will work in a pinch. $5
Cutting mats. Your machine will come one of these, but you'll need to replace your cutting mat every 2-8 months as they lose their stickiness. The Silhouette and industrial-sized cutters, however, can cut straight from the roll of vinyl without a mat. $20-$30
Cutting blades. You'll need to keep replacing your blades to get clean cuts. It's a good idea to always keep a few extra on hand. $15
Business supplies
Printer. Even if you aren't printing on vinyl, you'll still need a printer for printing labels and shipping receipts. You can use a black & white one for that.
Camera. If you don't have a camera, you can either use your phone (many of them have great built-in cameras) or ask a friend to help out.
Packing and shipping materials: tape, cardboard, envelopes, electronic scale, boxes & packing material, etc. $50-$80
Now, let's break some of these down:
Selecting a vinyl cutting machine

The largest upfront cost for starting a vinyl decal business is the vinyl cutting machine. These machines range from $200 to over $3000, most machines I recommend run from $200-350.
If you need help comparing Cricut vs Silhouette you can check out that review of the two most popular machines, the Silhouette Cameo 3 and the Cricut Explore Air 2.
You'll want something with speed and power if you're cutting enough to make a business out of it. Out of the most popular machines, these make the cut:
Cricut Maker
Cricut Explore Air 2
Silhouette Cameo 3
Selecting the right software to use is one of the most important decisions you can make with any project, and making custom decals is no different.
Sale
Cricut Maker, Champagne
Perfect for print-and-cut projects with stickers or vinyl
Future-proof with the new Adaptive Tool System
Bluetooth & wireless cutting
Choosing the right design software
The design software lets you create, import, and edit designs on your computer or tablet, and then send those designs to your machine to be cut.
Most desktop cutting machines come with their own free software, like Cricut Design Space or Silhouette Studio.
I personally prefer using Silhouette Studio, but there are a few things to keep in mind:
It doesn't allow you to import SVGs by default, if you want that functionality you'll have to upgrade to its Business Edition.
Unlike Cricut's Design Space it works with or without an active internet connection.
If you prefer to work in another design software like Illustrator, Sure Cuts A Lot, or Inkscape, you can do all your work there and then import it into the software that works with your cutting machine.
Most likely you'll just use the software that came with your machine because it's what will work out of the box.
Choosing the right printer
Choosing a printer is just as important as choosing your vinyl, in fact, they go hand-in-hand.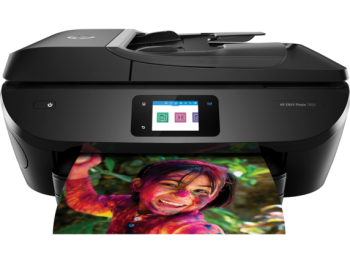 The best budget printer I've found is the HP ENVY 7855 Wireless All-in-One. This printer prints beautifully, and can handle heavier weight paper so it won't have trouble with the thickness of printable vinyl.
If you are picking out a printer, there are a few things to consider:
Dye or pigment. Pigment-based ink creates longer-lasting images. Dye-based ink works best on glossy paper.
4 or 6 color cartridges. 4 cartridges (CMYK) should be sufficient. If you know you'll be using designs with large dynamic color ranges and subtle shading, check out printers with 6 color cartridges.
DPI. 1200 DPI (dots per inch, the printer resolution) will look nice and crisp, even for photos.
Vinyl is thick. Printable vinyl can jam in printers that can't handle thick paper. Look for a printer that can handle heavy-weight paper or cardstock.
If you (or your friends) don't have a color printer, you can always take a USB drive and your printable vinyl to a copy and print shop (like Staples, FedEx, Office Depot) and they'll help you out.
HP ENVY Photo 7855 All in One Photo Printer with Wireless Printing, HP Instant Ink ready, Works with Alexa (K7R96A)
Mobile printing from your device such as iPhone with AirPrint
Insert your SD card or USB to view, edit, and print directly from the 2.7 inch color touchscreen using dedicated paper trays that automatically adjust to match print settings and paper type
Supports letter, legal, 4×5 inch, 4×6 inch, 5×7 inch, 8×10 inch, and more.
A bit on clear vinyl laminate
Covering your designs with a clear vinyl laminate is an extra step that will make your decals last so much longer, and stand up to water.
Without a laminate, the printable vinyl can withstand some moisture and is rated to last one year outdoors. But it won't survive long on things that need to be washed (mugs and tumblers) or exposed to the weather (outdoor signs and mailboxes).
With a clear laminate overlay, you have waterproof stickers! (I still recommend handwashing over using the dishwasher though.)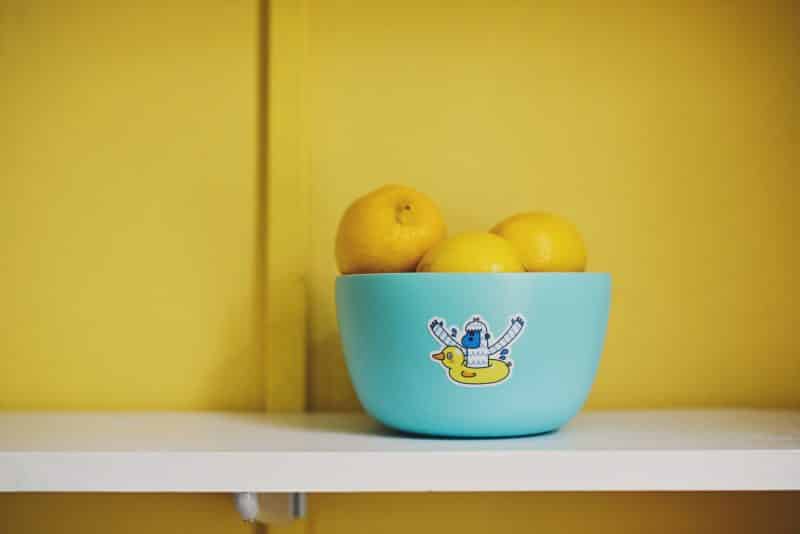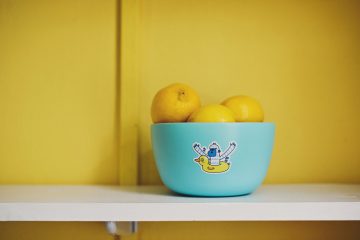 You can buy the vinyl laminate by the roll, or by the sheet. As always, the rolls are cheaper and so better for starting a business. For a matte finish, I recommend Oraguard 210 Economy Vinyl Laminate. For a glossy finish, there is Oraguard 215 Premium Vinyl Laminate.
If you want to save money, can instead use a clear acrylic spray like Krylon Crystal Clear Acrylic. This won't give you the great waterproofing of the laminate, so it's not for use on dishware, but it is much cheaper and will help your stickers last longer.
Choosing the right vinyl
Starting off with printable vinyl, especially for a home business, makes a lot of sense.
It's a bit more expensive for the starting vinyl and the inkjet printer, but it's a lot less work and there are fewer places where things can go wrong. With stickers, you don't have to spend time weeding decals or deal with customers who messed up transferring their adhesive vinyl decals.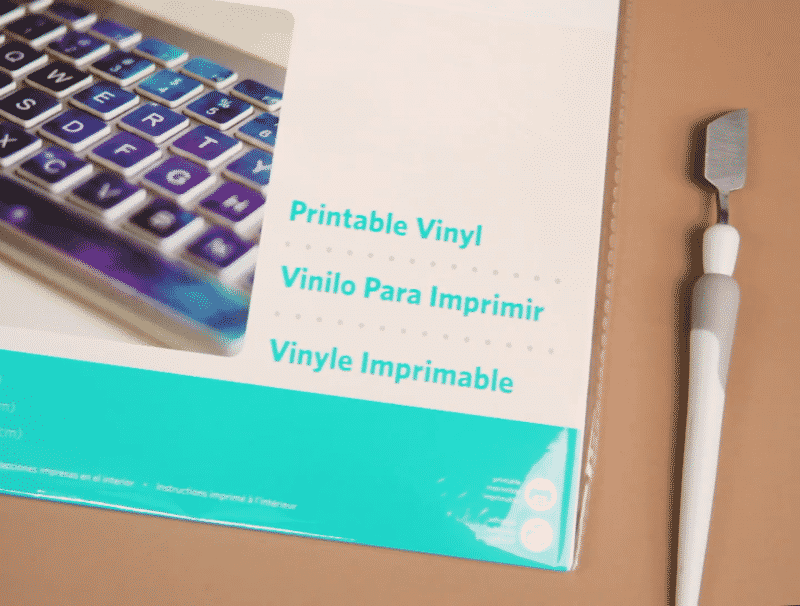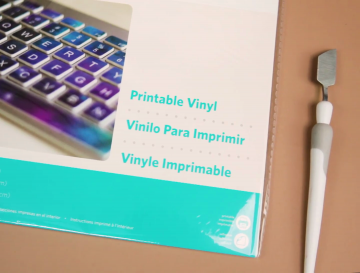 If you already have an inkjet printer, you need to make sure you use a type of vinyl that works with it. You'll want what's known as "top-coated printable vinyl."
I currently have one source that I recommend above all others:
Expressions Vinyl: Inkjet Printable Vinyl. Best inexpensive vinyl. I've found that it takes on ink better than the Cricut Printable Vinyl. It comes in a pack just like printer paper, so it's easy to get started. But it is cheaper if you purchase by the roll.
Expanding your business: other types of vinyl
As you probably can tell by now, I kind of fell in love with printing stickers as soon as I discovered how easy it is.
But there are so many other kinds of vinyl you can try out! Here's an infographic I made of my favorite kinds of (non-printable) vinyl: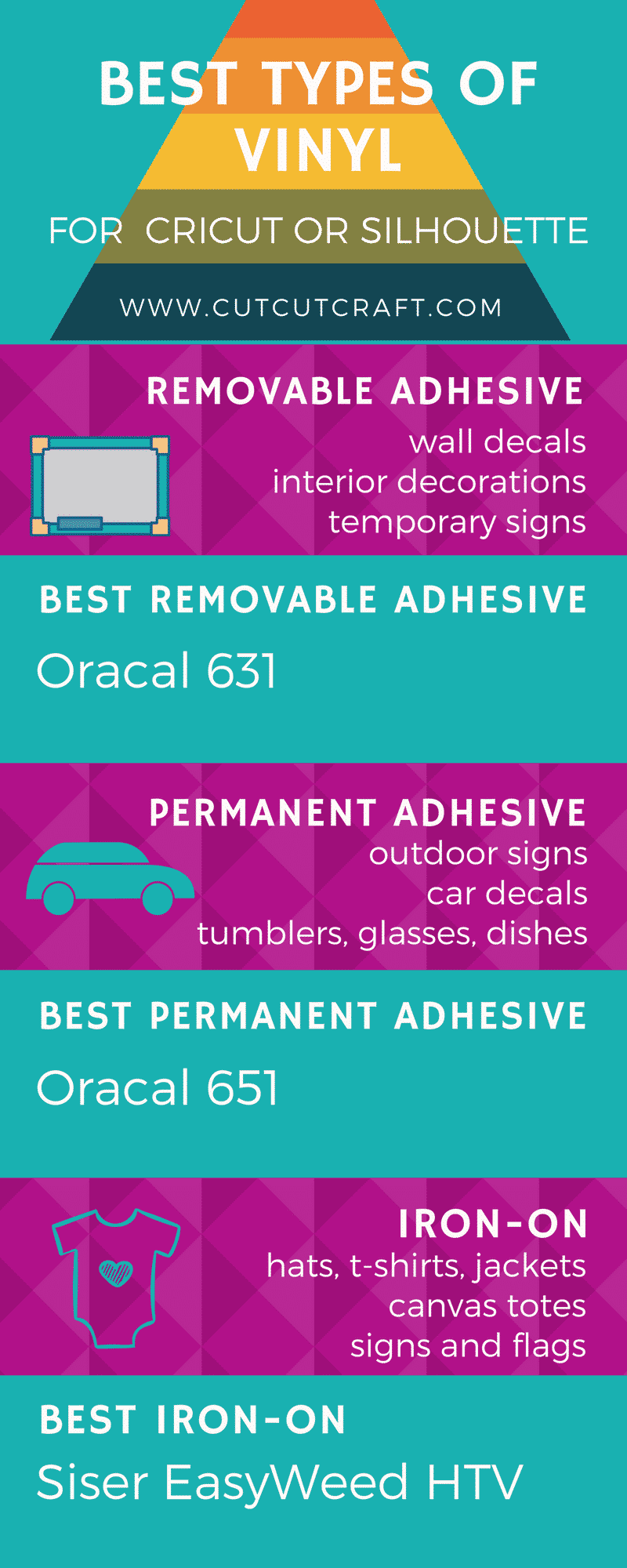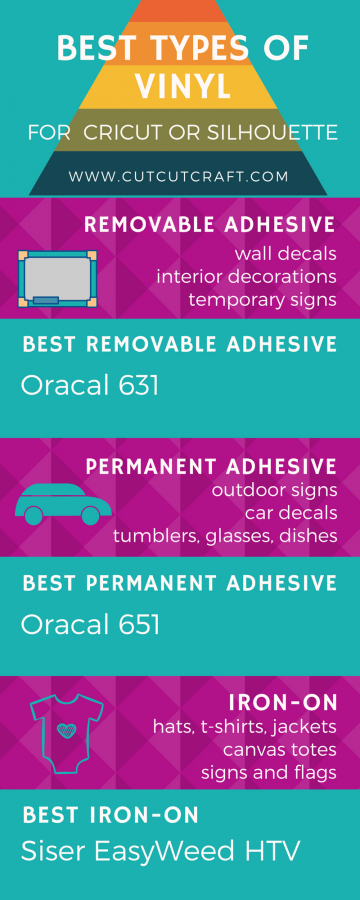 If you already know how to work with regular adhesive vinyl, it's easy to transition from selling printed vinyl stickers to selling transferable vinyl decals. If you are new to vinyl, you'll just have to play around and practice until you get the hang of things!
Adhesive vinyl
Regular adhesive vinyl is cheaper than printable vinyl, but it also takes more work. If you want to sell adhesive vinyl decals, you'll have to weed all your designs yourself and provide instructions to your customers for how to transfer them.
You'll need some different supplies for adhesive vinyl:
Rolls of vinyl. For a matte, removable vinyl, go with Oracal 631. For a glossy, permanent vinyl, your best choice is Oracal 651. Don't go too crazy buying a million rolls of vinyl right as you're getting started. Start with a roll of black, a roll of white, and a couple other colors you think you'll use a lot (silver, gold, red, pink, blue). $11 for a 12″ x 5 yd roll.
Rolls of transfer tape. I use this transfer paper for Oracal 631, and this transfer tape for 651. Those come in 100 yd rolls! For a smaller roll, here is a gridded 30′ roll by Expressions Vinyl.
Weeding tools. I like to use the hooked Siser weeding tool, but anything with a sharp point will be useful, including X-Acto knives, tweezers, and straight pins (great for small pieces).
Heat transfer vinyl
If you want to make iron-on decals instead of stickers, you'll need heat transfer vinyl (HTV). This vinyl can bond to cotton and polyester fabrics with high heat and pressure, like with an iron or heat press. Here is my guide all about how to use Cricut Iron-on Vinyl. If you want to go into great detail on the best heat transfer vinyl, just check out that review.
Supplies you'll need for making and selling HTV decals:
Rolls of heat transfer vinyl. The best (non-printable) heat transfer vinyl is Siser EasyWeed HTV. $45 for 12″ x 5 yd roll.
Parchment paper. Place the parchment paper shiny side up to protect your iron or heat press. $4
Iron or heat press. If you're selling t-shirts, jackets, or canvas bags with iron-on decals, you'll probably want to invest in something better than an iron for applying the decals. The most affordable option is the Cricut EasyPress, which provides a flat 9″ x 9″ heating area that is incredibly more effective than a regular iron.
T-shirts, or other apparel. Whether you are selling only the decals or the finished product, you should test it out and display some finished pieces.
If you want to try printable HTV, Expressions Vinyl makes printable sheets for light and dark fabric, but it's not sold by the roll.
If you're still curious about all the vinyl types, I have an in-depth guide that I put together about the best vinyl for Cricut and Silhouette.
The Legal Side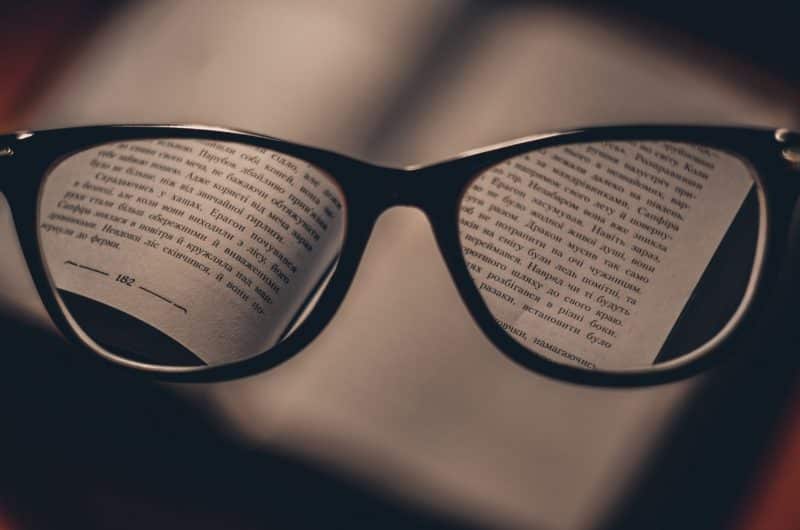 (This information is for those in the US.)
You can start selling the things you have made as a sole proprietor, under your own name, without having to register as a business. Until you are actually making a profit, you are still considered a hobbyist by the IRS and don't have to report what you make.
It's a good idea to use this time as a trial period to see if selling vinyl decals is right for you. While you may feel like you've made money from your first few sales, you should actually tally up the costs that went into your venture.
Profit is your income minus your costs. Your costs are things like your vinyl cutter, vinyl, cutting supplies, shipping, maybe even a new desk, printer, or a drawing tablet for designing. All the purchases can add up to quite a sum you'll have to earn back before you are actually making a profit.
If you want to sell under a different name, you should register a trademark or a "Doing Business As" name. The US Small Business Administration (SBA) has a great guide that will take you through choosing and registering your business name.
There you can check to make sure your prospective name hasn't already been trademarked. You'll want to make sure you aren't trying to sell under a name that someone else is already using!
The SBA actually has a bunch of great resources to help you navigate this area. I suggest going through their guide to starting your own business. Each of those steps links to another post with a lot of great information.
Generally, you'll have to check your local, county, and state regulations yourself. You can use the SBA's lookup tool here (about halfway down the page) to find more information about your state.
Licensing
You shouldn't sell designs that you don't have commercial licensing for. There are a lot of wonderful graphics that are free for personal use but can't be used for selling commercially. And of course, you'll see people selling Disney decals on eBay or Etsy, which they absolutely don't have permissions for.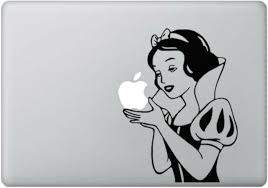 You should avoid doing this! People may fly under the radar for a little while, but this is considered copyright infringement, and people often have their items taken down for it. I have even heard stories of people having their entire Etsy store shut down.
So, if you do buy graphics, make sure that you can purchase the commercial license, which will often cost a bit more. But remember all the hard work and creativity that is poured into creating art for you to use. If you are making money off of it, it makes sense to give some of that back to the designers.
But really, if you want to be selling vinyl decals and stickers, you should be a designer yourself!
Is this right for me?
Starting a home business isn't for everyone. It takes a lot of time, hard work, and dedication to get off the ground and make a name for yourself.
Check out some of the qualities that a new business owner should have. If you think you've got what it takes…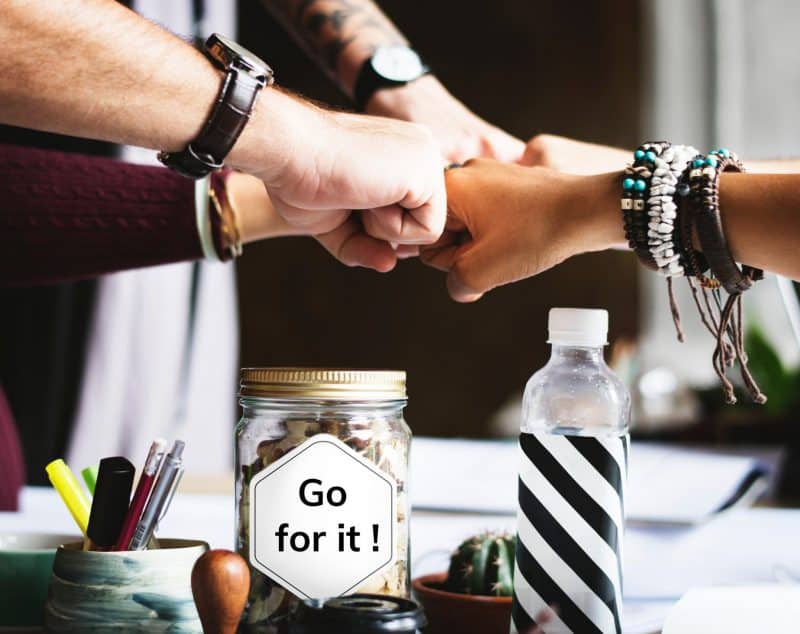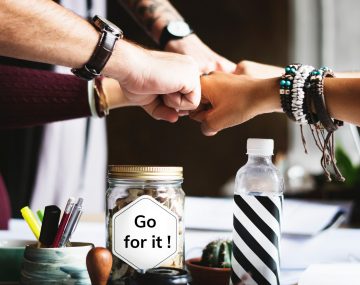 Some of these qualities you can definitely learn and get better at, and some you can offload onto friends or hired help. With your powers combined, you'll have a successful home crafts business!
6 qualities of a successful home crafter
Ideally, you should be passionate about cutting vinyl, and already know how to work with a digital cutting machine. If you've never cut vinyl before and want to go into business doing it, you'll probably have to spend a few weeks just figuring out how to work with your machine and design software.
You should be a designer. You should have an eye for what looks good, what is feasible to make out of vinyl, and know how to create that in a design software. You can certainly license and use other people's designs to sell decals and stickers, but without a unique vision or curation, people won't be drawn to your store. And you won't want to turn down opportunities to design custom work for someone who wants to place a large order.
You need to be a people person, or at least be good at working with people, even if you don't enjoy it. In order to actually make money, you have to be able to figure out what your potential customers want, what they will buy, and how to get them to buy that from you. Whether you're selling online or locally, you'll also have to deal with rude or irate customers from time to time. And if your business gets booming, you may want to hire help, which means more people to manage.
You will also need to have a mind for the legal and accounting sides. There are county, state, and federal business regulations that you will have to be able to research and follow. You'll also have to keep track of your expenses and sales, and be able to pack and ship everything out in a timely manner. (Those reviews are incredibly important!)
It helps to be a photographer. Beautiful images are required to sell products online. It helps if you can make these yourself.
You must be a diligent worker. Whether you're painstakingly weeding decal after decal, or walking from store to store trying to get orders, your business will flourish if you consistently put focused effort towards your goals.
Tips
Pack loose stickers and decals with a piece of stiff cardboard so they don't get bent or damaged during shipping.
If you are selling transfer stickers, you can place the transfer tape backing back on your design before you ship it out.
You need well-lit, focused, and beautiful photographs in order to sell your work online. And if you're starting a new business, you'll have enough on your plate without adding "learn photography" to it, so maybe ask a friend for a hand.
Check if your potential business name is free on social media (like Pinterest) before you settle on one.
Have your online store focused on one aesthetic, or have stickers bundled by themes.
That's it! If you have any feedback, questions, or advice to share, just leave a comment below! On to some questions I get from time to time:
FAQ
Do you have to use an inkjet printer? Will a laser jet printer work?
Check the label on your printable vinyl! It typically says that it should be used only with inkjet printers. However, people do report success printing with a laser jet as well. If that's all you have, I'd say try it out, but make sure to cover it with the clear vinyl laminate to protect the print job.
Which side of the printable vinyl do I print on?
You want to print on the matte side. The shiny side is the backing (think of it like sticker paper). If you aren't sure which way to place it in your printer, test with a sheet of regular printer paper. You can mark "top" and "bottom" with a pen, and see which side your printer prints on.
Do I need transfer tape?
Not with printable vinyl stickers like these! Because the design is a single piece with an easy outline, we can just peel them and apply them by hand.
If you use regular adhesive vinyl you'll typically need transfer tape to transfer the decal.
Can I use an acrylic spray to coat the stickers?
Yes. The clear vinyl laminate sheets do a better job at protecting your stickers than a clear acrylic spray. But the spray is much cheaper and isn't as thick as the laminate. Without the vinyl laminate, your decals might not hold up to water, so be careful about using them on mugs or outdoor signs.
Where should you sell your vinyl decals?
Alright, so where can you actually sell your decals and stickers? Your two main options are selling online and selling locally. I suggest you do both, as they can help reinforce one another. It's easier to get your initial customers through word-of-mouth, which can help your online presence grow and turn into online sales. Also, having an online shop and social media presence will help with local sales as customers will have a way to later examine your work and you will appear more legitimate.
Which is a better vinyl to start with, Oracal 631 or 651?
Both are fine choices, but I cover them in detail here.