The topic that comes up the most for us here is: Cricut vs Silhouette?
Cricut and Silhouette have many machines so I've picked the top two available today to compare in this review.
I've gone through all of the features of Cricut and Silhouette's cutting machines. Software. Design. Cutting power. How easy they are to use.
I also cover more than just paper crafts, because the Cricut Maker and Silhouette Cameo 4 can both cut loads of new materials, and more quickly than ever before.
OK, are you ready? Let's jump in and look at the Cricut Maker vs Silhouette Cameo 4.
But first, our winner:
Sale
Silhouette Cameo 4 with Bluetooth
My top cutting machine choice
Silhouette software is the best of any cutting machine
Fast, accurate cutting with a completely redesigned tool carriage
New & sleek touch interface which becomes invisible when the machine is turned off
In the past, you wouldn't be blamed if you thought the Cricut vs Silhouette comparison was a bit of a thin one. After the Cricut Maker was released many were wondering what could Silhouette do to compete with Cricut's new, powerful machine.
Let's find out exactly what they came up with.
Cricut vs Silhouette: A Comparison of the Maker and Cameo 4
After the release of the Maker, Silhouette responded with the Cameo 4, which improved on its previous model in almost every way.
Silhouette took all of the best qualities of the Cricut Maker and coupled them with the best software of any cutting machine.
The contest is close, however…
(Click here to skip to the deals and bundles for Cricut & Silhouette)
A quick glance of Cricut vs Silhouette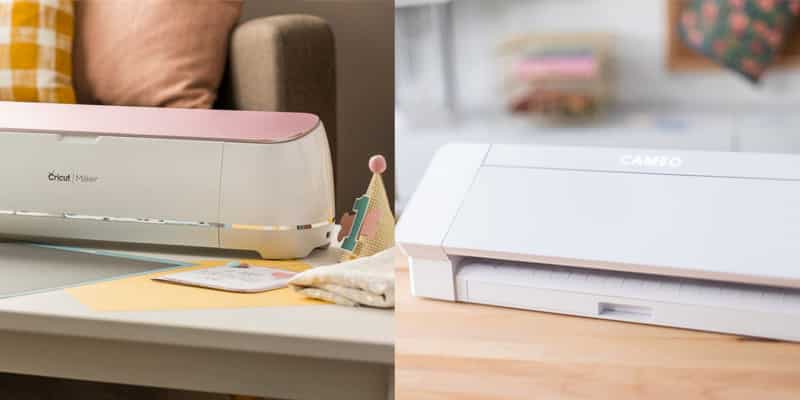 Depending on if you care more about software, ease of use, or cutting quality, Cricut's machine might very well be a better choice for you.
When looking at the Cricut Maker and Silhouette Cameo 4, the main difference between the machines isn't actually in the machines themselves. It's the surrounding community of resources, accessories, and software you'll have available to you.
To be sure, there are some key differences between the machines themselves and I'll go into much greater detail.
But first, a quick comparison chart that goes over my ratings for each category:
Our pick

Best design

Materials Cut


Software


Design


Cutting quality


Ease of use


Our pick

Materials Cut

Software

Design

Cutting quality

Ease of use

Best design

Materials Cut

Software

Design

Cutting quality

Ease of use

I'll give a brief overview and outline of each machine from Cricut and Silhouette, followed by a deep comparison of the two machines, feature by feature.
Cricut Maker: Overview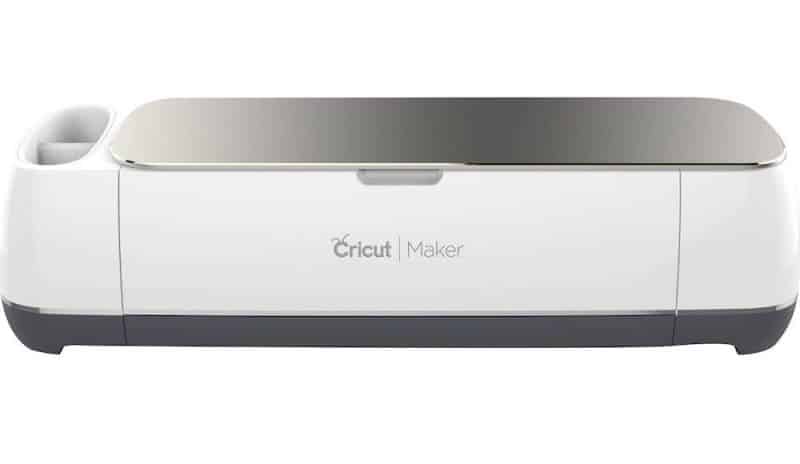 Sale
Cricut Maker, Champagne
Fantastic design, made by and for crafters
New Rotary Blade, which makes cutting fabrics a pleasure
New Knife Blade, which lets it cut thicker materials like wood or plastic
Future-proof with the new Adaptive Tool System
Bluetooth & iOS support built-in
The Cricut Maker is Cricut's most advanced cutting machine. Released in late 2017, it still stands unrivaled among Cricut's products and is the standard by which all other machines are compared right now.
It's one thing for a machine to be technically efficient or powerful, but what does that mean for a crafter?
As cutting quality improves so does the variety of projects available to you. Like with any craft, it's not just your skill with the tools you have but also the quality of those tools which can determine your outcomes.
So let's talk about tools. The Cricut Maker has added an Adaptive Tool System with gears that gently but forcefully control the pressure of your cuts and the angle of the blade. They've released a lot of new custom tools for this system that only works with the Maker, like:
Rotary Blade
Knife Blade
Single & Double Scoring Wheels
Wavy Blade
Perforation Blade
and many more!
Many projects which were simply unavailable in the past which required working with delicate materials like silk, felt, or even thicker materials like leather or balsa wood are not only possible with the Cricut Maker but in some cases downright easy.
I mean this, it can feel like cheating.
Sure, you could make many of those cuts by hand before, but with the Maker you can produce the same consistent result, opening up a lot of business opportunities for DIY crafters.
The machine works like most other cutting machines. You load cut & drawing patterns up in its software called Design Space. This allows you to arrange and select the materials & tools you'll use for your project.
Design Space is easy to use, but I feel like it's overly simplistic in some places. You can of course manipulate and edit your cut patterns, but you'll likely wind up purchasing affordable designs from Cricut's Design Space store.
If you need more control you can always import your own designs from Adobe Illustrator.
Pros
Unique, powerful tools which open up crafting that can only be done with the Cricut Maker
Like past models, the Maker supports 2x fast mode for working with vinyl or paper
Using its Sewing Pattern Library instead of marking patterns on fabric and cutting them out by hand you can pass fabric right into the Maker and have it take care of both steps at once.
Cricut's Design Space does have an iOS app, and I really love how I can not only perch my iPad on the front of the machine but also charge it directly from the Maker.
Cons
This is the most expensive machine available from Silhouette or Cricut, with a price of $100 more than their competition.
While easy to use, Design Space software is very limiting and requires an active internet connection to work
For a more in-depth glance, take a look at my Cricut Maker review.
Silhouette Cameo 4: Overview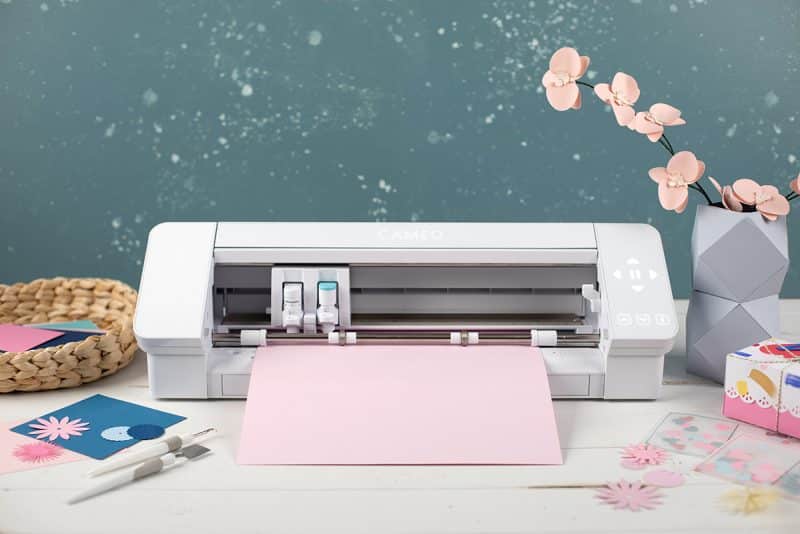 Sale
Silhouette Cameo 4 with Bluetooth
My top cutting machine choice
Fast, accurate cutting with a completely redesigned tool carriage
New & sleek touch interface which becomes invisible when the machine is turned off
Perfect for working with vinyl
For years after the release of the Cricut Maker, many were wondering if Silhouette would be able to match Cricut's engineering prowess.
The crafting community long preferred the Silhouette Studio software, but many of us still had to own two machines.
One for working with larger materials like vinyl or creating sophisticated designs (Silhouette) and another for working with thicker, harder materials where cutting power and tools were more important (Cricut).
With the Silhouette Cameo 4, Silhouette has absolutely changed the game. Without a doubt, the increased downward cutting force and speed of this machine mean that you no longer need to straddle the fence of Silhouette vs Cricut.
Let's take a look.
Silhouette has added:
3x the cutting speed of the Cameo 3.
20x the cutting force
a new dual carriage that is gear-driven and supports…
brand new tools, designed exclusively for the Silhouette Cameo 4
Cutting power. One long-standing issue with Silhouette machines was cutting power. I've recommended the Cricut Maker many times for that very reason, but things are more complicated now. This was a top-list feature that many had asked for, and Silhouette has delivered. The Silhouette Cameo 4 now has more cutting power (5kg) than the Maker (4kg), this translates into being able to cut thicker/tougher materials.
Vinyl cutting. If you primarily work with vinyl, you're going to love the built-in cross-cutter and built-in roll feeder. That means after a cut, you can easily just trim the leftover vinyl. With the roll-feeder you can hold rolls in excess of 140 feet long. Silhouette has also released two additional machines for those who want to work with larger material, with 15″ Plus and 20″ Pro models.
Pros
Fast, accurate cutting thanks to a completely redesigned tool carriage.
Built-in cross-cutter & vinyl roll feeder
New & sleek touch interface which becomes invisible when the machine is turned off
Price. Silhouette has managed to keep the price down with this model while vastly expanding its utility
Cons
If you have older Silhouette tools, they won't be compatible
Silhouette Studio's basic version doesn't allow you to import SVGs for free, so make sure to account for spending a bit more as you'll want this functionality.
For a more in-depth article, take a look at my Silhouette Cameo 4 review.
Cricut Maker vs Silhouette Cameo 4: Features
Software
Winner: Silhouette Cameo 4
It might seem like a secondary feature if you haven't used a Cricut or Silhouette machine before, but there's a reason I'm diving into the software of each machine first:
You spend a lot more time working in your design software than you do with the machine itself. Setting up designs, cuts, controlling depth, and material, it can either make you feel like your creativity is expanding or leave you wondering how to do something that would take you seconds by hand.
That being said, if you've used one of these machines before, it's likely you already are experienced with its software. But this is the place where the differences between Cricut and Silhouette become most clear.
Cricut Maker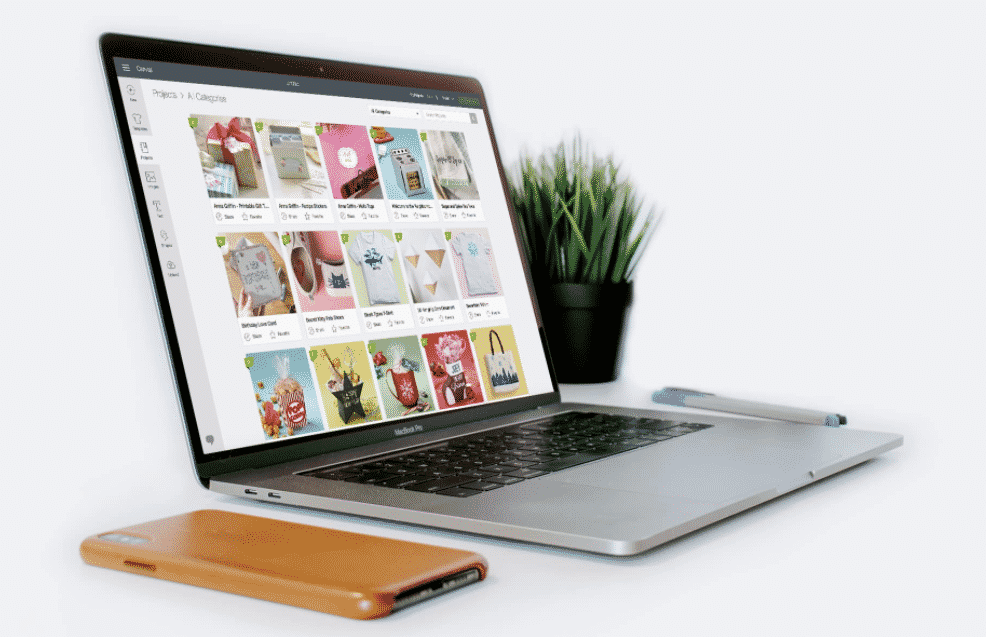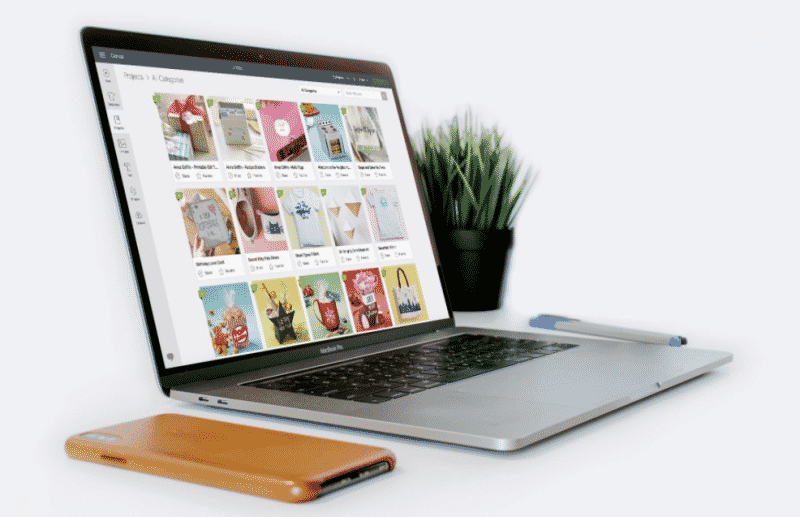 The Cricut Maker uses the same web-based Cricut Design Space software as other machines. This means you'll be doing the bulk of your design work in a web browser. If you have rural internet or it just happens to go down, you're completely out of luck.
One advantage of the Maker compared with past models is it's designed to work with iOS, with a mount and charging port for your iPhone or iPad. Unlike the browser-based software, the iOS app will continue to work if your internet does go down or if it's just a bit spotty).
If you plan on working with designs made by your friends or other crafters, Cricut Design Space does support SVG importing for free, which means it's easy to get new designs in. Since Cricut software is a bit basic compared with other software, this is a really important feature because you can do the bulk of your work in Illustrator and just bring the design in for cutting.
Cricut Access is a subscription-based service that provides a large library of images, fonts, and designs that you can use within Cricut Design Space. It's a great resource for those who don't want to create their own designs from scratch or are looking for inspiration. However, it does come at an additional cost.
Silhouette Cameo 4
Each edition of Silhouette Studio that's released impresses me more and more. If the Silhouette versus Cricut comparison just came down to this one category, it would be a very short review with Silhouette ahead by a mile.
I love that as I improve as a crafter I'm not limited at all by Silhouette's software, more options open up to me. Plus, being able to use it offline has come in handy more than a few times.
Silhouette: please, please, please never make Silhouette Design Studio software web-based!
It does have a bit of a learning curve to use, but I think that's a fair trade-off. You also gain access to the Silhouette Design Store to help you through your first early projects.
What does bother me though is that Silhouette Studio Basic (the Silhouette software that comes with your machine) still doesn't allow you to import SVG files. So you're locked into their ecosystem unless you pay $50 to upgrade your software to Designer Edition. I think it's worth the $50, personally to use your own images, but you can try out the free version first.
Machine Design: Cricut vs Silhouette
Winner: Cricut Maker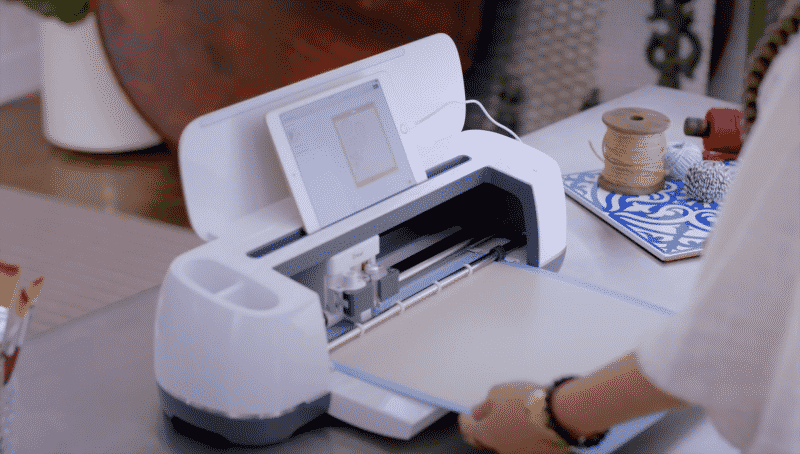 The first feature that anyone notices when they look at Silhouette or Cricut cutting machines is the physical design. Each cutting machine maker clearly has a different philosophy and style that they're drawing on.
But that design can hide a lot of functionality inside, so we're going to really examine the differences between Cricut vs Silhouette in how many features they're able to pack into these machines.
Overall, the Cricut Maker just feels better to use, everything seems carefully considered and every inch of the machine seems optimized.
Cricut Maker
What I love about the Cricut Maker is that the more time I spend with it the more I notice the attention to detail that Cricut has really put into this machine. It's clear that the designers are either crafters themselves or closely consulted with the crafting community in the design of this machine.


iPhones & iPads are used by more and more crafters as primary computers and sources of information & inspiration. The Maker was designed from the ground up to not only be compatible with those devices but to make using them a joy. There's a centrally placed ledge right on top for mounting your tablet and holding it in place during cuts.
If you need to charge the iPad, you can plug it right into the device. It's really convenient.
If you've used the Smart Dial before, you'll notice that something is missing, they've moved it entirely into Design Space to clean up the design of the machine. It does take some getting used to, but in the end, I think this is a positive change. Like Silhouette, you can verify your settings directly in the software and not have to worry about making adjustments in two places.
You'll also see that they've added additional accessory storage, an improved tool drawer, and an outer cased highlighted with polished metal. There are a lot of small details that add up to create not only a beautiful machine but one that feels downright elegant to use.
Silhouette Cameo 4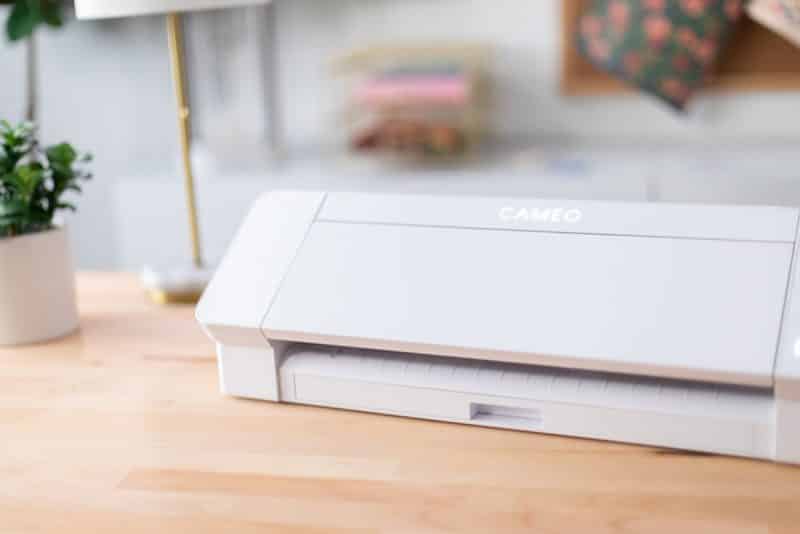 Unlike the Cricut Maker, the Silhouette Cameo 4's design is an incremental improvement over the previous generation of cutting machines.
You'll see this difference between Cricut and Silhouette come up over and over. Cricut is prone to generational change and Silhouette tends to continually improve (though Silhouette broke this trend in how they approached the cutting improvements on their machine).
If you've had a Cameo 3 before, this won't look all that different but it hides a lot of new features inside. If the machine is off, you won't notice that there's a new touch-based user interface that disappears when you aren't using it.
Where the Cricut Maker added storage, the Silhouette Cameo 4 removed it, but for good reason. Instead of having a tool storage drawer, you'll now see a built-in roll feeder and retractable lid. There is still a storage area, but it's roughly one-third the size it used to be.
Cutting Quality: Cricut vs Silhouette
Winner: Silhouette Cameo 4
In the past, Cricut was the clear favorite in this category, even before the Cricut Maker. In an earlier review of Cricut vs the Silhouette Cameo 3, I said that I loved how Cricut's blades were sharper and its machine was faster.
Well, a lot has changed between Cricut and Silhouette.
The Silhouette now has faster cutting, more force, and new specialty blades that match or surpass Cricut's offerings.
The Cricut Maker is no slouch, but since it comes down to which is better: Silhouette vs Cricut, I have to pick Silhouette. If this was the Cricut Maker vs Silhouette Cameo 3, obviously the recommendation would be different.
Cricut Maker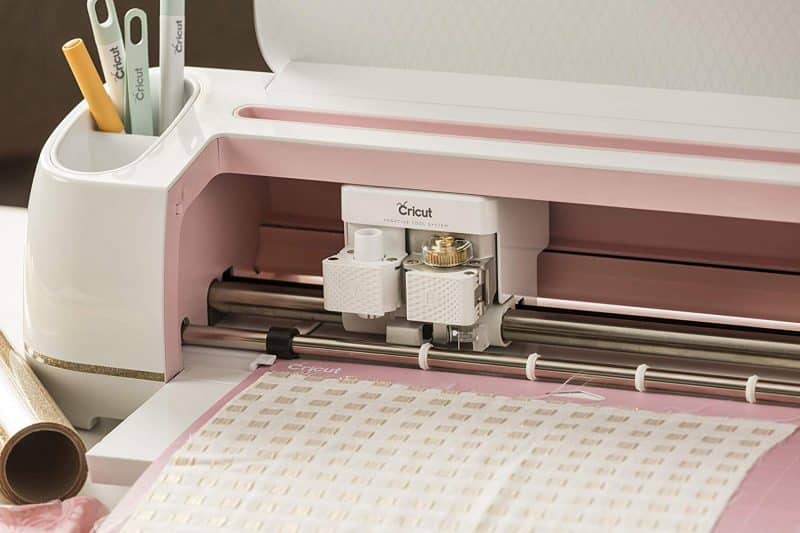 To me, cutting quality really means: what can I make with this machine?
Well, Cricut boasts the Marker can cut 300+ different types of materials. I'm not sure I even knew there were that many, but thanks to its Fine Point Blade, Knife Blade, and Rotary Blade accessories, quite a few projects are possible.
I'd be remiss if I didn't mention its Adaptive Tool System, which makes the Cricut Maker 10x more powerful than the Explore Air 2 and supports their new tools, like those mentioned above.
Where the Maker excels is in cutting fabrics, coupling their Rotary Blade with a Sewing Pattern Library that takes a lot of the work out of working with fabric on your sewing projects. The problem is: the machine is kind of tiny.
If you're making onesies or smaller projects, it works fine, but you'll run into issues because the machine only supports 12×12 or 12×24 cutting mats.
Silhouette Cameo 4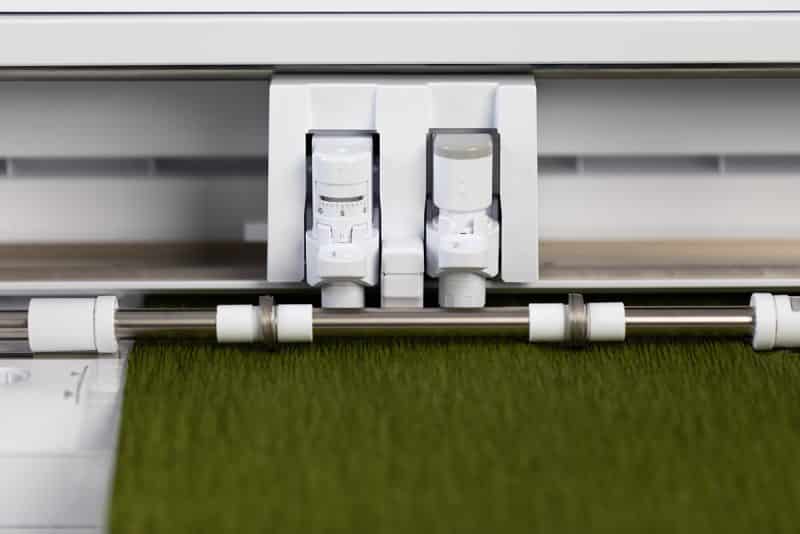 Cutting quality is obviously where Silhouette spent most of its resources on this machine.
Silhouette's reputation for a while has been that their cutting machines are great for cutting vinyl and the software is easy to work with, but for difficult projects, a lot of people still need to own a Cricut.
Well, those days are behind us.
Silhouette has included a lot of goodies under the hood.
Cutting power. I'll start with the largest change, are you ready? The cutting force has gone from 210 gf to 5000 gf. That's not a typo. This machine is around 25x as powerful compared with the Silhouette Cameo 3. That means you can work with a lot of new materials and in turn, new kinds of projects. This means the Cameo 4 is now around 25% more powerful than the Cricut Maker.
Cutting speed. They didn't stop there, they also tripled the cutting speed of the Cameo 3. I know, it's hard to believe, but I've tested it myself with a stopwatch in hand (I honestly looked like a gym coach, huddled over my machine). This seemed to only be true on straight cuts, but the Cameo 4 still seemed to be around twice as fast when making curves or when it needed to change direction.
New tools. You can now use more than 4 new blades with the Cameo 4. The Rotary Blade for cutting fabric, leather, and felt. The Kraft Blade for cutting specialty materials like burlap, plastic, or craft foam. The Auto Blade 2 is completely redesigned. And finally, the Punch Tool helps you create weeding points to make weeding your vinyl/HTV a lot easier and faster.
One downside is if you have old tools from your Cameo 3 (like the Deep Cut Blade) they won't be compatible with this new system and you'll need to purchase replacements.
Ease of use & interface: Cricut vs Silhouette
Winner: Cricut Maker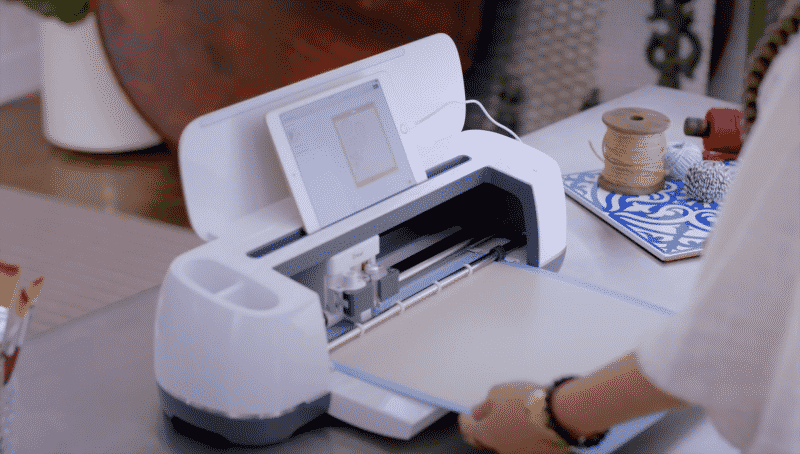 This is one area where it wouldn't matter if this was a look at the Silhouette Cameo 3 vs Cricut Maker: Cricut's first priority is always accessibility and making sure new crafters don't feel discouraged when approaching a new machine.
The worst feeling is all of the excitement you feel when picking out a machine disappear when it's actually time to set it up and you aren't even sure what you want to work with.
Especially now when it's harder to have a friend come over and help you out, Design Space does make it very easy to get right into the thick of things. Now that the Smart Dial has been moved into the software, it's one less place for someone new to mess up or get overwhelmed.
That's not to say Silhouette machines are difficult to use, many people have noticed that Silhouette Studio is more and more beginner-friendly every year.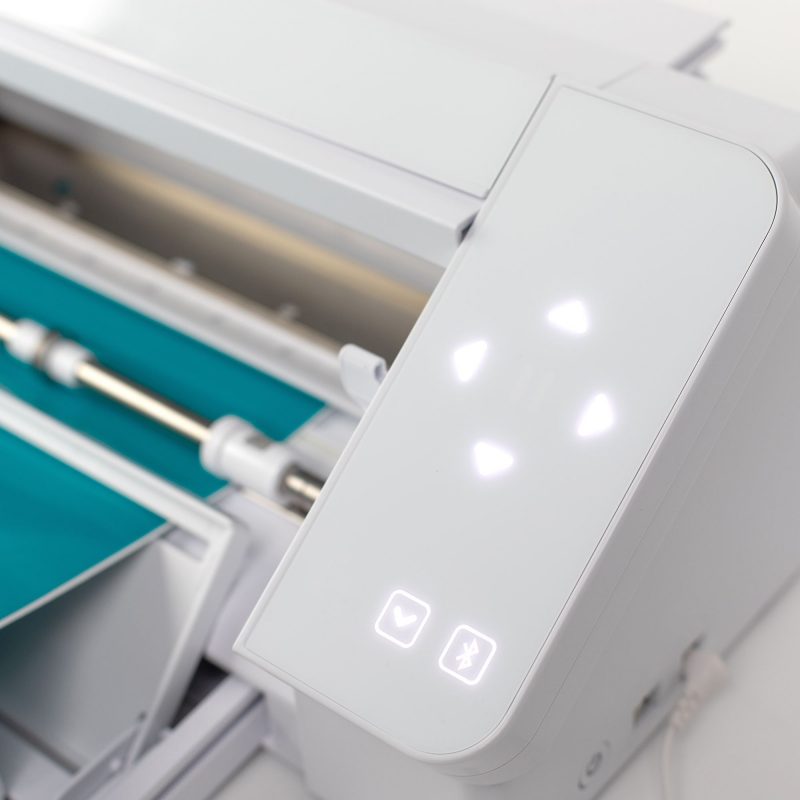 Silhouette's new AutoBlade does help out here a lot because it's a lot harder to mess up your first designs by ripping through vinyl or cutting too deeply.
Here is where the difference between Silhouette and Cricut is probably the smallest, with either machine what matters the most is how you approach it.
Focus on a single project you want to make (really pick anything!) and just commit yourself. Even if you mess up, you'll learn so much more than reading a thousand pages of material.
Just do it!
Final Verdict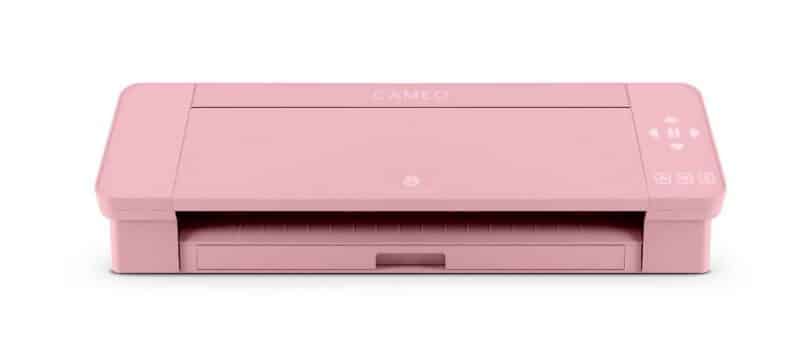 So, which is better, the Silhouette Cameo 4 or Cricut Maker?
I did pick the Silhouette Cameo 4 (don't burn me at the stake, Cricut fans!), the comparison is closer than many think. What it largely came down to was software.
Cricut Design Space, after the first few projects, still has a laundry list of issues that have plagued the program since the start. If you really require dimensional accuracy with your cuts, you're going to be very frustrated and waste a lot of material as you nudge the design into the right places.
Worse, if you lose your internet mid-project, you could simply be out of luck until it comes back.
Pick the Cricut Maker if:
You're a beginner crafter who doesn't require a lot of accuracy of detail in the software
You're an advanced crafter who will be using other software, like Illustrator and then importing your designs
You're going to make use of its Sewing Machine Library
Pick the Silhouette Cameo 4 if:
You're going to work with vinyl, especially for large cuts, as Silhouette supports cutting to 60 feet of vinyl at a time. Even if you'll be working with smaller vinyl decals I'd still pick this machine
You absolutely want the better software, even if it's a bit slower to learn
You don't need as much storage built into your machine and prefer more cutting functionality
Best Cricut and Silhouette deals and bundles (where to buy)
So you've decided you're ready to buy a cutting machine but you still need to make sure you're getting a good deal (as well as an authentic machine).
Some retailers sell what are known as "grey-market" products, they don't come with a full US warranty (some are refurbished or have no warranty) and if you ever need them repaired, you might have to ship them to an entirely different country (and pay the shipping both ways).
The deals I've listed below are verified to be authentic machines and to come with a full warranty.
If at all possible, I recommend buying it directly from the manufacturer. They tend to give a bit better support when you buy it directly and often have better deals.
For Silhouette:
–> Here is the best place to order to receive a Cameo 4 right away.
I've compiled the best bundles (and machine-only) deals that are available right now, and if you click below you'll have a free shipping discount automatically applied to your orders.
I prioritized the deals that are shipping fastest because many of you have contacted me wondering how to get this machine ASAP!
Available now:
For Cricut:
–> Here is the best place to order to receive a Maker right away.
Bundles
FAQ
Is there another Silhouette machine vs Cricut you'd recommend?
Nope, it comes down to the Maker from Cricut vs Cameo from Silhouette. I reviewed the Cameo 4 in this article, which is their flagship machine.
Which machine has a better warranty?
Both warranties are very similar: one-year limited hardware warranties. The problem is, both are voided by any commercial use – a bit tricky.
Can you use Cricut vinyl in a Silhouette machine?
Absolutely. Cricut vinyl is completely compatible with Silhouette machines. Both machines are great vinyl cutters.
Can you use Silhouette vinyl with Cricut?
Silhouette vinyl will work absolutely fine with a Cricut cutting machine.
Are Cricut and Silhouette supplies interchangeable?
Almost all third-party supplies that you'd use are going to work for both machines, which is nice if you already have a bit of a quarantine stockpile going. If you mean cutting mats, they can work, but they require a bit of modification.
Do both machines support Bluetooth?
Yes! You can wirelessly cut with either machine.
Can you use Cricut images with Silhouette?
If you export them as SVGs, absolutely.
Which is better, Silhouette Cameo 4 or Cricut?
Well, the Cricut Explore Air 2 is a bit cheaper which changes things a bit if you're looking at all Cricut machines. I wrote an entire article on the Best Cricut machine – but the short answer is I'd still go with the Cameo 4.
This does come down to, "which is better Cricut or Silhouette" which is what I aimed to tackle in this article.
What is the difference between a Cameo and Cricut?
Well, the Cameo is made by Silhouette. A lot of people use "Cricut " to mean any cutting machine as a generic term, but it's a competing company.
Sources