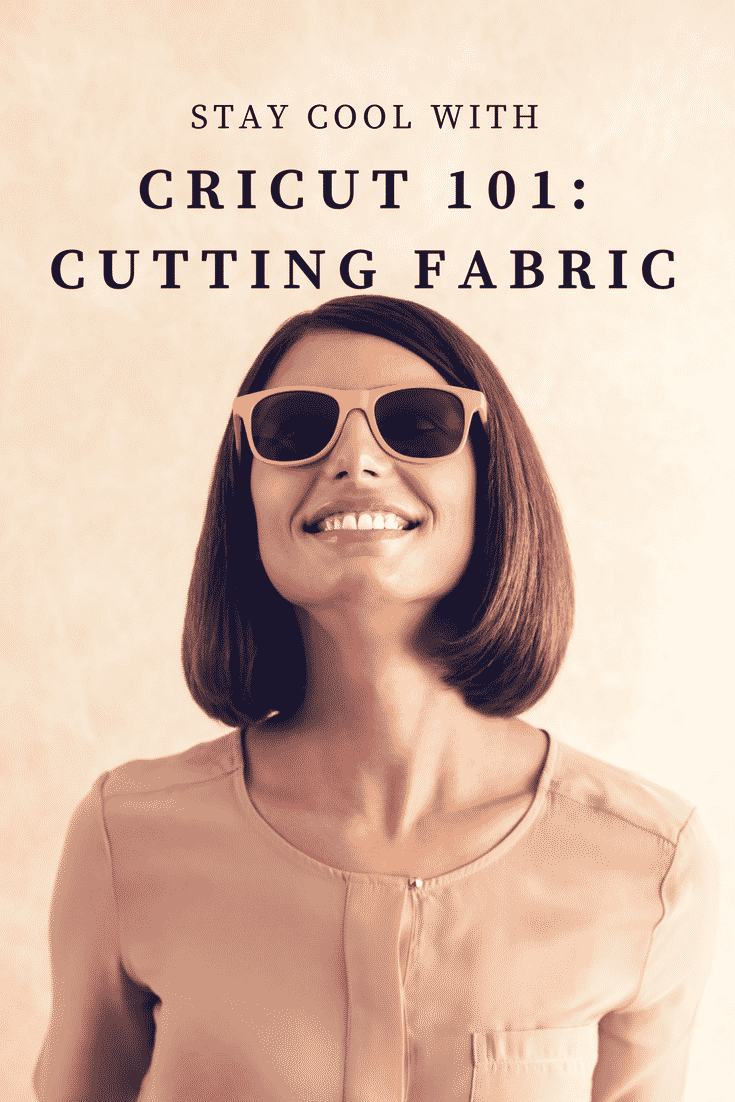 I'll just start with the most important part: cutting fabric with a Cricut machine is really easy, even for beginners.
I had a million questions before I ever learned how to cut fabric: how do I attach it after it's cut?
How do I make sure it doesn't scrunch up and get ruined while I'm cutting it?
What if I don't want to sew it on?
I have the answers.
I'll guide you through a very basic tutorial and then go into the most common mistakes beginners make and exactly how to avoid them.
I also have a few tips that I've learned over the past few years that make the whole process so much easier.
At the end, I have three awesome fabric tutorials, each one using Cricut.
Cutting Fabric With Cricut Explore Air 2 Tutorial
I'm going to use an iron-on adhesive for this tutorial and a Cricut Explore Air 2. If you have a different Cricut machine, that's okay!
The basic principles are the same and you'll be able to adapt this tutorial to your own device.
If you haven't worked with an adhesive like Heat N Bond, you're missing out!
We're going to use Heat N Bond to applique our fabric, this means we're going to attach one piece of fabric to another without needing to sew it.
If you'd rather sew your fabrics together, that's absolutely fine and you'll just skip the steps that use the iron-on adhesive.
You'll need:
Heat N' Bond (or another iron-on adhesive). You can also use freezer paper instead if you're going to be sewing your cut fabric.
A Cricut brayer (or rolling pin, optional)

Cricut brayer

A Cricut FabricGrip cutting mat (pink)
Cotton fabric
A simple design (use a simple shape or one of the free SVG cut files here)
Broad-tipped tweezers (optional)
If you only have a regular Cricut mat, that's okay, but make sure you're using either Heat N' Bond or freezer paper as your backing.
Applying the iron-on adhesive
If your fabric is wrinkled, run an iron over it briefly to smooth it out.
Place your fabric nice/bright side down on an ironing board or surface.
Cut a piece of Heat N Bond the same size as the fabric you're using.
Place the Heat N Bond on the fabric paper-side up.

Take your iron and gently run it over the paper and fabric, holding it in place for a few seconds as you go. Do this until the entire surface is bonded.

Load your project into Cricut Design Space. If you don't have a project in mind, you can follow along with just a simple circle cut from fabric.
Remove the paper liner from the material now that it has cooled.
Place the fabric bright side up on your cutting mat.
Now you're ready to make the first cut to your material.
How to Cut Fabric with a Cricut
Make sure your fabric is sitting flat on your mat. If it isn't, use a Cricut brayer or ordinary kitchen rolling pin to smooth and flatten the material.

Load the mat into the machine.
Use a water-soluble fabric pen to keep track of your pieces if you're making a complicated design. You can load this pen right into the machine and have it write on the pieces for you.
Check your design on the mat preview screen.
Set your material in Design Space. I suggest using cotton for a first attempt because it's easy to cut and you can use your regular cutting blade.

Press go.
Gently pull off any excess material from your cutting mat.

Use a pair of broad-tipped tweezers if you have them to remove your cuts from the mat.

Your fabric should be precisely cut according to your design. If you're going to attach it to another piece of fabric, just iron it on! The iron-on instructions will differ slightly depending on which adhesive you're using, so just make sure to read the fine print on your packaging.
I prefer Heat'n Bond (sometimes it'll be called HeatnBond or Heat N' Bond, I feel like they keep changing it around) but any iron-on adhesive will do. I can usually pick it up at a Michaels or Jo-ann's.
Okay, on to the tips and tricks I've accumulated from cutting fabric.
I'll follow that up with an FAQ of the most common questions I get when explaining this to friends, and then link to three great fabric projects which will each teach with a different style and technique.
Tips + Tricks
Depending on your fabric you may want to pre-iron it before cutting. Wrinkle-free fabric that's smooth will give you the best cuts.
Make sure to check the instructions on your project to see which side of the fabric should face upwards.
If your fabric isn't sitting flat on your mat, you can use a Cricut brayer or a kitchen rolling pin to smooth and flatten the material.
With stretchy fabrics make sure you don't pinch them over the cutting mat, leaving wrinkles over the surface. If this happens just pick the fabric back up and gently lay it down without stretching.
If you're using a new material always make a small test cut first. This will save you time + $$$.
You can use the Cricut spatula for removing delicate cuts.
If your cutting mat has tiny threads left on it after a project don't worry about removing them. Leaving them on your mat is safer than trying to scrape them off.
FAQ
What is bonded fabric?
A bonded fabric is a collection of two fabrics that are joined together with an adhesive, often heat-activated through ironing.
Is felt a bonded fabric?
Sometimes people refer to craft felt as a bonded fabric because it's made up of many layers but it's not typically what we refer to.
Do you need a fabric blade to cut fabric?
If you're cutting very fine fabrics a rotary blade is preferable but it does have two main drawbacks: it doesn't work well with small (smaller than 3/4″) designs and it should only be used with FabricGrip mats. If you're cutting bonded fabrics then just make sure your blade is sharp.
Cricut sells a special pink Bonded Fabric Blade that you can use if you want to keep your fabric blade separate and easily visible.
How do you cut fabric straight?
The two most important factors are making sure the fabric is securely attached to your cutting mat and using a fabric stabilizer: freezer paper or Heat N' Bond.
Is it important to have backing on fabric in order to cut it? What if I'm not going to be ironing it on?
Having some backing on the fabric is pretty important. If you aren't going to be ironing it on you can definitely use freezer paper instead of Heat N' Bond. You'll iron the freezer paper on the same way but after you cut the fabric you'll just peel the freezer paper off. I suggest making a sandwich, with the shiny sides of the freezer paper on the inside and the fabric in the middle.
Can you use the newer fabric mats without any backing (like Heat N' Bond/freezer paper)?
If you're using a rotary blade you don't need any backing.
Can it use the rotary blade?
No, the rotary blade only works with the Cricut Maker. I reviewed it in another post.
Cricut Fabric Projects
DIY Knit Fabric Baby Hat Tutorial
Working with Patterns and Fabric – Working with Cricut Maker
How to use HEAT AND BOND with the Cricut: