If you're trying to figure out the difference between the Cricut Maker 3 and the original Maker, you're not alone. They certainly… looks the same, seem to work with the same tools. So what's different?
In this guide I'll compare everything about the Cricut Maker vs Cricut Maker 3, so you know if it's worth the upgrade.
We'll get into the new Smart Materials, cutting matless cutting, and what exactly this new Cricut machine can do with its increased power.
Cricut Maker vs Cricut Maker 3: a comparison
Good value

Our choice

Materials cut


Cutting speed


Fabric cutting


Tools and accessories


Design


Good value

Materials cut

Cutting speed

Fabric cutting

Tools and accessories

Design

Our choice

Materials cut

Cutting speed

Fabric cutting

Tools and accessories

Design

What's new?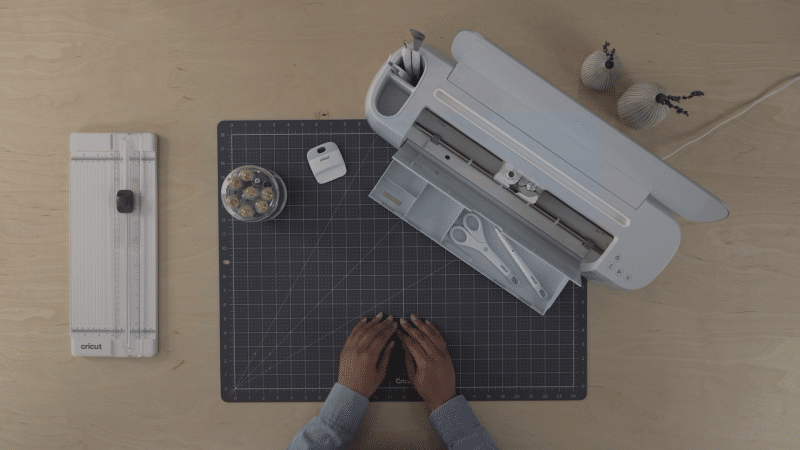 The Cricut Maker 3 has arrived, and I know you're eager to find out how it stands up against the original Cricut Maker so we'll get right into it.
Let's first dive into the new features and changes so you can figure out if they're going to be useful to you, whether you're upgrading or deciding on a first machine.
After that, we'll cover what hasn't changed and what's common to each of these cutting machines.
The differences are mainly found in these five places, all improvements:
Support for Cricut Smart Materials & matless cutting
Faster cutting speed, with more power
Quieter cutting
Design: cosmetic & ergonomic improvements
Added material guide and smart detection
We'll get into each of those, along with the new Cricut Roll Holder, which is an optional accessory.
You can check out our full Cricut Maker review here.
New Cricut 3 Design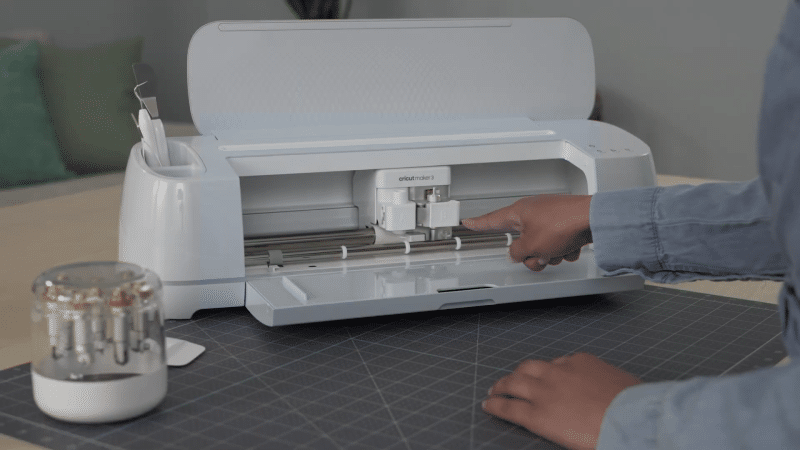 First off, let's talk color. The Cricut Maker 3 sports a light bluish-grey hue that keeps its fresh, modern look. However, unlike the original Cricut Maker, which offers a variety of colors, the Maker 3 comes in just this one shade.
You'll also notice the front of the machine only says "Cricut" now. The blade housing does have a "Cricut Maker 3" label, so you can easily tell them apart.
Now, onto the buttons! The Cricut Maker 3 has redesigned buttons for load/unload and the Make It button, which not only adds a touch of style but I think does improve functionality for those who aren't experienced with these machines yet.
The largest improvement to the design is the addition of a new material guide. I really can't speak highly enough about it. Loading materials is way easier now, you can be assured they're straight and aligned correctly. With this guide, there's also a new sensor that ensures you have enough material loaded in and that can now detect register marks on colored paper.
Wonky cuts, wasted materials? Maybe not gone completely, but certainly less common.
Support for Cricut Smart Materials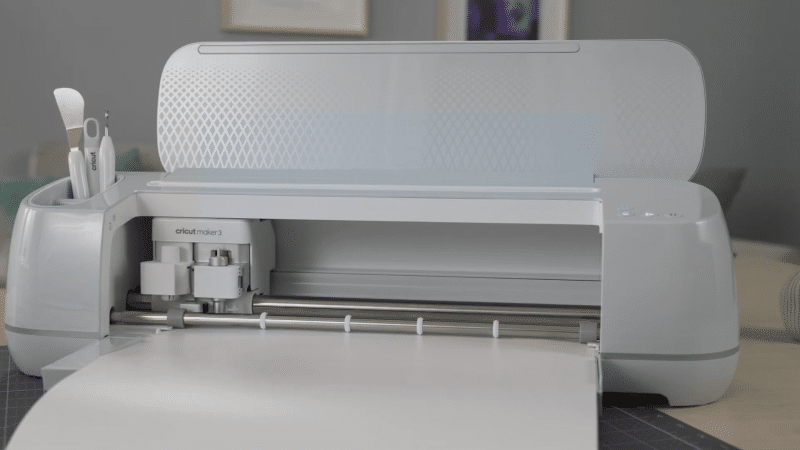 The largest change has to be that the Maker line now supports Smart Materials. So what are they?
Smart Materials, as their name suggests, make crafting smarter and more efficient. They're materials designed to work with newer Cricut machines.
The range includes:
Smart Vinyl
Smart Iron-On
Smart Paper Sticker Cardstock
and more are being currently developed.
They have a thicker, more rigid backing and allow you to take advantage of matless cutting. That's right! Just load your material into the machine, have it detected automatically, and let your Maker work its magic.
Cricut's Smart Materials can be used with the original Maker, but on a cutting mat, so it kind of defeats the purpose.
Mat-free cutting not only makes crafting more enjoyable (for me at least!) but also speeds up your crafting process. We'll get into the cutting process and speed in a bit, but first let's go over each new material.
Smart Vinyl and Smart Iron-on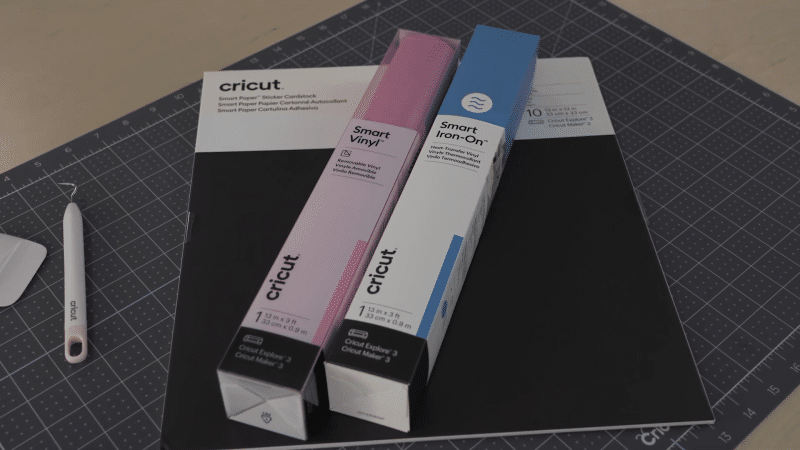 The Cricut Maker 3 is designed to cut Smart Vinyl without needing a mat. This means that you can say goodbye to the time-consuming process of aligning and securing your vinyl. With the Maker 3, you can cut Smart Vinyl directly, making the process faster and more efficient.
Plus, this new kid on the block can cut materials up to 29.7 cm (11.7 inches) wide and a whopping 12 feet in length! Just imagine creating large projects like wall decals, custom car decals, or oversized outdoor signs with ease – something that's a bit more difficult with the original Maker.
The original Cricut Maker can cut Smart Vinyl too, but it requires you to use a mat. Although you'll still achieve fantastic results, the Maker does not have specific settings for handling Smart Materials like its newer sibling.
This means you'll have to spend more time adjusting settings for cut materials and ensuring proper alignment when using the Cricut Maker for your vinyl projects.
Speed improvements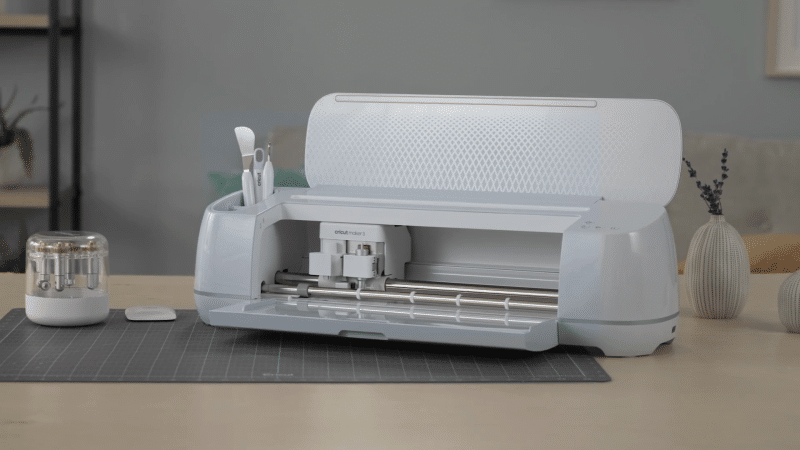 A lot has been made of how much faster this new machine is compared to the older Cricut Maker. So does it really hold up?
Actually, yes.
We've tried both here and really compared the Cricut Maker 3 vs the Cricut Maker in cutting speed. It's actually close to two times faster than both the Maker and Explore 2 when using Smart Materials in fast-mode. We've seen almost 8 inches per second (IPS).
So what does that mean? If you're making a lot of projects, you're going to be able to make them a lot quicker. And crafters who have small businesses and multiple machines might be able to consolidate with fewer machines.
Even if you're a pretty slow, deliberate crafter, having your materials prepped quicker means that you spend less time waiting for your machine to catch up. Speed isn't the only thing, there's also acceleration. We've seen the Maker 3 jump from 20 IPS to 5x that, to over 100. When using a mat, this does drop back down to the same as the original machine.
Remember, Smart Materials are the secret ingredient to unlocking the full speed and accuracy potential of your Cricut Maker 3, as they are optimized for use without a mat.
If you're planning on not using Smart Materials or if you prefer to use a mat, you actually won't see any of the benefits of this new design,
Cricut Roll Holder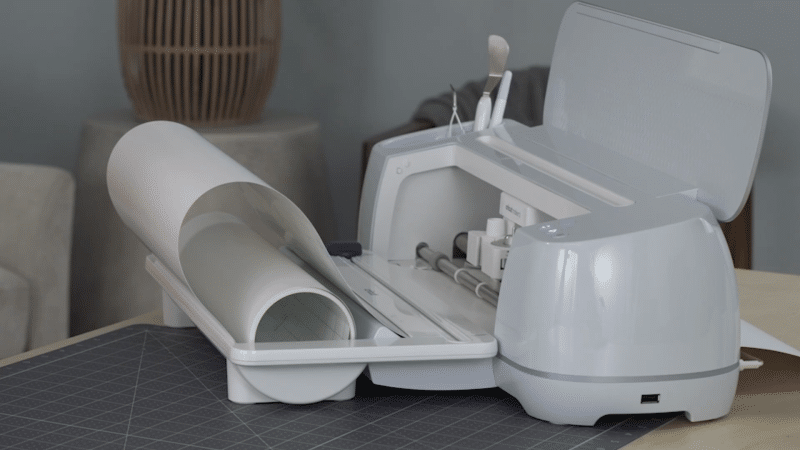 Actually a game-changer if you work with rolls of materials like vinyl, and it's exclusive to the newly released machines from Cricut.
The Cricut Roll Holder sits on the tray of the Maker 3, feeding Smart Materials in and out of the machine smoothly and evenly. This ensures clean, straight cuts every time, or at least almost every time in our experience. Attaching it is easy, it slides into the guides for Smart Materials, and you're all set. It's also compatible with the Cricut Explore 3, which we have a full review of here..
Cricut Maker vs Cricut Maker 3: What's the same?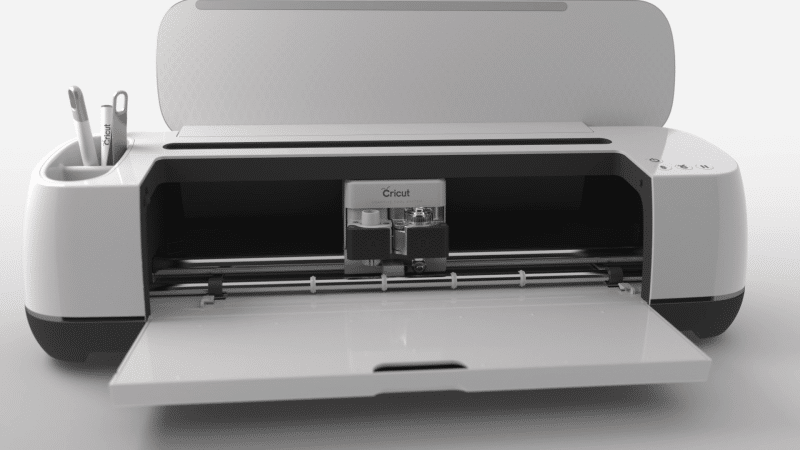 Okay, we've gone over the main differences of these Cricut machines, now let's get into what hasn't changed. And… it's actually almost everything.
The new Maker 3 is more evolution rather than revolution. The appearances are very similar, making it an easy upgrade or even to switch between the two. They're both sleek, compact, and designed to fit on your crafting table without taking up too much space (which is great when you're working on bigger projects and need all the room you can get).
With either machine, you'll be making a stylish statement and enjoying a space-saving solution for your creative endeavors. If you're not going to be cutting Smart Materials, you'll even have the same cutting force and speed with either machine.
Let's get into more of the details now.
Cricut Design Space software
Whether you're using the original Cricut Maker or the Cricut Maker 3, both machines utilize the same Design Space app.
Cricut Design Space is the creative hub where you can find, create, and personalize all your projects. Despite the differences between the two machines, the application's Canvas section remains identical.
However, when using the Cricut Maker 3, Design Space will ask whether you're working on a mat or matless project, which is a notable difference between the two machines. But don't worry, once you've made your selection, Design Space will adjust the available tools, material cut settings, and material load options accordingly. Easy-peasy.
Were you ever in the middle of a project and found it a pain to switch between different software or applications?
With Design Space, you'll have your designs, fonts, and images in one place, reducing hassle and making your crafting process more fluid. Moreover, the added benefit of matless projects in the Cricut Maker 3 means you have more flexibility in crafting larger projects, while still enjoying the familiar Cricut Design Space interface.
Connectivity
Both the Cricut Maker and Cricut Maker 3 feature USB and Bluetooth connectivity, allowing you to work without the hassle of tangled cords or even connect your tablet or smartphone to the cutting machine.
Want to work on your project while watching your favorite show on the couch? No problem!
Additionally, having tablet and smartphone compatibility means you don't have to be stuck in front of a computer to design and create. You can easily carry around your tablet or phone and design on-the-go, making the most of your time, and keeping creativity flowing.
Tools, Adaptive Tool System, and materials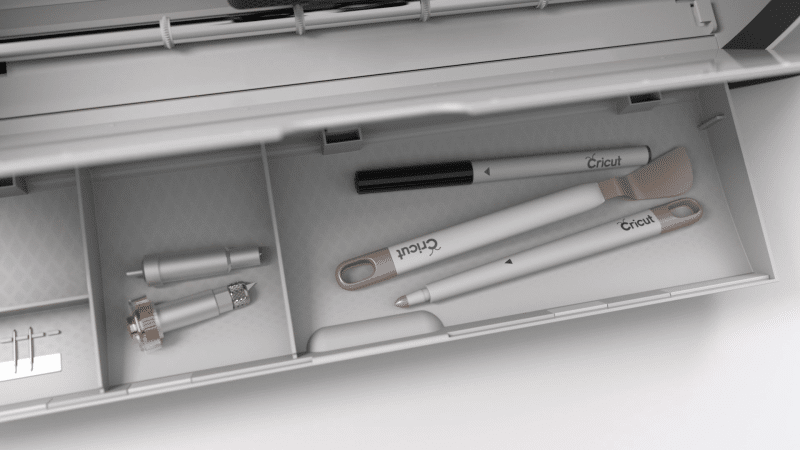 What's a crafting machine without its tools?
Both the Cricut Maker and Cricut Maker 3 are compatible with the same 13 tools, making it easy to switch between the two without having to purchase additional accessories (your wallet can breathe a sigh of relief).
They both feature an Adaptive Tool System with A and B labeled tool housing for blades, enabling you to work with the same blades and tools for both Cricut machines.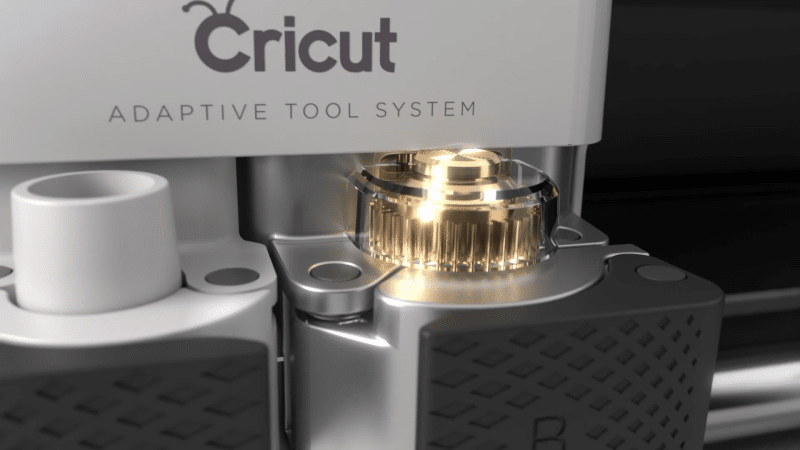 And yes, that includes the quick swap housing, scoring tool, rotary tool, fine point blade, deep cut blade, fabric bonded blade, and foil tool. Let's cover a few of those tools:
Premium Fine point blade: your choice for any craft that requires precision and detail. The Fine point blade is designed for cutting through light-to-medium weight materials like cardstock, vinyl, and iron-on.
Fine point pen: designed for drawing and writing with your Cricut machine. It's compatible with both the Cricut Maker and Maker 3, allowing you to add text and detailed drawings to your projects. You can find this pen in a variety of thicknesses and colors.
Knife blade: perfect for cutting through thick, dense materials like balsa wood, matboard, and chipboard. It's mainly used for any project that's going to require sturdiness and durability, like home decor and 3D crafts.
Rotary blade: specifically designed for cutting through fabric, its rolling action minimizes frayed edges and misaligned cuts. If you're going to cut through cotton, fleece, or denim you're going to want this.
Deep point blade: for regular cutting that's a bit thicker than what you'd use the Fine point blade for. Think magnet sheets, thick cardstock, and leather. It has a steeper blade angle and longer cutting area, perfect for heavy-duty projects.
As if that wasn't enough, both machines can work with over 300 materials, meaning the only limit to your crafting projects is your imagination! From delicate fabrics, sewing patterns to balsa wood (or even sturdier woods), you'll find that both the Cricut Maker and Cricut Maker 3 make it a breeze to create stunning and long-lasting projects.
So, honestly, whichever cutting machine you choose, rest assured that versatility and creativity are right at your fingertips.
Which to pick?
So, is it worth upgrading to the Cricut Maker 3?
Certainly, the new Cricut Maker 3 is a bit more expensive compared with the original Maker, but you do get a lot of value for the increase in price.
Choose the Cricut Maker 3 if:
You want to cut Smart Materials and have the fastest cutting speed/cutting power available.
You love the idea of not using a cutting mat, which can keep things cleaner, faster, and give you one less thing to think about when crafting
You really need things quiet, the Cricut Maker 3 is a bit quieter compared to the original Maker.
You're new to Cricut and really just want the best cutting machine available.
Choose the original Maker if:
You don't think you'll be using Smart Materials very often, remember that the increased speed is only with these new materials.
You prefer to use a mat. While you can still use Smart Materials with a mat, it's the matless cutting where you see things get fast.
If you'd rather save your money and spend it on crafting materials instead.
Honestly, you can't go wrong with either, but our recommendation is to buy the Cricut Maker 3 and
Embrace the endless possibilities and bring your ideas to life with either the Cricut Maker or the Cricut Maker 3. Happy crafting!
Cricut Maker and Cricut Maker 3 deals and bundles (where to buy)
If you're just getting started with your first Cricut machine, a bundle can be pretty attractive. You save a bit of money on your machine and get a starting selection of vinyl, paper, tools, and guides.
If you'd rather just work on one project at a time, you might do better with just buying the base model and buying only the materials you'll need, but you should still check out a few of these bundles because you really do get a lot.
Here are some of the best bundles we have available for the Cricut Maker 3 and the original Maker.
Cricut Maker 3 deals:
Cricut Maker deals:
FAQ
Do both machines support the sewing machine library and sewing patterns?
Yes, both the Cricut Maker and Cricut Maker 3 support the sewing machine library and sewing patterns. They are compatible with a wide range of materials, making it easy for you to work on various sewing projects.
Can you use Smart infusible ink with these machines?
Yes, it works with both the Cricut Maker and Cricut Maker 3. Infusible Ink is designed to work with a variety of Cricut machines, including these two cutting machines. You will however need a heat press or another way to infuse the ink into your fabric.
Do both the Cricut Maker and Cricut Maker 3 require desktop computers to work?
Nope! Both the Cricut Maker and Cricut Maker 3 offer USB and Bluetooth connectivity, allowing you to connect not only desktop computers but also tablets and smartphones. This means you can design and create using the Cricut Design Space app on your tablet or smartphone without being stuck in front of a computer.
Can the original Maker cut smart materials?
Yes, the older Cricut Maker can cut through Cricut's Smart Material, but it requires the use of a mat. While this still provides excellent results, it does not take full advantage of the Smart Materials' capabilities, such as matless cutting and faster cutting speeds that the Cricut Maker 3 offers.
Do they use the same power cords?
They actually do not, the newer Cricut Maker 3 does have a new power adapter (3 amps vs 2.5 amps), so it isn't compatible with the older Maker machine.
Sources