Your Cricut comes with some great fonts, but there are loads more out there worth using.
Free fonts don't always make the best fonts, so I had to dig pretty deep to find some of these designs. I'll include both my top 5 sites of free fonts for Cricut, as well as my favorite fonts that I keep returning to for craft after craft.
If you haven't loaded in fonts to Cricut before, I'll also teach you how to do that with a quick tutorial at the end + cover how to download fonts so they work in Design Space.
I made this resource because other lists were full of fonts that weren't free, the links were broken, or they just didn't cut or draw correctly. I've made sure to only include fonts that I've tested myself on real projects.
(If you have a Silhouette machine, I'm adding a quick tutorial at the end for you too!)
Featured Top 5 Sites
I'll start off this list with where I go first to download free fonts. If you're looking for more of a curated list of only the best fonts, you can skip to that below. We've partnered with each of these sites to offer exclusive fonts bundles (a few of them might require signing up, but they will be free).
1. Creative Market

Creative Market is one of the first places I look for a Cricut font when I'm looking over a new project. They have loads of exclusive fonts that you can only find there, weekly free releases, and a huge marketplace if none of their free fonts quite work.
2. Font Bundles

Font Bundles has quickly become one of my favorite places to find free fonts for Cricut. Not only do they have free font releases for most holidays (like Christmas and Halloween), they have tons of PUA encoded fonts and a 30-day money-back guarantee if you decide to make a purchase.
3. Creative Fabrica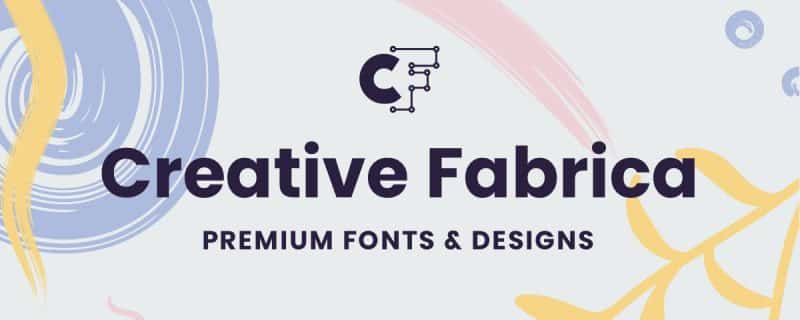 Creative Fabrica is a wonderful Dutch site with a great collection of free fonts for Cricut. Their site is made by crafters, for crafters, and goes well beyond just fonts. They have a huge selection of SVGs and 3d cut files, along with a lot of fonts that are not only free for personal use but commercial use as well. Their free selection currently boasts more than 1800+ free fonts & more, so it's definitely worth checking out.
(If you wind up liking their fonts, they have a pretty affordable flat fee you can pay for 48,000+ additional fonts if you're crazy like me!)
Oh, one last thing! They tag their fonts which work with Cricut's Design Space and Silhouette, making it easy to know which fonts to use.
4. The Hungry JPG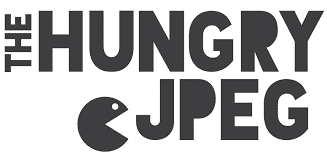 Founded in 2014, The Hungry JPEG keeps me coming back for the free weekly releases and really cute themed collections (like Winter, Mystical, and Floral Ink). They have an entire section for crafters with fun borders and images, but their font collection is what I love the most.
5. So Fontsy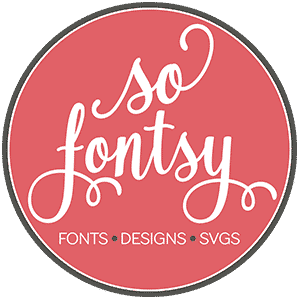 If you're planning on selling products on Etsy or elsewhere, So Fontsy is a great resource of fonts. They have a great policy which they called "Standard Commercial Use" which allows you to sell anything you make with their fonts without having to worry about paying more later. It's nice to have one less thing to worry about, and they also have really great crafting tutorials and examples of projects people have made using their fonts.
Our top free font picks
All of these fonts below have been tested to work great with Cricut Design Space. But before I get to the fonts, I wanted to give you guys a quick glossary and explain some of the common terms you might see.
Serif/sans-serif: If you take a look at the above image, you'll notice that one of the fonts has small details on the ends of the strokes. These are known as serifs. Serif fonts are designed to be more legible at smaller font sizes, but when you download fonts, you might find them a bit harder to cut or draw.
PUA/Glyph-support: A PUA encoded font is one that has "private use areas" enabled. This means that the extravagant flourishes you'll see on the ends of letters (think of them like exaggerated serifs) will appear when you load them into Cricut Design Space or Silhouette Studio. If you find a font that has those decorations and swirly lines but isn't PUA encoded, you'll still be able to use it with your cutting machine but those swirls won't show.
Commercial-use: Fonts that come with a commercial-use license mean that beyond using them for personal use (things you make yourself or share with friends) you can also sell products made with those fonts or designs. Not all commercial-use licenses are the same, so be sure to read the details if you're planning on selling a large number of t-shirts or another product.
OK, on to our favorite fonts that are free!
(If you're looking for Cricut SVG files, check out our other article.)
1. Paper Phil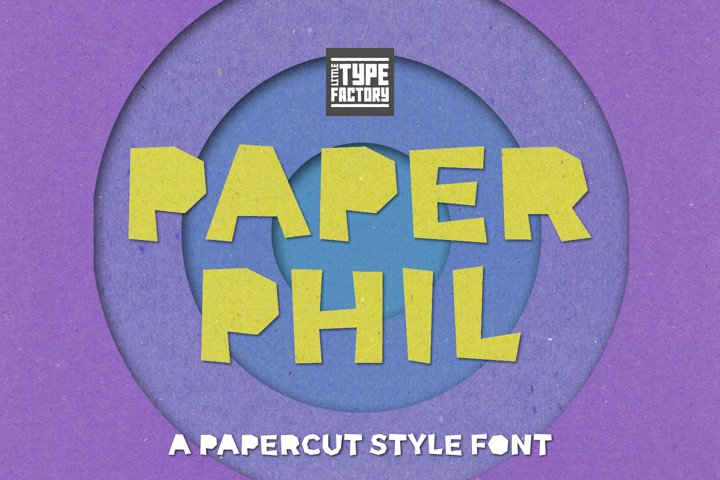 Features: A cute, bold font that was inspired by cutting out construction paper letters. Super playful and as you might imagine, it cuts out really well. I love using it when I want a handmade look that's still somewhat neat and regular.
Great for: Headlines, titles, or any feature in a design you really want to pop. Works great on t-shirts, vinyl, or, as you might imagine, with papercrafts.
2. Joy Maker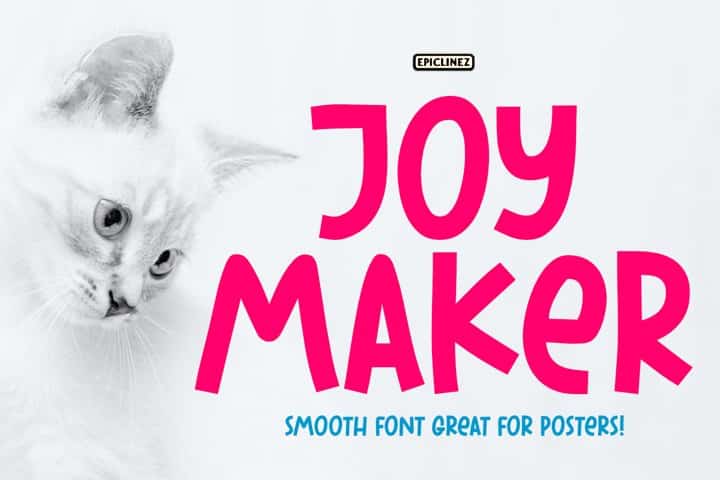 Features: Our second font in a row from Font Bundles (you can see why they made the list above!). Joy Maker is another bold display font that's super easy to read while still adding some weight to your design. Based on its name alone, you just know it's going to work nicely with Cricut.
Great for: Vinyl or any design that you want to cut cleanly. I've used this on a few mugs, but I find the design looks best when it can be really scaled up to a large size, like HTV on a t-shirt.
3. Browie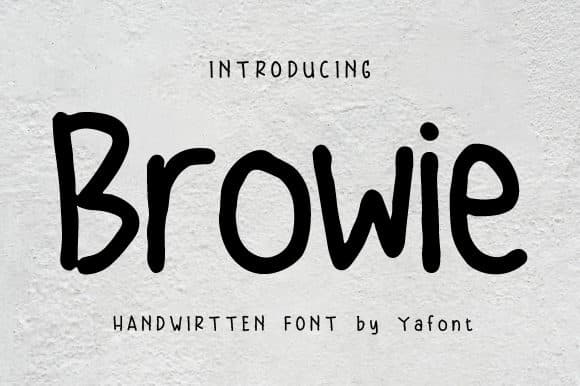 Features: I'm a little partial to this one because I really love David Bowie (its name is… close enough!) – this is also the first handwritten font we're highlighting. With this font you'll want to either have it scaled up for cutting (so the cuts are easier) or scaled down for using a Cricut pen. Comes with a free commercial license.
Great for: Baby shower invitations, quirky projects, or anything you want to give a real human element to.
4. Echizen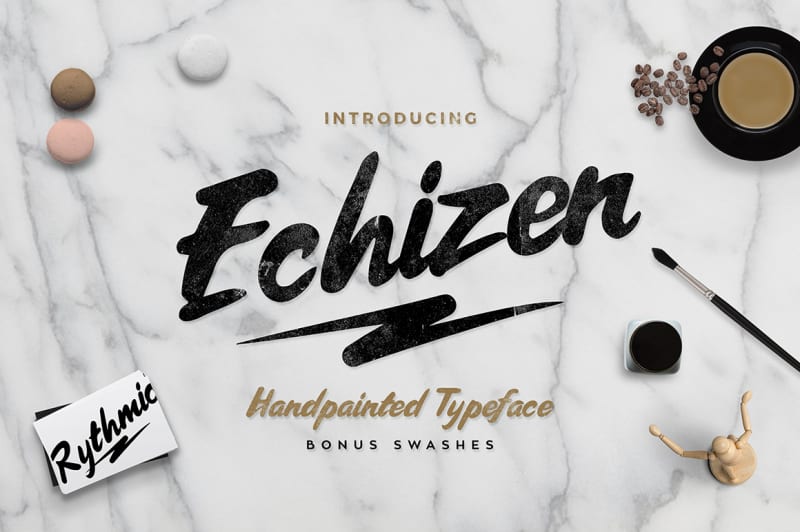 Features: Echizen was inspired by the bold display handwriting you might find on the blackboard menu on a sidewalk cafe. It's a versatile font that looks wonderful at large sizes. This font comes with a lot of swishes and font decorations that you can use to really customize the look and make it pop out. This font comes as part of a large free bundle, but you can also just download it on its own if you don't need the rest.
Great for: Vinyl outdoor display signs, or any use where you want the font to be the centerpiece of the design.
5. Abril Fatface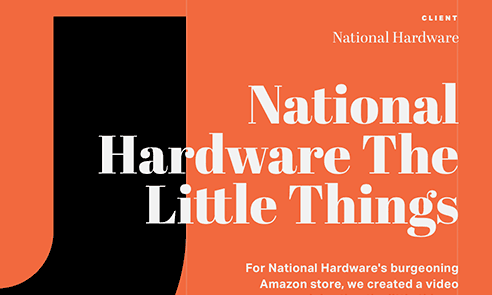 Features: Abril Fatface is a heavier version of the popular Abril font family. It's inspired by the heavy display fonts seen in 19th-century French posters and advertisements. Only the heavy Fatface version is available for free, so unlike other fonts, you can't customize its weight. What I love about this font is that it adds class to designs without taking away or stealing the spotlight.
Great for: Large designs where you don't want to steal the show with your font. A surprisingly subtle font for how bold it is.
More sites for Cricut fonts
If you're still looking for how to get Cricut fonts for free, don't worry, I have a few more sites that have great collections (but my favorites are still those above):
Next, I'll give the essential tips on picking out fonts for your Cricut. This next part is maybe the most important section if you don't have a lot of experience downloading or installing fonts for Cricut.
Design Space comes with a lot of fonts that work great out of the box as they were tested for Cricut, but when you start downloading third-party fonts, you want to make sure that not only will they install properly but that they'll cut or draw perfectly.
Picking the right font for a Cricut machine
If you're like most crafters, most of the fonts you've used with your Cricut are those which came with it, that you purchased for Design Space, or that came with a subscription to Cricut Access.
This is definitely the right way to start off when learning how to use your Cricut, but there comes a time with every crafter when they have ideas for Cricut projects but can't find the right font or design to use. That's where downloading fonts can come in handy.
I have some tips for you, some of these will be true for both the fonts you're using in Cricut Design Space and those you might download.
Don't mix and match too many fonts in a single project. Once you get started with downloading fonts, all of a sudden you have 20 or 30 new ideas and you want to explore them all at once. Trust me, I've been there! Until you get your footing, I'd stick to two different fonts per project. You'll find that your designs come together a lot more easily, that they're easily to layout, and they're a lot more coherent.
If you're using vinyl, make sure the fonts are easy to weed. Fonts with a lot of serifs (the small decorations attached to the ends of letters) can be really difficult to weed, similarly cursive or fancy fonts. Unless you're a weeding wizard, I'd start by using blocky, simpler fonts like those I recommended above.
Stick with fonts others have used while you're getting started. Especially when you're following a tutorial on a new kind of Cricut project, it's a lot easier to follow along if you use the same font they are. We have a lot of free tutorials on this site, and whenever possible I use either the fonts you'll have by default in Design Space or fonts that you can grab for free.
Some fonts are great for writing, others are for cutting. When I recommend a font, I'll always specify which that font is designed for. The thin, cursive fonts that look like handwriting turn out great with the Cricut Pen Tool, but they'd be a jagged mess if you tried cutting with them. Similarly, the blockier fonts that make for great cuts can look downright strange if you try to draw them.
Check to see if your font is PUA or if it has support for glyphs. Many free fonts that you'll find don't have glyphs included.
Finally, I'll quickly cover how to download and install free fonts right into Cricut Design Space
How to install free fonts for Cricut Design Space
You want to follow these easy steps to install your fonts:
Install the font on your computer. It will usually come in a zip file, so you'll want to unzip it. If you have MacOS, you'll right-click, open with Font Book, and then click "Install Font." If you have a PC, it's one step easier: just right click on the font (you can highlight multiple) and click "Install."
Open up Cricut Design Space and verify the font is installed. You'll see both Cricut fonts and the fonts you have installed on your operating system here, so just search for the font you installed and verify it shows up okay.
That's it! Told you it was easy to upload fonts to Cricut Design Space.
If you have any Cricut fonts you absolutely love that I haven't mentioned, please share them with me in the comments.
Or share any projects that you might have made, I love to see the crafts you guys come up with.
FAQ
Can you use these fonts for commercial products or selling on Etsy?
For the sites I recommended, I try to mention whether or not they have free commercial licenses available, most of them do! You should always make sure to verify that the font you downloaded isn't just free for personal use but commercial use as well.
What about SVG files?
I have another article that collects my favorite sources for free SVGs. There are 18000+ free files available there!