The Silhouette Portrait 2 is the smallest and most versatile home cutting machine that I've reviewed.
It works like a printer, but instead of printing ink on a page, the machine moves a blade around to cut images out of paper, vinyl, cardstock, fabric, and more. Oh, and it doesn't just cut, it can draw, too!
In this review, I'll explain in detail what makes the Silhouette Portrait 2 the best portable cutting machine you can buy. We'll also go over a few of its flaws and how to overcome them.
More on this in a bit.
I'll start with an overview of the Silhouette Portrait 2, its best features, and the most important pros and cons.
Then I'll break down all the features in an easy-to-read review that covers everything you need to know. (If you're looking for the best deals and bundles, I'll go over that in a little bit.)
At the end, I'll compare the Silhouette Portrait 2 vs the Cameo 3 in case you are deciding between these two machines.
An overview of the Silhouette Portrait 2 (2020)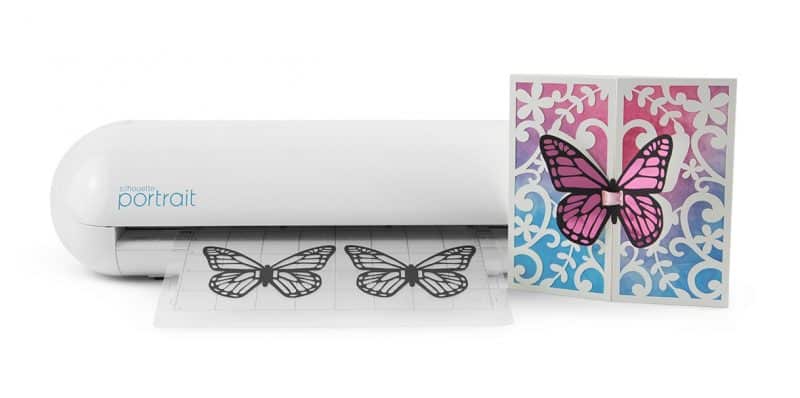 Silhouette introduced the original Portrait in 2012, as a smaller and more portable version of the Cameo. (Sometimes it's even called the Cameo Mini.)
In November 2017, Silhouette released the updated version, and the Portrait 2 became the newest member of the Silhouette family.
Portability

Software

Cutting quality

Ease of use

Accessories

Overall rating

Our favorite portable machine
Portability

Software

Cutting quality

Ease of use

Accessories

Overall rating

The Portrait 2 is a great improvement over the first Portrait. It incorporates almost all of the new technologies of the Cameo 3, like AutoBlade and Bluetooth, but keeps them in a lightweight and portable package.
The biggest downsides are that the Portrait 2 only cuts 8 inches wide, and has a weak cutting force compared to other popular machines. So if you're looking for something big and powerful, this isn't it.
But it's the best portable electronic cutting machine I've seen. It's a fantastic cutting machine for anyone just starting out, and a great choice for classrooms, maker spaces, and small craft studios.
Like any important purchase, you want to make sure you're not only getting the best deal but also the authentic product, so I'll cover all of that at the end of this review (feel free to skip ahead).
4 best new features
Most of the new technologies that make the Cameo 3 so popular are also available in the Portrait 2, a machine half the size:
AutoBlade. The most advanced blade from Silhouette automatically adjusts the cutting depth for you. No more manual blade adjustments required.
Increased clearance. The Portrait 2 can cut materials up to 2mm (with the Deep Cut Blade).
Bluetooth capabilities. You can now cut wirelessly with the Portrait 2, which is essential for a portable machine.
Silhouette Studio 4. The newest version of this design software adds more features, speed, and stability.
Pros
Lightweight machine weighs only 3.5 pounds
Small enough to easily fit in even cramped crafting corners
The best portable cutting machine
Perfect cutting size for standard 8.5″ x 11″ letter-sized media
AutoBlade automatically adjusts the blade settings
Cuts long materials (up to 10 feet long) and thick materials (up to 2 mm thick)
The best software in the industry with Silhouette Studio 4
No internet connection required for cutting
Bluetooth allows you to cut wirelessly
More affordable than the Cameo 3 (though not by much)
Cons
Limited cutting width of 8″
Cannot cut all the way to the edge of 8.5″ paper
Sill a weak cutter, with only 210 grams of cutting force
Fewer vinyl options and cutting mats in the right size
No storage compartments for accessories
Silhouette Studio requires a $50 upgrade to import SVGs, and a $100 upgrade to export them
Only $50-100 cheaper than the Cameo 3
Check out this video for a quick glimpse of the machine and what it's capable of
Specifications
Okay, so what does the Silhouette Portrait 2 include, straight out of the box? Let's see: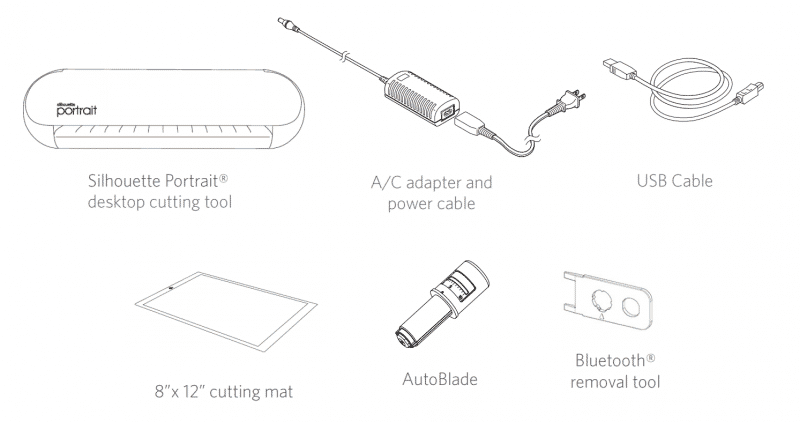 Silhouette Portrait 2 electronic cutting machine
AutoBlade
8-inch by 12-inch cutting mat
Power and USB cables
Silhouette Studio software (to download)
50 exclusive cuttable designs (to download)
One-month basic subscription to Silhouette Design Store (online, with $25 credit)
Bluetooth adapter
1-year limited manufacturer's warranty
Technical specifications:
Cutting strength: 210 grams of cutting force
Max cutting size:

8″ x 10′ with lined media
8″ by 11″ with a cutting mat

Max media thickness: 2 mm (requires Deep Cut Blade)
Weight: 3.5 lbs
Dimensions:

Width: 16.25 inches
Depth: 4.5 inches
Height: 5.6 inches
Machine Design
The new model of Portrait is a great aesthetic improvement over the original. The Portrait 2 has updated the two-tone look of the first model, and now features an entirely white capsule-shaped body.

There are no storage compartments on the Portrait 2, so you'll have to find somewhere else to store all the accessory blades and pens you can use with the machine. It's a bit of a drawback but it makes sense to keep the machine as portable as possible.
There is also no touchscreen to deal with on the Portrait 2. Instead, there are just five buttons on the right for Bluetooth, load, unload, power, and pause. Pretty simple, right?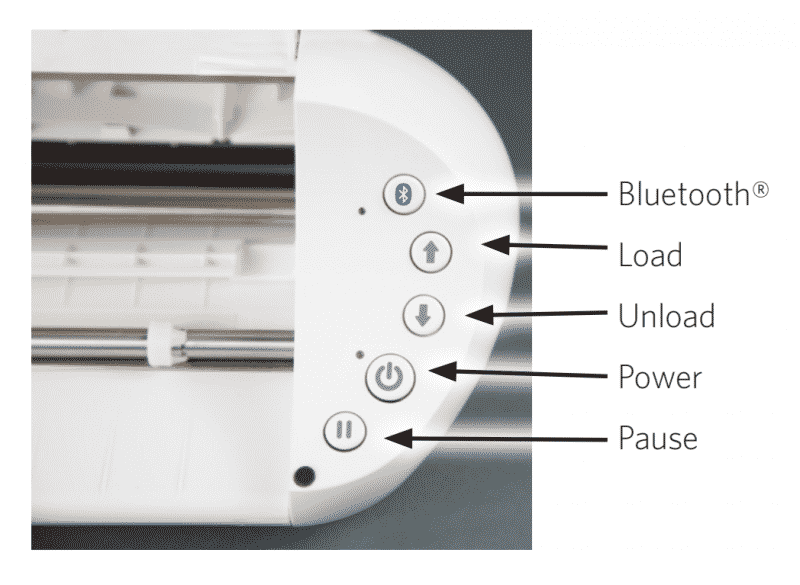 The diminutive size and completely curved form make this absolutely the cutest cutting machine I've ever seen. It's so cute I almost want to eat it. (But maybe that's because it comes with papercraft cupcakes and ice cream cones all over the box?)
Portability and size
The best features of the Portrait 2 are its small size and portability. It puts itself into a category of its own, and there is no better portable, digital cutting machine. (Note: the Cricut Mini is no longer in production.)
The machine weighs just three and a half pounds. Contrast that with the Cameo 3 that weighs about 9 pounds: that's two and half times as much! You definitely don't need a wheeled tote to bring the Portrait 2 around with you.
The Portrait 2 measures 16 inches wide and 4 1/2 inches deep, so it's small and light enough to fit on a narrow shelf. Compared to the Cameo 3, which sits at 22 inches by 8 1/2, the Portrait will take up less than half the space than its bigger brother.
If space is at a premium in your craft space, I bet this smaller model is looking better and better for you.
And guess what, the Portrait is not just easy to carry around, it's also gotten easier to use! Let's see why: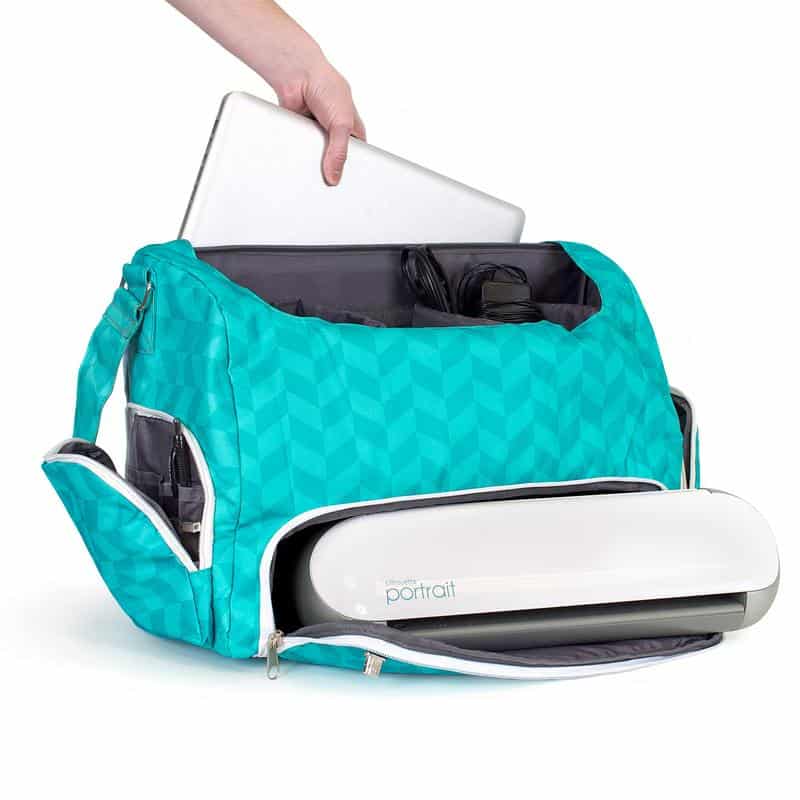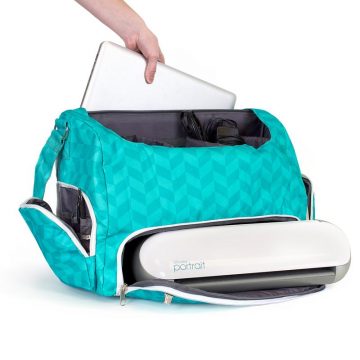 Ease of Use
The Silhouette Portrait 2 has 24 colors of pen that fit in the machine, and the different-sized pen holders mean you can basically make it work with anything.
The Portrait 2 incorporates a couple new technologies that make it easier to use than the original Silhouette Portrait.
Let's go into them.
AutoBlade for automated adjustments
The AutoBlade is a smart blade that automatically adjusts to the right blade depth, based on the settings or material you input in Silhouette Studio.
It is not only an incredible time saver, it can also save you on material costs. I'm sure I'm not the only one who used to forget to manually ratchet the standard Silhouette blade to the right depth every time I switched to a new material.
As long as you remember to set the right material in Silhouette Studio, the AutoBlade will adjust itself, meaning you'll waste fewer sheets of vinyl on improper settings.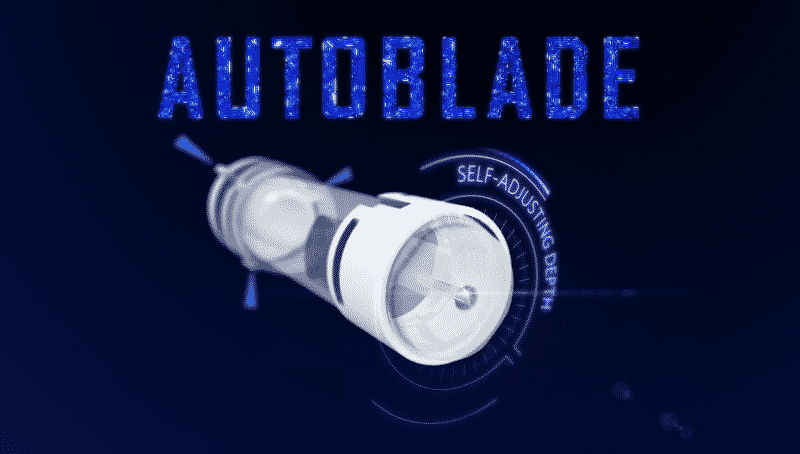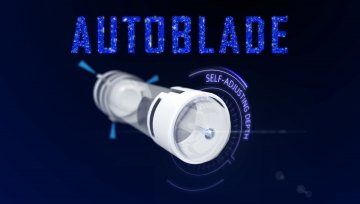 I haven't used it in the Portrait 2, but from using the AutoBlade in the Cameo 3, I know that I absolutely could not go back to having to manually adjust the blade depth.
Another feature that quickly becomes essential is wireless cutting via Bluetooth.
Bluetooth
Silhouette finally gave the Portrait Bluetooth capabilities with this 2nd version. It's kind of a big deal for a portable machine since it makes it even easier to move this cutter from place to place.
Bluetooth lets you connect wirelessly to your computer, iPad, iPhone, or Android device. It has a range of 100 feet, so you can set up your Portrait anywhere you want, without being tethered to a computer.
Since you can sync up to 5 devices with your Silhouette Cloud account, they can now all send jobs to the Portrait, wirelessly over Bluetooth. This makes the Portrait 2 a great choice for classrooms, labs, and maker spaces.
Bluetooth is included on Portrait 2s purchased in the US, Canada, and some regions of Europe. If you buy elsewhere, you may have to purchase a Bluetooth adapter separately.
If you have any trouble setting up your Bluetooth connection, Silhouette has a great how-to page to help you get set up.
Print & Cut
The Portrait 2 cutting mat is just about letter-sized, making it the perfect size to handle any print and cut project: from stickers to printable heat transfer vinyl.
Your design will print with registration marks around the edges, which can then be seen and read by the Portrait 2, ensuring that the cuts are properly aligned with the printed images.

The optical scanner has been upgraded from the technology used in the older Silhouette machines. So if you ever had to shine your cellphone light trying to get the machine to see the registration marks, well, those days are over!
Okay, let's move on to cutting quality. How good is the Silhouette Portrait 2 at actually cutting things?
Cutting ability
The Silhouette Portrait 2 has similar internal workings to the Cameo 3, so it cuts with similar ease and precision. It is quite effective for its small size and weight.
Increased clearance for cutting thick materials
The Portrait 2 has over double the clearance of the Portrait 1, meaning it can cut materials up to 2 mm thick. You can now cut thicker materials like craft foam, which is tons of fun!
The regular blade and AutoBlade are only 1 mm long, so to take advantage of the 2 mm cutting depth you'll have to purchase the Deep Cut Blade, which is not included.
Cuts long materials
Even though it has a small 8″ cutting width, the Portrait 2 can cut materials up to 10 feet long!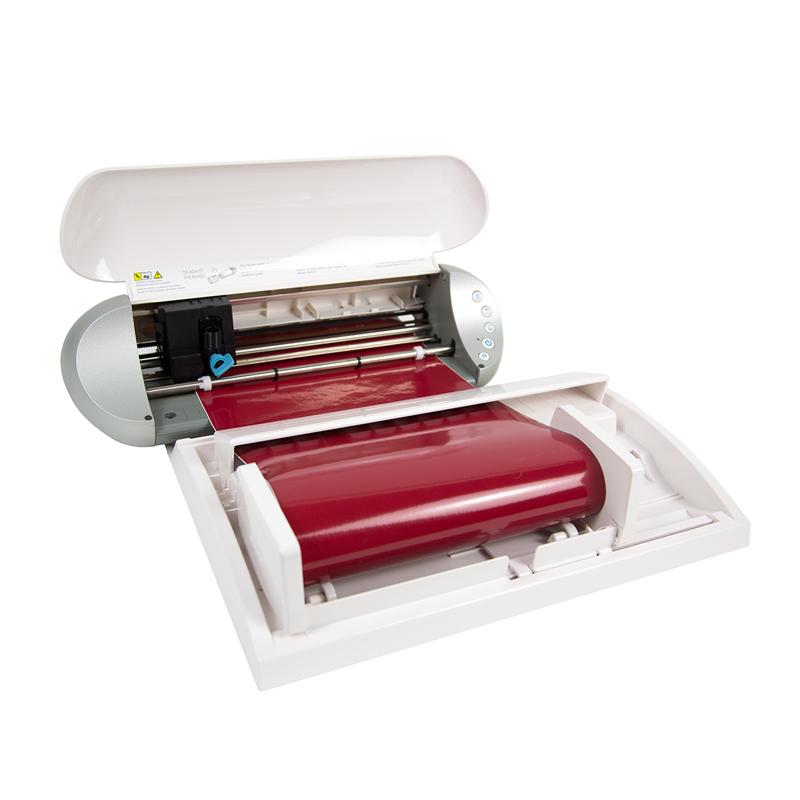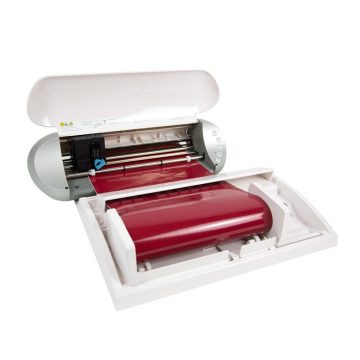 This is an invaluable feature for making vinyl signs and wall decals. You don't have to load sheet after sheet of paper, and then make sure they all line up just right on the transfer paper. Just cut it all in one go!
If you think you'll be cutting long vinyl decals, you'll probably want to use a vinyl roll feeder (sold separately). This actually attaches right to the front of the Portrait, and easily feeds in the vinyl. Most importantly, it makes sure the vinyl stays absolutely straight as it is fed into the machine. It's a real life-saver, I mean, vinyl-saver.
Weak cutting force
The first drawback of the Portrait 2 is that it has the same weak cutting force endemic to all the other Silhouette models. It cuts with 210 grams of force, which is pretty weak in the cutting world.
Fortunately, you won't notice this when cutting anything thin like paper and vinyl (even flocked heat transfer vinyl). And thick and light materials, like craft foam, should cut easily as well.
But the Portrait 2 will have trouble cutting materials that are thick and tough, or very dense. Leather and balsa wood will probably take multiple passes to cut through (formerly called "double cut").
Additionally, very dense materials like acetate or steel probably can't be cut at all, and might even damage your blade. You can still engrave metal (especially softer metals like aluminum), as long as you don't try to cut too deep.
Small cutting width
The most significant drawback unique to the Portrait is that it has a narrow cutting width. It can only cut 8 inches wide, whereas most cutting mats are 12 inches wide. The Silhouette Cameo 3 and most of the Cricut models can cut up to 12 inches wide.
Anything that needs to be cut on a Portrait cutting mat will be limited to the 8-inch by 12-inch cutting mat. So while letter-sized or A4 paper can easily fit through the machine, it won't be able to cut all the way to the edge.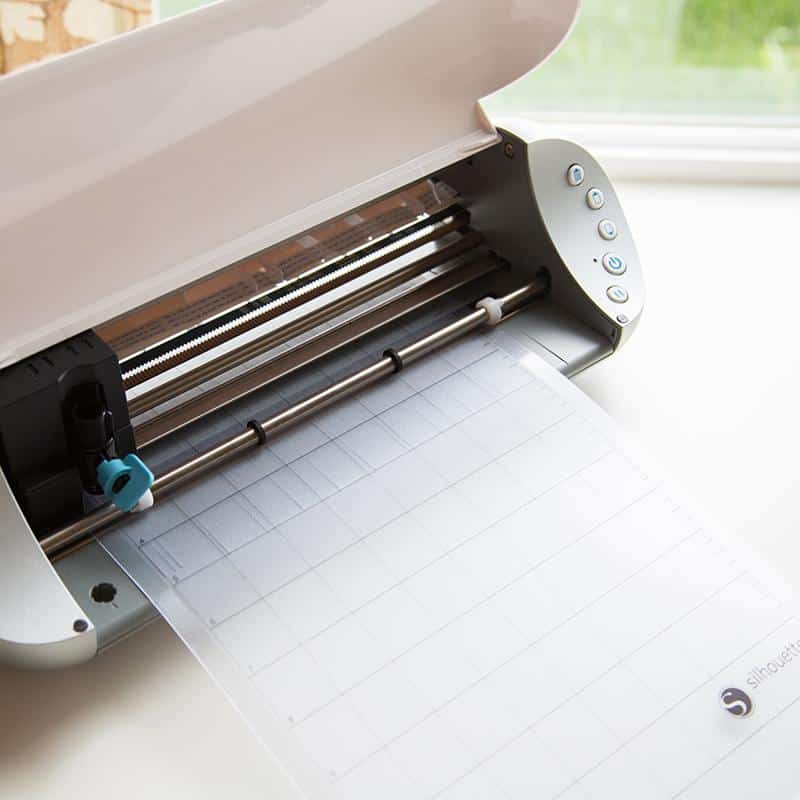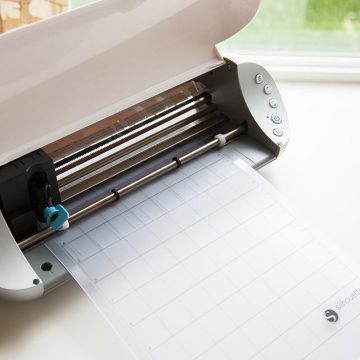 If you are mostly interested in making small decals, cards, and stickers, then this narrow width probably won't be an issue for you. (And the smaller size is certainly an asset.)
But if you want to cut vinyl using the vinyl roll feeder, you won't have nearly the selection of vinyl available to you, since most rolls of vinyl are at least 12 inches wide. As far as I can tell, only Silhouette makes vinyl rolls that are 9″ wide, so you'll be limited to their selection.
So if you think that being able to cut 12 inches wide would be useful, you might consider the Silhouette Cameo 3 or the Cricut Explore Air 2 instead, which are between $50 and $100 more
Materials that can be cut
The Silhouette Portrait 2 can cut hundreds of different materials. The increased cutting height means it cuts even more than the previous Portrait.
Some of the more common materials the Portrait 2 can cut are:
vinyl (adhesive, permanent, heat transfer, stencil, window cling, glitter, dry erase, chalkboard, holographic…all kinds of vinyl)
paper (printer, photo, crepe, washi, vellum, specialty patterned, freezer, wax, construction)
cardstock and matboard (up to 2mm thick)
fabric (with the appropriate iron-on interfacing)
craft foam, leather, balsa wood, chipboard (with the Deep-Cut blade)
rhinestone template material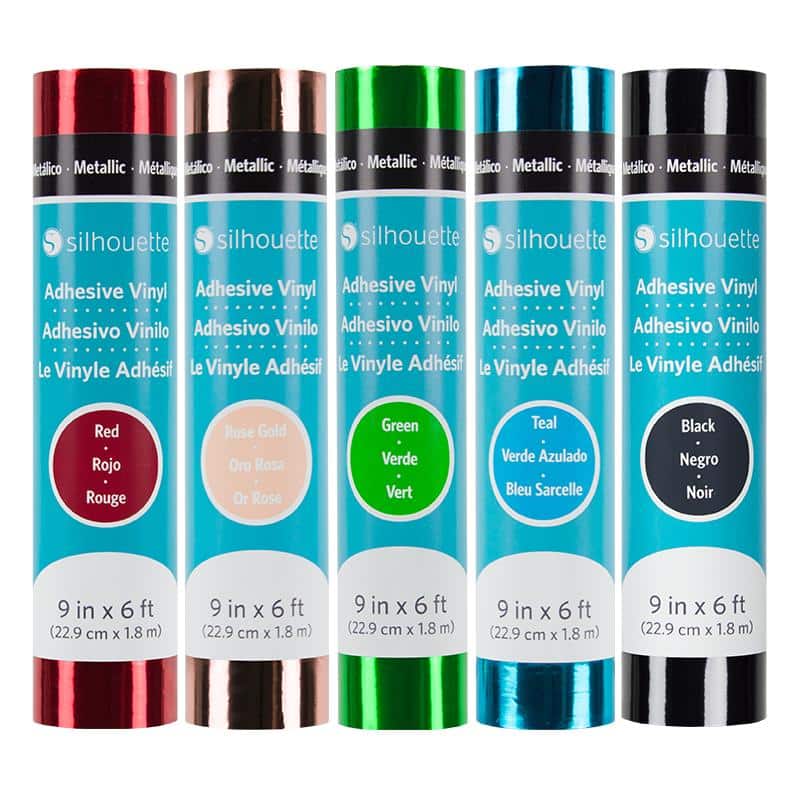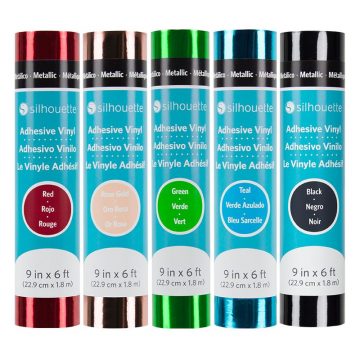 Software
Silhouette Studio is a free design program created to be used with the Silhouette cutting machines.
I think that Silhouette's cutting software is the best in the industry. When combined with Silhouette Cloud, all your designs and purchases are automatically downloaded to your computer so you can then do everything offline, without an internet connection.
Compared to Cricut's Design Space, a web-based software that requires an active internet connection to do anything, the freedom of Silhouette Studio is exceptional.
With a portable machine like the Portrait 2, being able to design and cut without the internet is absolutely essential. Can you imagine taking your cutter around to help a friend with a project, or maybe just show off a bit, and then not being able to do anything because you don't have the WiFi password?
Silhouette Studio 4
Silhouette Studio 4 is the newest version of Silhouette's design software. It's faster and more reliable, with some great new features, like SVG exporting and more tracing tools.
It runs on Windows 7 & up, and Mac OSX 10.7 & up.
Like any software, some people think Silhouette Studio is easy to learn, while others find it intimidating. I found it pretty intuitive to get set up and designing, but you don't have to take my word for it. The basic version is free to download, so you can try it out for yourself and see if you like it!
If you have any trouble, the newest version comes with animated walk-through tutorials, or you can take advantage of all the YouTube videos explaining how to get things done in Silhouette Studio.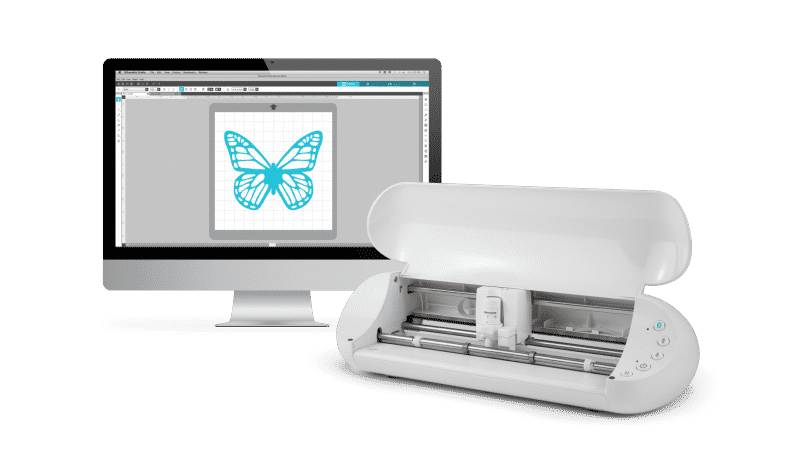 The biggest drawback of Silhouette Studio is that paid upgrades are required to use take advantage of commonly used image formats. If you want to import SVGs or PDFs, you'll have to upgrade to the Designer Edition ($50), and to export SVGs, PDFs, and JPGs, you'll need the Business Edition ($100).
So if you are looking at the Portrait 2 because it is a bit cheaper than the Cameo 3, make sure to factor in the cost of what level design software you need.
If you want to read a more in-depth review of the newest version of Silhouette Studio, including a discussion of all those new features, check out this section in my Cameo 4 review.
Silhouette Cameo 3 vs Portrait 2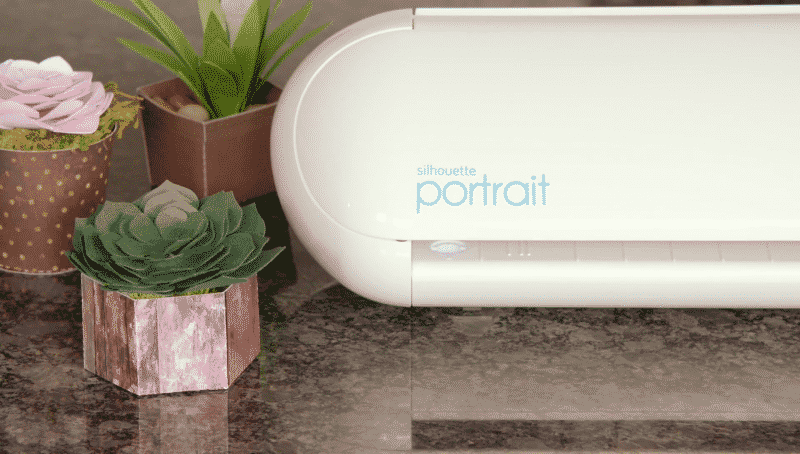 If you are still trying to decide between the Cameo 3 and the Portrait 2 (the two newest Silhouette models), let me summarize the commonalities and differences:
They both have Bluetooth and AutoBlade, can cut materials up to 2 mm thick and 10 feet long, and work with Silhouette Studio 4.
The Portrait 2 is significantly smaller than the Cameo 3. It only cuts 8″ wide, but it is half as large, and weighs less than half as much. If you want a machine that is easy to transport and doesn't take up much space, the Portrait 2 is the one for you.
The Cameo 3 can cut materials up to 12″ wide, and will also take up twice as much space on your counter. That extra few inches is actually really helpful for certain projects, such as cutting large lettering for signs. So if you're a signmaker, you'll prefer the Cameo 3.
The Cameo 3 has a few other features missing in the Portrait 2: dual carriage, touchscreen, adjustable rollers, and a USB port for cutting directly off of USB drive. The most interesting is the dual carriage, which lets you use two different tools like sketch & cut, without having to stop the machine and change instruments. If you want to use multiple tools regularly, the Cameo 3 would definitely save you a lot of time and effort.
I've also heard that the Portrait 2 is quieter than the Cameo 3. If anyone can verify this, I'd love to hear about it in the comments!
Conclusion
The Silhouette Portrait 2 is a great little cutting machine, that is probably not as popular as it should be. It cuts just as well as the Cameo 3, just not as wide.
It's small and lightweight, making it the best portable electronic cutting machine I can find.
It's great for people who are new to electronic cutters, those who want less of a commitment (physical and financial), or those who have a little bit less space to craft. With Bluetooth, it's also an affordable choice for classrooms, maker spaces, and small craft studios.
The main drawbacks are its weak cutting force and narrow cutting size. If you want wider capabilities or the dual carriage, the Cameo 3 is a great upgrade. And if you want a more powerful machine, the Cricut Maker is making eyes at you.
Silhouette Portrait 2 Bundles: Where to buy
So many people love the Silhouette Portrait 2 because even with a bundle it's still cheaper than its competitors.
You want to make sure you're buying a new machine that comes with the original manufacturer's warranty. Many online retailers sell "grey-market" products that don't come with a warranty and are often refurbished/used.
These links below are all verified to be working and to come with the original warranty.
These are the best bundles I've been able to find (as of September, 2020) and because they go out of stock frequently I'll keep this section updated with the current deals.
The best Silhouette Portrait 2 deals I've found are:
Silhouette Portrait 2 Starter Bundle (check for availability) includes:

Two (2) 8-inch by 12-inch cutting mats
24 colors of sketch pens
ratchet blade and vinyl cutter

Silhouette Portrait 2 Education Bundle (in stock) includes:

24 sheets of Oracal 651 permanent vinyl (12 x 12)
8 sketch pens
weeding tool and scraper
premium transfer tape
full-color guides, 1 month to Silhouette U, 1 month to Silhouette Club

Silhouette Portrait 2 Heat Transfer Bundle (in stock) includes:

12 sheets of Siser EasyWeed Heat Transfer Vinyl
6 sheets of Siser Glitter Heat Transfer
weeding tool and scraper
full-color guides, 1 month to Silhouette U, 1 month to Silhouette Club
FAQ
Which Silhouette machine do you recommend for embossing?
Definitely the Silhouette Curio.
What can I make with a Silhouette Portrait?
Oh, the possibilities are actually limitless! You can make stickers, vinyl decals, cards, gifts, invitations, paper crafts, etched glass, scrapbooks, holiday decor, magnets, kids crafts, accessories, stencils, sketches, labels, stamps, temporary tattoos, 3D projects, and school projects.
Think that's enough to get you started?
How big is the Portrait 2?
The Silhouette Portrait specifications are:
Weight: 3.5 lbs
Dimensions:

Width: 16.25 inches
Depth: 4.5 inches
Height: 5.6 inches
Should I upgrade from the original Silhouette Portrait?
If you actually like to bring your Portrait around to different places, I would recommend upgrading. Being able to use Bluetooth would make that so much easier!
Can you load the Portrait with 8.5 x 11 paper?
Absolutely! The machine even has guides for letter-size paper. But the maximum cutting width is 8 inches, so you won't be able to cut all the way to the edge of that paper.
Is it quieter than the Cameo 3?
I haven't compared them myself, but I've heard from a friend that the Portrait 2 is quieter. If any of you have tested this out, please let me know!
Do you have to be connected to the internet to use the Portrait 2?
Nope! One of the reasons why I love Silhouette Studio is that it downloads all your home-made and purchased designs to your computer or device, so you can design, edit, and cut without being connected to the internet.
Does the Silhouette Portrait 2 work with normal cutting mats?
No, and it's one of the drawbacks of this machine. The Portrait 2 can only cut 8 inches wide, and uses an 8 x 12 cutting mat, smaller than the standard 12 x 12 used for most Cricuts and Silhouettes.
Can I use the Portrait 2 with multiple computers?
Yes, you can sync up to five devices or computers with one Silhouette account. And with Bluetooth it's easy to send cut jobs to the Silhouette from multiple computers.
Is this machine compatible with the vinyl roll feeder?
Yes, it works beautifully with the vinyl roll feeder. But you'll have to find rolls of vinyl that are 9″ wide or less.