The fastest and most powerful machine from Cricut. It's finally here: my Cricut Maker review.
The question to ask is: does it justify its cost? Absolutely.
The Cricut Maker is a surprising improvement over the Explore Air 2, but it's not without its faults. More on these in a bit.
I'll explain in detail why it's the best fabric cutting machine I've ever used and cover the recent changes.
I'll also review the accessories exclusively designed for the Cricut Maker, including the new Knife Blade & the Rotary Blade.
2023 Cricut Maker review
The Cricut Maker is the newest cutting machine released by Cricut and represents their vision for the future. But, does that vision hold up?
If you will be cut fabric: yes.
If you cut thick materials like leather or balsa wood: yes.
If you want the best machine available today: yes.
Is it still a great value compared with the Cricut Maker 3? Absolutely.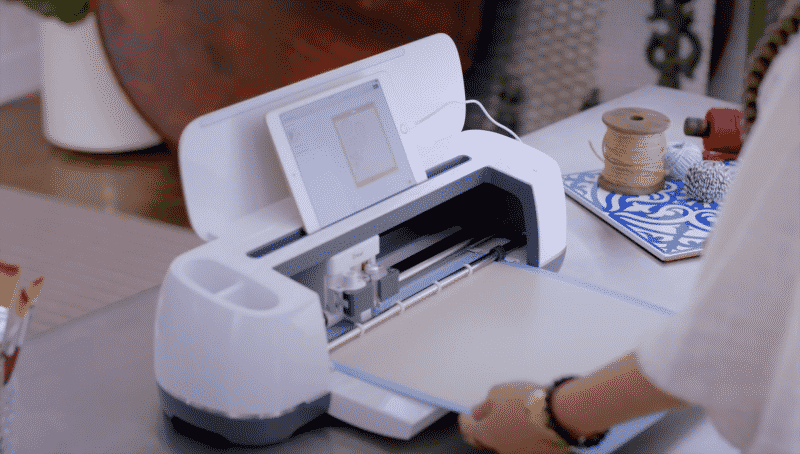 I'll start this review with a table that explores its attributes. After, I'll highlight the 5 best new features that are exclusive to the Cricut Maker.
I'll then break down all of the Cricut Maker's features in an easy-to-read format so you can figure out which matter most to you.
Software

Cutting quality

Ease of Use

Accessories

Overall rating

Our favorite machine
Software

Cutting quality

Ease of Use

Accessories

Overall rating

If you're looking for the best Cricut Maker deals and bundles, feel free to skip ahead or click here for the current best price on just the Cricut Maker.
5 best new features
Let's start with a quick review of the Cricut Maker's best new features and then get into the nitty-gritty.
Adaptive Tool System. This is the professional cutting technology that gives the Cricut Maker 10x more cutting force and the ability to use the Knife Blade and Rotary Blade.
Rotary Blade. This is why the Cricut Maker is the best machine on the market for cutting fabrics.
Knife Blade. You can think of it as an X-Acto blade for wood and thick materials like leather.
Sewing Pattern Library. Normally you would mark a pattern onto your fabric and then cut it out by hand. The Cricut Maker lets you skip both of those steps.
Washable fabric pen. You can mark seam allowances, darts, notches, the whole deal. An essential accessory for the Sewing Pattern Library.
I'll go into extensive detail about each of these new features below. But first I'll go over the pros/cons of the Cricut Maker so you can get a general idea at a glance.
Then I'll give a brief overview of the Maker's specs and what exactly it comes with.
I also have an in-depth comparison of the differences between the Cricut Maker and Cricut Maker 3 here.
Pros
Okay, get ready, because there are a lot of them to review:
Fantastic at cutting fabric (even crepe paper or silk)
Cuts through thick materials (like leather or wood)
Uses tools that no other machine can:

The Rotary Blade makes the Cricut Maker the best machine for cutting fabrics
The Cricut Maker's Knife Blade lets you cut thick materials like wood and leather. Think of it like an X-Acto blade for your Cricut.

The first Cricut machine to use the Adaptive Tool System. 10x the cutting power of other Cricut machines.
Future-proof. All new tools will be designed for this new die-cutting machine system.
Uses 2x fast mode for cutting paper and vinyl.
Designed to use the Sewing Pattern Library.
Warranty is no longer voided by commercial use.
Embedded Bluetooth allows for wireless cutting.
Integrated iPad/iPhone mount and improved machine design.
Cons
The price. It's the most expensive Cricut machine, with an MSRP $100 more than the next model.
It can be slow while using the Rotary Blade or Knife Blade.
Compared to other machines the Cricut Maker has a smaller cutting space.
Software requires an internet connection to use.
The accessories which set it apart are not included. You can easily spend another $40 to add them on.
It's the newest Cricut machine. This may not seem like a con, but sometimes there are kinks to work out. Often second-generation machines are more reliable.
Specifications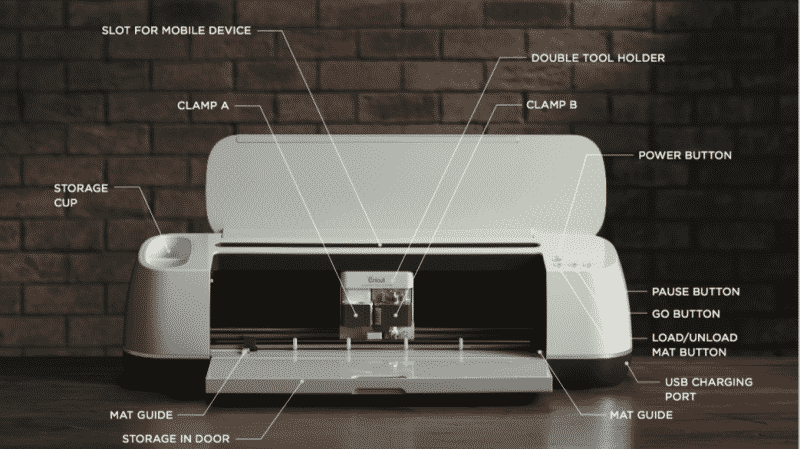 No Cricut Maker review is complete without an unboxing, and I hope to post one soon, but let's stick with a quick inventory for now. The Cricut Maker comes with:
Cricut Maker machine (with embedded Bluetooth)
Rotary Blade & drive housing
Premium Fine-Point Blade & housing
Fine-Point Pen
FabricGrip Mat 12″ x 12″
LightGrip Mat 12″ x 12″
Pack of materials for your first projects (1 fabric sample, 2 paper samples)
Welcome book
USB cable
Power adapter
Cricut Access free trial + coupon
50 ready-to-make projects, including 25 sewing patterns
1-year limited warranty (now covers commercial use!)
Dimensions: ~22-2/3″L x 7-1/8″W x 6-1/4″
Weight: 16 pounds
Okay, on to the elephant in the room: the new design. Where did the Quick Dial go? Does it still work with cartridges?
I'll cover it all.
New machine design
Cricut completely updated the physical design of the Explore Air 2. They've taken the best features from the Cricut Explore Air 2 and improved on them. It's an entirely new Cricut machine.
Cricut continues to impress me with their attention to small design details and their ability to improve on what already works. Everything about this design is pleasant to look at and use.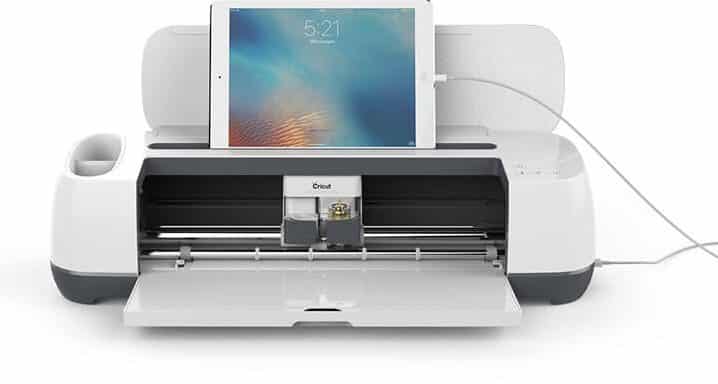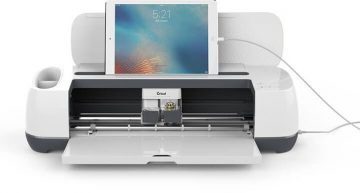 The Cricut Maker is designed to be used with a tablet or phone.
It has a ledge on the top for setting your tablet up and securely holding it in place.
It also features a charging port on the right, so you can charge your iPhone or iPad directly from the Maker.
I really like this change, it's super useful to have your design right in front of you and at eye level as you're using the machine, but wait.. the Smart Dial? Where did it go?
The Smart Dial system is completely missing from the machine. Cricut has moved its functionality completely into the software.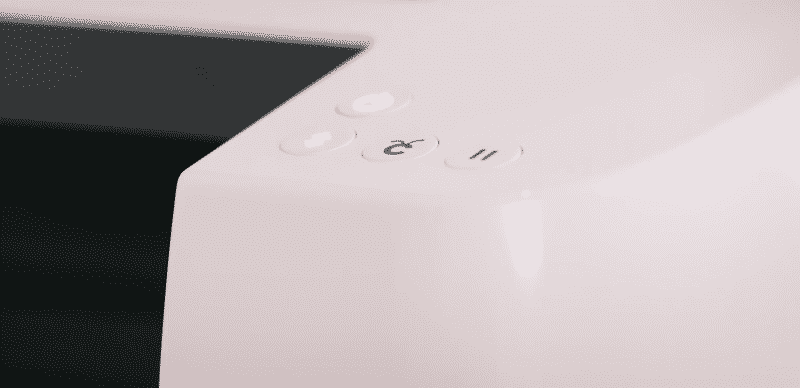 I miss the familiar dial, but I completely get why they removed it. Setting your material directly in the software is how I use my Silhouette Cameo 3, and it's a lot easier. It's also a lot more reliable, I can set it in a single place and not worry about where the dial is set on my machine.
You'll also notice that the cartridge slot is completely removed. Instead, it's been replaced with additional storage.
That the newest machine from Cricut that doesn't support cartridges is a sign of things to come. If you still rely on them, Cricut sells a Cartridge Adapter that allows you to link your cartridges.
Cricut hasn't just removed features to streamline its design. It's also reconfigured the existing accessory storage.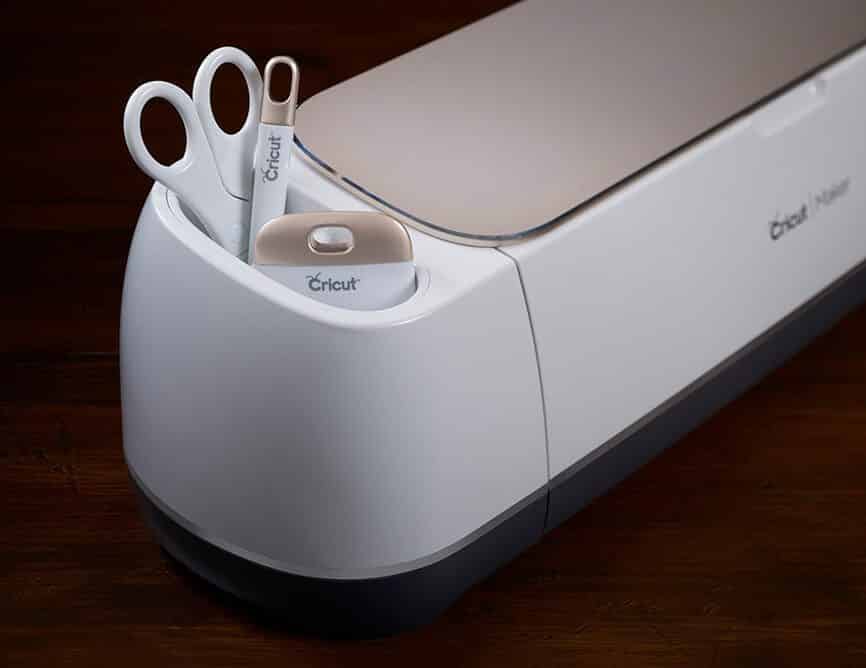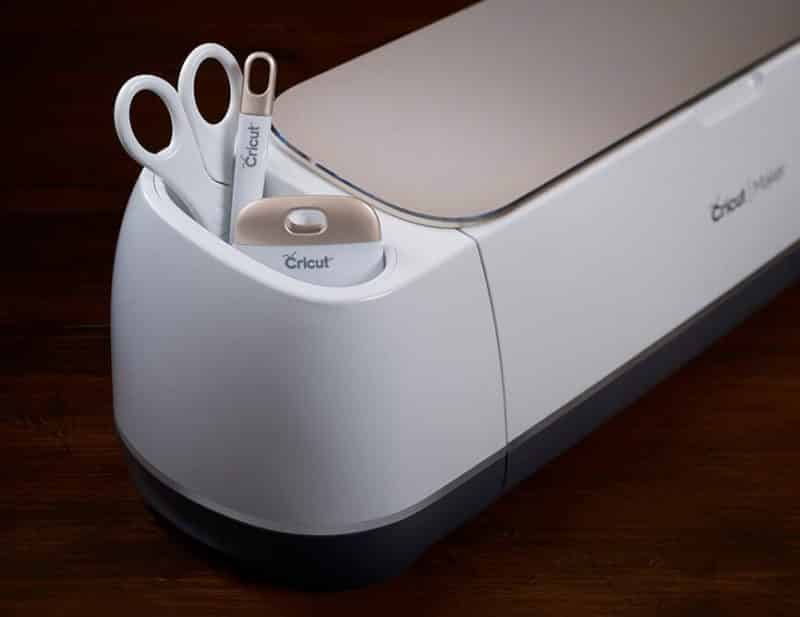 There are now two accessory tool cups on the left. One is deep, useful for holding pens, weeding tools, and accessories. Both are lined with a protective sheet of rubber to protect any blades that you might store inside.
The front tool drawer is also improved. It's larger, with deeper storage. It still features my favorite detail from the Explore Air 2: awesome magnetic strips for holding your blades in place!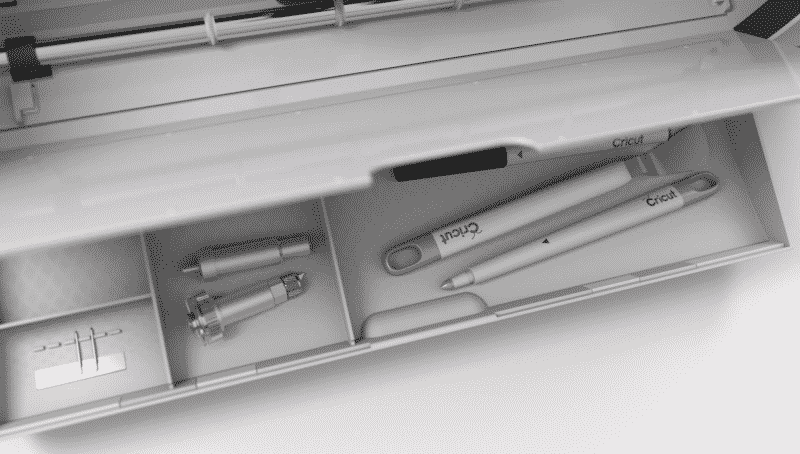 If you pay close attention you'll notice many small details intended to make the Cricut Maker into a premium machine. The exterior is now edged with polished metal. The drawers are lined with an elegant diamond pattern.
Individually, these are small improvements. Together they represent a much cleaner design that's easier and more reliable to use.
For most, these will be mere cosmetic changes. So let's talk about the Maker's cutting quality and if it really deserves its reputation as the best cutting machine on the market today.
Cutting quality
Spoiler: the Cricut Maker is the best cutting machine you can buy right now. When I sat down to write the Cricut Maker review, I knew this would be the main focus of the article.
If you're cutting paper or vinyl, the Explore Air 2 is very similar. You probably won't notice a large improvement unless you're cutting through pretty thick material.
Like the Explore Air 2, the Maker has a 2x fast mode for cutting vinyl and paper.
If you're cutting fabric or thicker materials, it's like night and day. I continually make projects using the Cricut Maker that I wouldn't dream of attempting on the Explore Air 2 or any other model.
The only limitation worth mentioning is the size of the cuts you can make. If you're used the Silhouette Cameo 3, you'll know that they cut up to 10 feet. The Cricut Maker is limited to 2′ cuts within its cutting space.
If cutting space is a deal-breaker for you, then picking up a Silhouette Cameo 4 or 3 is probably a good alternative.
Most of the Cricut Maker's cutting improvements come from what Cricut is calling its new "Adaptive Tool System." Let's talk about what that system is and how it gives the Maker 10x the cutting power of the Explore Air 2.
Adaptive Tool System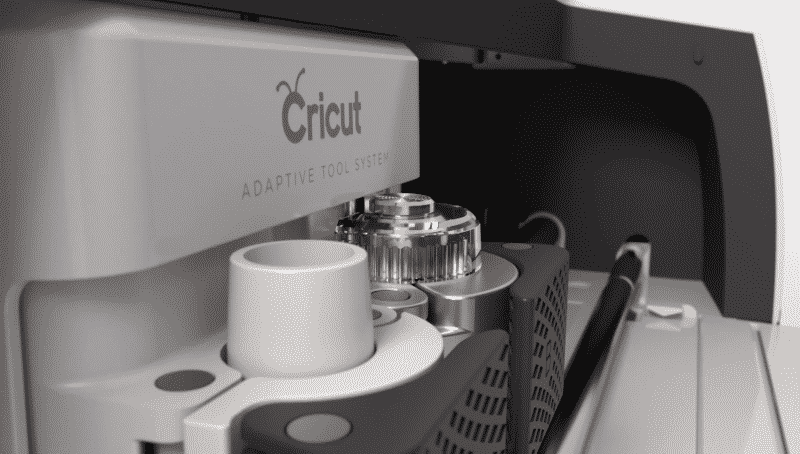 A cutting machine typically can perform two actions:
Move your mat in and out of the machine.
Move the blade side-to-side.
This is fine for a quick and accurate cut on most materials, but with thicker materials and fabrics it sometimes falls short.
That's where the Cricut Maker's Adaptive Tool System comes in. It adds a third action! A set of gears that allow the blade to lift and turn, intelligently controlling the pressure of the cut and the rotation of the blade.
This is the difference between drawing a picture and sculpting with clay. It's a third-dimension to cutting that Cricut previously hadn't figured out.
I've said above that the Cricut Maker is 10x more powerful than the Explore Air 2, this is why.
This is the future of Cricut. Most new tools are going to be specifically designed for this system. By purchasing the Maker you're also making an investment into the future of Cricut and its accessories.
The first two new tools created for the Adaptive Tool System are the Rotary Blade (for cutting fabrics) and the Knife Tool (for cutting thick materials). These are exclusive tools for the Cricut Maker.
Let's explore the Rotary Blade first.
If you're like me, you're going to rely on it so much that you keep 3-4 stockpiled in case Cricut ever runs out of stock. Okay…maybe I'm the only one who does that.
Cutting fabric: the Rotary Blade

This is the reason the Cricut Maker is the best machine on the market for cutting fabrics.
Instead of ripping or tearing your fabric (especially if your blade is dull), the Rotary Blade rolls over, cutting even unbonded fabric without any backing material.
You just load the fabric on your cutting mat and let the Cricut Maker do the rest.
I'll be completely honest, this is the only reason I initially purchased a Cricut Maker.
Back in August, the Knife Tool was still on backorder and I didn't think I'd make a lot of use of its sewing pattern library. A washable fabric pen sounded nice, but it wasn't something I ever concerned myself with.
Cutting fabric has always been annoyingly hit or miss for me. I would find myself making test cuts on every new material I'd use, cleaning my blade after every cut, and crossing my fingers so that everything would turn out just right.
The biggest difference the Cricut Maker has made has actually been hard to notice. It's the things I don't have to do anymore, so it's sometimes difficult to see them.
I don't apply transfer paper or freezer sheets before applying them to the cutting mat.
I don't make test cuts on my fabric.
I've started using really sheer and delicate fabrics, like silk, without fussing around.
I'm sure I sound like a broken record here, but this is really the best machine for cutting fabric that I've ever used. I hold the Rotary Blade personally responsible!
You absolutely need to try out one of these machines if you routinely cut fabric for crafting.
So I said the Knife Tool had been on backorder, well when it finally came out we saw it was just as life-changing as the Rotary Blade.
Cutting thick materials: the Knife Blade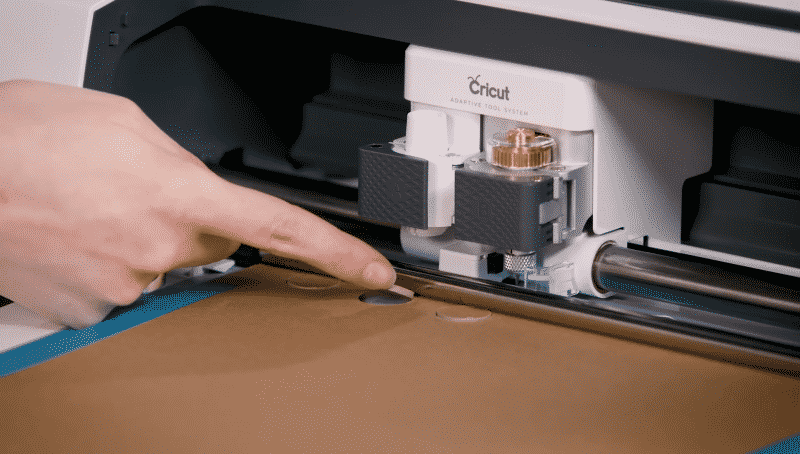 The Knife Blade was only recently released in May 2018 and it's still on backorder in a few locations (currently available here). Cricut made a few improvements to it and wanted to make sure it was perfect before releasing it.
I've only had mine since the beginning of May but I've quickly put it through the trials. My first question was: does it really offer 10x more cutting power? If so, what does that mean, practically speaking?
Well, I can cut wood now, just like that. I was sure it would dull the blade, so I tried over and over, making test cut after test cut, and had the same exact results.
I've been so impressed with it that I've put together a list that I'll copy here of the materials and projects that I want to work on in the future. These are all projects that I wouldn't even attempt previously:
leather wallets
fridge magnets
toy airplanes
puzzles
a wooden calendar
a balsa wood boat
raised chipboard letters for my scrapbooks
I'm seriously so excited!
Cricut lists these materials as what the Knife Blade was designed for:
mat board
leather
craft foam
chipboard
balsa wood
basswood
The downside is that using the Knife Blade with the Cricut Maker is a bit slower. You sometimes need to make an additional cutting pass to ensure a clean, complete cut.
The Knife Blade also only works with the desktop version of the Cricut's software, this means no iPhone or iPad.
Quality improvements: the Fine Point Blade
Just like the machines that came before it, the Cricut Maker includes a Fine Point Blade made from German carbide steel. It's what you'll use most frequently for cutting and it provides a lot of the versatility of the Cricut Maker.
If you're cutting paper, vinyl, poster board, or even faux-leather, it's likely you'll just stick with the Fine Point Blade.
It's not so much that Cricut redesigned this blade, but the Cricut Maker is designed to use the Fine Point Blade with a lot more pressure and accuracy due to its revamped tool system. So this familiar blade has a lot of unfamiliar functionality.
There's also a Bonded Fabric Blade. What is this exactly?
The Bonded Fabric Blade is just the Fine Point Blade in a different color. It helps you keep it separate, just like you might keep hair-cutting scissors separate from your craft scissors, or your craft scissors separate from those you'd use for opening a box or cutting scrap cardboard.
If you don't think you'll cut fabric enough to justify having another Fine Point Blade in a different color, I think you can skip this.
This is a great time to go over all of the materials the Cricut Maker can cut.
Materials that can be cut
The Cricut Maker can cut through hundreds of different materials, but I just want to highlight a few that have been essential for me:
fabric (felt, tweed, denim, cotton)
vinyl (dry erase, heat transfer/HTV, metallic, stencil, window cling)
paper (construction, washi, printer, crepe, etc, etc, etc!)
plastics like acetate
matboard
balsa wood
card stock
If you feel like I'm missing your favorite material from the above list, I didn't want to take up pages and pages of space! I really could go on forever about all of the materials this machine happily cuts through.
I've written a lot about Cricut's software in the past, so let's talk about that now.
Software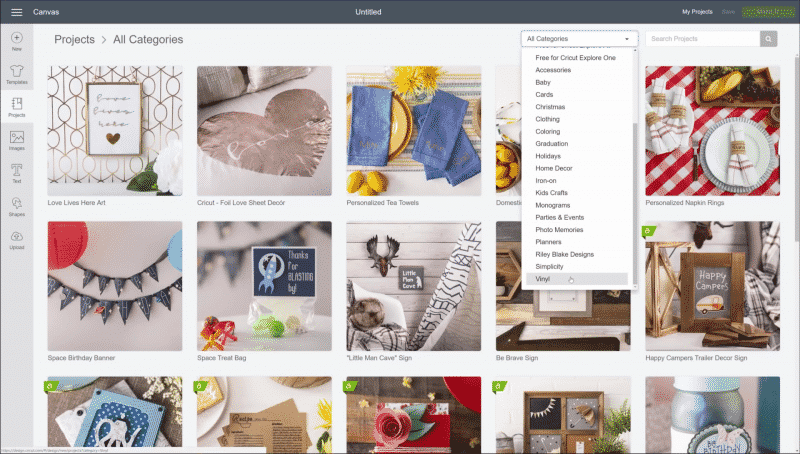 Its software is unfortunately where the Cricut Maker is the weakest. It uses the web-based software Design Space which requires either an active internet connection or an Android/iPad/iPhone to make cuts and designs.
I was hoping for this Cricut Maker Review that I'd also be able to talk a bit about the changes Cricut made with Design Space, but there haven't been many.
There is a light at the end of the tunnel, however. Cricut keeps updating its software to incorporate the best features of Silhouette Studio.
Cricut has been updating the software to make it faster and more reliable. With the release of Design Space 3 last year they have vastly improved on the interface.
The Cricut Maker's Design Space software is better than Silhouette's software in one very specific way: it's free to import SVGs and cut files. If you haven't used them before, you should!
With SVGs (whether you buy them or use free ones) you own the design permanently and can use it with whatever machine you own.
So I've talked a little bit about the general drawbacks, but the Cricut Maker has access to one specific piece of software that other Cricut machines don't: the Sewing Pattern Library.
Sewing Pattern Library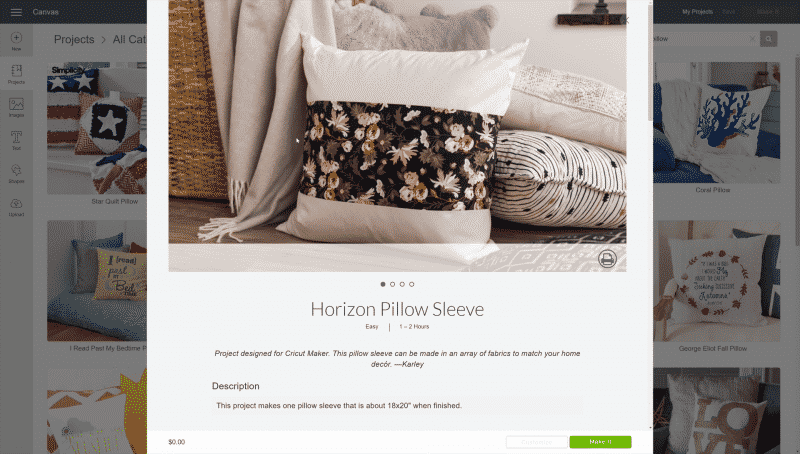 The Cricut Maker is the only die-cutting machine from Cricut that comes with access to a sewing pattern library. If you aren't too familiar with sewing patterns, I'll explain why this is so awesome.
A sewing pattern is a template for tracing a cut onto the material you're going to cut & sew.
Normally you'd mark the pattern on your fabric and then cut it out by hand. The Cricut Maker lets you skip both of those steps.
The library has a great collection of patterns including some from a few big brands like Simplicity and Riley Blake.
One drawback is it's difficult to bring your pre-existing patterns in, but if you're capable of converting them to SVG files you can load your own designs directly into Design Space.
If you're looking to work with a new pattern you can make it in Design Space. Printable Crush has a pretty neat guide.
Cricut Access
Cricut Access is a premium subscription service offered by Cricut. Depending on the plan you choose you're given unlimited access to fonts, designs, or even a 10% discount on purchases from cricut.com
Cricut Access is worth it if you find yourself buying a lot of items in the Cricut Design Space software store.
The Cricut Maker comes with a free trial to Cricut Access so you can explore it yourself and decide if it's worth it for you.
Personally, I prefer to purchase designs as I need them and this way I own them forever.
That's it for the software!
Bluetooth
The Cricut Maker comes with embedded Bluetooth so it will work wirelessly with your computer, iPhone, iPad, or Android device without needing an adapter.
If you need help pairing it with your computer, Cricut has a great page on setting it up.
Warranty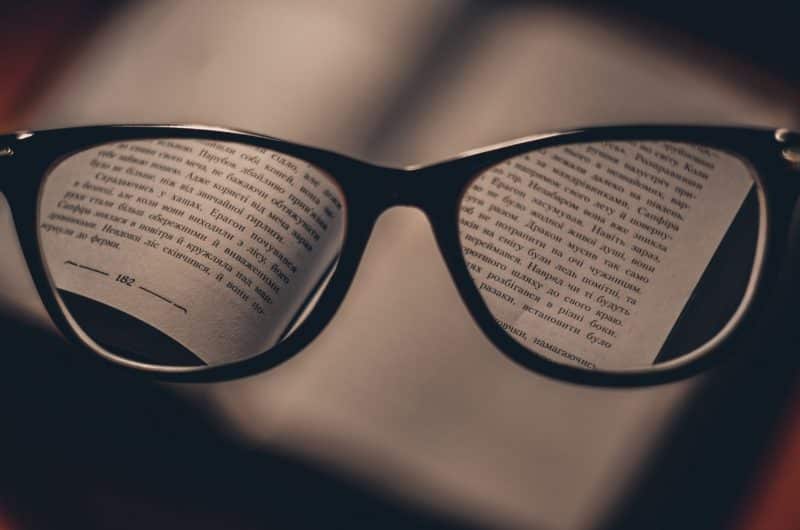 I know, a whole section on the warranty seems a bit… boring? But bear with me, this is actually a huge area of improvement, one that I haven't heard a lot of other people talking about.
The Cricut Maker comes with a one-year limited hardware warranty from date of purchase. Sounds typical, right? It is.
When I dug into the fine print, however, I noticed that the warranty is no longer voided by commercial use. Wait, what, commercial use? Like… selling a sticker? Or a bag?
That's right. If you previously used an Explore Air 2 you would completely void the warranty by selling your products or using it as part of a business, which always seemed funny to me. Cricut fixed all of that with the Maker.
So, what does a limited warranty mean? Federal law requires any product that costs more than $10 to specify whether its warranty is "limited" or "full."
A full warranty is transferable, doesn't require you to pay any fees (like shipping), and requires that the company give you the option of a replacement or full refund after a number of failed attempts. A limited warranty does not have to meet those requirements.
With Cricut's warranty, if the problem can be resolved by you fixing it yourself, they will give you the option of having them ship you a replaceable unit, which is great because it saves time + shipping cost.
Conclusion
The Cricut Maker is the best machine you can buy today and the best cutting machine I've ever used or reviewed.
If you routinely work with fabric or thicker materials like leather, it's a complete game-changer.
If you're looking for a machine just to cut vinyl or decals, you might consider the Cricut Explore Air 2. I have a review of the 6 best Cricut machines of 2023.
The newest machine, at the top of that list? The Cricut Maker.
If you have any questions, there's a good chance that I've answered it below. If you don't see it listed, just drop me a comment and I'll get back to you ASAP.
Best Cricut Maker bundles and deals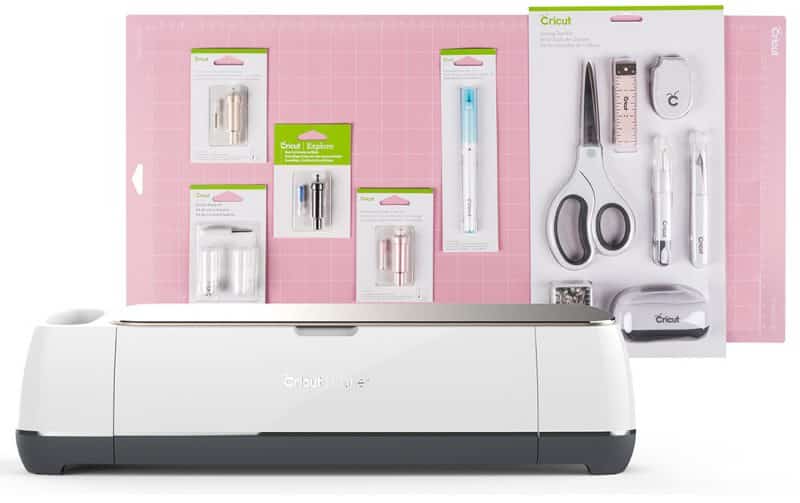 With any decision as important as this one you'll want to make sure you're getting a great deal and the authentic product.
Many retailers sell "grey-market" machines that don't come with a warranty and if they need repairs you'll have to mail them to another country.
All of the deals below are verified to be current and to come with the original manufacturer's warranty.
You do need to be careful because they often sell out, so make sure to check back as the list changes.
–> Here is the best place to order to receive a Maker right away.
Bundles
FAQ
Can I use the new Cricut Maker blades with the Explore Air 2?
If you're looking to use the Rotary and Knife Blades the only choice you have is the Cricut Maker right now. Cricut has said that future machines will take advantage of their new system, but for now the Maker is the only game in town. The Maker does use the same Fine Point Blade, so if you already have one, it can be swapped between machines.
Do I need to get the new Cricut Scoring Wheel?
If you already have a Scoring Stylus, you can use that with the Cricut Maker. The Scoring wheel does offer some pretty nice advantages: a lot more pressure (10x+ more), you can use it with a wider variety of materials, especially thick ones, and the Cricut Maker can change the Scoring Wheel pressure as you use it for working with tricky or complex materials.
Where can I buy a Cricut Maker?
Just above this FAQ, I have a section outlining just that!
Does the Cricut Maker work with normal cutting mats?
The Maker uses the same Cricut mats as every other machine which was a relief to me because they're my favorite.
Compared with other mats they're cheaper, easier to use, and retain their stickiness for longer, and I can find them at most local craft stores.
How large is its cutting mat?
The Maker uses the same size cutting mats at the Explore series, so it comes with 12″ x 12″ mats by default and supports up to 12″ x 24″. If you need a larger cutting area, this might not be the machine for you.
Does the Cricut Maker work with Cricut cartridges?
Out of the box, no. Cricut removed the cartridge slot from the machine as they slowly phase them out in favor of digital files. If you do still rely on them Cricut sells a Cartridge Adapter that allows you to link them in the software.
Can the Cricut Maker etch glass? What about foam board?
It can etch glass if you purchase an etching cream. Foam board cuts easily if you purchase the Knife Blade.
Can the Cricut Maker etch metal like jewelry or pet tags?
Yup, but it can't deeply engrave the metal.
What's the difference between the Rotary Blade and the Fabric Blade?
The Rotary Blade is a huge improvement and can be used with unbonded fabrics.
Do you need an iPad to use the Maker?
I definitely understand the confusion because it's often shown with an iPad mounted on the top. It's not necessary, just optional!
Can I make jigsaw puzzles?
You can, and that's actually one of the most recent projects I've tried out. You will need the Knife Blade attachment, however.
Can I use the Maker with multiple computers?
Yes. You can access Design Space through any device because it's web-based.
Do you recommend using a fabric pen?
It might seem like a small item, but it's super helpful for marking your sewing patterns. It's a bit slower to use because your machine makes the marking after the cut, so you have to wait for an additional pass.
Is there another new Cricut machine being released soon?
The most recent machines were released last year, and I haven't heard of anything new in the pipeline. You can also check our full list of die-cutting machines, reviewed right here.