Die cutting machines can be a crafter's dream, but if you haven't used one before it can be a bit intimidating picking one out.
Manual die cutters? Electronic? Cartridges?
Don't worry.
I've used just about every machine you can, some of them… for longer than I should have. I put this comparison together to give you a single place to review all of their different features. I made sure to include a quick guide at the bottom of this post so you can know which features actually matter.
There are also a few machines out there I'd really avoid, I marked them pretty clearly in this review so you only buy the best die cut machine.
Let's get to it!
The Best Die Cut Machines
I've split this list into two parts, the manual die cutters and the electronic die cutting machines. If you're unfamiliar with the differences, I'll cover that later on, but let me just give you a quick breakdown.
Manual die cutting machines:
Typically hand-cranked
Don't require power to work
Great for embossing
Less expensive at first
Have to purchase physical dies, which can get pricy and limit your creativity
Electronic die cutting machines:
Require power and often an internet connection
Can download free designs online
Anything you can dream up you can make or find an image for
A bit more expensive upfront
Require a computer, tablet, or smartphone to use
Okay, that should be enough to get you started! Let's look at the best machines themselves, highlighting what sets each one apart along with our recommendation.
Cricut Maker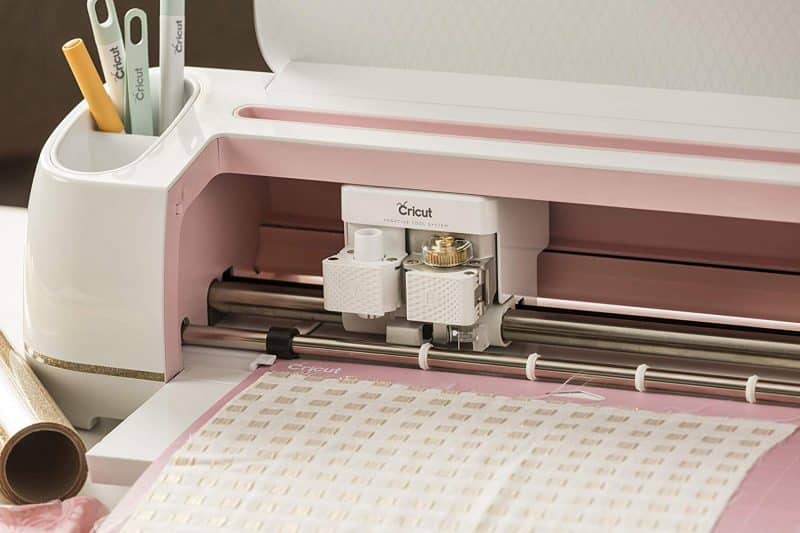 Read our full review.
The Cricut Maker is currently the most popular die cutting machine in the world, but should it be?
Absolutely.
Cricut has a long history of making cutting machines, from manual machines that used a cast die, then electronic machines which had designs you could load in on cartridges, and now this new class of smart die cutting machine.
Smart die cutters use software to lay out the entirety of your design, and with that you gain complete control over what your design will look like.
The Maker is one of the best examples of a smart die cut machine, and we think it's the best you can find right now.
This machine can cut any material you throw at it: fabric, felt, silk, paper, vinyl, wood, acrylic and literally hundreds more. If you have an idea that involves cutting this machine is going to make your crafting a lot easier.
Let's look at what sets it apart.
Design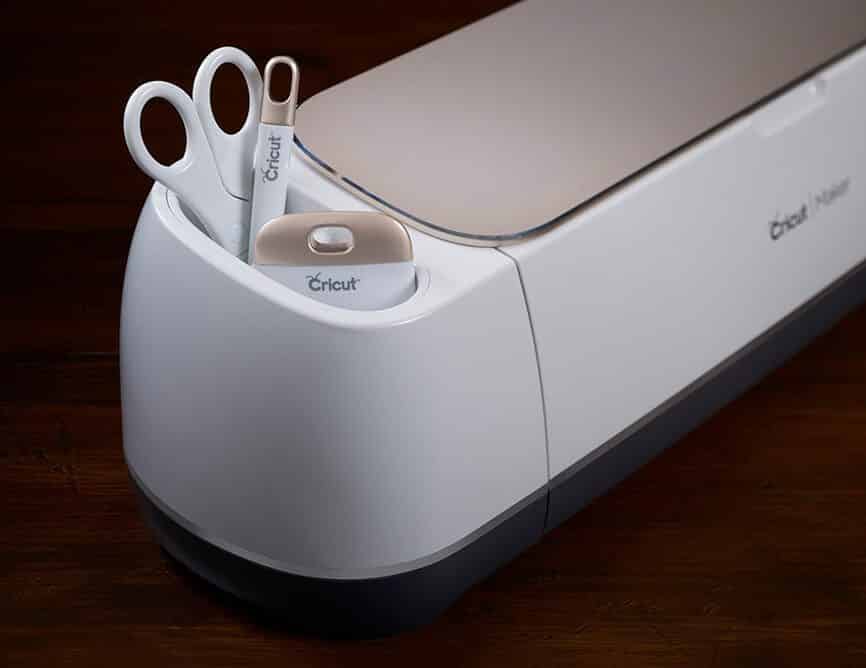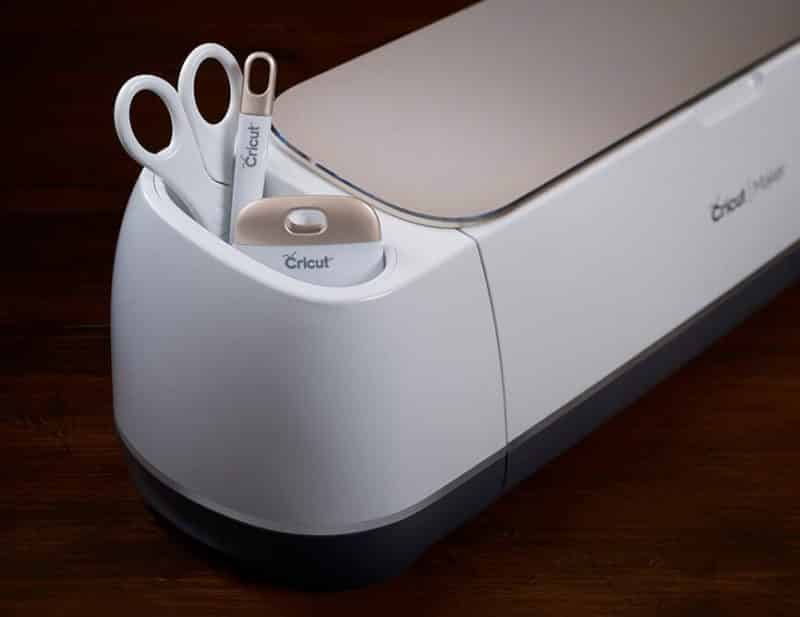 The design of the Cricut Maker is subtle, it blends into any craft room, but hidden in that design is a really easy to use machine that was made by and for crafters.
There are so many small details that crafters will really appreciate, the more I use it the more I appreciate how the entire machine's storage and buttons are laid out.
As you can see, the Cricut Maker was designed with tablets and smartphones in mind. My craft room is always limited on space, so I try to keep only what I need inside. Being able to connect directly to my iPad and not use a PC keeps me in the crafting zone and saves a lot of space (and heat, during the summer).
As you can see, there's a ledge on top that holds your tablet in place while you craft, with a USB port for connecting it directly to the machine.
Cricut removed all of their dials as well, because they realized most crafters were just using the software to pick and verify their settings. It's nice to just do it all in one place and I've found it makes my cuts and settings a lot more reliable.
You'll also notice that there's a lot of accessory storage, both on the left side of the machine and in a drawer underneath. They have a really nice lining that protects any blades you might have inside, the rubberized surface also keeps things from sliding around. Oh, and there are magnet strips for holding blades in place securely.
These may seem like small details, but they really add up to a beautiful crafting experience.
Cutting quality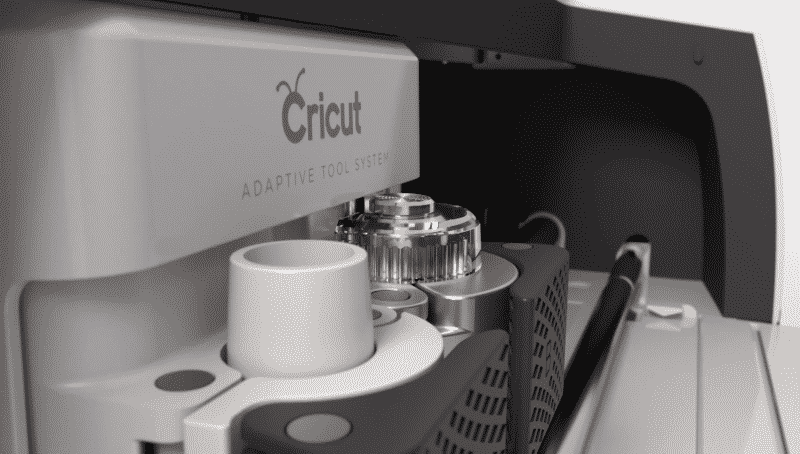 There's a reason why the Cricut Maker is the best die cut machine. Although we love its design, the actual cutting quality and versatility is what sets it apart from other electronic and manual die cutting machines.
Just check out some of the projects I've worked on recently to get an idea of how versatile this machine is and how many different materials you can work with:
leather wallets
fridge magnets
toy airplanes
puzzles
wooden calendars
balsa wood boats
raised chipboard letters for scrapbooking
Those are just recent projects!
The Maker also has a set of exclusive cutting blades designed just for its new Adaptive Tool System:
Wavy Blade
Scoring Wheel
Rotary Blade (for cutting fabric)
Knife Blade (cutting thick material)
Perforation Blade
Engraving Tip
Debossing Tip
Scoring Wheel
and Cricut intends to keep releasing new tools and blades for this system.
The downside is this cutting quality comes at a cost, this is the most expensive die cutting machine we're reviewing, so keep that in mind if you're just looking to get your feet wet with crafting.
What we like
This is our pick for the best die cutting machine
Great at cutting fabric, vinyl, or other tricky materials
Adaptive Tool System lets you cut through thick materials and with more cutting power than just about any other machine
Supports wireless cutting via Bluetooth with iOS, Android, PC, or MacOS devices
Cricut's Design Space software has improved a lot, letting you work offline without an internet connection
Design Space allows you to import SVG files and share your work with others, all for free
What we don't like
It's pricey, the most expensive die cut machine we've reviewed
If you use some of the newer blades, they work pretty slowly, so some patience is required for difficult cuts
While the software is easy to use, it can be limiting for more complicated designs
Summary
If you're just looking for the best die cutting machine, you can end your search right here (which is why I placed this at the top of our list).
This is our favorite die cutting machine that we've looked at.
If you are looking for an inexpensive alternative to get started, it's worth checking out our next die cutting machine, the Sizzix Big Shot.
Sale
Cricut Maker
Best die cutting machine reviewed
Great at cutting fabric, vinyl, or other tricky materials
Easy to use software, great community support
Future-proof with the new Adaptive Tool System
Bluetooth & wireless cutting
Sizzix Big Shot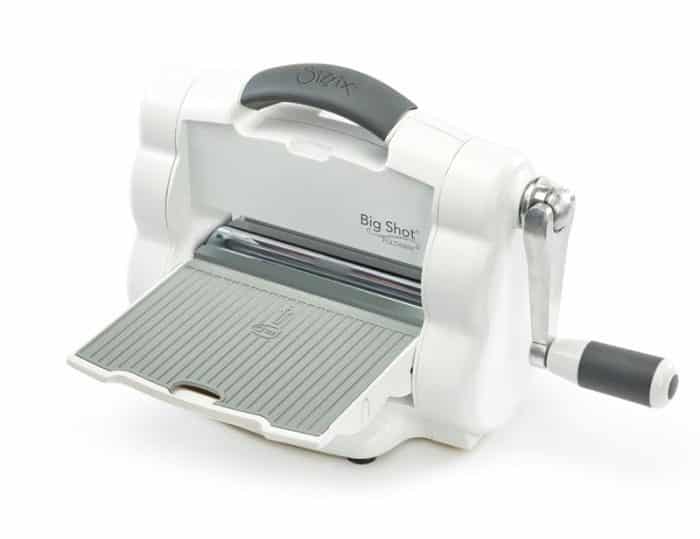 For a change of pace, let's now look at a manual die cutting machine, the Sizzix Big Shot. This machine is absolutely beloved in the crafting community by scrapbookers and jewelry makers.
There's a reason it's one of the best die cutting machines, and our top pick for a manual cutter.
As a manual die cutter, there's still a lot this machine can do. Using a metal die (like a cookie cutter), it presses into your material at a high, even pressure, making it capable of cutting through some pretty hard materials (like adhesive magnets, one of my favorites).
The Sizzix is a pretty portable machine, since you don't have to plug it in, you can just grab it and go. It does weigh 7.5 pounds and can work with 6″ wide dies. With manual machines like the Sizzix, you're often putting together what's known as a "sandwich" which is how you have to layer the material, die, and the cutting pads.
The Sizzix comes with a pair of cutting pads, and they're our favorite to use for how long they last.
This Sizzix machine also has a huge advantage over most of the electronic die cutters: it can use embossing folders. Embossing folders are typically translucent plastic folders with a design pressed into the plastic. When your paper is placed in the folder and pressed in the machine, you get that beautiful design perfectly embossed on your paper.
If this sounds like something you'll be doing a lot of, you want to make sure you select a cutting and embossing machine like the Sizzix Big Shot.
(This won't be the only die cutting embossing machine we review, and I'll make sure to point out which other machines can emboss)
What we like:
Our pick for the best manual die cutting and embossing machine
3-year warranty (2 years longer than most other machines)
Small, portable, and affordable
Perfectly sized for quilters
What we don't like:
Can get pricey if you're buying a lot of dies and embossing folders (which aren't included)
Narrow cutting width (6″)
Summary
The Sizzix Big Shot is the best die cutting machine for manual cutting and embossing that we reviewed. It's small, sturdy, and easy to use if you're just getting into crafting. Now that the Cricut Cuttlebug is discontinued, this is our top recommendation.
It does have a few notable downsides, and if you haven't done any die cutting before we do suggest you look at the electronic cutting machines in article to make sure you won't be missing out on any functionality.
If you need to make a larger cut, you could always consider its big brother, the Sizzix Big Shot Plus (cuts up to 9″).
Sale
Sizzix Big Shot
Best manual die cut machine reviewed
3-year warranty
Perfect size or upgrade to the Big Shot Plus
Fun for kids and those new to crafting!
Spellbinders Platinum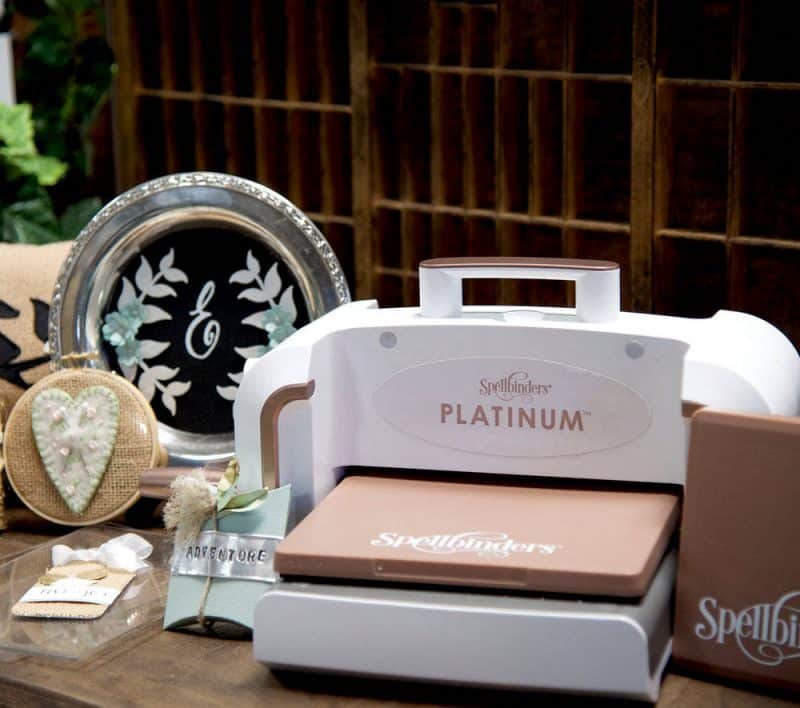 The Spellbinders Platinum is another incredibly popular manual die cutter among crafters.
It's built with a solid steel core construction, which basically means the machine is nearly indestructible and can cut through up to 6 layers on a single pass (pretty impressive!). Like the Big Shot, it's completely manual, so what sets these machines apart?
With scrapbookers, a lot of the choices they make on which die cutting machine to buy comes down to the actual dies and embossing folders they'll be using. Different machines work with different dies, so if you have a design you know you want to work with, I'd start there and check the machine it's compatible with. Most dies are cross-compatible, meaning that if you buy a plate adapter, you can use it in any machine that's large enough.
The Platinum's size is basically the largest difference between the two manual machines. The standard size uses 8.5″ x 12.25″ cutting and embossing plates, meaning that you can cut standard 8.5×11 paper without any trimming.
I also like how kid-friendly the manual die cutting machines are. For any parent that limits their kid's screentime, you don't need any computers at all and kids just love pulling the handle and immediately getting to see the outcome of their work. There's a joy in the immediate physical feedback that just seems to be lacking with some of the electronic machines, as much as I love them.
This machine can cut 40+ kinds of different materials, including: paper, leather, metal, wood, and wool.
What we like:
While it's not our best selection, we love the large cutting area of the 8.5″ machine
Cuts a wide range of materials
Solid construction, kid-friendly, and a joy to use
What we don't like
Around $70 more expensive than other manual die cutters.
Some people have issues with the machine breaking and having trouble getting technical support
Summary
The Spellbinders Platinum lives up to its name as one of the best choices for a die cutting and embossing machine. It supports a large cutting platform, has a solid construction, and you can get crafting in just a few minutes even if you've never touched a die cutter before.
If you know that you'll make use of the larger cutting area, this is the best upgrade from the Big Shot.
Spellbinders Platinum
Manual die cutter upgrade pick
Large, 8 1/2″ cutting area
Solid steel core construction
Cricut Joy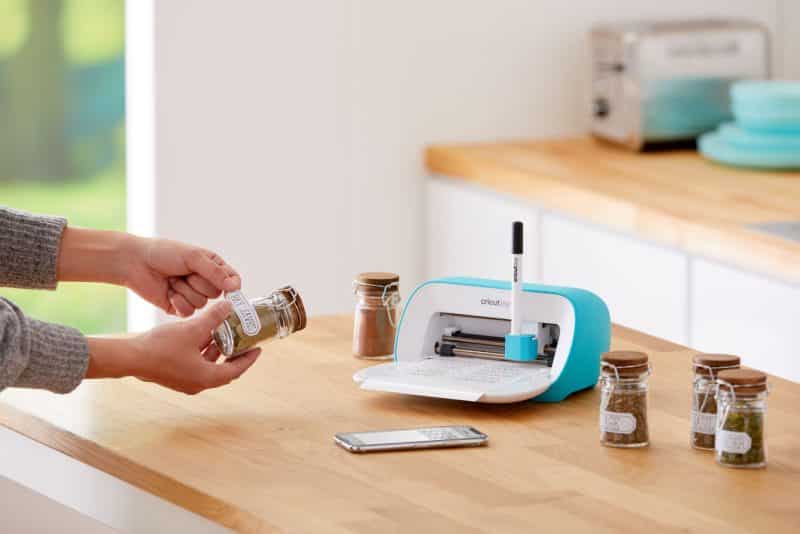 Read our full review.
The Cricut Joy is one of the newest die cut machines on the market and it fills an interesting gap in the crafting market.
Typically die cutters are:
Pretty large, design around cutting huge rolls of vinyl for making outdoor signs
Medium-sized electric machines, that look like a printer and require you to have a lot of space in front of and behind for the cutting mat to go through the machine
Small but heavy manual die cut machines which don't take up a lot of space on a table but can be a pain to move.
The Cricut Joy is small, light, and electric. It's designed to work with a new set of materials from Cricut called Smart Materials which have a special backing so you don't need to even use a cutting mat. It's super portable (Cricut has a really cute carrying case, but it costs a bit extra) and exclusively uses Bluetooth so there aren't a lot of cords or mess to worry about.
The downsides are that in making it light (and small) that it can't make large cuts or work with a lot of materials that other machines can. If you're just getting into crafting, this can be pretty frustrating because you don't yet know what you'll be working on.
On the other hand, for experienced crafters, this can be a delightful machine. It's fantastic at making greeting cards or small custom labels, and if you are okay with narrow cuts, it can actually work with really long rolls of [narrow] vinyl.
The standard cutting mat it comes with is 4.5″ x 6.5″, but for materials you cut without a mat it can make cut sof up to 20 feet long. It fits really nicely in a cubby, and looks super cute on a desk.
Even though it's not a die cutting and embossing machine, the Joy has in a lot of ways replaced the Cricut Cuttlebug.
What we like:
Pretty affordable, one of the least expensive electric die cutting machines you can buy
Works with Cricut Design Space software
Supports wireless cutting with Bluetooth
Great for card making
What we don't like:
Can be frustrating to not be able to work with certain materials or widths
Doesn't support drawing and cutting at the same time, a feature found in many other electric machines
Summary
If you have a very small crafting space, know that you'll be making a lot of greeting cards, or just want an inexpensive machine that can use Design Space, the Cricut Joy is your best choice.
The only machine that's nearly as portable is the Silhouette Portrait.
Sale
Cricut Joy
Least expensive electronic die cutter
Super cute, super small, super portable.
Fantastic at making greeting cards and labels
Supports wireless cutting with Bluetooth
Gemini Die Cutting Machine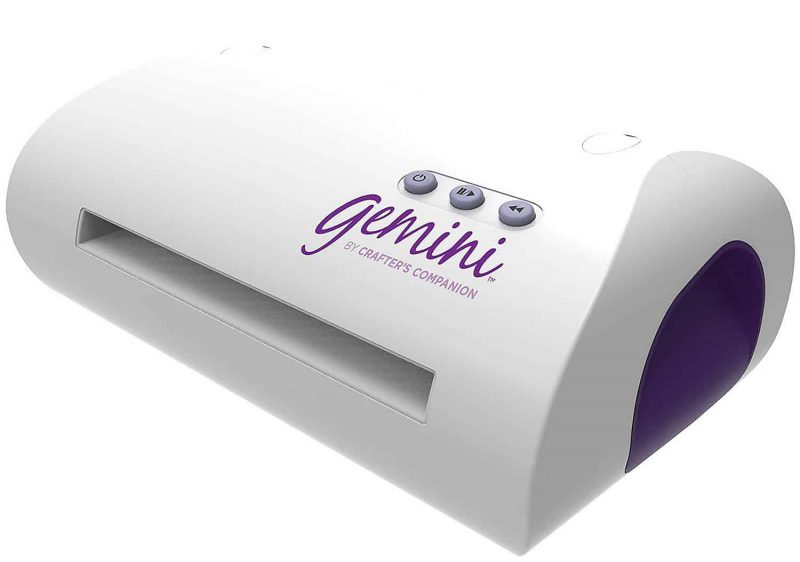 The Gemini from Crafter's Companion is one of the most unique machines we've seen. It's basically a manual die cutting machine but without the hand crank. It's both a cutting and embossing machine and uses premade dies.
The Gemini is also one of the largest traditional die cutting machines, supporting cuts of up to 9″ x 12.5″ (or a half inch larger than the Platinum).
The main advantage of a die cut machine like the Gemini over the machines with a hand crank is that it's a lot easier to cut with if you don't have a lot of hand strength. This unique style of cutter also lets you pause, resume, and reverse a project while you're working on it. The main advantage of that is if you think you've made a mistake, you can quickly check and see if everything looks right.
The Gemini is an interesting hybrid between the smart electric die cutting machines and a fully manual cutting embossing machine. It's not quite a manual cutter because it doesn't have a hand crank and must be plugged into a power source, but it's also not quite a smart cutter because it doesn't use any software.
It does however command a premium price. The Gemini is the most expensive non-smart machine we've looked at, and I'd only recommend it for crafters who really want a manual die cut machine but without the crank.
What we like:
Unique hybrid machine design, offers something that no other machine can
Large cutting area that lets you use any die (even multiple at the same time)
A good replacement for the now-discontinued Cricut Cuttlebug
What we don't like
Really expensive for a die cut machine
Limited by only using manual dies, which can become expensive over time
Summary
We'd recommend the Gemini for crafters who really want the manual functionality but who might have health issues that prevent them from using a hand crank. A lot of people love this machine, but it's not quite as easy to cut with as the fully-manual options.
It's also a fair bit pricier.
Sale
Gemini by Crafter's Campanion
Unique, hybrid design
Large cutting area (up to 8.5″ x 11″)
Can use with most dies and embossing folders
Supports pause, resume, and reverse functions
Silhouette Cameo 4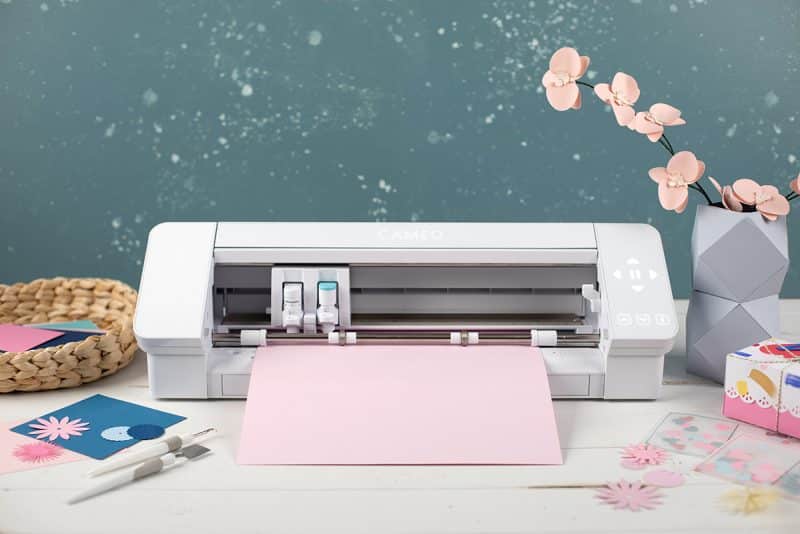 Read our full review.
The Silhouette Cameo 4 is the best offering from Silhouette, and one of our favorite cutting machines. It's a lot like the Cricut Maker, but it's even more powerful so it can cut a greater variety of materials.
Silhouete and Cricut are the two big names for smart electric die cutting machines. They aren't able to emboss like the manual machines, but their ability to cut intricate, custom designs through their software has completely revolutionized home crafting.
The Silhouette Cameo 4 is a huge improvement over their previous digital die cutting machine, the Cameo 3. It's user friendly, has great software with Silhouette Studio, and is one of the best electronic machines you can purchase. They kept the dual carriage so that you can both cut and draw at the same time, which can be really great for making greeting cards or working with sewing patterns.
It's larger and less portable than the Portrait and a fair bit pricier. In fact, it's the second-most expensive machine we've reviewed, just behind the Maker. The machine comes in 3 cut widths: 12″, 15″, 20″.
Silhouette Studio is my favorite software to plan a cut in. It's easy to learn but you can easily accomplish complex projects and cuts within it, I never feel held back. The only downside is that you do need to spend another $50 to upgrade that software so that you can import SVG files, an essential feature that should be included.
What we like:
25% more cutting force than the Cricut Maker (and 20x more force than the Silhouette Cameo 3)
Great software that's easy to use
Capable of cutting through paper, vinyl as well as thicker materials like craft metal or leather
The die cutting machine best for cutting vinyl
What we don't like
Is pretty pricey if you take into account having to upgrade their software ($50) to import SVG desgins
Quality assurance can be bad on these machines, a lot of people excitedly open their new machine to find it doesn't work or intermittently fails, which can be incredibly frustrating
Summary
If you're looking for the best electric die cutting machine, the Silhouette Cameo 4 makes a pretty good case. Its cutting quality is similar to that of the Maker, with great software and the ability to work with a variety of wide and thicker materials than the smaller Silhouette Portrait 3.
Silhouette Cameo 4 - Starter Bundle
Most powerful die cutter available
Can work with up to 60 foot long rolls of material
Great for working with vinyl
Comes with the best software you can find
AccuQuilt Go!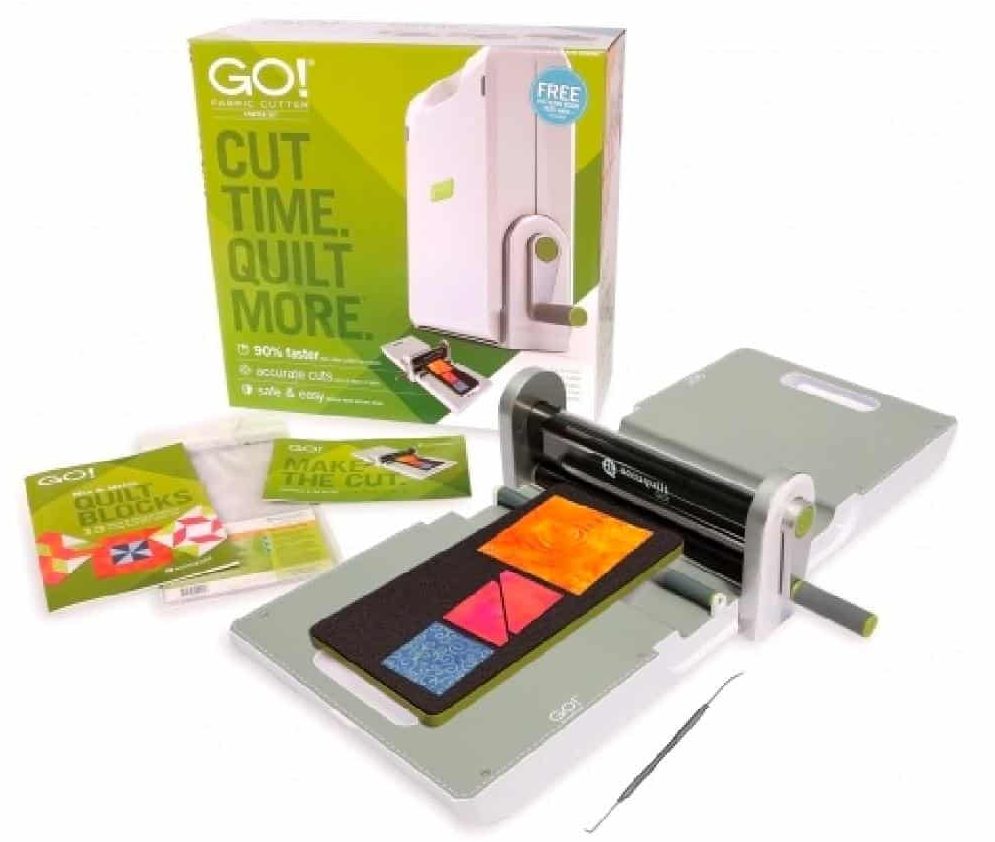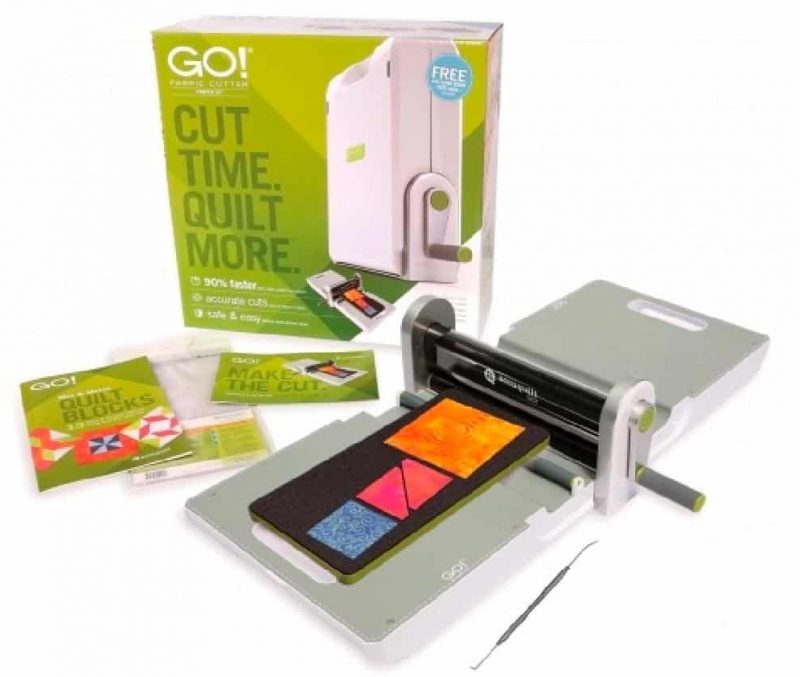 If you're only looking to cut fabric for quilting, this is a machine designed just for you. The Accuquilt Go! has one purpose, to make the fabric cutting part of any quilt project a lot easier.
If you spend a lot of time bending over, measuring over and over, and then making the cut, you might feel like you're spending a lot of time on busywork. I have a few friends who swear by this machine, if only because of the back pain it spared them. Seriously!
Because this machine has basically just one purpose, it definitely does it well. I was able to borrow a machine from a friend and tested cutting by hand with a rotary cutter or using the Go! and found that I was around 60% faster using this machine. AccuQuilt claims it's "90% faster," but maybe it's easier to use with more experience.
I also tested how accurate the cuts were, because I had heard from one friend that her machine seemed to be a bit inaccurate. I didn't have any issues with accuracy and found the machine very ergonomic.
This is how I'd think of whether or not to buy the machine: can I justify the price by how many additional quilts I would make? If you really dread the cutting, I'd seriously consider picking one up, but after using one for a week, I returned it and didn't miss it too much.
If you've read my reviews before, you know that I'm not a huge fan of single-purpose tools, especially in a craft room because space is a luxury. This machine borders the edge of die cut machines but is often in the conversation.
What we like:
Cuts accurately and quickly, as advertised
Compared to the manual method, it's pretty fun to use
Easy to use, the machine seems well-designed
Doesn't create wasted material
What we don't like:
Single-use, not a versatile tool
Doesn't work with other dies
Pretty heavy and expensive for what it offers
Summary
The AccuQuilt Go! is a pretty unique die cut machine. Those who really need it won't care too much about its cost because of how valuable it can be for some quilters, but others might think… what's the big deal? It can cut but… that's it.
I actually love machines like this, because very few people accidentally buy them. If you know you need it, it's going to do the job it advertises. If you don't quilt, it's an easy machine to cross off your list.
AccuQuilt GO Fabric Cutter
Fast and precise cutting system for fabric
A well-designed machine that does what it advertises
Pretty portable, can grab-and-go
Brother ScanNCut 2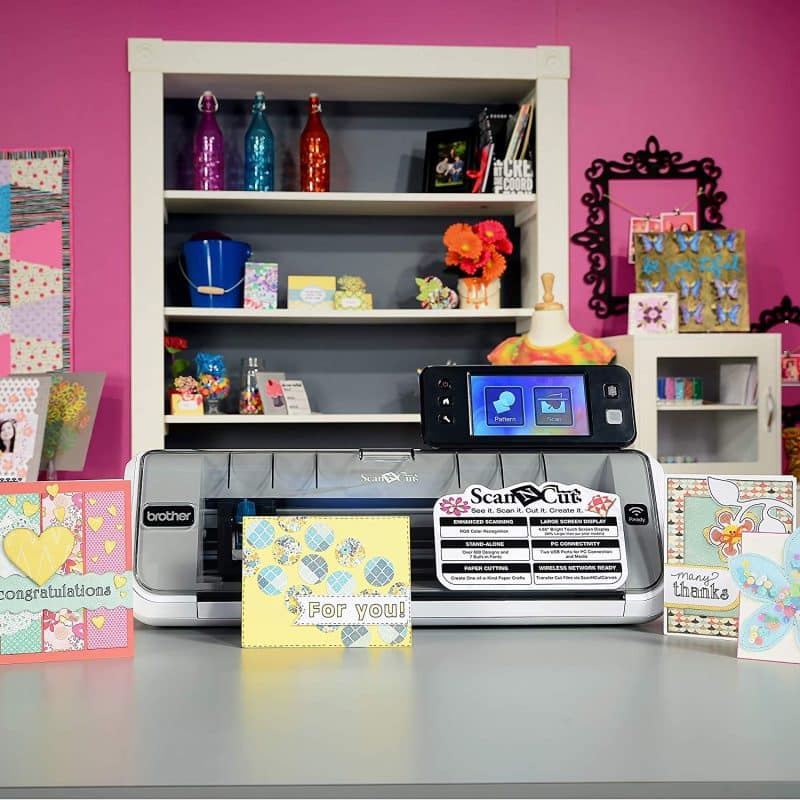 If you've ever had trouble figuring out what you should make, or wishing you could copy a design and have it cut without having to do any work, you are in for a treat.
The Brother ScanNCut 2 not only can copy existing designs, but if you draw it, you can cut it! You can scan in your own drawings and have them turned into reuseable cut templates, all without ever using a computer.
This electronic die cutting machine has both a scanner and a touch screen built-in to the machine. The Scanner is a 300 DPI color, meaning that anything you scan will be preserved at a high resolution, and you scan make scans up to 12″ x 12″, which is also the size of the included cutting mat. The touch-screen is 4.85″, which is just large enough to easily use.
The ScanNCut's built-in software can detect cut patterns in three different modes:
outline detection
region detection (if you want to cut-by-color)
line detection
Each cut pattern can be saved in the machine, so you can make them over and over without ever touching a computer. The built-in scanner also works as a standalone device, so even when you aren't being crafty you can get a lot of use out of this machine.
The machine also comes with ScanNCut CanvasWorkspace, which you can use either online or downloaded for MacOS/PC. It's pretty basic software compared with the offerings from Cricut and Silhouette, but it definitely gets the job done for most projects.
The machine doesn't come with Bluetooth enabled by default, so you do have to pay extra for that or purchase a bundle that has it included.
The cutting quality isn't as advanced as the Maker or Cameo 4, but it's definitely capable of working with materials like paper, cardstock, felt, vinyl, or sticker paper without any issues. If you try to work with thicker materials (more than 0.5mm thick), you might have some issues.
So while the machine can cut adequately, the design does leave a bit to be desired. If you're used to seeing other crafting machines, they look elegant, cute, sleek, this machine from Brother looks… like a printer, which isn't surprising because Brother makes… printers.
What we like:
Large, 12″ x 12″ cutting area
Built-in scanner, a unique feature only found on this machine
Touchscreen included
Doesn't require a computer to use
What we don't like:
Expensive, you're not saving much money than if you bought the scanner and die cutting machine separately
Difficult to find cutting mats and supplies
Summary
Brother has kept dipping their feet in the electronic cutting market without really… diving all the way in. They have released a series of very interesting machines that do have some useful, unique functions, but they haven't quite figured out how to support crafters by creating tutorials, designs, or a community.
Also, I've heard from more than one person that finding accessories and replacement cutting mats for these machines is way more difficult than you would expect. Brother doesn't sell them directly, so you have to look around a bit to find exactly what you need, and they're often out of stock.
It will take a lot of work for Brother to reach the top of the list for best die cutting machine, but they've shown that they can keep improving their machines with each new release. We're paying close attention!
Brother ScanNCut SDX125EGY
Large 12″ x 12″ cutting area
Built-in 300 DPI scanner
Touchscreen included
Doesn't require a computer to use
We R Memory Keepers Evolution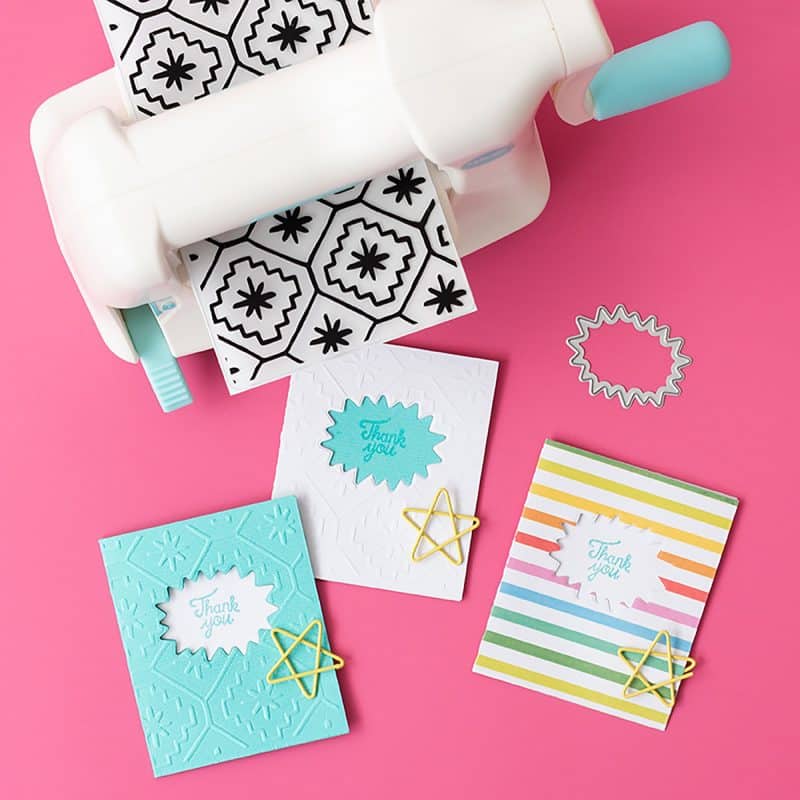 If you're just looking for a machine to emboss, the Evolution Advanced is a great little machine from We R Memory Keepers. It's compact, lightweight, pretty inexpensive, and you can even purchase an addon that turns into an electric die cutting machine.
We've noticed it missing from a lot of die cutting machine reviews, maybe because it's inexpensive and a bit limited in its ability to make cuts, but for a kid or beginner just looking to get into crafting at home, it's one of the best die cut machines we can recommend.
The Evolution works with most brands of dies, and they also have their own embossing platform which makes embossing super fast and easy, without the need for complicated sandwich setups.
There's a dial on the side so that instead of using different die cut plates and sandwiches you can just dial in your project and use the same plates. In practice, the dial settings don't always quite work, and the rollers sometimes apply uneven pressure, leaving the designs looking… off.
What we like:
Easy to use + able to convert into an electric die cut machine
Pretty inexpensive, one of the cheaper machines we've looked at
Super compact, the handle even can be stored right inside the machine.
What we don't like:
A cut is often uneven because of how the rollers are designed, can be unreliable
The settings dial doesn't always work how it's supposed it, leading to a lot of confusion
The removable handle sometimes… falls off. It's a bit too removal.
Summary
The Evolution from We R Memory Keepers has a lot of promise in a small package, but for a lot of crafters falls short. It doesn't work with a lot of different materials, isn't really the best at doing anything, and for a die cut machine is surprisingly difficult to use.
For crafters who really don't like figuring out the different die cut sandwiches, and who have a bit of patience to calibrate their machine, this could be a good option. It's certainly small and affordable, but not the best in the category.
We R Memory Keepers Evolution Advanced
Can convert into an electric die cutting machine
Portable, compact, even the handle can be stored inside the machine
Inexpensive, one of the most affordable die cut machines available
Cricut Explore Air 2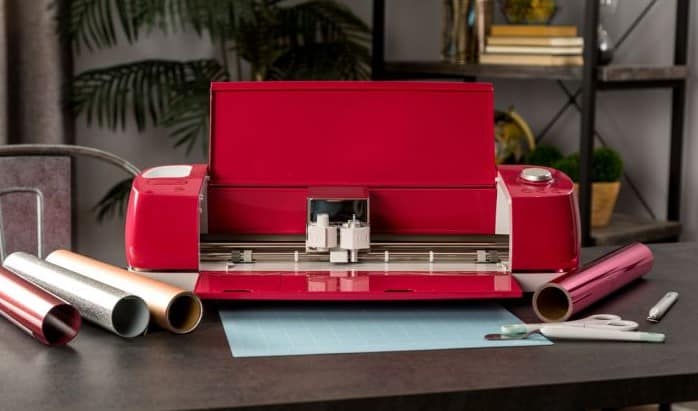 Full review here.
One of the most popular die cut machines of the past decade, the Cricut Explore Air 2 really set the standard for crafters. We've look at a lot of die cut machines over the years, and this is the machine we compare them all to, even if just in the back of our mind.
The Explore series from Cricut share the same look, and the "Air" addition means that it can use Bluetooth to wirelessly communicate with your iOS/Android/PC/MacOS devices. The 2, that refers to 2x mode, an improvement this model brought for working with easy to cut materials like vinyl or paper.
As this is a smart die cut machine, it doesn't support die cutting and embossing, just cutting. It's similar to the Silhouette Cameo 3 (the previous Cameo machine released by Silhouette), and uses the Design Space software.
For its price, this is the best die cutting machine you can find. While it doesn't support the new accessories and cutting tools that Cricut has been releasing through their Adaptive Tools System (which the Maker usees), unless you're going to be working with thick materials like balsa wood, metal, or leather, you might find that this electronic cutting machine
If you want a user-friendly smart machine that won't break the bank, the Explore Air 2 is likely your best choice right now.
What we like:
Sleek, colorful design that's easy to use
Works with a variety of different materials
The best die cut machine, value-wise.
Bluetooth & 2x mode, for fast, wireless cuts
What we don't like:
Doesn't use the Adaptive Tools System, meaning that all new Cricut tools will be incompatible with it
Uses Design Space, which can be tricky to use if you're trying to make complicated designs
Summary
While it's not our best overall pick, the Cricut Explore Air 2 still holds a place in our heart. For many crafters, it was their first machine and it's very easy to find tutorials and guides for using it. You know when you buy a Cricut that you'll have the help of a great community.
If embossing or working with wood/acrylic is important to you, I'd pass on the machine. Otherwise, it's a great value and starter machine.
Cricut Explore Air 2
One of the best values you can find
Wireless cutting with Bluetooth
Easy to use Design Space software
Elegant but colorful retro design
Common features and capabilities
That's it for our die cutting comparison! I'll now get into the features you'll see across many different machines so that you can figure out which die cut features really matter for you.
Types of die cut machine
The biggest difference between die cutting machine is whether they're manual or electronic. Both types can be used for many of the same projects, but the amount of space they take up on your desk and the creativity they let you bring can differ quite a bit.
Let's dig in.
(I also have a guide on die cutting if you want to do more research.)
Electronic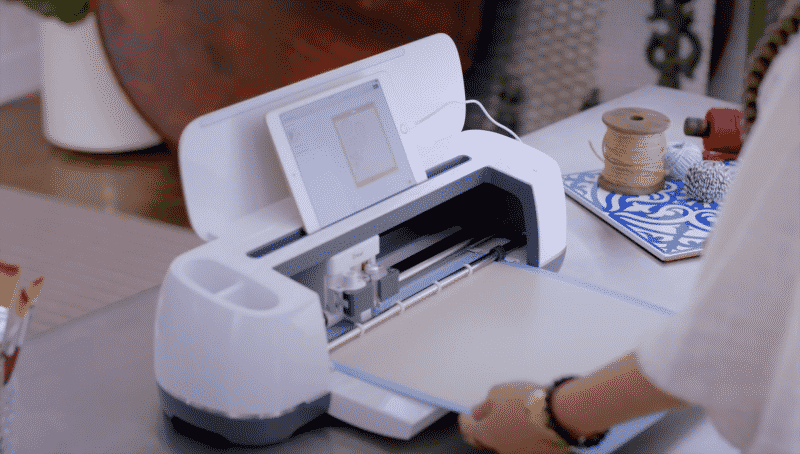 I've noticed that a lot of other die cutting machine reviews seem to leave out the entire category of electronic machines, so I want to make sure to cover them here in detail.
Digital die cutters are electric and must be powered to work. They have a small computer that controls a cutting blade similar to how a printer controls the ink nozzle. Since they can plot out exactly where the cuts should be made, you don't need a manual die.
Instead, an electronic cutting machine uses software that allows you to either copy someone else's design by importing it or make your own. The best electronic machines will come not only with software that's easy to use but vibrant communities that share designs and tutorials, making it easy to get started.
The best electronic die cut machines include the: Cricut Maker, Cricut Explore Air 2, Silhouette Cameo 4, and the Brother Scan N Cut.
Advantages:
Anything you can imagine, you can cut
Can work with a variety of different materials
No need to use cutting pads or sandwiches for each project
Can share projects with your community and friends easily
Easy to modify designs, unlike dies which are permanent
Disadvantages:
A bit more expensive to start with, running $150 and up.
They require a computer, tablet, or smartphone to work
You lose some of the intimate connection to your projects
Takes a bit longer to learn, because you have both the machine and software to understand
Manual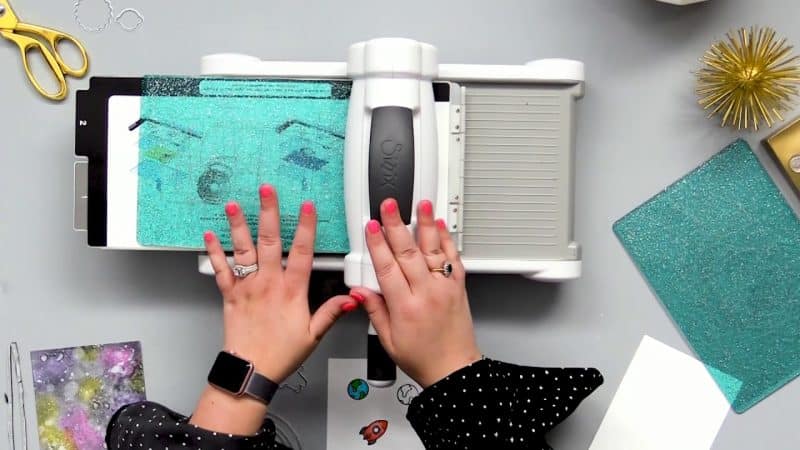 A manual die cut machine is hand-cranked and doesn't require any software or power to work. Some of them do come with add-on motors for those who don't want to use the crank, but the majority are completely human-powered.
These machines use a die that's like a cookie-cutter. You press that die into your material at a high, even pressure using the crank. Embossing works pretty similarly, except you're just making an impression. Material is loaded into the machine using a 'sandwich,' which holds your material in place and ensures it's cut properly.
The best manual die cut machines include The Sizzix Big Shot and the Spellbinders Platinum.
Advantages:
Easy to use and visualize exactly what your cut will look like
Inexpensive to get started with
Completely manual, you'll be directly connected to the craft you're making
Best for beginners, looking to get their feet wet
Disadvantages:
Hard to customize your cut with a preset die
Can be tiring to use the crank over and over (seriously!)
Each type of cut requires a different die, over time it can get pretty expensive
If you have a cut pattern you like, you can't share it
What to look for when buying a die cut machine
You'll want to check out the following specifications when you're evaluating the best die cutting machines for you. What's good for one crafter could be a pretty bad choice for another, so this is what you should look at:
The size. Measure your crafting space and really try to get a good idea of what it will look like on the table. Also, the electronic die cut machines will require space behind and in front of them for the cutting mat to slide in and out, something to keep in mind!
The cutting width. Each machine will specify the width of the cut it's capable of making. If you need to cut material wider than that, check to see if there's a larger version you can upgrade to, many machines like the Big Shot or Cameo 4 have larger sizes available.
Whether the die cut machine is electronic or manual.
The materials can it cut. I'd write out a list of projects you're already working on or that you'd like to in the next 6-months. Keep track of all of the materials, and then when evaluating die cut machines, just check to see if the machine you like can actually work with those materials. If it can't, on to the next!
Whether it can emboss or not. If you know that you want a die cutting & embossing machine, that means you can cross the smart electronic cutters off your list right away.
The cost. You'll want to check not only the cost of die cut machines but also the dies, designs, and accessories. They can really add up.
Pros of buying a die cut machine
Takes a lot of the guesswork and possible mistakes out of crafting
Makes it easy to turn your passion into a great side-business
Actually really fun to use, and you can share your designs with your friends
Kids absolutely LOVE them
A great community that shares best practices and their best designs
Can work with a variety of materials
Cons of buying a die cut machine
A bit pricey for crafters who are just getting started
A die cutter can take up space in a craft room that's already pretty cramped
The electronic machines aren't always user friendly for someone who isn't experienced