I absolutely love using printable vinyl. If you've always wanted to create DIY vinyl stickers, wall decals, or make crafted products to sell on your Esty shop, this is the material for you.
If you're like me when you start with a new product, you're already asking yourself a dozen questions before you start. Like… is printable vinyl waterproof? Do I have to iron it? How long will it last?
Don't worry, I'm going to give you a crash course and cover exactly how to use printable vinyl.
Printable vinyl is super easy to work with, but there are a few common mistakes that can damage your printer, but don't worry, I'll teach you everything you need to know!
What is Printable Vinyl?
Printable vinyl is just like normal adhesive vinyl that you've worked with except that you can print colorful designs on it and then cut it with your Cricut or Silhouette cutting machine.
The magic is in the printing. One side has a normal adhesive backing, the other side is a special material so that you can print on vinyl.
Some benefits of using printable vinyl:
Easy to make complex, colorful designs. Unlike normal vinyl where you have to layer color after color, with printable vinyl you can get your colors perfect in one pass with your printer.
Test different designs. On a single sheet you can try out different colors, shapes, and fonts, making it easy to quickly pick a winning design without loading multiple rolls of vinyl or fussing about with layers.
You can make really cute stickers and labels with your Cricut.
Working with printable vinyl requires no prior experience. Honestly, the types of projects you can make are only limited by your imagination.
Some project ideas:
Vinyl wall decals to liven up your workspace
Decorate your laptop with vinyl stickers
Personalize your water bottles, coffee mug, or phone case
Start a side business with custom vinyl car decals
Organize your kitchen and cleaning supplies with custom labels
Types of printable vinyl
There are three main types of printable vinyl – glossy, clear, and matte. These all come with options of waterproof, removable, or permanent adhesives.
You'll also notice that there's:
Cricut Printable Vinyl
Silhouette Printable Vinyl
No matter which machine you have, either of these will work, but they do have some key differences. Cricut's vinyl is a bit thinner, conforms better to curved surfaces, and feels higher quality.
How to Use Printable Vinyl
Alright, let's dive into our first project and create something with printable vinyl. We're going to use Cricut Design Space and a regular inkjet printer to print then cut the vinyl.
You'll want to gather the following supplies:
Cricut printable vinyl (other brands are fine)
Vinyl cutting machine (I'm using the Cricut Maker, but the Explore Air 2 works too!)
Cutting mat
Inkjet printer
Tweezers or weeding tool
Jars (or any other object that's looking for a DIY touch)
Step 1 – Determine label measurements
Start by measuring the area where you intend to place your vinyl label. A cloth tape measure or any type of ruler works fine
Step 2 – Create your designs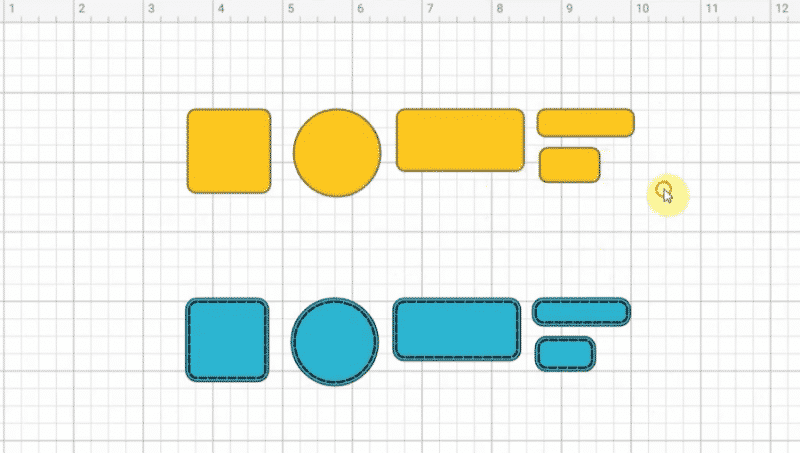 Go to Design Space and choose 'New Project,' and then add a shape. Start simple. Choose a circle. Once your circle is in place, click on it to select it. You can leave the shape black, or change the color.
(I have a template of different shapes I import into a new project like this.)
The next step is to change the size. Do this by typing your desired dimensions into the size area.
Now that we have our size, we need to add words to our design. Click on the text icon on the left and type out the word for your first label.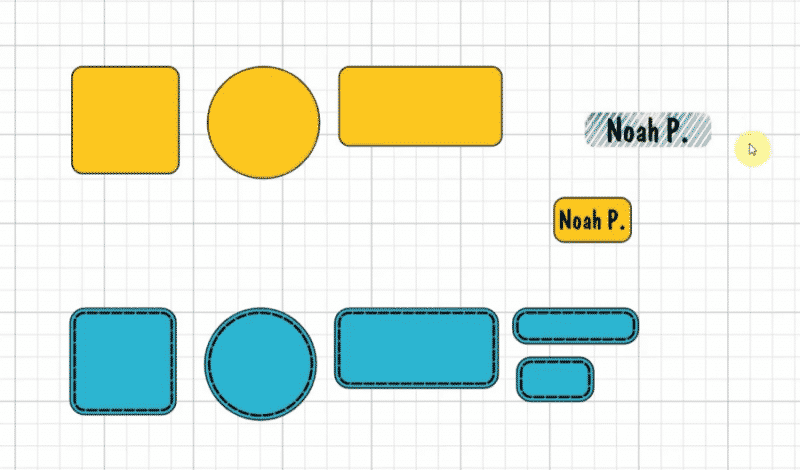 Your word will probably come out far too large. To resize the text click on the resize button on the bottom right of your text area and drag the text to a smaller size and position it where you'd like in the circle.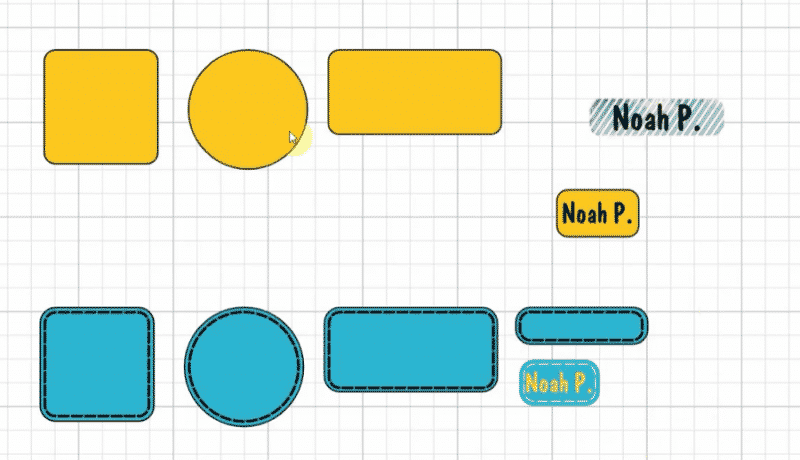 Repeat this step for the number of different labels you want to try out. Be sure to line up all labels within a printable area so they don't overlap each other.
With all projects, you need to know Cricut's printable area, which is 6.75″ x 9.25″. When working with multiple designs, it's important to line up all your labels, vinyl decals, cleaning labels, or other designs within these dimensions.
But don't worry, Cricut's got it covered after you create your project: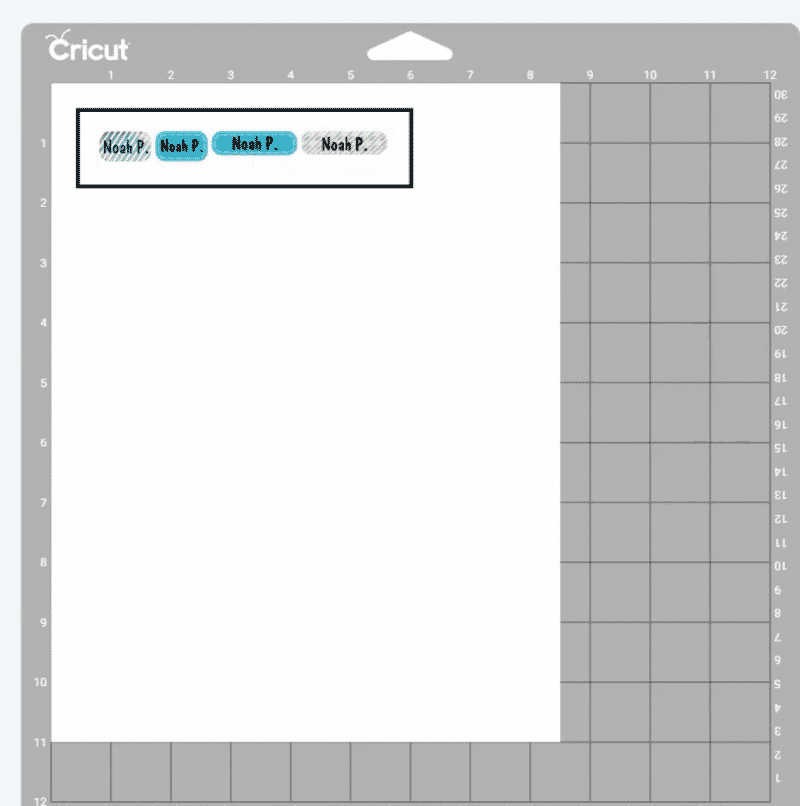 Just play with the number of copies on the left until they fill your project area: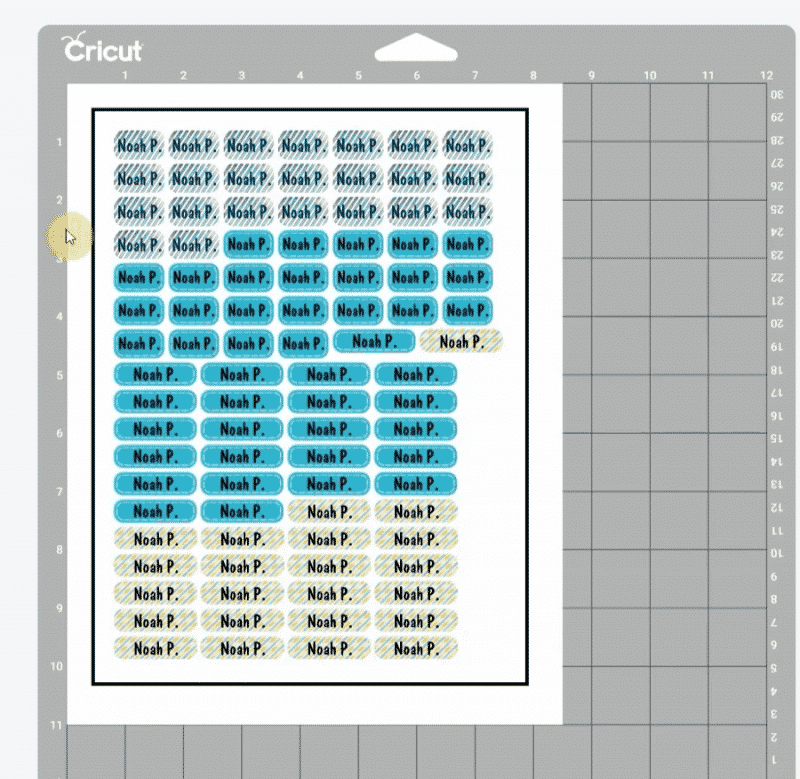 Alternatively, you could also upload an image and add it to your label, like Christy Cain does with this strawberry design below.
To do this, click on the upload button on the left-hand menu and browse until you find an image you like. After the image is uploaded, you'll need to shrink the image the same way we did with the words.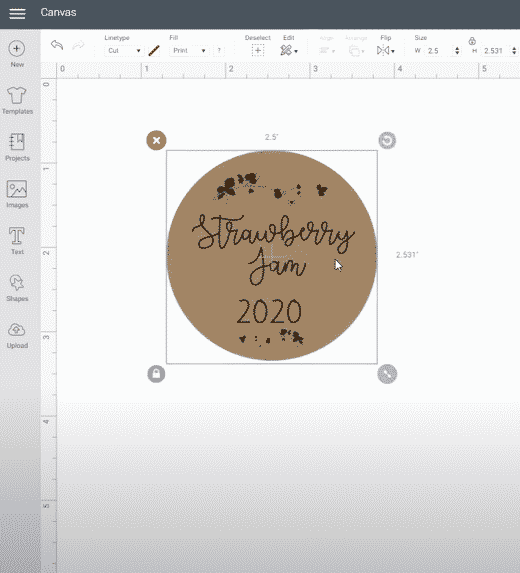 We're almost finished! Our next step is to select all our labels and then click the button on the bottom right that says 'Flatten'. This makes sure you're cutting out the label as one solid piece, as opposed to cutting out the letters or the image as well.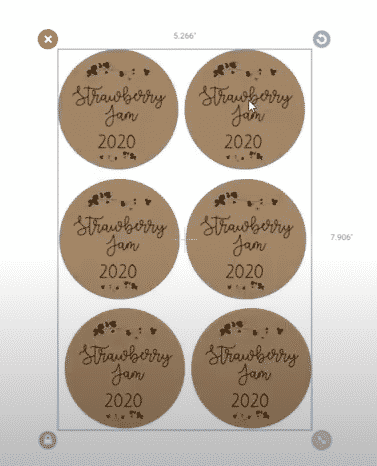 Click the green 'Make it' button on the top right.
Step 3 – Send to the printer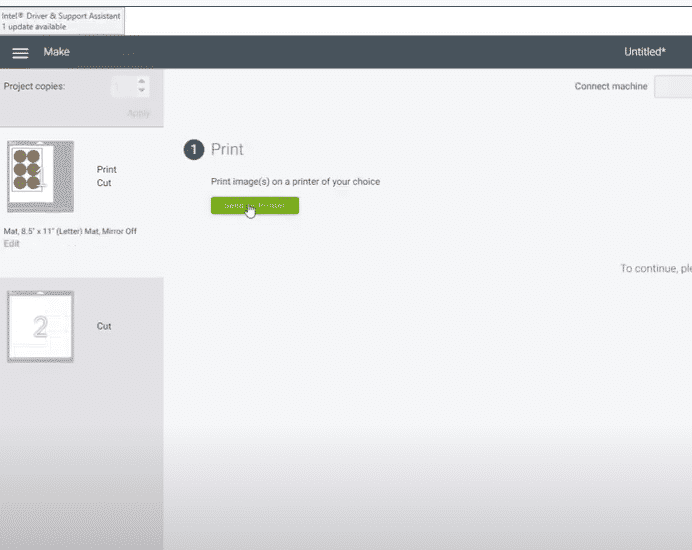 After you click the 'Make it' button, you'll be taken to the print screen. Click the green 'Send to Printer' button.
Pause here for a moment to load the printable vinyl into your printer. Print on the matte side of the vinyl, not the glossy side. For many printers, the correct way to load the printable vinyl would be liner side down but always double-check your machine.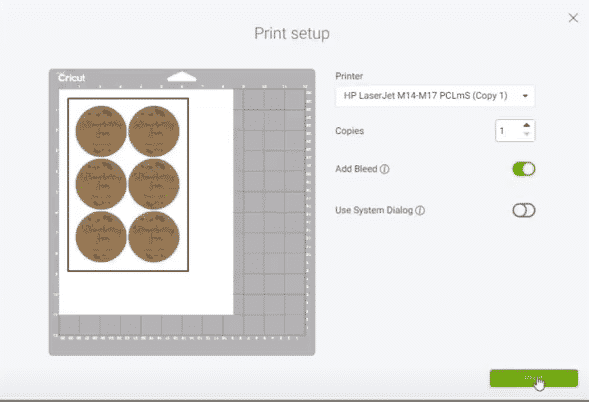 Once the vinyl is loaded properly, go back to the screen. Make sure 'Bleed' is on, and then click on the print button.
Step 4 – Place it on the mat
Congratulations! You've printed your beautiful vinyl labels and they should be looking great! All we have left to do is cut them out.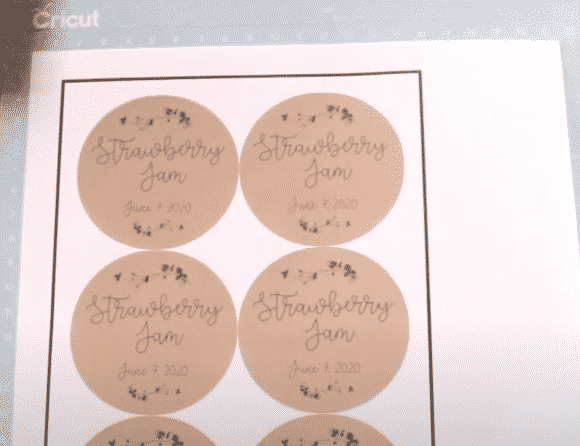 Place the printable vinyl sheet on your cutting mat and align the top left corner. Smooth it down. Make sure to position your printable vinyl design on the mat the same way your design appears on the Design Space screen.
Step 5 – Cut the labels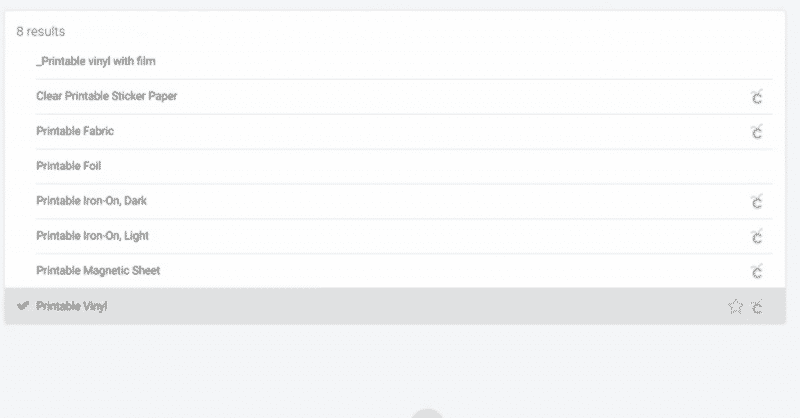 Back at the Cricut screen, choose 'Browse all Material', type in printable vinyl and select it. Some machines might have a manual dial on the Cricut machine where you can select the material.
Load the mat with the printed vinyl into the Cricut. Double-check you have the fine point blade equipped in your machine.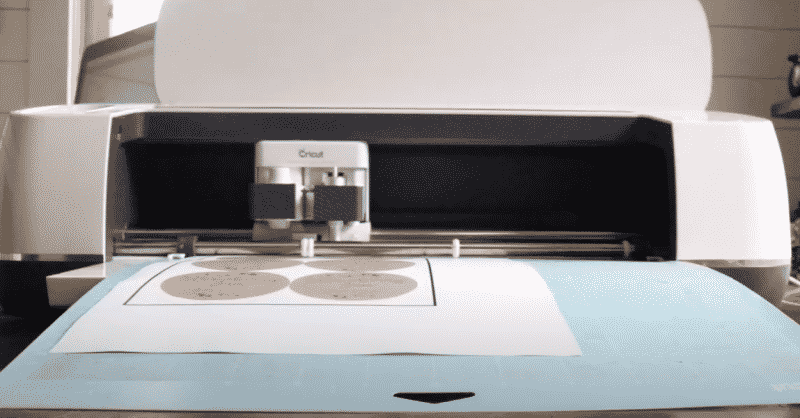 Back at the design screen, choose 'Fast Mode.'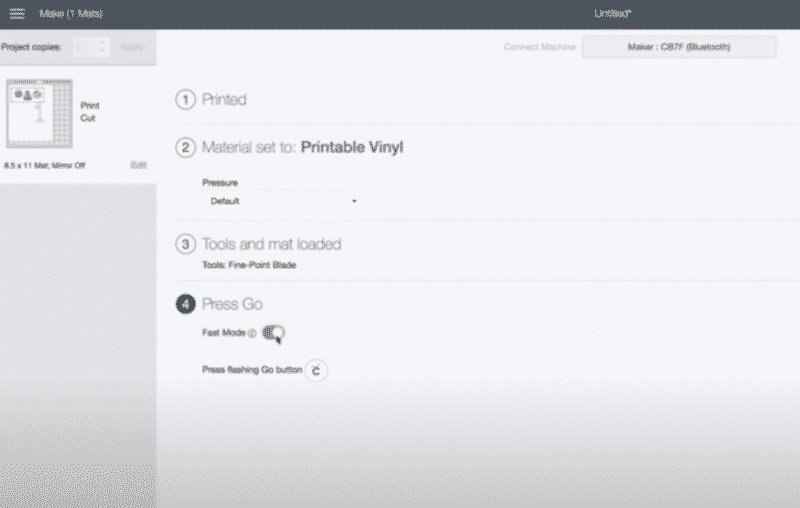 Click the flashing Cricut button on your machine.
Step 6 – Remove the label
When finished, click 'unload' and remove the mat, along with your printable vinyl labels. Peel the printable vinyl labels off the backing with your fingers, or use a Cricut weeding tool, or a pair of tweezers.
Step 7 – Apply!
Apply your labels to the object of your choice. Smooth out the printable vinyl if needed to remove any tiny wrinkles.
The more familiar you become with your machine, the more you'll discover what you can do. Changing the font, separating letters, squishing letters together, and adding unusual shapes are all possible.
Play around. Find things that work for you, and definitely try out different fonts. One of my favorite things about crafting is how personal it can be!
Things to avoid
If you're a perfectionist like me, or just wanting to avoid the common mistakes, here are some areas to avoid that can trip up someone on their first few projects:
Don't remove the backing paper. If you're gifting a set of DIY vinyl decals, or a homemade vinyl sticker book, leave the project on the backing paper.
Be careful with your ink. Allow the ink to completely dry on inkjet printable vinyl before working with it.
Avoid using a laser printer. Some printable vinyl is compatible with a laser printer, but the heat generated from its operation will often melt the vinyl or activate the adhesive vinyl backing too early. I really recommend starting with an inkjet printer, or using printable vinyl that's specifically designed for laserjet use.
Conclusion
You should now be able to use your Cricut and some printable vinyl to make a custom set of labels, but don't stop there!
Why not try some stickers to personalize your laptop next? Or custom vinyl decals?
As always, please share your projects with us. Let us know what you thought in the comments below.
Oh, and don't forget to share the article with a crafty friend.
Frequently Asked Questions
Can you use printable vinyl in a regular printer?
If by regular you mean a home printer, then yes. However, using printable vinyl in a laser printer is asking for disaster. The high heat generated will melt the vinyl and most likely ruin your printer. Always use printable vinyl with inkjet printers.
Is there printable HTV?
Yes, and it works perfectly with a heat press or iron.
If you've heard people rave about their DIY t-shirts, you're familiar with heat transfer vinyl.
Can you use printable vinyl with a Silhouette?
Yes. You can use printable vinyl with any print and cut die-cutting machine.
Can you wash printable vinyl?
Yes! I recommend handwashing to preserve the quality of the designs for as long as possible.
What's the difference between vinyl and sticker paper?
Vinyl is not only more durable than sticker paper, it's also more vibrant and versatile. Because vinyl is thinner than sticker paper, it's more pliable. It's easier to stick to rounded objects, textured objects, or even some bulky and unconventional shapes. Printable vinyl adhesive also adheres better to more materials than sticker paper adhesive.
Stickers are great for planners, calendars, and other paper-related projects. You want to use vinyl to make things that are more permanent and durable.
Sources