I found these darling eyeball rings at the party store the other day, and I just couldn't resist. I have a hoarding problem with wiggle-eyes. So when wiggle eyes are combined with plastic jewelry, I'm out of control. After the party store, I went next door to Michael's and found the same thing, only tinier. Naturally, I had to grab some of those too. I wasn't sure what I was going to do with them; I only knew that I needed them. I needed them like peanut butter needs jelly; like milk needs cookies, and like bloggers need top knots.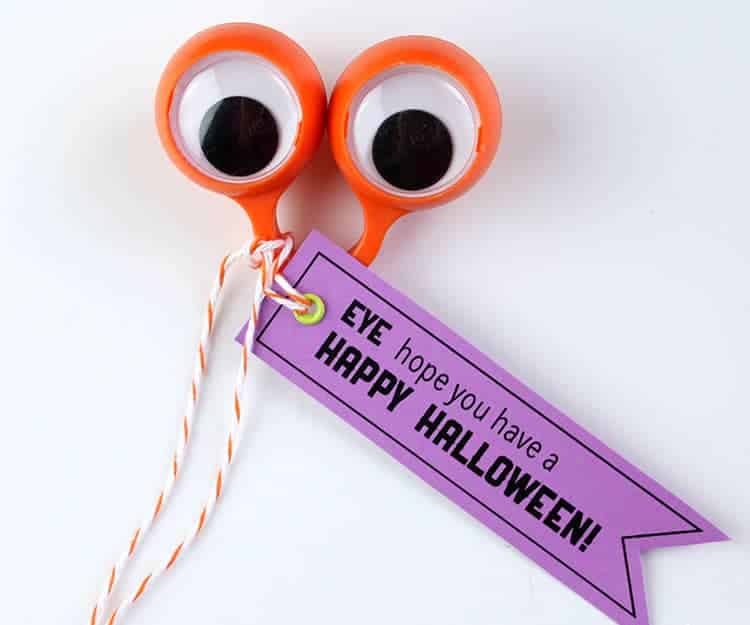 Then we got the invitation to Charlotte's preschool parade, and that was my solution. The eyeball rings will not go unused this Halloween season! Last year, some of the parents passed out goody bags while the kids were parading through the halls of the building. Being our first year at a new preschool, I had no idea of this parent-involved phenomenon, which left me feeling like a deadbeat mom. Never again, I say! Eyeball rings all around! Every Queen Elsa and Ninja Turtle that crosses my path will get a wiggle eye ring if it's the last thing I do. I show my love by sharing my wiggle eye stash. That's big.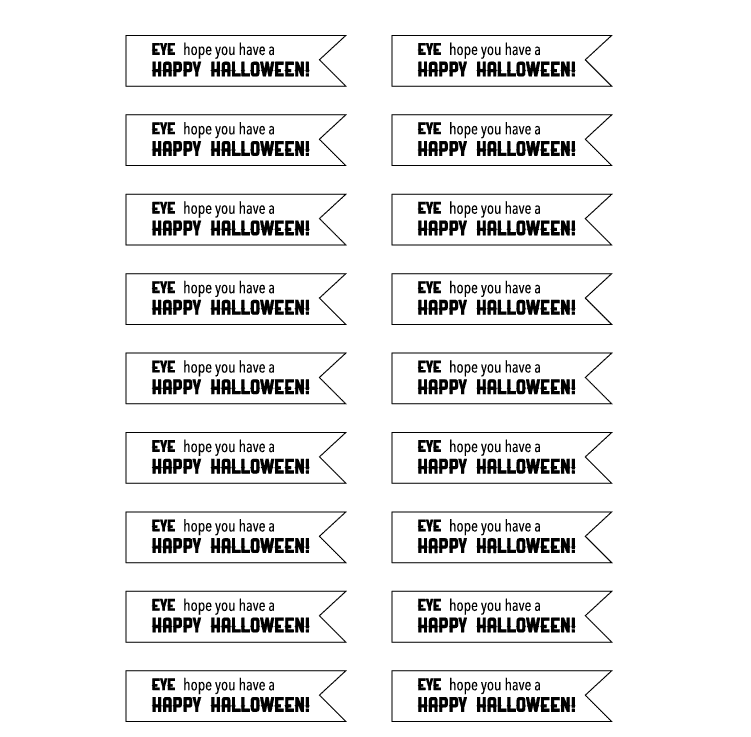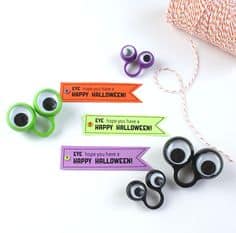 In previous years, we've taken little goody bags over to our cousins and best buddies who live too far away to trick-or-treat at our house; and the eyeball rings are definitely making the cut for this year's swag bags. I also love that this is a non-candy surprise. Because the last thing any kid needs on Halloween is more candy. Right? I made a little printable, because that's what I do. So go grab yourself a bag full of eyeball rings, print out some tags and spread some googly-eyed giggles. Click on the image above to download and print your eyeball tags.
These would be cute prizes for your class parties, birthday parties, or even a lunchbox surprise. I've been really into lunch box surprises lately. But this would be a good one. And just for the record, I know I used the same line last year: "EYE hope you have a Happy Halloween." I really need to come up with some new material. Maybe next year. You can see last year's tags on my old blog. But we've got a whole new set of friends this year, so there's no harm in recycling, right?