Hey guys! I ended up taking the entire week off last week to get my house put back together after the holidays. It was nice; but I've missed it here. I wasn't planning on taking any more time off after the holidays, but once I started organizing, there was no stopping it. I cleaned out closets, washed every towel and sheet in the house and de-junked drawers–and it feels great! There's still lots left to do, but it's left me daydreaming of a really bright future for this place if I put in a little effort.
(Update: I've finished the project finally!)
When we chose this house, we loved it for a lot of reasons: the layout was exactly (EXACTLY!) what I had in mind. The location is perfect–close to everything that's important to us. The only problems were/are cosmetic. And mostly just an opinion of style and taste. I've always gravitated to designs that feel lighter, and more airy. I appreciate rustic and neutrals in small doses; but this house was very, very brown when we moved in. Brown tile, carpet and wood everywhere–it was a realtor's dream.
Very neutral with loads of potential, but not much personality to deter potential buyers. I've been working hard for the last year and a half to lighten this place up a bit–both in color and in personality. It's intimidating, for sure, but it's coming along bit by bit. Although, if we ever move, I'm sure my handiwork will be our realtor's worst nightmare. But let's not think about that.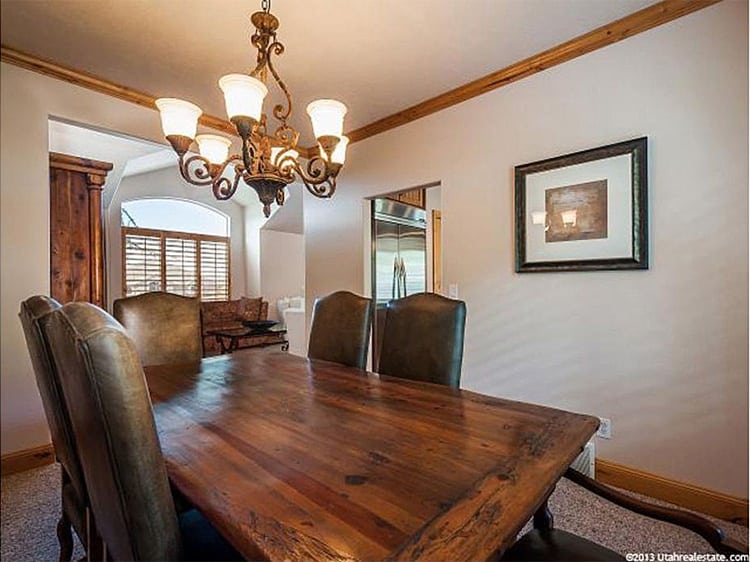 Here's the before picture of the dining room. Not terrible, but definitely not me.
Last summer, I started stripping and painting things (the mantle, the handrails/stair treads) which eventually led to the baseboards. As I paint the baseboards in each room, I imagine all the things I'll eventually do to that particular room. The most recently painted room is the dining room. I'm making a new goal to actually put my plan into action. Here's my plan: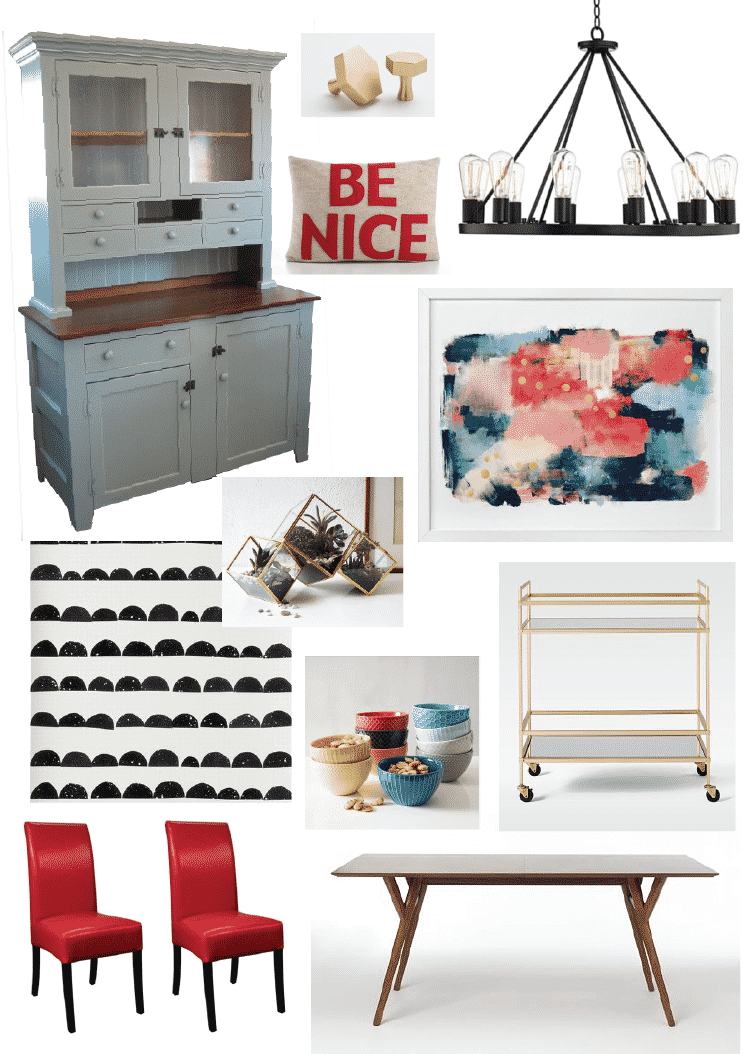 The plan starts with a new (new) chandelier from Lamps Plus. I replaced that original one almost immediately upon our arrival. But I didn't put much thought into it, and my choice ended up being a mistake on several different levels. Most importantly: size and light output. So I'm trying again. I'm going to start with a new (awesome) industrial chandelier, a few colorful paintings, and possibly a dash of wallpaper, I'm going to give my hutch a facelift, and bring in a new extension dining table so we can fit more than four people at the table at once.
Here's a shopping list in case you're interested:
Hutch: Mine is very similar to this…but this is handmade and available on Etsy. It's gorgeous.
Hex Knobs
Be Nice Pillow
Chandelier
Abstract painting from Minted
Geometric Planters
Scallop Wallpaper
Bar Cart
Dining Chairs
Mid-Century Extension Table
I've started working on it; and I can't wait to show you how it turns out!