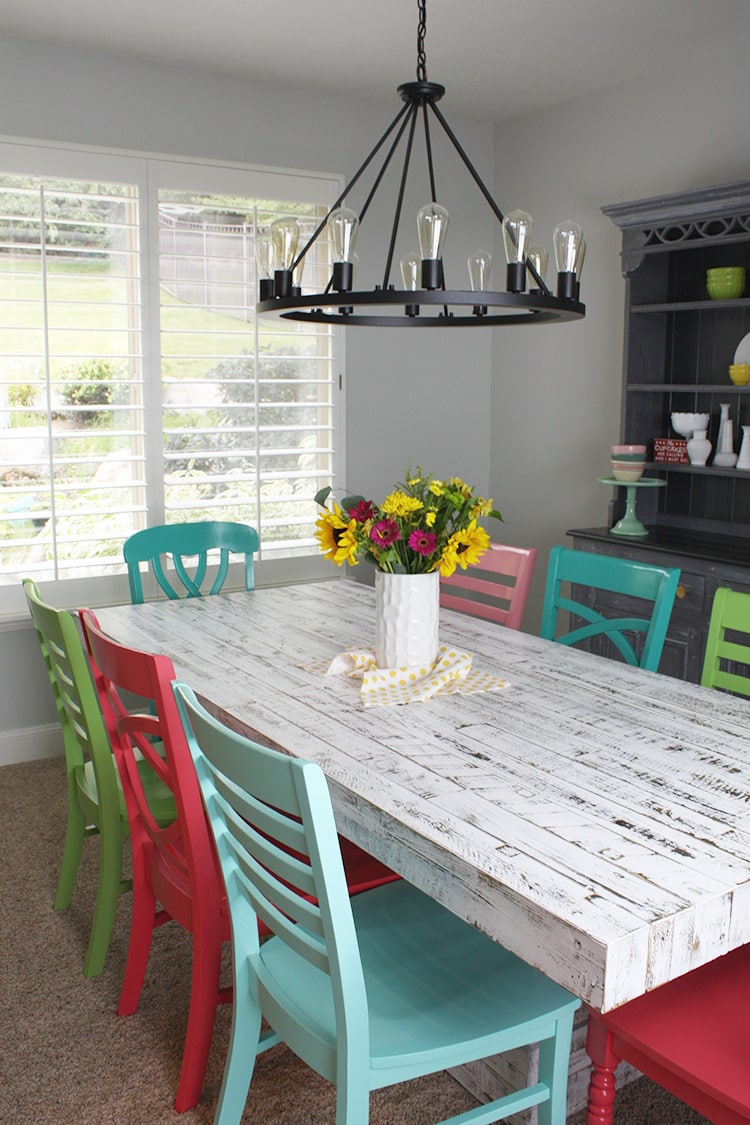 Today's post comes to you in the form of a bedtime story. Or a cautionary tale. You pick. On another note, this project took way longer than I anticipated, as do most "quick" house projects in my life; but there's a whole lotta love in it. And a big thank you to my friends at Lamps Plus for giving me the chandelier which started the domino effect. Now on to our story: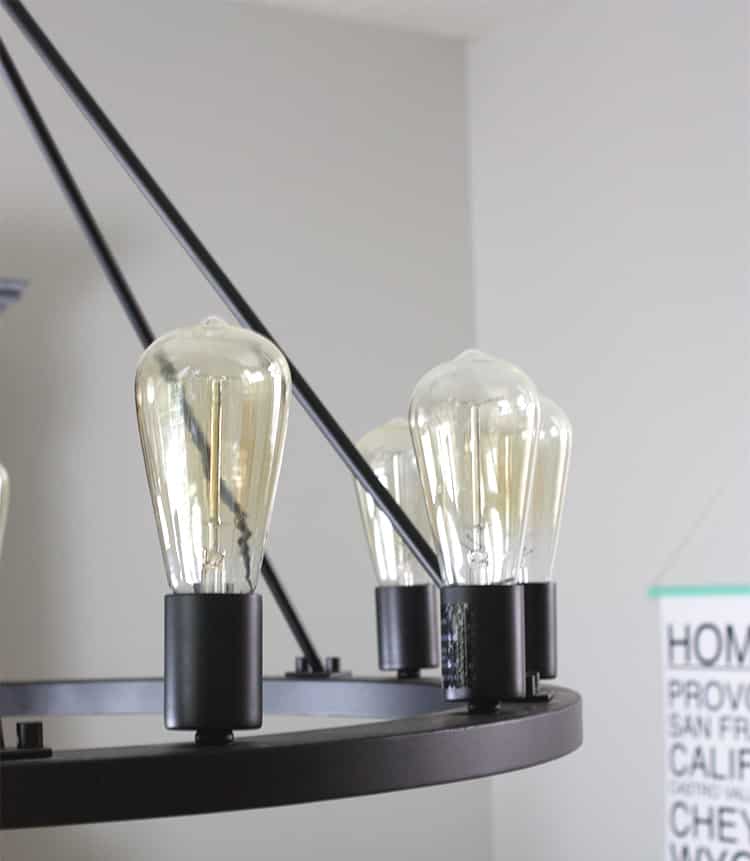 If you give a girl a chandelier,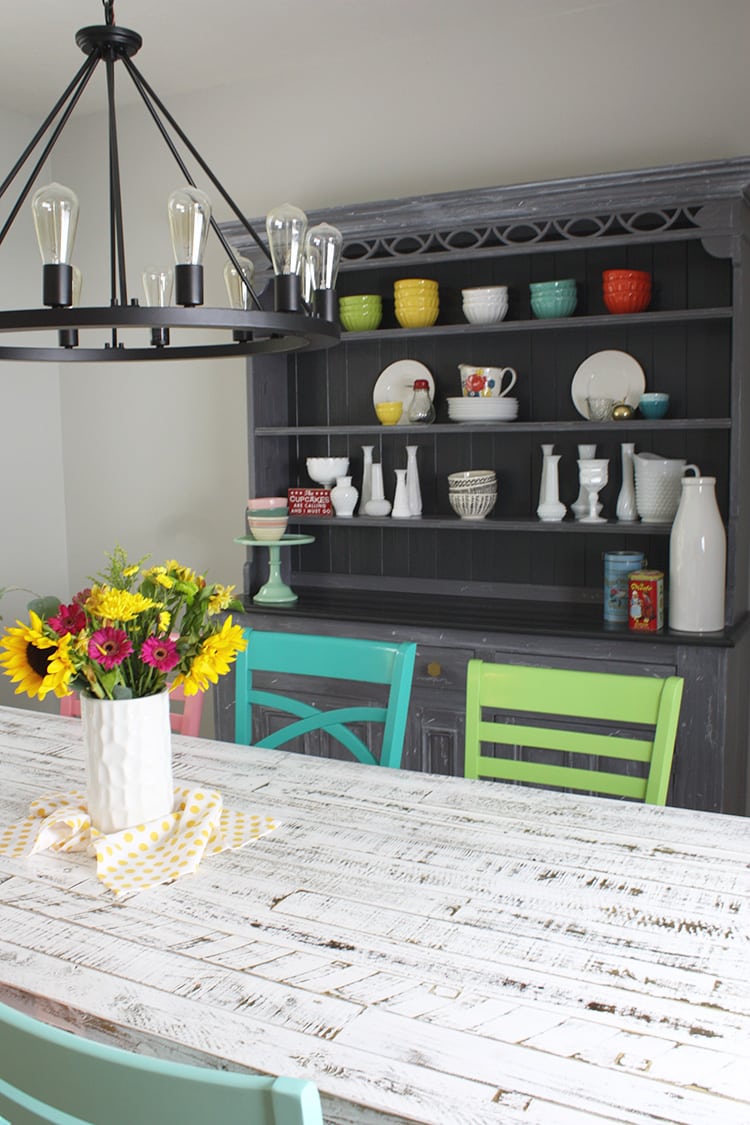 she's going to need a new table to go with it. She'll shop and shop and finally find THE ONE.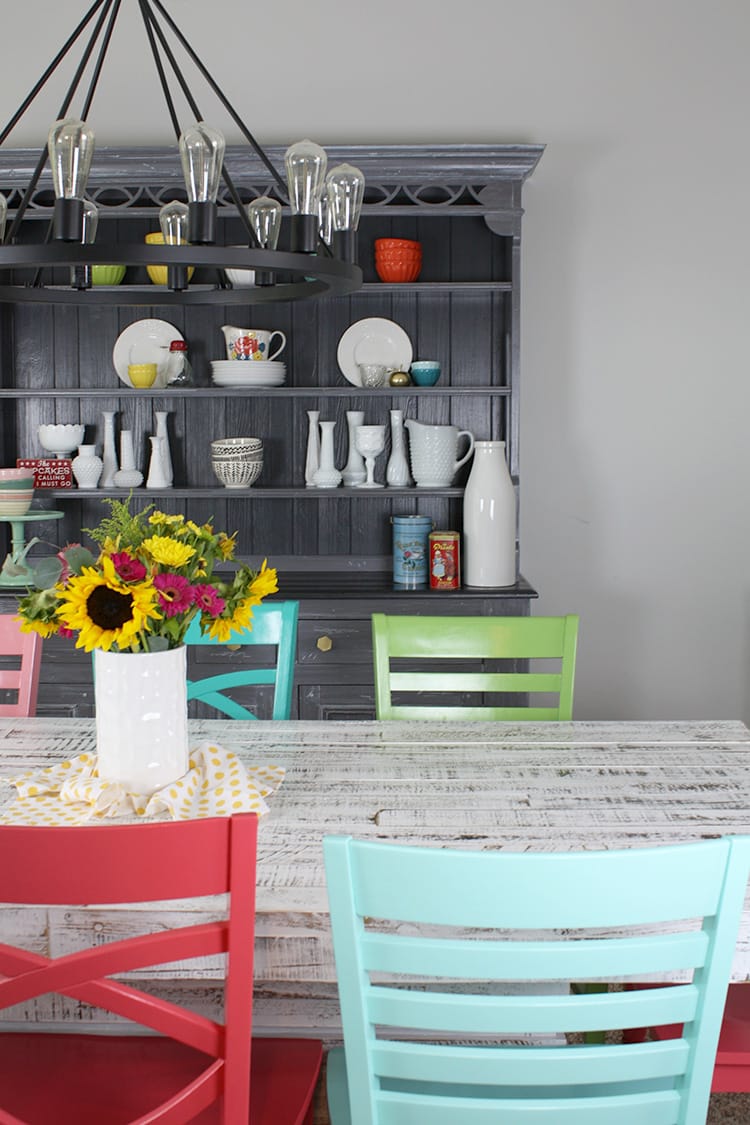 When the table arrives, she'll realize it clashes with her old hutch. She loves the hutch and can't bear to part with it. So she'll paint it.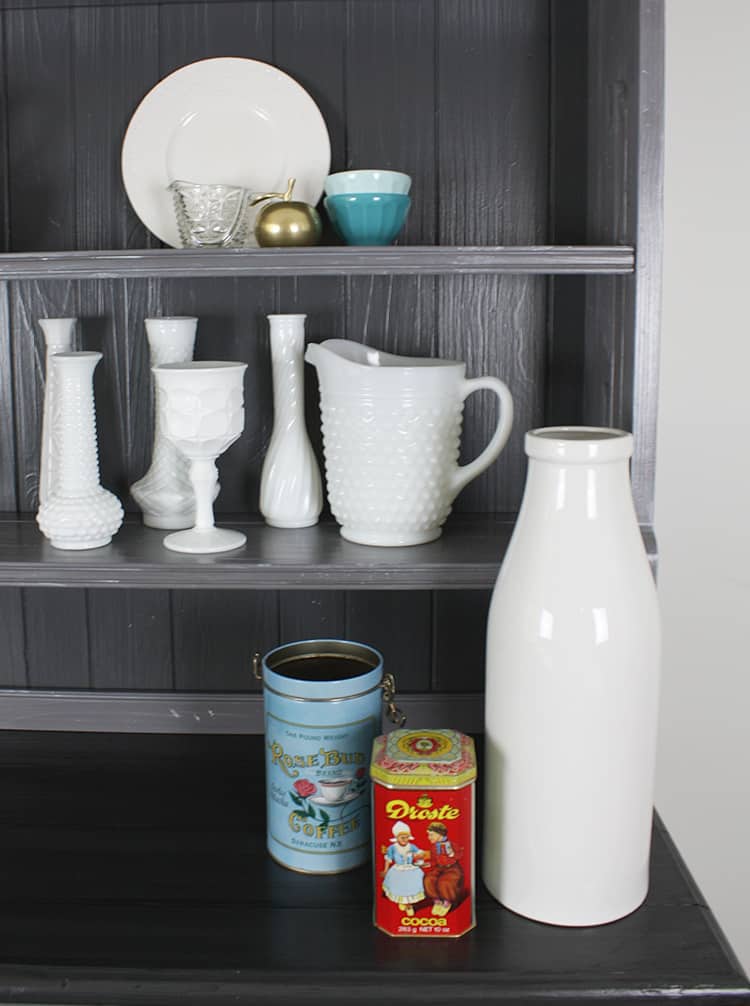 She'll agonize over paint color, and choose gray because it's perfect for displaying her milk glass collection. After all the hours of painting, she'll want to sit down…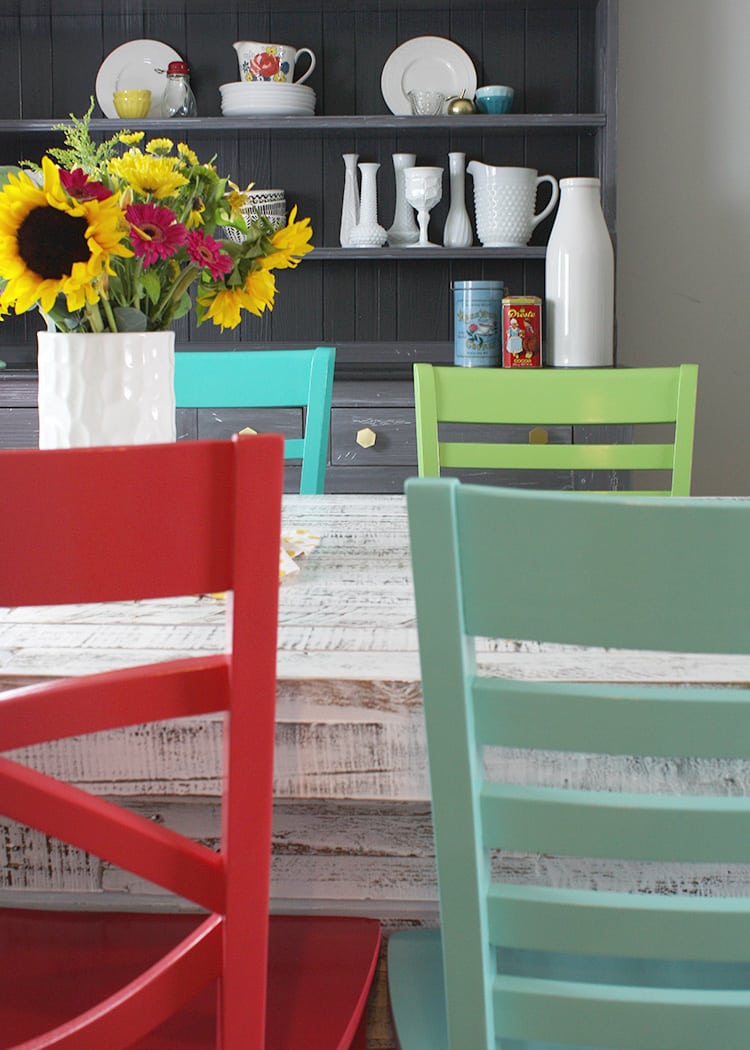 …but she doesn't have any chairs. So she'll paint eight of them. When the chairs are done, she'll sit down to try them out. She'll see the paint on her hands and it will remind her of this great painting she saw: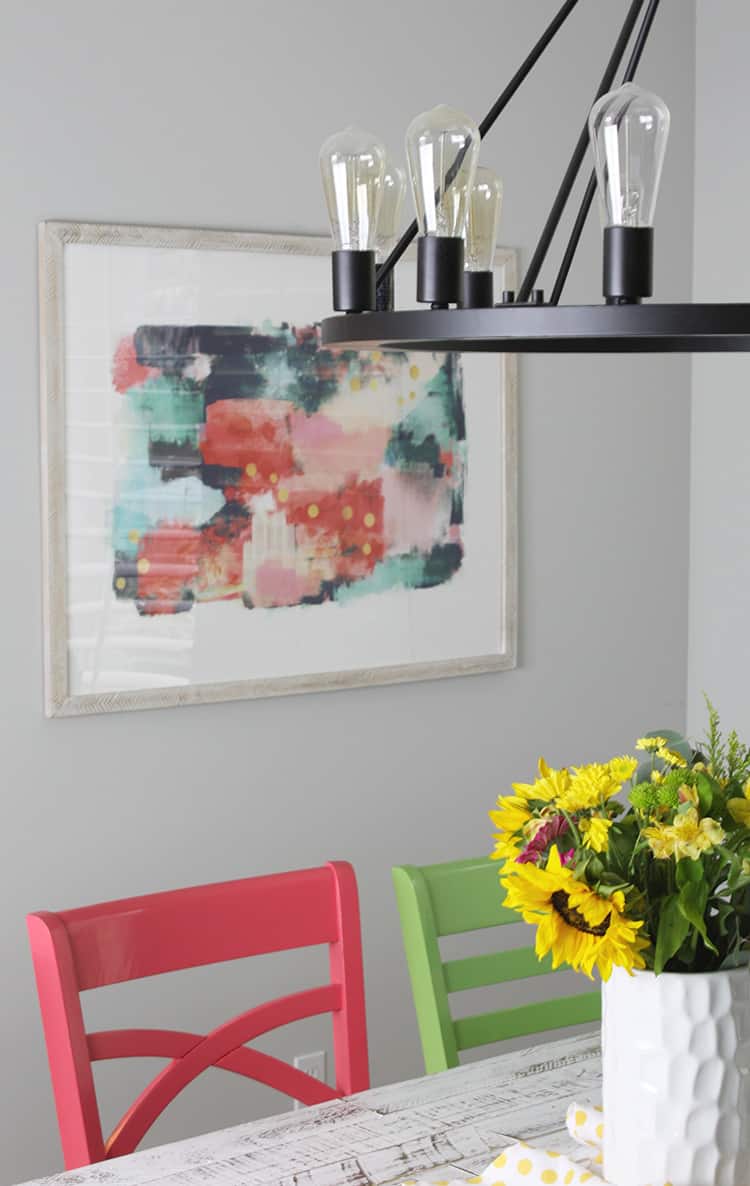 The painting will look great with her colorful chairs. So she orders it right away.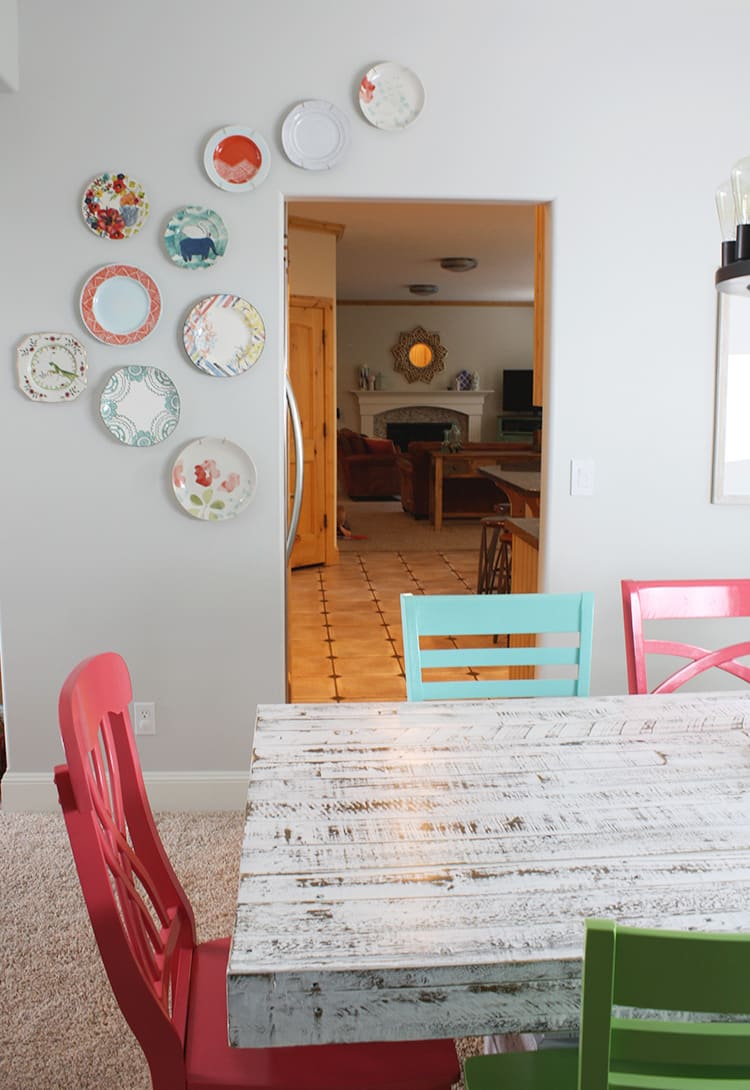 After she hangs the painting, she'll stand back to admire it. She'll notice a blank spot on the other side of the doorway. So she'll start hanging plates. She'll rearrange them over and over until they're just right.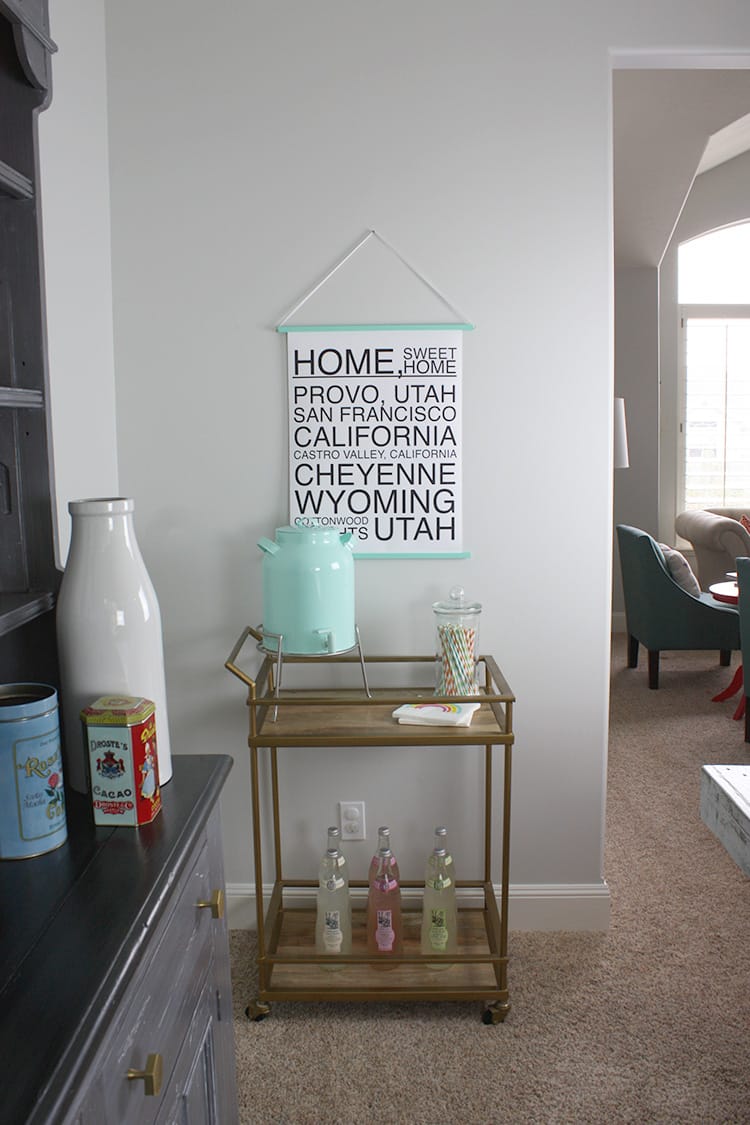 All that rearranging will make her thirsty. She'll set up a bar cart so she can get a drink. When she's finished her drink; she'll take the glass back into the kitchen.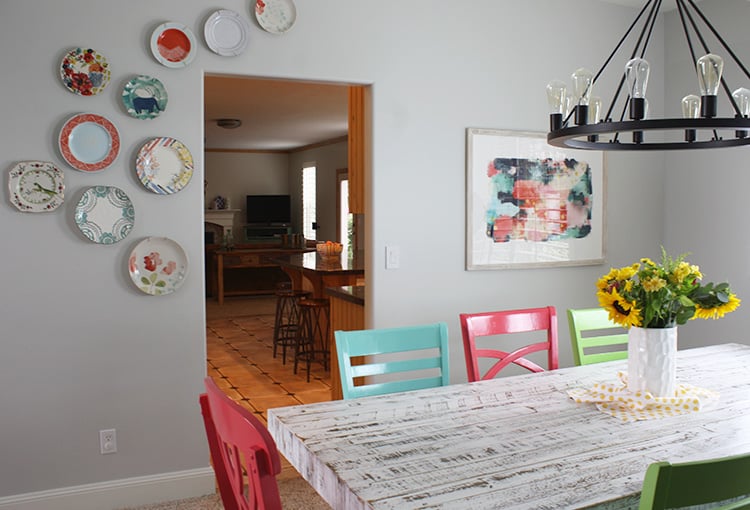 When she walks into the kitchen, she'll notice it's not as bright and cheerful as the dining room.
So she'll stop what she's doing and order a new light for the kitchen.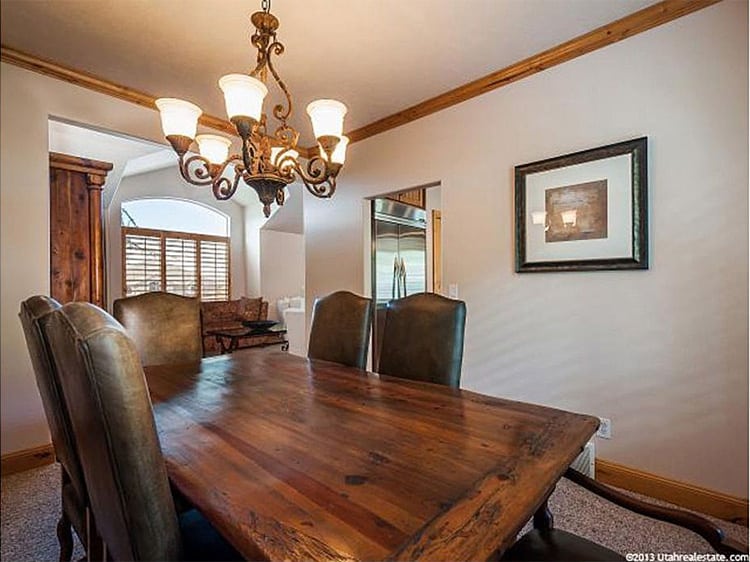 Now that the bedtime story is over; let's indulge in a little before and after, shall we?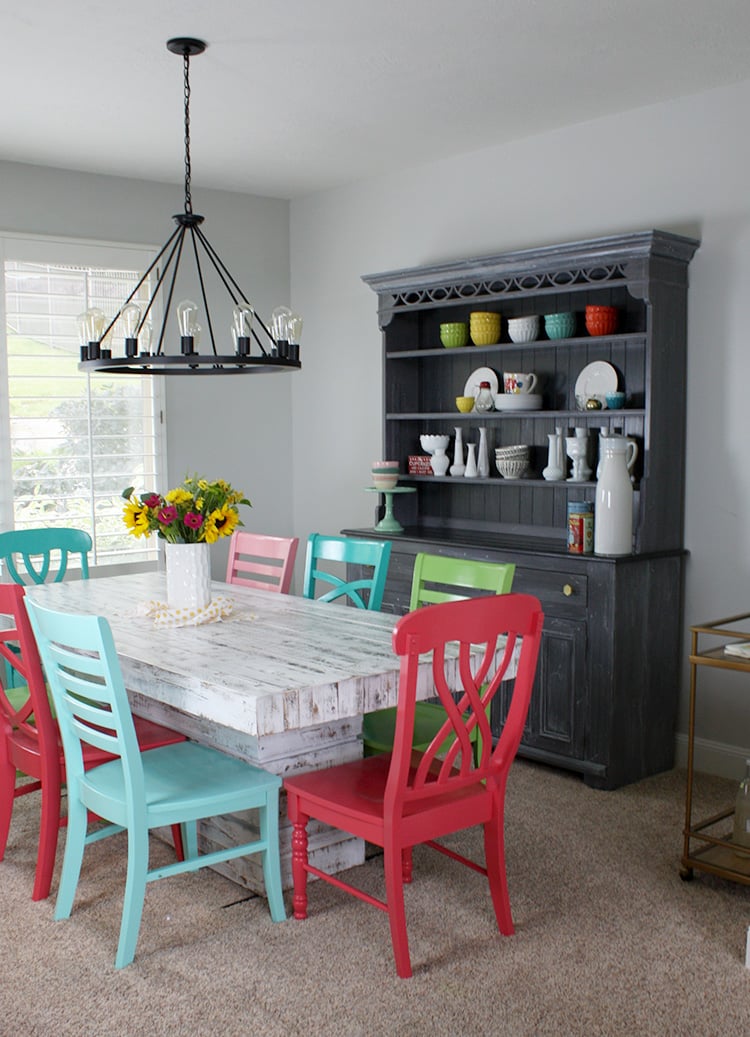 This is from the real estate listing…but get a load of that heavy iron chandelier and those dark window shutters. And after: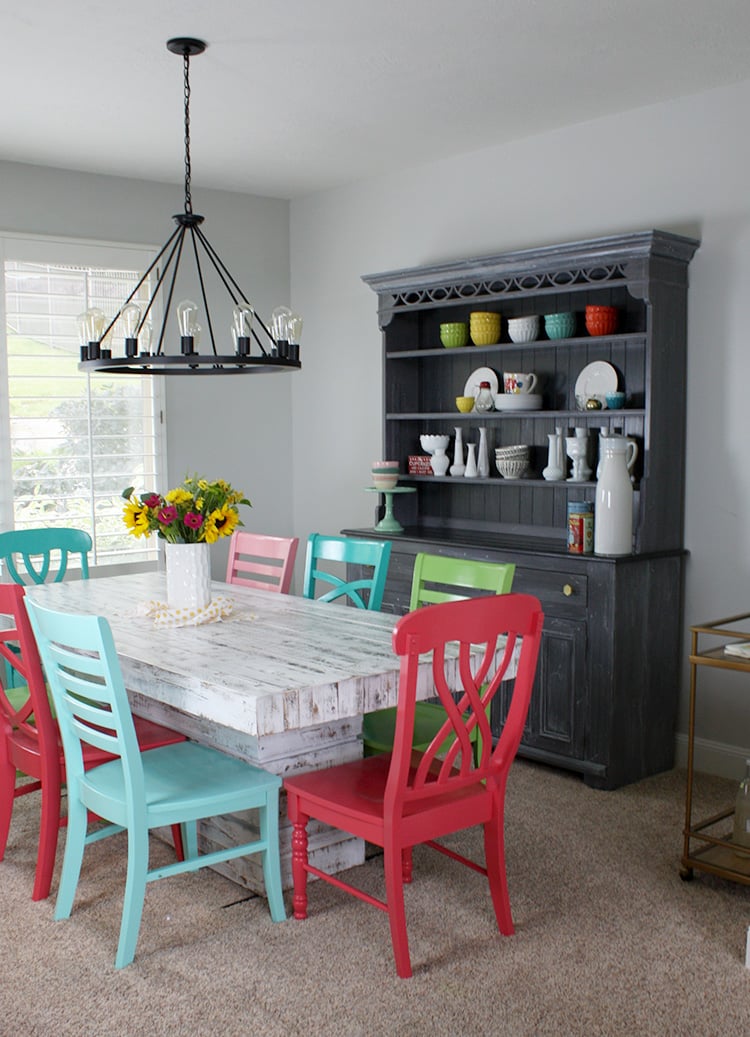 Since I spent over 100 hours painting for this project (yes, I realize I'm a complete lunatic). Humor me by looking at a few more pictures: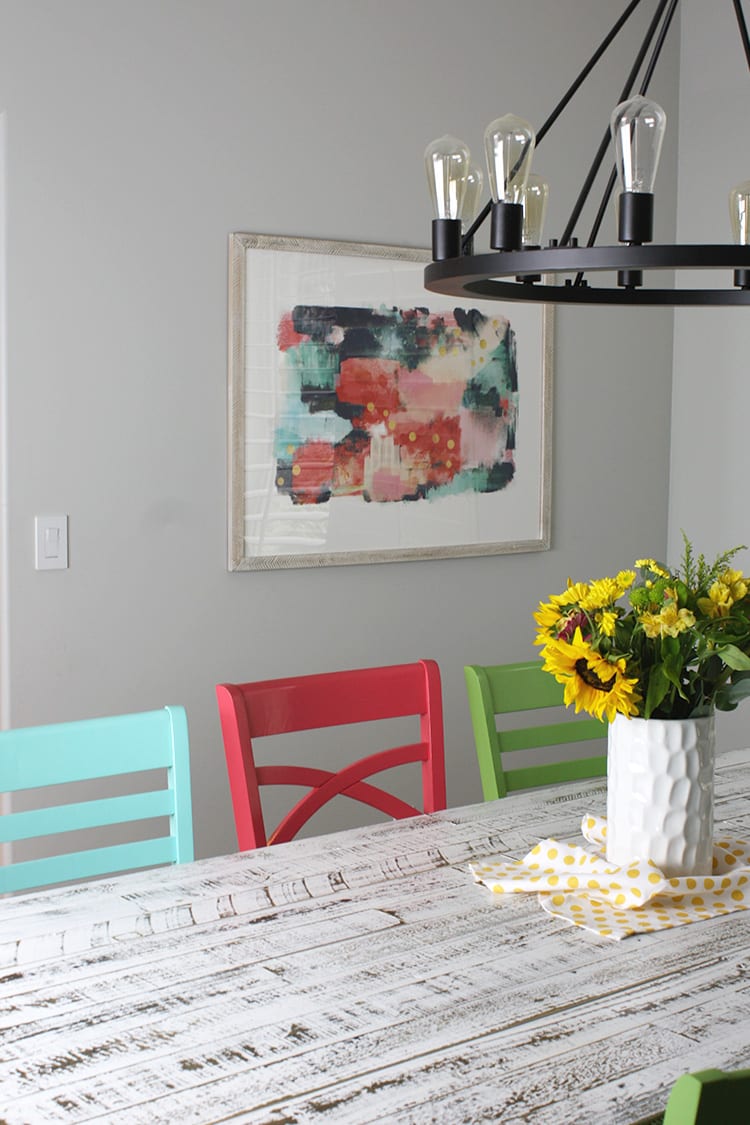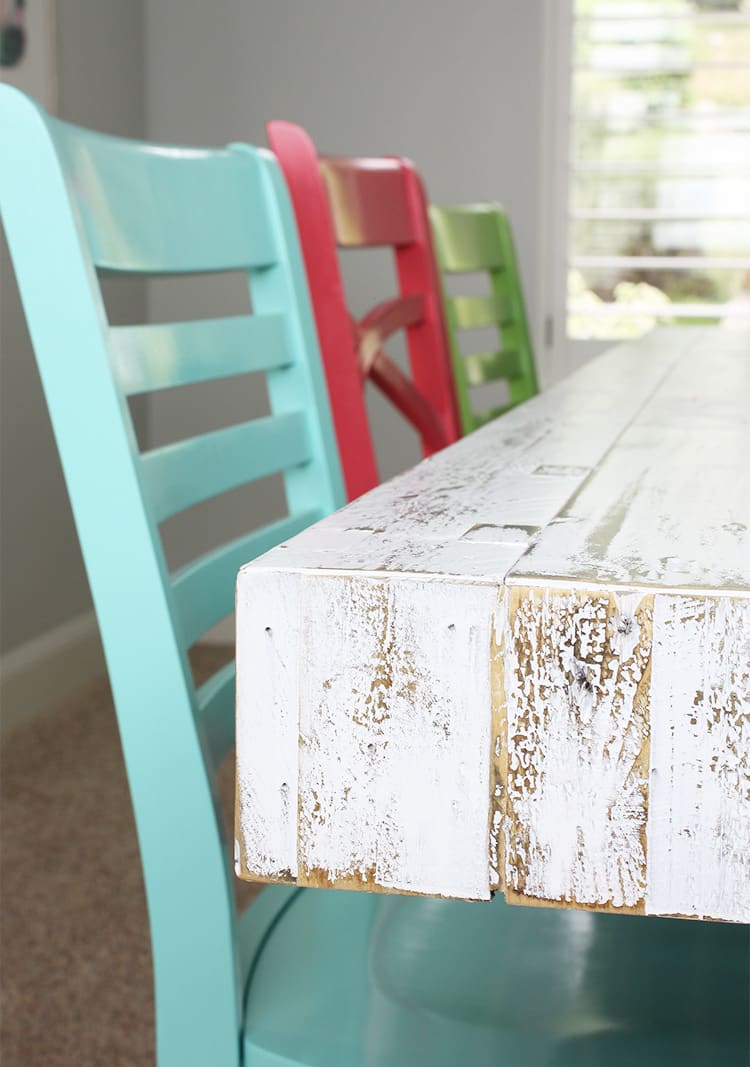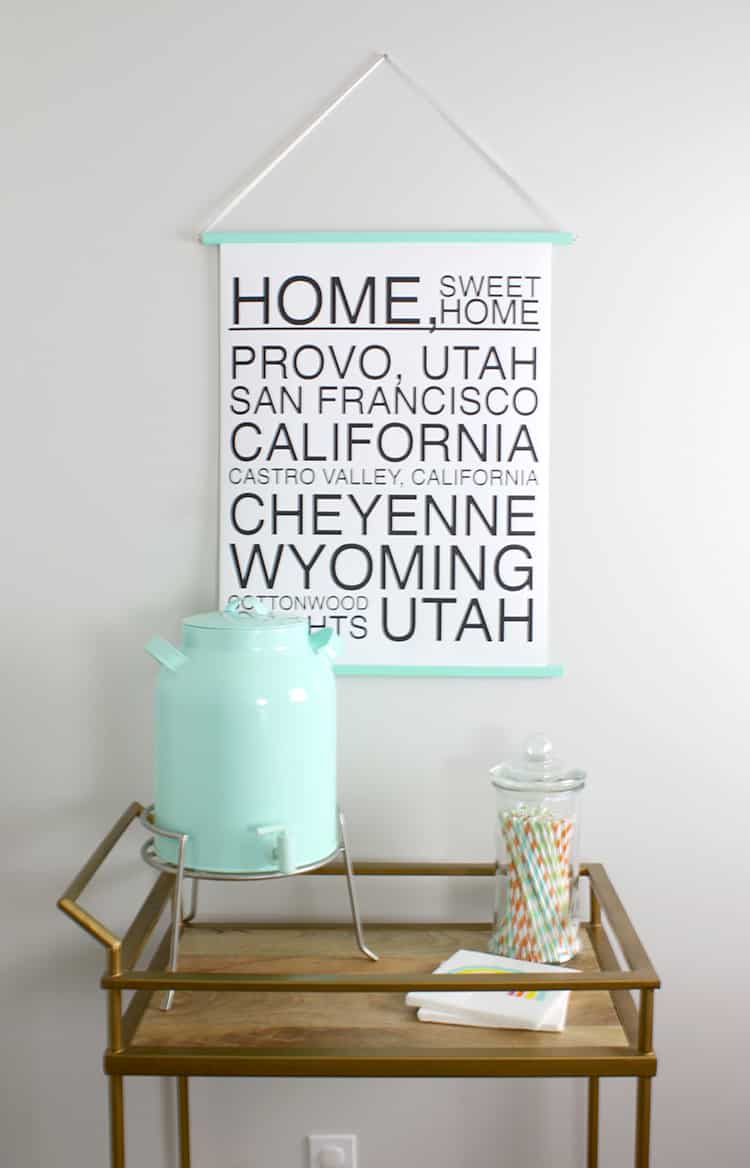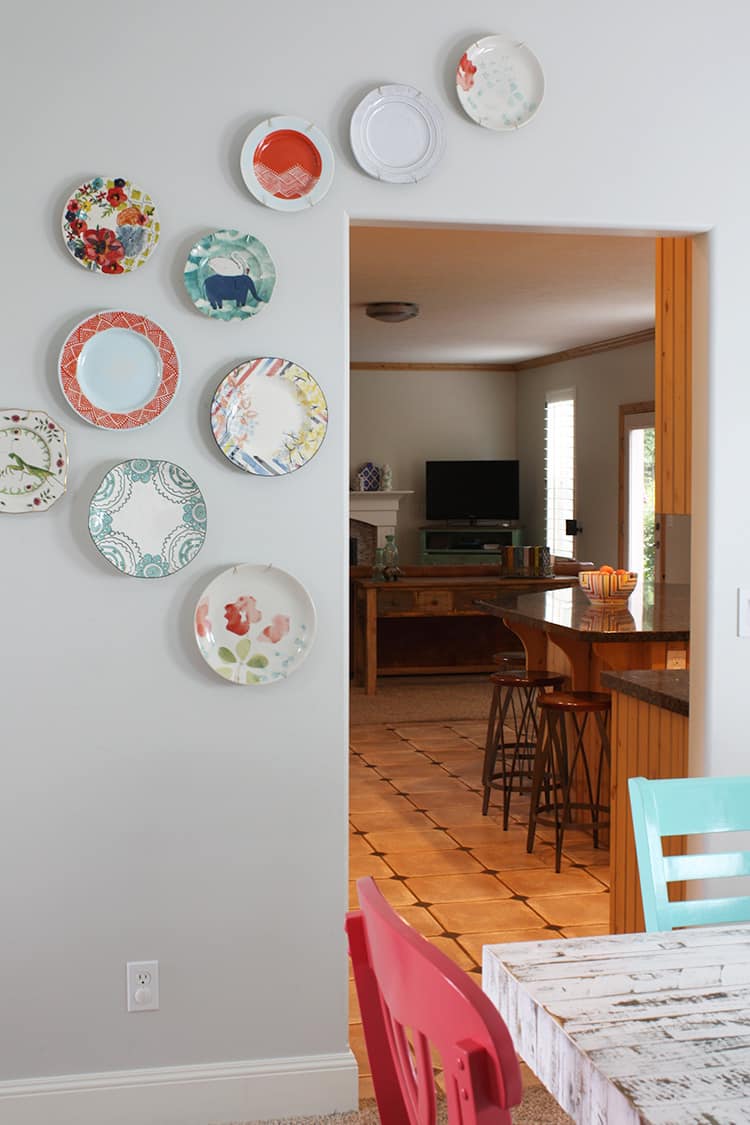 This room isn't exactly like I'd mapped out originally; but that's why I love it so much. Every time I start a room project, it takes on a life of its own. I'm giving myself a gold star for bravery since I only panicked once during the process. (When I thought I'd ruined the hutch). Now let's give a big round of applause to Lamps Plus for having such great products; and for being so patient with my horrific turnaround time on this project. And another standing ovation to my husband who never complained about the chaos of my process; and who took the kids out to play while I painted and painted and painted.
Now that this room is finished, let's have a dinner party before I start another project!