Today's project is astonishingly simple, and the results are so delightful. I might actually stop complaining about raking leaves if I get to cover all of them in metallic paint. I'm already thinking of so many ways I can implement painted leaves into my life and my holiday decor.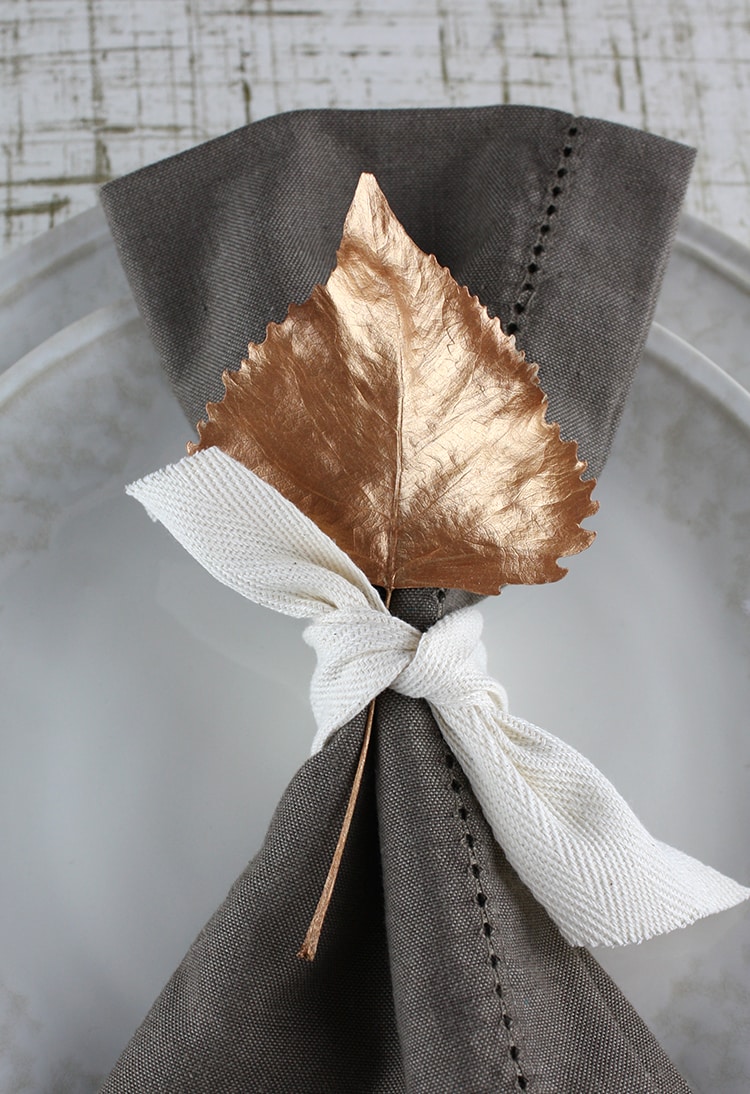 We live directly downwind of my neighbor's enormous cottonwood trees. It's quite convenient for them, I imagine. The wind blows the vast majority of their leaves into our yard, and they just smile and wave as they watch us rake them up. I'll have to keep wind direction in mind next time I plant a tree in our yard. Anyway, we've got thousands of leaves all over the back yard. Perfect for leaf pile jumping, leaf fights and now very convenient for craft projects, too.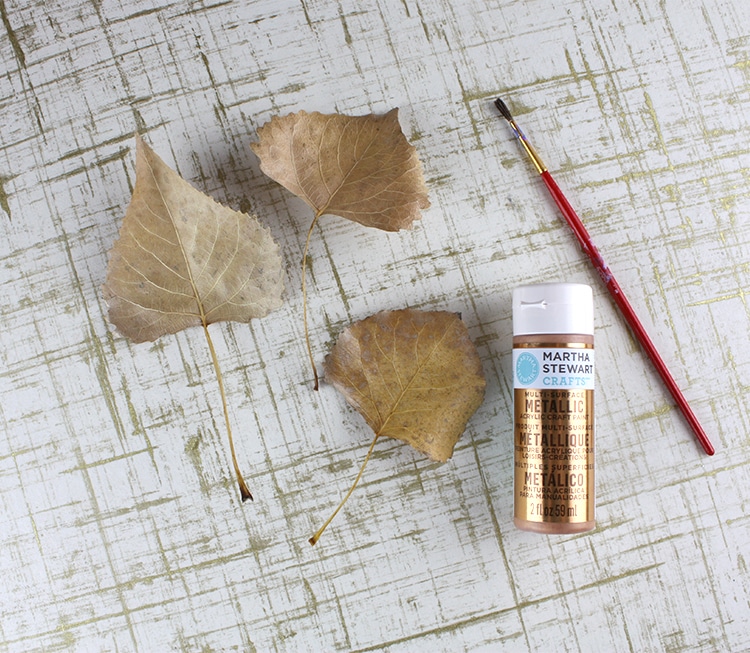 Just grab yourself a handful of leaves. I tried to choose the pretty ones that are still intact and not decayed. I'm picky like that. I imagine all the neighbors must have thought I was nuts out there inspecting the leaves on the ground. It probably won't be the last time they question my sanity, either. They'll get used to my antics one day. I let my leaves dry out a bit overnight so they weren't floppy when I started painting. I also like the way they curl up a bit when they start to dry out. If you need flatter leaves, I imagine you could dry them between the pages of a book, as you do with flowers. When you're ready to paint, just squeeze a drop of paint (I chose copper, of course) into the middle of the leaf and fan it outward with your paintbrush.
Set them aside until they're dry, and then let your imagination run wild. Once you start, you won't be able to stop. Side note: I have to say I'm super impressed with this metallic paint. I may not be a fan of Martha's recipes, or her glitter paint (it's not good. At all). But the metallic paint is a whole different ballgame. Just my honest opinion here, no sponsoring or anything. I just really like the paint.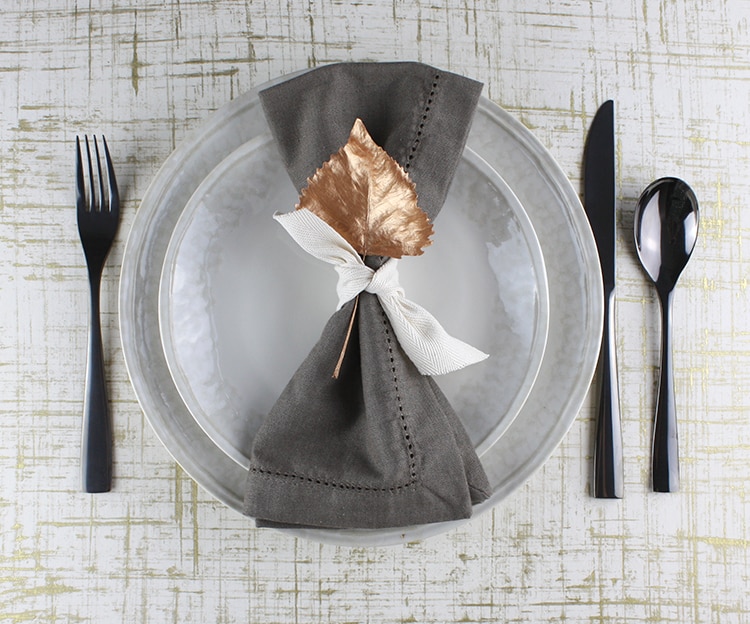 We're not really the assigned-seats-at-Thanksgiving type, so I prefer generic place settings. These leaves would make spectacular place cards if you're handy with calligraphy. Try tucking a few of them into your favorite fall bouquets for a unique touch. Or simply scatter them along your Thanksgiving table, add your favorite candlesticks, a few gourds (paint those too!) and you've got an easy Thanksgiving tablescape.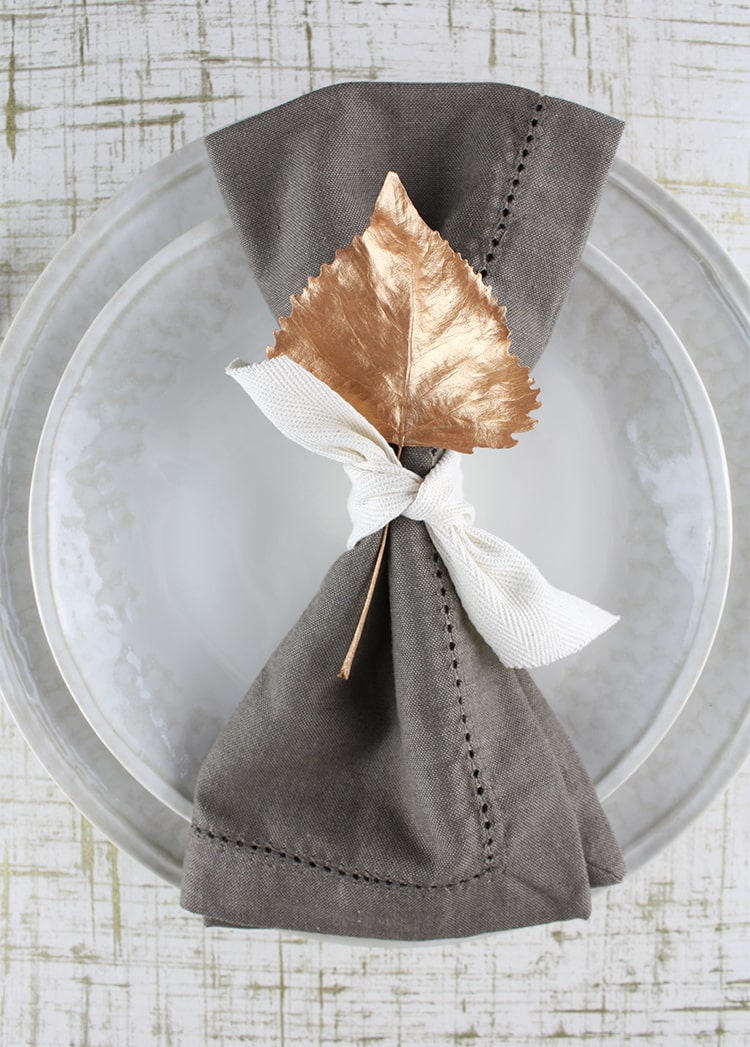 Now that the place-settings are taken care of, I'm off to find something else to paint. If you need me, I'll probably be painting piles of leaves and pinecones in the backyard. Have a great day!